Deep Learning and Smart Curation with HUE
Reading Time:
2
minutes —
Marketing
We are excited to share one of our biggest and most anticipated features yet! Introducing HUE, a smarter way to curate content. HUE is a scalable content discovery technology that uses deep learning, image recognition, and audience insights to instantly pair brands with highly engaging content, eliminating the need for manual curation and guesswork.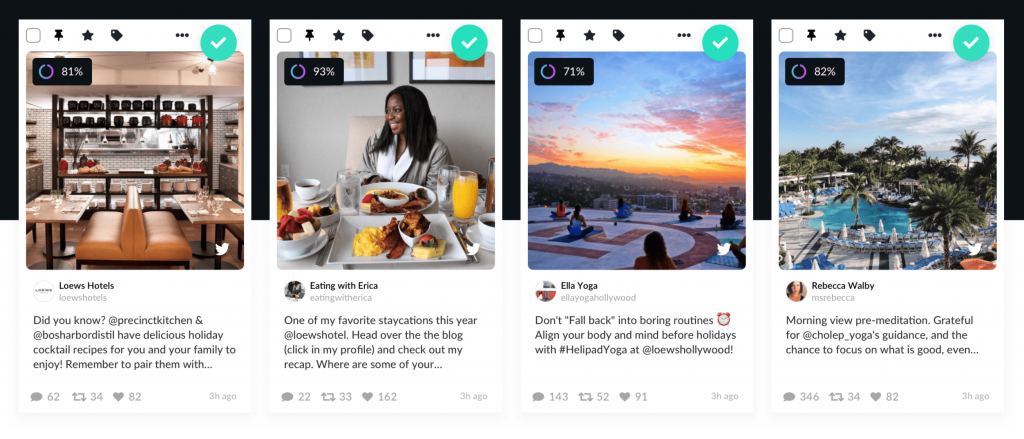 We asked marketing professionals and TINT users what their number one concern was when it came to customer-generated content marketing. Their responses were very similar and we captured an interesting trend. [Find the full TINT Marketing Trends for 2018 Report here].  The top 3 concerns marketers have are not having enough time, lack of content, and poor performance.
We also asked them where they will be focusing their marketing efforts in 2018 and noticed another interesting pattern.
Marketing professionals and TINT users alike will be focusing their efforts on increasing engagement, content creation, and increasing awareness this year. HUE addresses these concerns and efforts and is designed to make finding quality, high-performing content as easy as clicking a few buttons.  Let's see how it works!
HUE analyzes all of the content in your TINT, extracting valuable information to learn what your customers are posting about your brand. Using image recognition, it automatically tags and categorizes your content so you can search your library in seconds. 
A moderator's dream
Once HUE has analyzed your images, it uses machine learning to understand your moderation behavior and tracks what you like or dislike. Using this data, HUE builds you a library of content that is catered to your content preferences and allows you to surface recommended content instantly. 
One of the most powerful features of HUE is the ability to learn from your audience's interaction with your content. Capturing key engagement signals such as clickthroughs, and shares, HUE recommends similar content it knows your audience will like…before you publish it. 
HUE can do it, so can you
HUE enables brands to unlock the massive potential of their best customer-generated content, but don't just take our word for it. See what these leading brands have to say.
Want to try it out? Check out this tool and give HUE a quick spin!
If you have more questions about how your brand can use HUE, get in touch with an expert and request a live demo.