User generated content (UGC) isn't just for social media; it can make a huge impact on your website, too. Utilizing UGC offers a wide variety of benefits that users are incredibly responsive to, and strategically placing it on your site can transform your website and improve engagement, sales conversions, and brand loyalty.
Most brands don't realize that UGC is just as valuable on your site as it is on social media, let alone how to implement it. In this post, we're going to look at why you should transform your site with UGC and 4 very specific techniques for how to do so.
Why Use UGC?
User Generated Content is one of the hottest topics in content marketing, and there's an amazing reason for it. UGC has a ton of significant advantages for all brands with very little downside.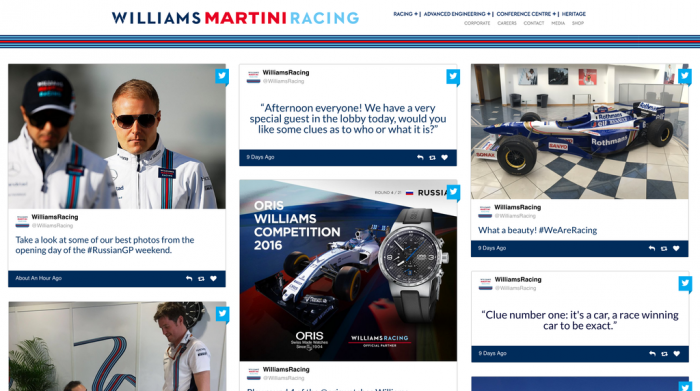 This content from Williams Martini Racing is a perfect example of how to share UGC on your site.
Some facts and statistics to keep in mind include:
84% of Millennials

report that UGC on websites (not social media) has at least some influence on what they purchase

Brand engagement

increases by 28%

when users are exposed to both professional content from brands and UGC.

64% of customers

search proactively for other user reviews before making a purchase
Utilizing UGC both on social media and on your site can increase engagement; users are excited to see content created by themselves or other users and are more likely to engage with your content as they feel that your brand values them. Brands that place UGC on their sites are also more likely to sell more, as users are more likely to purchase an item if it has social proof of UGC backing it.
The psychology behind social proof is valid, with users (particularly Millennials) valuing other users' opinions via UGC much more than traditional marketing efforts. With UGC being almost always free to use, it provides fantastic results at very little to no cost for the brand.
4 Ways to Transform Your Site with UGC
There are various ways UGC can be used to transform your site. Different strategies work best for different brands and their audiences, so to ensure we've got strategies for everyone, we've got four different ways to transform your site with UGC, each of which is effective on its own or when used together with the other.
1. Feature UGC Images for Products
Most businesses use stock photos when displaying their products online, paying a pretty penny to have those photographs taken, edited, and uploaded. Instead of using stock photos, you could feature UGC images to promote your products.
Even if you still utilize the stock photos your team has taken, you can still feature UGC images on the product's page. These make the product's page more dynamic and instantly make it more appealing to other users. It shows that not only did other users like the product enough to buy it (which is powerful social proof on its own), but that they liked it enough to create and share content about it.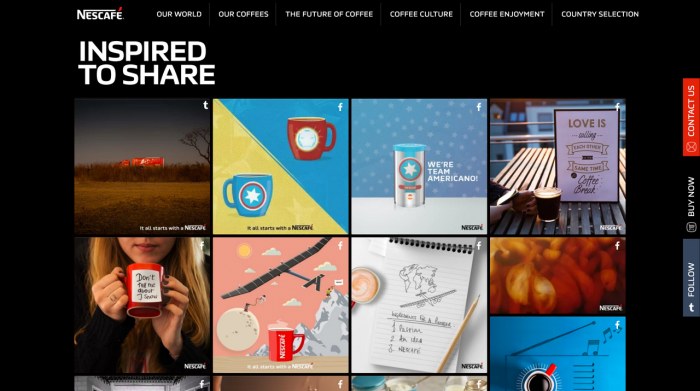 In the example from Nescafe above, UGC content is displayed, showing users interacting or designing content about the brand's products. Even when they aren't on the direct product page, using UGC to promote your products in other site locations still has a valuable impact.
2. Build a Community with UGC
Building a community around your brand can be highly profitable but extremely difficult to do. It's much easier to build a community when you utilize UGC.
You can build a community by encouraging user engagement on your site, which can take a variety of different forms. One of my personal favorites is creating a community Q&A, where users can ask questions, and other users can answer them.

Users can ask specific questions about concerns for a product before they purchase and get honest answers from other users vouching for the product. This is more persuasive than any salesperson could be.
Big name brands like Sephora, Amazon, and Sam's Club currently uses this tactic. These community Q&A's can be even more effective than reviews, because customers can state concerns about a purchase and be persuaded into completing the sale by other users.
3. Highlight User Reviews
User reviews are powerful testimonials that can help escalate your brand– and your profit– to new levels of success. You not only want to enable users to leave reviews, you want to encourage them to do so. You also want to place the reviews where users will notice them quickly, preferably without having to look for them.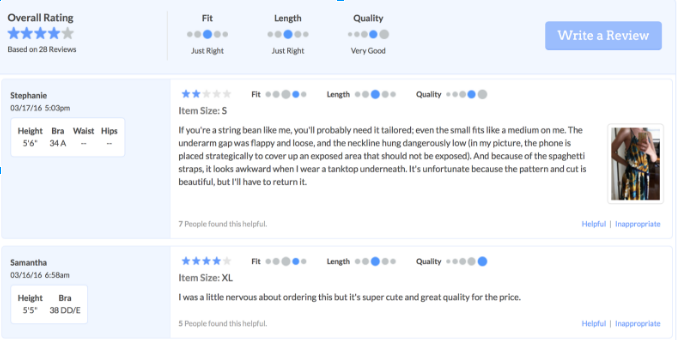 Modcloth places user reviews immediately under the product, making them easy to find and access.
To encourage users to leave reviews for products or your brand, you can offer them discounts to do so. I've seen brands offer 5% or 10% off their next purchase, or a chance to win a gift card, as an incentive for users to leave more reviews on their site. Even thanking them for leaving the review is often motivation for users to continue to leave more reviews in the future, making them feel like their time and efforts were appreciated. On Buckwild's website, for example, they feature UGC and give shout outs to specific users, thanking them for their reviews.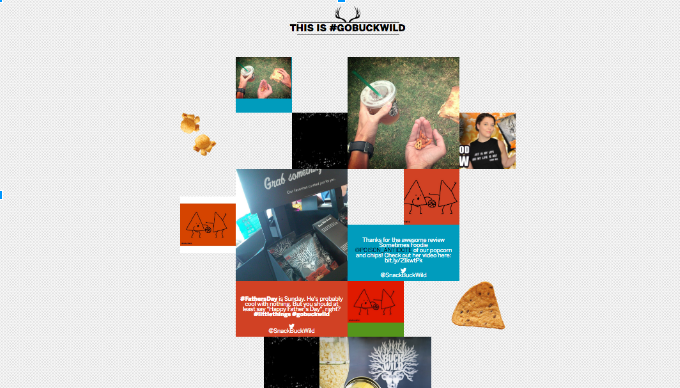 When in doubt, you can also refer users to social media reviews from your main website, still using UGC to increase brand loyalty and an increase in sales.
4. Place Social Prompts on Your Site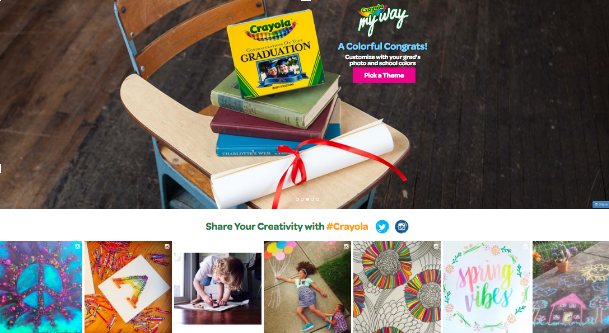 If you want to be able to use UGC on your site, you need to inspire users to create it and remind them that you value their content. Having sections, or even page, of your website dedicated to encouraging and sharing user generated content can increase the amount of engagement you're getting, giving you more UGC to utilize later on in a fun, continuous cycle.
Have CTAs placed in these sections dedicated to UGC and social media, clearly encouraging users to "Share Your Creativity" across different platforms. Within these CTAs, include your branded hashtag and links to your different social media profiles, making it easier for users to connect with you and share their content. Crayola does all of this perfectly in the example above.
These social prompts should be featured amidst UGC if possible, and can transform your site and your social media engagement all in one.
Final Thoughts
User-generated content is a powerful tool that all businesses really should be using at this point, at least in some form. UGC holds more power than traditional or professionally written content, even if it's used in conjunction with professionally written blog posts or marketing campaigns. UGC offers so many benefits at very little cost, and with the 4 easy techniques above, it's also simple to implement on your site.
Want to learn more about transforming your website– and your brand– with UGC? Drop us a line for a free strategy session!