Marketing professionals rank engagement as their top KPI for the second year in a row. Yet, they're also finding engagement to be incredibly difficult. In 2021, the battle for digital engagement will make or break a campaign.
Social media algorithms certainly have a mind of their own, but that's not the reason engagement is so difficult right now. In our annual State of User-Generated Content Report, we saw a theme that affected everyone; boutique to enterprise.
Where's The Battle Coming From?
When we talk about engagement, we cover external strategies like writing copy that drives digital engagement, making sure to use Instagram stickers to get users to interact with your stories, or not being afraid to ask your audience to share your posts.
This year, we're finding the problem is internal. Seventy-two percent of marketers reported having more job responsibilities in 2020 than in 2019 because of the pandemic.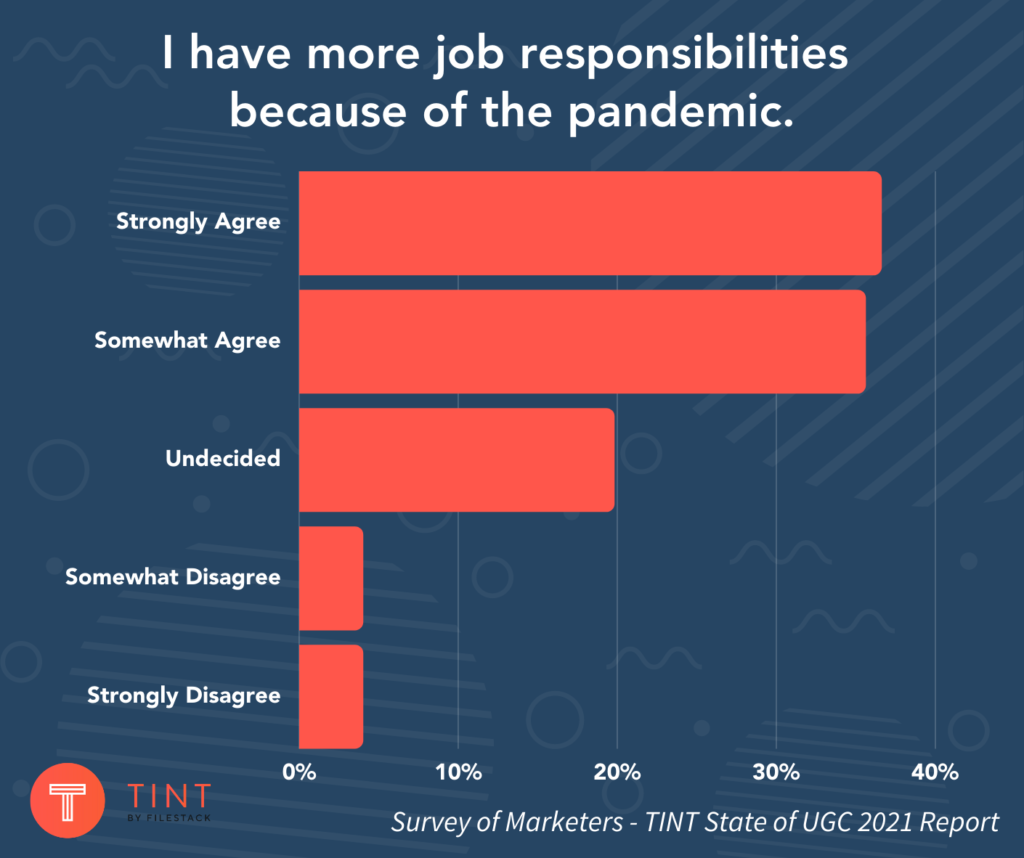 Our 2021 State of User-Generated Content Report found three places the battle for engagement is coming from:
Marketers don't have the time to create social and visual content

Budgets cuts are creating content production constraints

Teams aren't big enough to handle consistent content production
As the world becomes increasingly hungry for more and more content, marketers are struggling to keep up. Add a pandemic into the mix, and the picture starts to paint itself.
Here's a breakdown of how time, budget, and team size create a battle for engagement we've never experienced before—and how marketers are combating it.
Marketer's Are Feeling a Time Crunch
More than half of marketers we surveyed this year (52%) believe time is a challenge for social and visual content production. Last year only 36% of marketers found time a challenging part of their role. 
As consumers look for brands to be omnipresent and top-of-mind to win the sale—marketers are feeling a time crunch.
Creating content for multiple platforms rarely happens at the click of a button. Consumers don't want to see the same content spammed across each marketing channel. They've become savvy to this efficient marketing trick and less responsive. Copy and pasted content without ensuring it looks native to the platform can be easily spotted by modern consumers.
In 2020, each channel required the most relevant content that suited what consumers wanted to see. As Yazmin Slim, Digital Marketing Manager of Universal Pictures, reflects, 
"Social media content that is spontaneous, and sometimes even risky, can see huge returns." 
Consumers are asking brands to constantly create new content. With marketers to-do lists running longer than ever before—engagement dwindles as the less engaging content gets repurposed for the sake of publishing something.
Budget Costs Are Creating Constraints
Alongside feeling like there's not enough time in the day, marketers are also facing pandemic-induced budget cuts. More than half of marketers (51.5%) experienced a reduction in marketing budget in 2020. 
Yet, the content machine can't stop. A reduced budget does not give the green light for engagement to tank—marketers are still focused on keeping digital engagement high. The problem is that creating content can cost a lot. Location shoots, product shoots, post-production, and everything in-between can cost 6+ figures. In 2020, more brands were focused on keeping money in their pockets for an upcoming rainy day and not in their marketing budget. 
To save their wallets, brands leaned on their customers to create content for them. Take a look at Chipotle's 'Make Your Order Famous' campaign that asked fans to share a creative TikTok explaining why their Chipotle order is 'superior' for a chance to win $10,000 cash and have their order featured at Chipotle. By having fans create and distribute their brand for them, Chipotle reduced its budget while still increasing engagement cleverly.
Teams Aren't Big Enough
Marketing budget costs lead to less money allocated to content production and less money for the marketing team. Our 2021 State of User-Generated Content Report found 41.2% of our respondents feel headcount is a challenge for social and visual content production.
With a small team, marketers have to be picky about what they'll spend their time and money on. Projects have to bring a high chance of garnering the engagement they're aiming for. If not, they wasted time they could have used trying another campaign that could have helped them achieve their metric goals. When time and budget constraints are always top-of-mind, making high-pressure decisions to prioritize specific projects became a task marketers didn't expect would be so crucial going into 2020.
As marketing teams are asked to take on more responsibilities, marketers' project lists just keep growing. While they try to distribute it amongst their teams, budget costs keep them from doing all that they could be to be omnipresent and drive engagement. 
That's where user-generated content (UGC) plays a role. Like Chipotle's brilliant move to take the role of creating content off of their team and place it on their (very!) willing customers, marketers and brands realize UGC is their answer.
UGC requires less time to create, a smaller budget, and doesn't require the support of a large marketing team. When users, customers, or fans take photos, record videos, comment, leave a review, or create a testimonial, brands can repurpose that content across their social channels. Using TINT's UGC Rights Management tools, they can feel safe and risk-free that the content they repurpose is allowed to be used. 
LinkedIn, Verizon, Nike, Coca-Cola, Marriot, and more leading brands use TINT to find, organize, and repurpose user-generated content across their marketing channels, both virtually and physically. While the battle for engagement lives on for other brands, these brands are finding a way around it with UGC that increases engagement and conversions.
We're predicting the battle for digital engagement will put up a good fight in 2021. As the pandemic continues to be a part of our daily lives, time, budget, and team sizes will continue to feel the pressure of doing business in the middle of a global crisis. This is only one of five themes we found that will impact how marketing is done in 2021 from our survey of leading brands. To read all 5 themes, download our 2021 State of User-Generated Content Report.