Social commerce leverages buyer behaviors in the customer journey—and its power in the buying decision is only growing larger.
Move over, Amazon. New doors have been opened in the eCommerce space as social media giants like Facebook, Instagram, Twitter, and more realized that their platforms were the perfect place to let brands meet their potential customers. Met with a plethora of data and analytics, merchants found their new home and they've been living here for quite a while.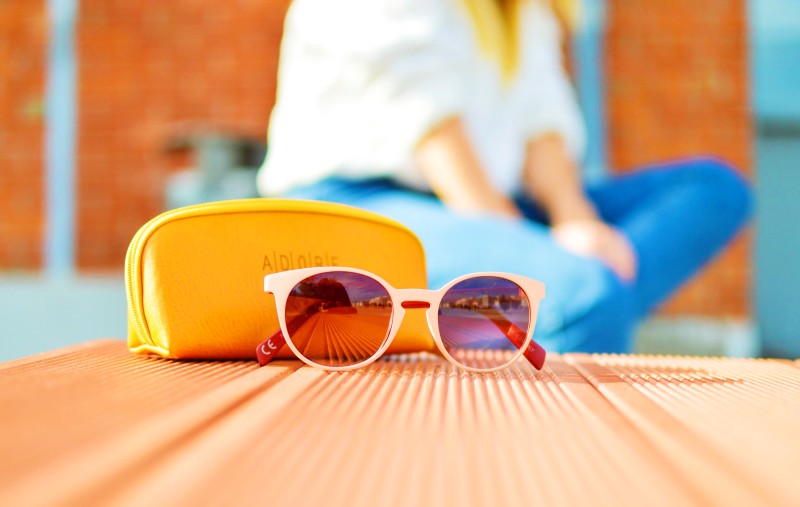 Since Facebook's launch of their ad platform on November 6th, 2007 they've made billions in revenue, showing their advertisers that they weren't just a platform to market on… they were a platform to get conversions on too.
Social channels Instagram, Twitter, Snapchat, and TikTok aren't left out — they have their own advertising revenue that makes brands around the world think, "How do I do social shopping right?".
In the age of social commerce, there are two ways to do social media shopping "right". The first is by marketing to a customer using social media, having them click on a link that brings them to a webpage, and then having them check out on that page. This is Off-Network Commerce, or using social to drive sales on your website. The other way to sell via social media is more recent (hint: Facebook x Shopify). On-Network Commerce is where brands will market to a social media user, have that user click on their post to see the product tags and then go through the entire checkout process on social media – selling directly on social.
Let's take a deeper look at defining both of these approaches.
How to Drive More eCommerce Sales Using Social Commerce (off-network)
Off-network is social commerce that's been around for a few years. It's the customer journey that starts through organic or paid social media marketing that motivates a user to want to learn more. Generally, this brings a user to a website where they can purchase a product or (if they're not ready to purchase) subscribe to the brand's newsletter.
The newsletter will be used to nurture the relationship, while retargeted ads keep the product top-of-mind.
One very successful off-network social commerce strategy is to take social media content and use it as marketing content on the brand's website. For example, if a happy customer posts a photo of themselves with their new grill set, the grill set brand will post that customer on their website and relevant product pages. With this user-generated content, they'll use the content to create native media that converts better than company-made content. This same UGC can be used in abandoned cart emails and other touch points to continue to provide social proof that leads to an eventual purchase.
How to Sell Directly on Social with On-Network Social Commerce
While social media networks initially created the bridge between brand and customer so brands could market to them, it's now revamping that bridge. Websites are still core to an overall social strategy and on-network social commerce offers another channel for the sales process.
Facebook, Instagram, Twitter, and the other social media giants have created what will soon become the new normal. They've made it possible for shoppers to buy products directly on their platforms. For example, a user can find a jacket on an Instagram account, tap the picture to see the product tag, click on the product, choose their size, and check out.
Pinpointed marketing is growing to take advantage of consumer behaviors.
To Sell Directly on Social or On Website?
The key to choosing which commerce style works best for a brand is understanding that it's not a decision of one over the other, it's figuring out how to use both to drive awareness and conversions.
Social feeds can be used to drive product discovery and websites allow full control of the buying experience. Using an omni-channel approach, brands can look beyond individual networks and create a strategy that has a 5-star customer experience regardless of the path the customer chooses to take to conversion.
Each social media platform allows for on-network and off-network strategies for this reason. Both have their perks and using them is an essential part of creating the cohesive social ecommerce strategy that leads to raving reviews, amazing customer experience, and *fingers crossed* great user-generated content that you can use to drive more conversions in the future.
The Important Role of UGC in Social Commerce
User-generated content (UGC) is the content created by customers when they order a new product, unbox their package, start using their product, and when they see the results of the product. For example, skincare brand Drunk Elephant highlights UGC on their Instagram feed by reposting content from their happy customers, like Carla.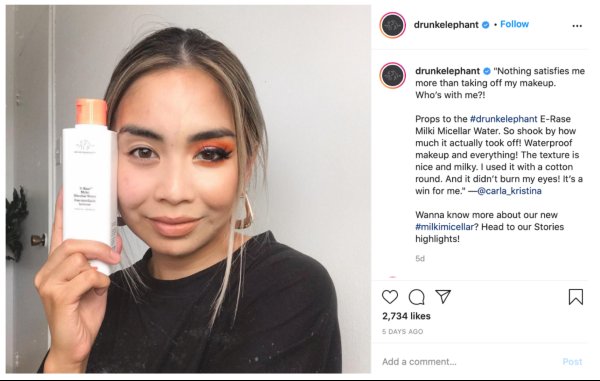 This is a purposeful marketing strategy with the results to back up its use.
Forty-eight percent of customers say user-generated content helps them discover new products
UGC drives a 73% increase in email click-through-rates
Seventy percent of consumers consider UGC reviews or ratings before buying a product
This puts UGC at the forefront of social commerce trends, as marketers find that UGC can be used on social to create on-network and off-network conversions.
How Social Commerce Works on Social Media Platforms
Facebook
Social commerce on Facebook started back in 2007 when Facebook took a chance on the advertising model. This is the Facebook users are most familiar with—see an ad, click the ad, go the website, and purchase a product.
On May 19th, 2020 Facebook rolled out Facebook Shops, their upgrade to the current social commerce model. While keeping their original website-conversion based model, they introduced the ability for commerce business owners to skip the website and convert directly on the Facebook platform.
Instagram
Instagram runs the same advertising model as Facebook, its parent company, allowing brands to market on their platform and then take the sale off of the platform on the brand's website. A few months before announcing Facebook Shops, Instagram launched Instagram Checkout turning the platform from just a marketing channel into part of the entire customer journey from awareness to conversion.
Fashion brand Barbour has seen a 42% increase in sales since implementing the Facebook Shop tool and a 98% increase in website traffic.
Twitter
Social Commerce on Twitter focuses on the website-conversion. Twitter tried a Buy button on paid media in 2014 which it rolled out in partnership with Stripe, Gumroad, Musictoday, and Fancy. In 2017, they rolled back their on-network strategy and removed the "Buy" button, announcing they'd be focused on action-based marketing and off-network conversions.
For now, Twitter is still focused on website conversions using paid media and sponsored tweets to bring interested consumers to interact with the brand's sales or product page where the rest of the purchase is made.
Snapchat
Like Twitter, Snapchat has tried different buying options in the past as well. They've allowed a select few brands to have access to a swipe-up feature that allows users to purchase directly through the app in the past, but currently, their model is focused on mobile off-network conversions.
When a Snapchat user clicks a product link from a paid ad, they can access that brand's website while still inside the Snapchat app and continue through checkout while on the brand's website, but still in the Snapchat platform. Users can also choose to open the website page in their web browser. Although it looks like Snapchat may start using its AR filters to help users try on products before buying…
TikTok
TikTok, the youngest addition to the league of social media giants quickly hopped onto the advertising model. TikTok's commerce model is an off-network strategy, advertising products to users that complete the purchase on a mobile device.
With its massive user base and esteemed algorithm, TikTok is working to create an on-network advertising model in the future.
Websites
Social commerce extends far beyond social networks. Marketers are realizing that using social media content on their websites has the potential for big returns. Brands saw a 29% increase in web conversions when they featured user-generated content. By taking social media content and making it shoppable by adding "Shop Now" or "Purchase" text, interested website visitors can click-through the social content to get to the purchase page for a product.
Websites are using user-generated content in their social commerce strategy to drive bigger results and drive down production costs. Since visual content is created by happy customers taking photos and videos of products, brands can collect all of these images and videos and use these customer reviews in their marketing strategy avoiding production costs and creating a better relationship with their customer base. Websites that feature user content have a 20% increase in return visitors and a 90% increase in time spent on the website.
User-generated content is proving to have a huge role in the social commerce world.
Trends in Social Commerce
As social commerce continues to dominate the online marketing space through strategic social ads and placements, some new trends have emerged. These trends wouldn't have been possible without the rise in social media technology, like Instagram's Checkout feature, live streaming, and messenger marketing.
Let's take a look at 3 of the social commerce trends that marketers are using in their campaigns:
Shoppable UGC
Shoppable Livestreams
Messenger Marketing
Shoppable UGC
Like the Drunk Elephant example above, brands are able to take UGC and turn it into shoppable posts. They can repost the UGC to their feed after looking for the best UGC for specific products and add tags directly on to the post so users can check out on-site or off-site (depending on the platform).
For example, women's fashion boutique HelloMolly used UGC from their customer @StyledbyMckenz to create a shoppable post. This is an example of off-site social commerce since the post leads a user to the product page for this dress in three steps.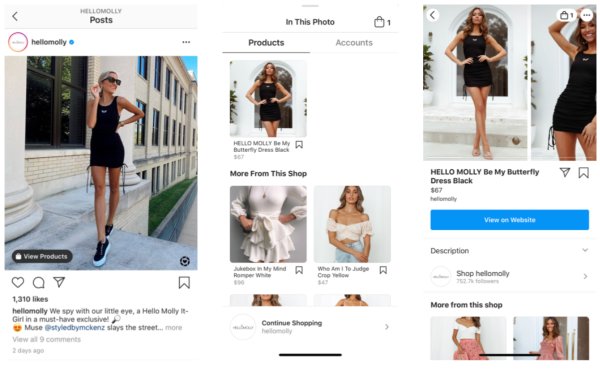 Swimwear boutique Monday Swimwear uses shoppable UGC in an on-network commerce strategy. Using UGC from @BarbaraBrigido, they reposted her photo to their feed, added the product tag, and created a seamless way for their audience to buy the same bathing suit.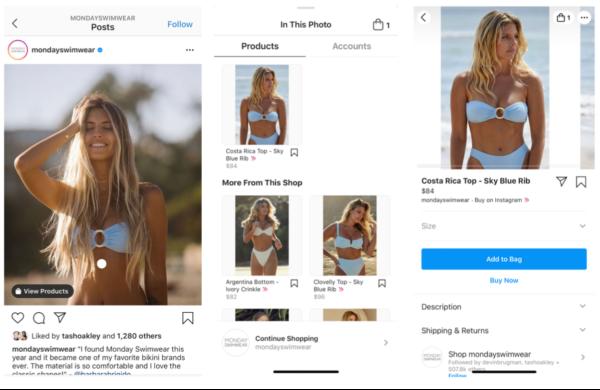 Shoppable Livestreams
Shoppable live streams are like an upgrade from the traditional webinar model. Instead of asking for users to click one link, a shoppable live stream allows for several links to pop up on the screen as the host showcases new products.
For example, Clinique hosted actress Emilia Clarke for a shoppable live stream on their website. The live stream showed Clarke's skin and beauty routine. Each time Clarke showed a product, the product link showed up on the screen so the audience could purchase while still watching the live stream.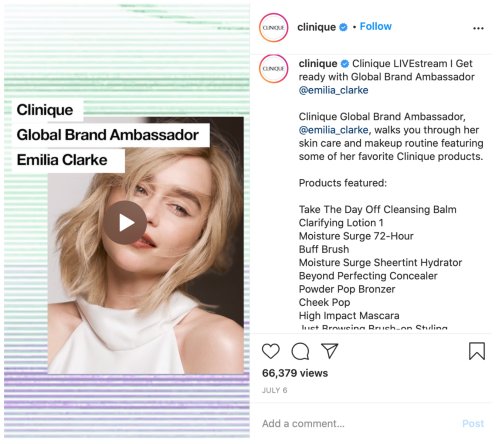 Messenger Marketing
Facebook ran a poll and found that 63% of their participants said they'd messaged brands more often on messaging apps than the years before. As messaging brands on social media becomes increasingly more normal, using visual content in messages that is known to have high conversion rates is an obvious bet.
For example, clothing company prAna uses messenger marketing to showcase their products while helping customers through the buying journey. The entire messaging process is automated, with the user talking to a chatbot to find the clothing selection they're looking for.
Companies like prAna can showcase UGC on their website and as their product images.
Here's an example of what that conversation looks like, thanks to AdEspresso.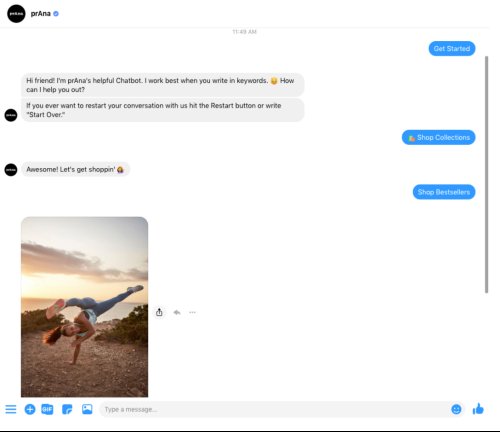 Social commerce is a huge part of the marketing world today causing a wave of new trends as users have less friction in buying their favorite products and new ways for businesses to benefit.
Examples of Successful Social Commerce Campaigns
Effective social leads to conversions—but what does it look like? Let's take a look at two examples that can show what social shopping can look like today. First, we'll take a look at how Burberry used 360-degree videos on Facebook to promote their products in a new way. Then, we'll take a look at Levi's recent TikTok campaign that was able to double the average TikTok watch time on their campaign videos.
Burberry
Burberry's social team realized that the entire shopping experience online was much more two-dimensional than it was in store. Customers that came into their store could look at the product from more than just a front, back, and side angle. They could touch it and see what it looked like at all angles. As a luxury fashion brand, Burberry understood their customer avatar. Their customers didn't want to just buy any bag—they wanted a bag that suited their style and represented them through the Burberry brand.
To give their ads an in-person shopping feel Burberry used 360-degree videos to showcase their new products. The videos were posted to their Facebook feed where interested customers could see what the product looked like from more than just the usual two-dimensional view. This was the experience Burberry customers were looking for from their online shopping experience.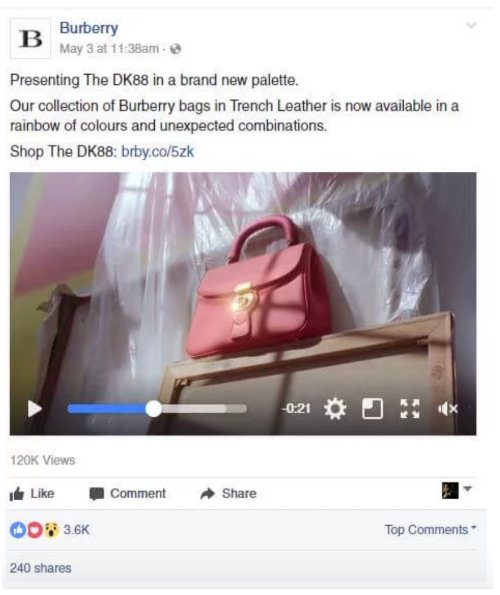 Facebook users spend twice as long on a brand page if there are videos than if there aren't. Using this strategy, Burberry was able to create a more interactive online shopping experience that kept their customer avatar interested in a way that the usual online shopping experience can't always.
Levi's
Levi was one of the first companies to use TikTok's new "Shop Now" feature in TikTok's social commerce strategy. TikTok users could click on the "Shop Now" button and be directed to a product and checkout page on Levi's site. To get users to click on the "Shop Now" button, Levi's hired 4 influencers to customize their own jeans using Levi's Future Finish 3-D technology and then put ad-spend behind the influencer's videos. They also had the influencers put the product link in their bio.
Utilizing TikTok's "Shop Now" button and paid ads in collaboration with influencers, Levi was able to get double the average view time of an average TikTok video on their campaign videos and more than double the page views of each of the related products.
Business Benefits of Social Commerce For Your Brand
Thanks to these advances on social media platforms, using social commerce in your marketing strategy is becoming easier and easier. These content marketing strategies have started to build trust and loyalty among customers. When an influencer launches their own brand, they have the loyalty of their fanbase behind it. Actress Shay Mitchell used her platform to launch a travel essentials brand Beis that Forbes reported made $20 million in profitable revenue.
Merchants using social commerce can see the engagement from their customers and fans by seeing which posts do well over others. For example, if a clothing brand can see that every time they post about a particular blue bathing suit their engagement skyrockets—it might be time to run a campaign around that blue bathing suit.
This is giving brands more power than they ever had in the past. Before Facebook decided to take a chance on the advertising model as its revenue source, social platforms couldn't reduce the friction between someone learning about a product and getting them online and to the website to buy before the excitement wore off.
Now, social commerce is reducing the friction of the customer experience and is already making a more seamless experience in its Facebook Shop and Instagram Checkout features. Using social content known to convert, like user-generated content, brands have a platform to influence consumer purchasing decisions.
For example, Lays used a user-generated content campaign to drive 22 million visits to their Facebook page and saw sales increase 12% that year. Brands without the pull of a huge brand like Lays can use comments and online reviews in their social content since 71% of consumers state that online reviews are important when considering buying electronics, appliances, home decor, and more.
Social commerce tools aren't just helping to sway customers to purchase, they're proven to convert. Using user-generated content in their content marketing strategy, brands saw that ads based on UGC received 4x higher click-through rates and a 50% drop in cost-per-click compared to average ads.
As social media continues to grow its user base as more generations become old enough to utilize the platform, it's becoming harder and harder to say that social commerce isn't the future.
What is the Future of Social Commerce?
The future of social commerce is in the brands that use it to connect with their online shoppers in a way that the audience wants.
Like we saw with Levi's, by using TikTok influencers they were able to get the views on their campaign that they might not have been able to through traditional marketing strategies. This gives us a look at the future of social commerce—continuing to find ways to personalize the buying experience. In Levi's case, they personalized the experience by placing user faces on the campaign. Followers of the users would stop scrolling to see them talking about Levi's new technology.
Having the budget that Levi's, Burberry, or Lays has isn't a requirement to see this type of success. To understand social proof and consumer trust, a brand just needs to find the users that their buyers trust. We're seeing this now in the rise of nano and micro-influencers, who can have higher engagement and conversion rates.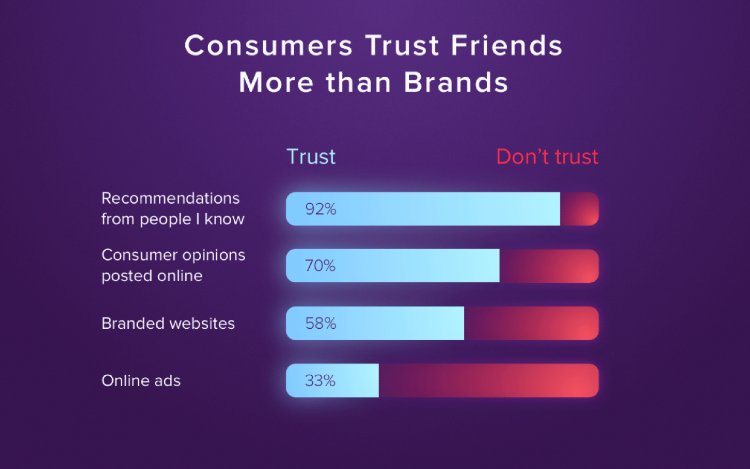 This is just the start of the personalized buying journey. We've gotten a taste of this through Facebook's mega-farm of data and the specificity of the ads being shown to us but the future looks much more personalized than this. Eighty percent of consumers are more likely to make a purchase if the brand offers a personalized experience—which means markers are going to follow suit. Marketers can even personalize the content of the emails that different subscribers in the same list are seeing.
The personalization of marketing is going to focus on giving customers what they were looking for (not your entire product catalog), making sure it's delivered at the right time (while they're still excited about the potential purchase), and building a relationship with them before asking them to make a purchase.
This new marketing future has even created a brand new role on the marketing team: the Social Commerce Specialist.
How To Get Started with Social Commerce
Social Commerce Specialists are experts in the on-site and off-site commerce marketing funnels. The'll be a part of the eCommerce team and highly focused on specific growth metrics like followers, engagement, click-through rate, and conversion rates. See the full Social Commerce Specialist position description here.
If you're not looking to hire for the role just yet, you can get started on your social commerce strategy by:
Creating a feed of curated customer product shows by searching brand-specific hashtags, handles, and keywords (you can use a platform like TINT to collect all of this automatically)
Secure the rights to use the user-generated content so you can repurpose UGC legally and safely
Make your user-generated content shoppable on your website and social media (through Facebook Shop and Instagram Checkout)
Once you have your content ready to go, you'll start to use proven techniques for improving your sales. You can use strategies like placing social testimonials on your checkout page, making sure you have strong call to actions to specific products based on what the UGC image or video is showing, and running hashtag contests to generate conversations and leads to your website.
Starting your social commerce strategy as soon as possible is going to help you adapt to the inevitably changing landscape that social commerce will go through in the upcoming years. As more technology gets added to the commerce journey (like Snapchat's AR try-on technology) as always, it'll be the brand's that stay focused on creating the ad content their customers want that will continue to build trust and in the end—create loyal, happy customers.
Ready to level up your strategy with the most advanced social commerce platform? We're here to help. Schedule a time to speak with our experts.