Consumers are increasingly turning to social media for product inspiration, forcing brands to switch up their strategies if they want a slice of the sales.

One study from Shopify analyzed well over 500,000 orders that came as a result of social traffic, showing the booming state of social commerce today – and the trend is only set to increase.

With general ecommerce sales growing at a rate of 23% year-on-year, brands are having to get to grips with the principles of social commerce and create campaigns that combine sales tactics and engaging social media activities.

We've gathered together some inspiration from top brands to get your creative juices flowing.

1. Madewell

Instagram has launched a number of features that help brands promote their products and direct their followers to the buy button, and shoppable posts are one of them.

Brands are able to upload a directory of their products and tag any products they share in posts. When a user clicks on the product link, they are directed to an in-app landing page where they can make a purchase.

TINT's hotspots tool also allows you to tag multiple products with direct shoppable links.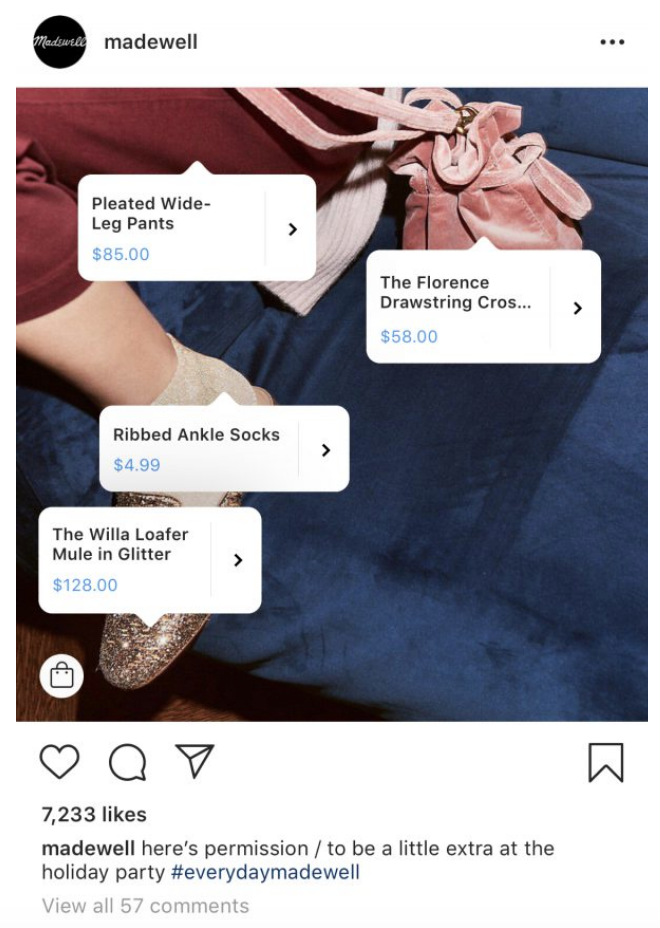 Clothing brand Madewell makes good use of the shoppable post feature.

But instead of simply snapping photos of their products and linking to them, they continue to show their audience how to build a lifestyle around their clothes. Their posts are all cohesive in style and design, and feature models in different situations that reflect the everyday lives of the brand's customers.

Madewell is dedicated to using on-brand, crisp, and clear visuals with plenty of user generated content thrown in for good measure. They also mix up their feed with an assortment of videos and images to create a shoppable virtual storefront.

This attention to visual and highly shoppable content helped the brand to increase sales by 39% in 2018, and their social media presence was recognized by the Webby Awards, where they were nominated in the Overall Best Brand Presence category.

How to Replicate Madewell's Social Selling Success

The key to Madewell's success is in their visual "stories" that reflect the vision around their brand, not just the products.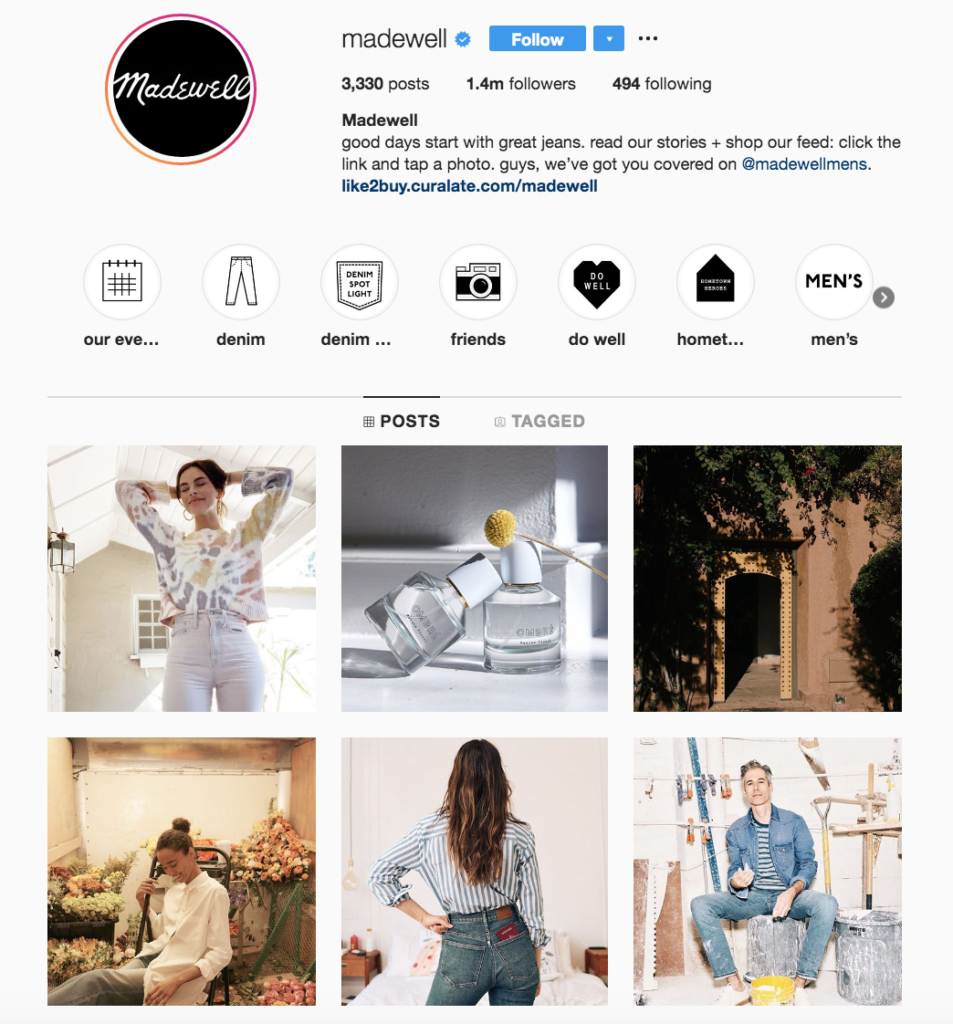 Instead of making your products the focal point of your posts, build a lifestyle around them and turn each story into a potential buying opportunity through shoppable tags, hotspots, and global CTAs.

2. Nike

Social selling doesn't just allow consumers to buy products directly from their favorite social channels. It also describes how social media can be used throughout the sales funnel to push potential buyers to the next stage.

Nike does this particularly well.

Consumers today expect brands to respond to queries within 30 minutes, and with more and more turning to social media to reach out with problems or questions, brands are turning their accounts into customer support hubs.

If they don't respond quickly enough or work to build relationships by starting and continuing conversations with prospects, there's a high chance they'll miss out on a sale.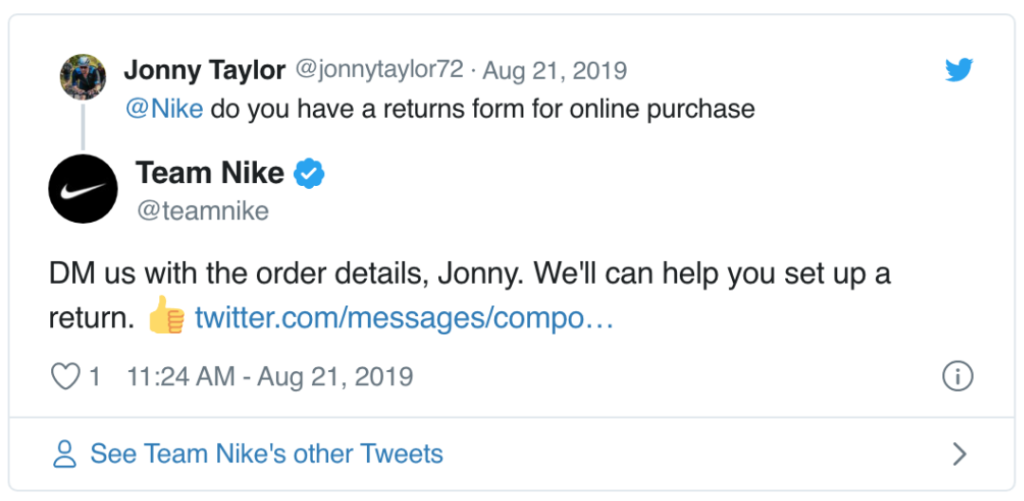 This trend is becoming more widespread, too.

In fact, a study by Gartner predicts that 90% of companies will be using social media for customer service this year. And, according to Aberdeen, companies that have a well-crafted social approach to customer service experience 92% customer retention rates.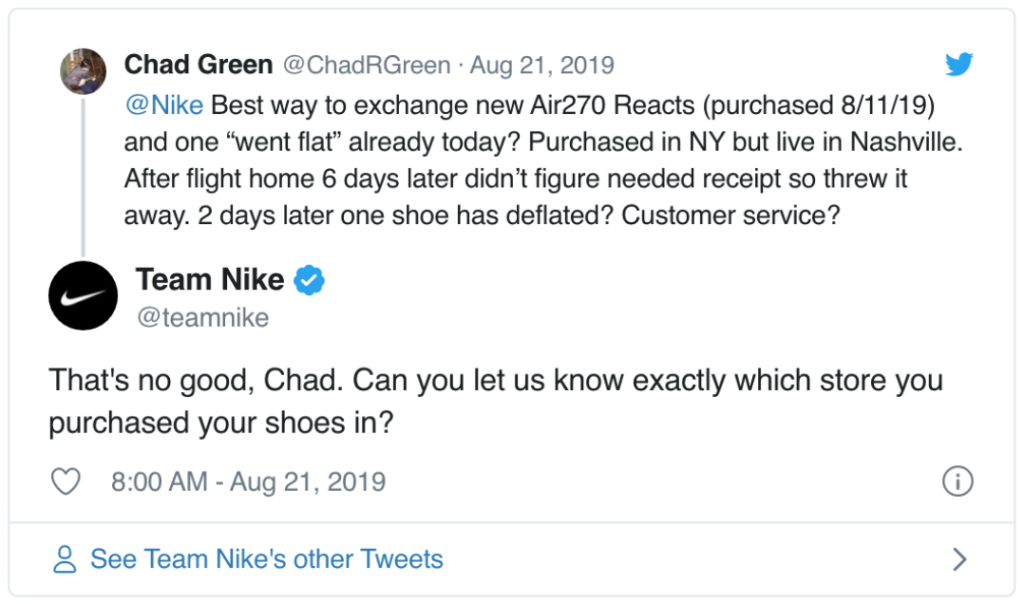 How to Replicate Nike's Social Selling Success

Social selling isn't just about selling products directly from social media. Building customer relationships is key to generating more sales today as a growing number of consumers seek out brands that they connect with.

Start by joining in conversations with your customers on social media and starting engaging dialogues with them. Be sure to answer any questions that come your way on social media too.

3. Burberry

Burberry has a history of creating successful social media campaigns, so it's no surprise that they've jumped on the social selling bandwagon.

The designer fashion label has embraced the trend by bringing their products to life through short, engaging videos.

Instead of simply sharing pictures of their products, they give prospects a 360-degree view of their goods – something that usually can only be captured in person. This is particularly important today when consumers favor online purchases over in-store buys.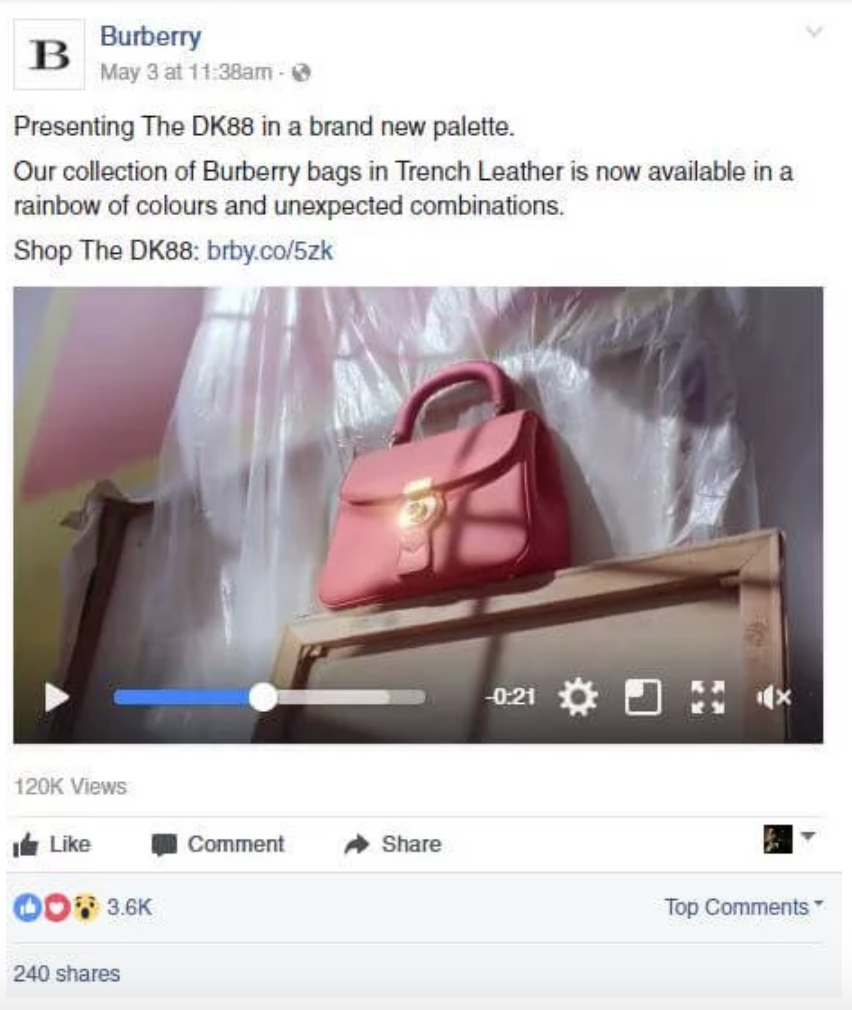 Videos perform particularly well on Facebook.

In fact, Facebook users will spend twice as long on a brand page with videos than one without and BigCommerce found that 30% of online shoppers actively want more videos from the brands they buy from so they can get a better feel for the products before they hand over their money.

On top of this, a Google study showed that 50% of internet users look for product-related videos before making a purchase. Burberry gets ahead of this need while also building trust with their followers – something that's incredibly important in the buyer journey.

How to Replicate Burberry's Social Selling Success

Creating videos doesn't have to be an all-singing, all-dancing affair. Instead, you can create short, snappy videos of your products using just a smartphone and share them across your social channels.

As well as pre-recorded video, you can also make use of Live video on your social channels to share fun, behind-the-scenes video of your brand that build trust and create deeper connections with prospects.

4. Minimalist Baker

Baking brand Minimalist Baker is a hotshot on Instagram. They make good use of the platform's Stories feature to share recipes and ingredient inspiration.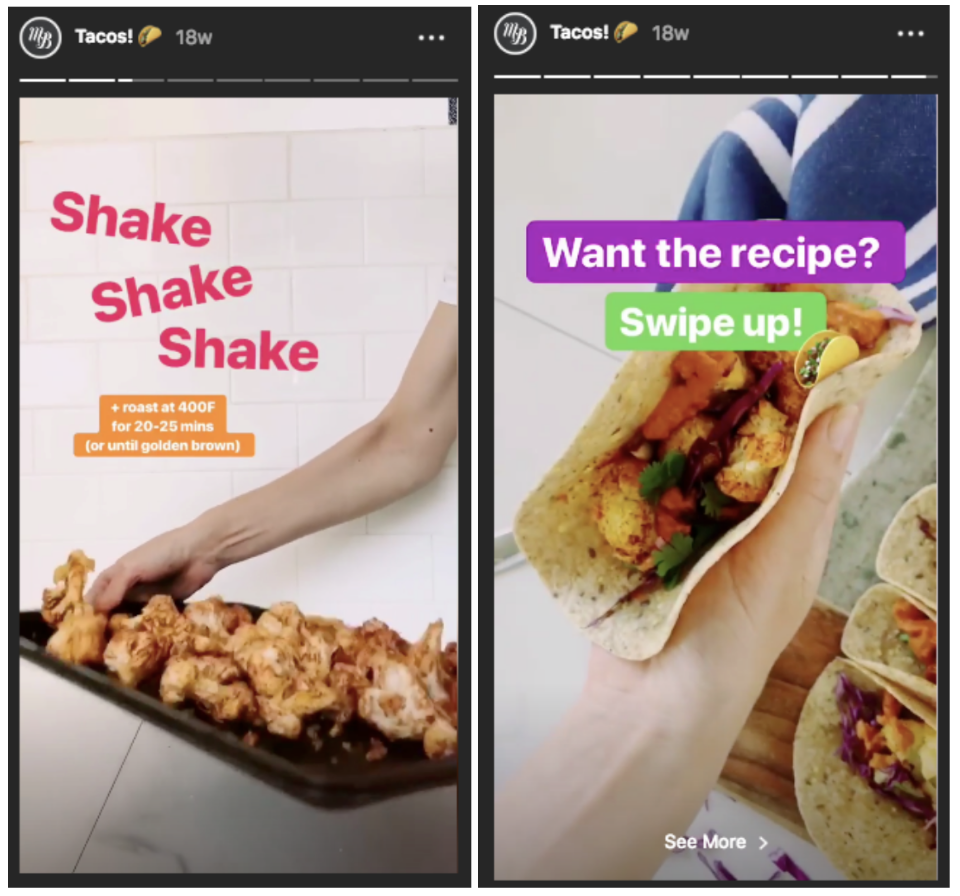 They essentially use Instagram to create a kind of catalog storefront by grouping their Stories into Highlights and encouraging followers to Swipe Up for more.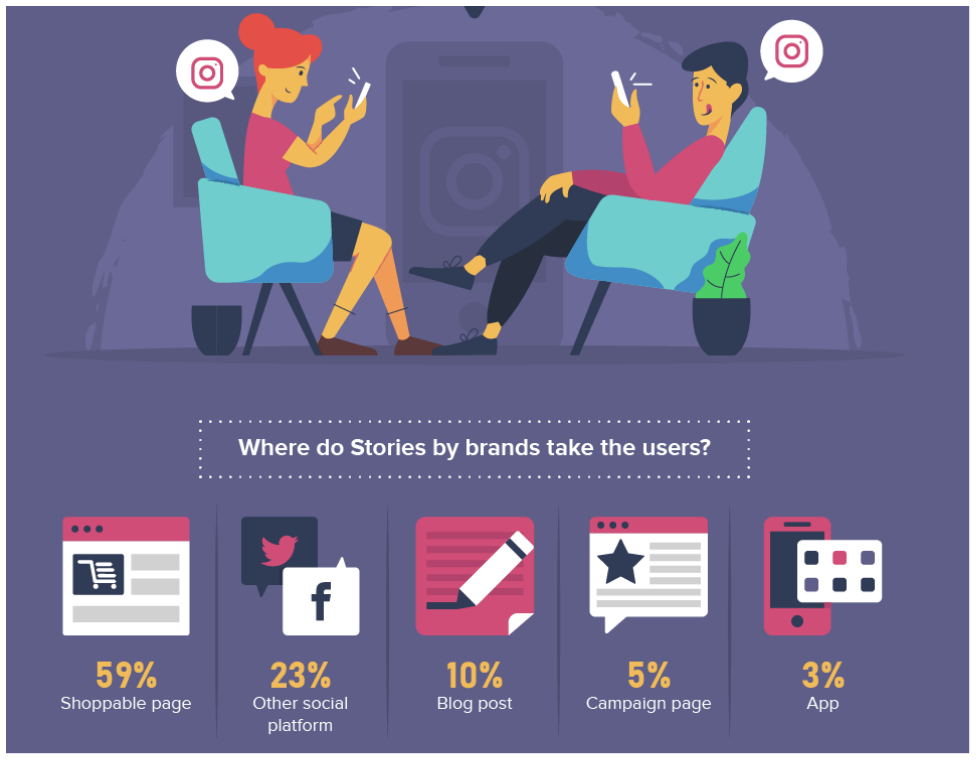 Research shows that the majority of branded Instagram Swipe Ups lead users to a shoppable page while some brands have reported a whopping 25% swipe through rate.

Minimalist Baker's use of Instagram Highlights is also interesting. This feature lets users at different stages of the sales funnel pick content that works for them or best serves their current interests.

For example, those looking for reviews can sift through customer stories, or those just on the hunt for recipe inspiration can do that instead. Rather than having to dig deep to find the information they need it's served to them upfront, which has a higher chance of increasing sales.

How to Replicate Minimalist Baker's Social Selling Success

Make use of Instagram's features and help followers navigate different types of content that best suit their needs at any given moment.

If you have over 10,000 followers, you can use the Swipe Up feature to direct followers to your product pages and group together similar Stories using the Highlights feature to curate information in an easy-to-access way for every stage of the sales funnel.

5. Aerie

76% of consumers say they trust content shared by "average" people more than content shared by brands, and almost 100% of people trust recommendations from others.

These stats are just the tip of the iceberg when it comes to how powerful user generated content is.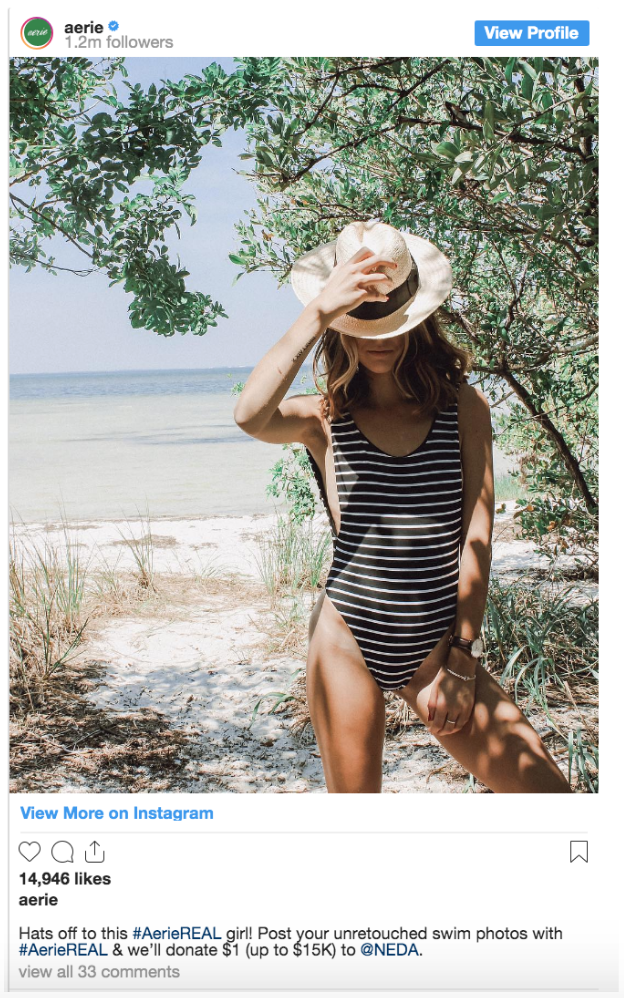 Clothing brand Aerie is a prime example of a brand that collects and shares UGC in an effective way across their social channels.

They encourage shoppers to share their product images under a designated brand hashtag and re-share the best ones with their followers.

According to Moz, UGC such as this massively impacts consumer purchasing decisions, with many prospects actively looking for stories and content by other customers before they make a purchase.

How to Replicate Aerie's Social Selling Success

Start by creating a brand hashtag and encourage past buyers to share their content to it. You can encourage them by:

Including the hashtag on your social media profiles
Regularly mentioning the hashtag in your social posts
Sending out an email to past customers
Offering a small incentive to customers who share content under the hashtag
You can take this social selling tactic one step further too, by adding hotspots or global CTAs to your UGC content to turn it into a shoppable catalog. 

Start Seeing Success With Social Selling Trends

As more and more people turn to social media for product inspiration, brands are having to step up their social selling game if they want to reap the benefits. Not only do the social selling techniques mentioned here increase sales, but they also build trust and create deeper connections with customers – what's not to like?

The brands listed here are ahead of the curve when it comes to social selling and are well-versed in using the latest social features to boost their online presence and make more sales.

Want to stand out from the crowd? Let TINT's experts help guide your social selling strategy with UGC so you can make the most of social. Request a demo today.