The rise of online shopping has meant brick-and-mortar stores are having to put more effort into engaging their customers. 
After all, it's far easier to tap a button on a mobile screen than trudge into town to buy something in person.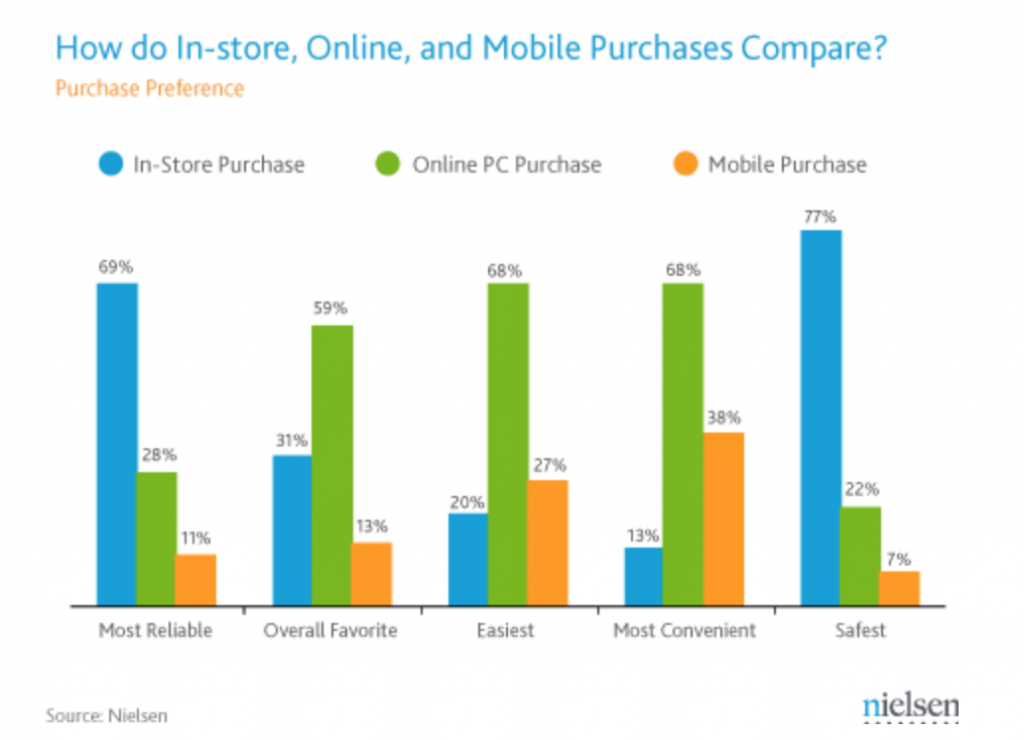 This means many retail brands need to find new ways to connect with their consumers who are actively coming in-store and to create a clear difference between the ecommerce and real-life experience. 
As a result, many brands have begun fusing digital elements and new technologies with the physical act of shopping to build multichannel experiences.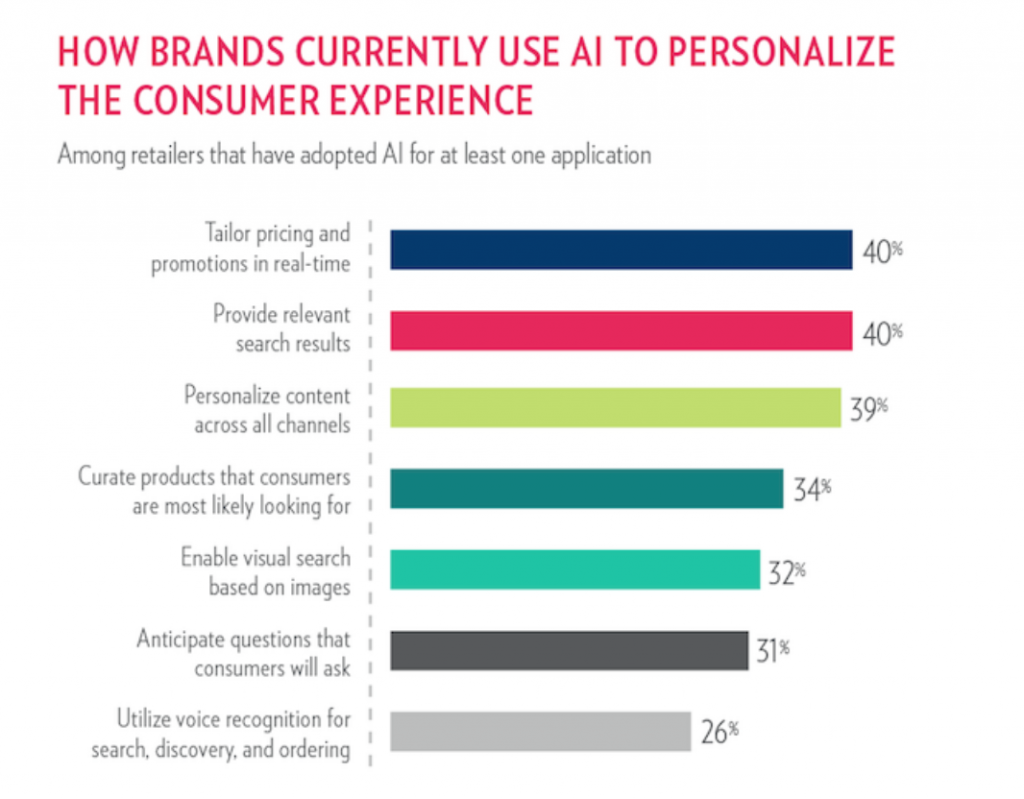 The most common example of this is through digital signage – also known as storefront social. These interactive displays create new shopping journeys for customers and help nurture a personalized experience (something many consumers crave). 
And it's working.
According to research, 68% of customers say that digital signage encourages them to buy advertised products, with 44% even stating that well-placed digital signs would influence them to buy the product being advertised rather than the one they were already planning on purchasing. 
But what does digital signage look like in action?

We've handpicked a few of the best examples of storefront social to share with you, including try before you buy displays and interactive experiences that take the pain out of the in-store shopping process. 
1. Sephora's Try Before You Buy
Investing in something like makeup without the ability to try before you buy can be risky. 
Sephora knows this and has created a digital signage solution that allows customers to carry out a digital makeover before they commit to making a purchase.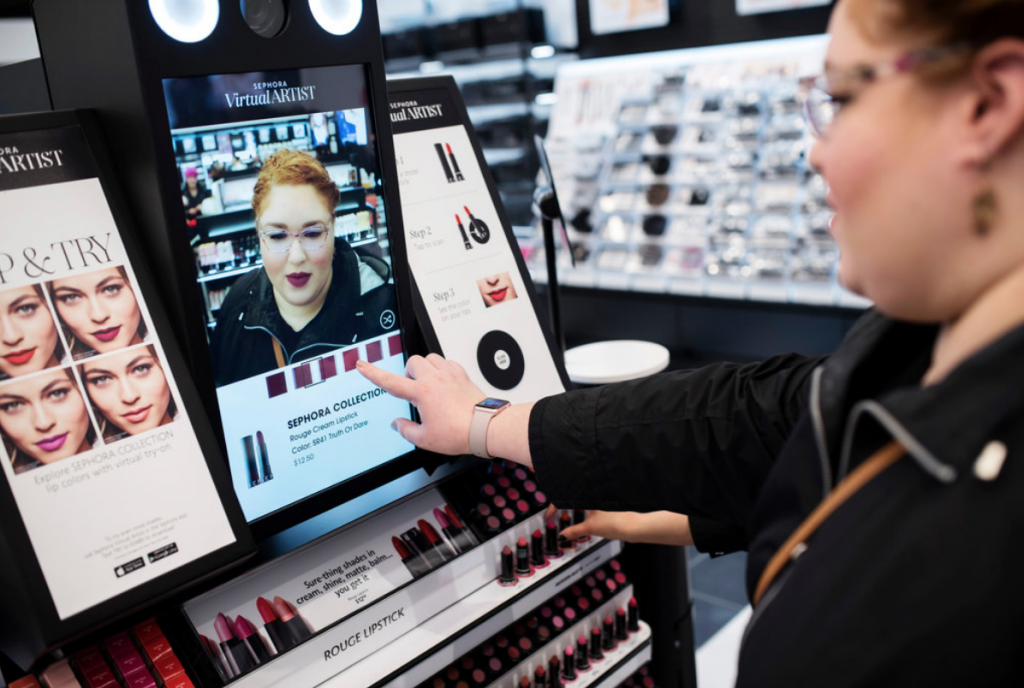 In fact, the brand is the pioneer behind "try before you buy" for cosmetics, taking away the pain of shoppers who balk at the idea of wading through thousands of different powders, foundations, eye shadows, and everything in between. 
The brand created and launched its ModiFace digital display. It allows customers to take a look at how certain products will look on them without having to opt for a potentially-disastrous in-store makeover or make tons of returns. 
As a result, Sephora has noticed far fewer exchanges and returns, plus the digital displays act as a draw for visitors in larger department stores where Sephora has a counter. 
As well as their interactive "try before you buy" screens, Sephora has also introduced a skin care trend wall that highlights new brands that align with their drive to have more "touch-and-feel stores".  
Key Takeaways From Sephora: 
Enhance physical stores with digital elements to create a more engaging offline experience

Personalize product recommendations to capture and keep loyal customers


2. ShelfVision in Supermarkets and Drugstores
This social storefront solution isn't limited to one particular brand. Instead, we've seen the technology popping up across a range of supermarkets and drugstores across the globe.
Originally, the solution was spotted in Germany in a new-age "supermarket concept store", but it has now can bee seen in other places.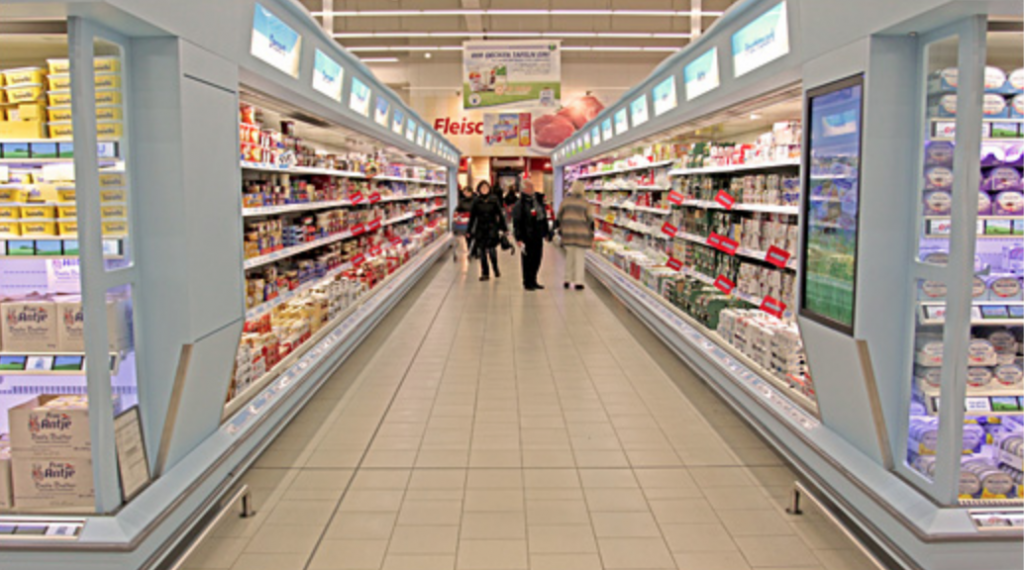 It's basically a video display strip that is secured at eye-level to provide more information about discounts on nearby products. And, with 85% of all purchasing decisions made right in front of the shelf, it's a great way to share coupon codes and promote certain lines with unique ads and videos. 
The best part about the ShelfVision displays are their size – they are much smaller than the larger digital signage we see in most retail spaces and provide a practical way to deliver messages to customers at the point of purchase.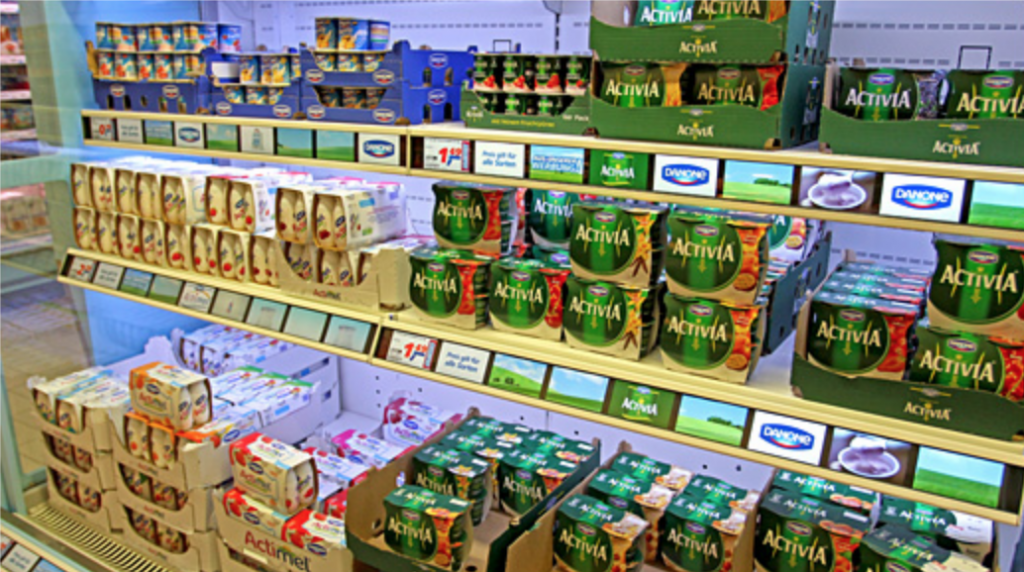 Key Takeaways From ShelfVision:
Provide more information about products to help customers make better-educated decisions

Promote products and offer discounts in-store to make the offline shopping experience more appealing 
3. Hunkemoller's Interactive Social Wall
Creating a social experience in-store can be difficult, but Dutch brand Hunkemoller seems to have mastered it with their social wall.
The wall displays Instagram photos that have been listed under a certain hashtag, giving customers the chance to get their 15 minutes of fame. Armed with an in-built selfie camera, the multi-touch screen showcases a range of the latest trends that are presented by a series of social media influencers. 
In-store shoppers have the opportunity to see themselves amongst the influencers by snapping a selfie and sharing it to Instagram. The picture will then appear on the wall for other shoppers to see. 
The aim of the display is to turn the shopping experience into a more interactive experience.
Instead of it simply being a place to grab a few things, Hunkemoller has created a far richer in-store experience that will stick in shoppers' minds and encourage them to engage with the brand further when they get home. 
In addition to the social wall, Hunkemoller has sprinkled a few more interactive elements throughout their flagship store. There's a futuristic HKMX Bodyscanner that makes a 3D scan of customers bodies so they can digitally try on outfits, and a smart mobile checkout that aims to ditch long queues. 
Key Takeaways From Hunkemoller:
Involve customers in the social experience to create loyal fans

Incorporate influencer marketing into your offline shopping experiences 

Use social to continue to engage customers long after they've left the store


4. Rebecca Minkoff's Smart Mirrors
It's safe to say that fitting rooms are one of the least fun parts of shopping for clothes. That's a universal trend.
However, Rebecca Minkoff has taken the cringe out of the trying on experience with in-built smart mirrors.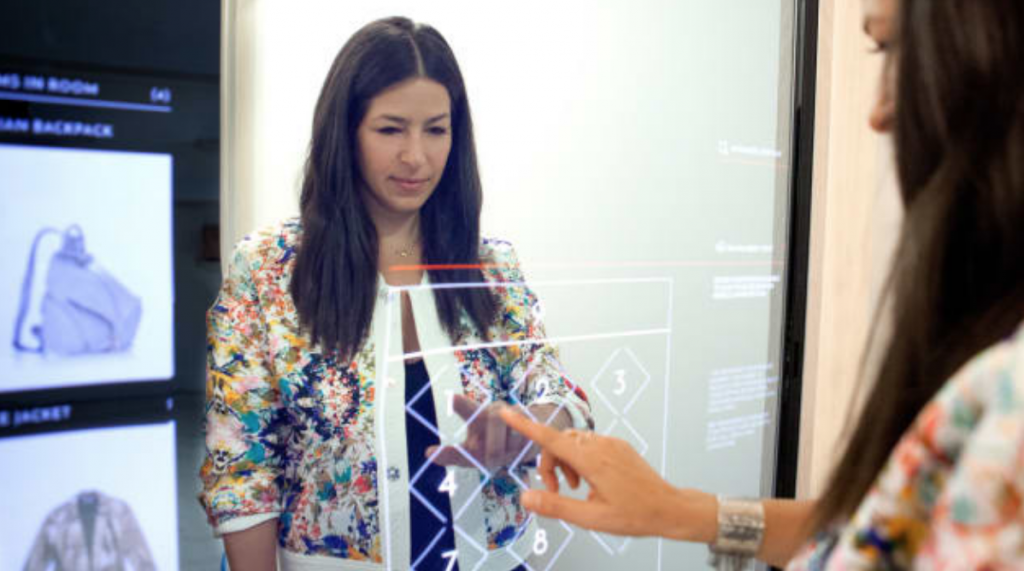 The mirrors are interactive catalogs that are displayed in the dressing rooms. From these interactive devices, customers can order clothes in different sizes or simply choose another outfit entirely to be sent to the changing room.
This combines the best of online and in-store shopping by allowing shoppers to actively try on clothes while browsing a catalog of other products they might like.
What's more, shoppers can use the display to change the environment and lighting to determine that they do like an item – we all know how horrendous dressing room lighting can be.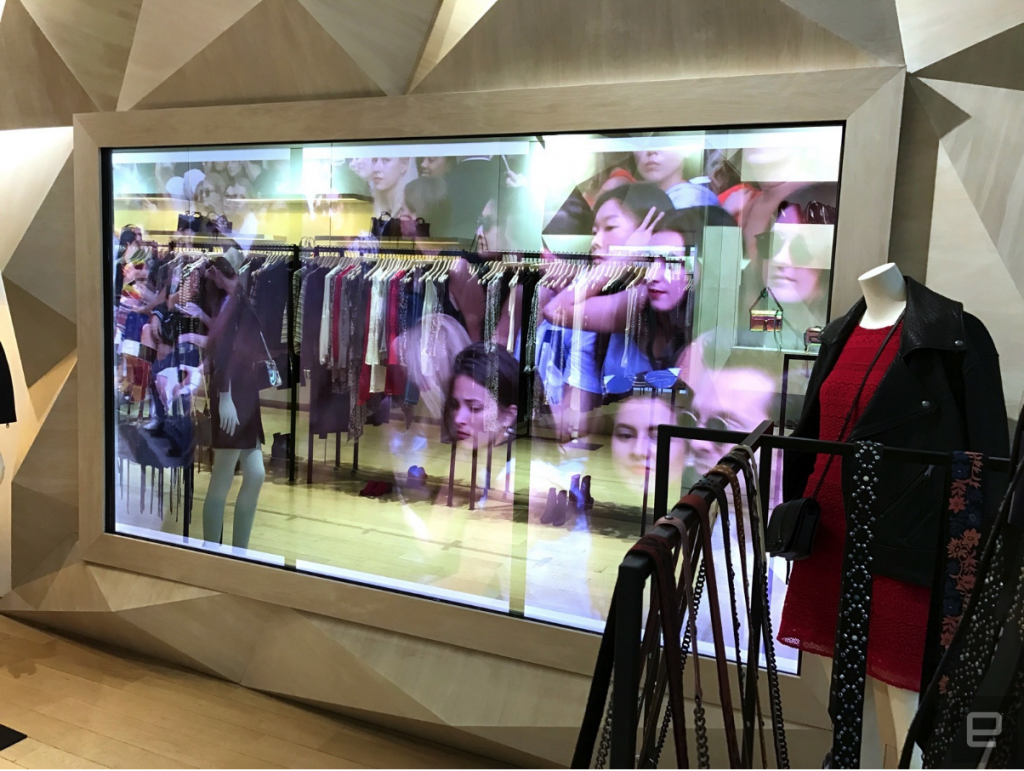 There is also a video wall that helps customers find the products they're looking for: 
"I think it's [brick and mortar retail] become about experience," Uri Minkoff said. "For some people it may be an art installation for others it might be the way you boost the senses in some way, and for us we basically said there are so many efficiencies in e-commerce, how do we bring those digital efficiencies into the store?"
This turn towards technology has been a great move for the brand, which has seen a 200% increase in sales year-on-year since they implemented the displays. 
Key Takeaways From Rebecca Minkoff: 
Bring together the best of both online and offline shopping to create a richer, more appealing experience

Put customers in control of the buying experience


5. Nordstrom's Digital Denim Doctor 
Jeans shopping is a pet hate for the majority of the population. 
It's pretty much Mission Impossible to find a pair on the first try, and it's not uncommon to visit multiple stores trying to find the right fit.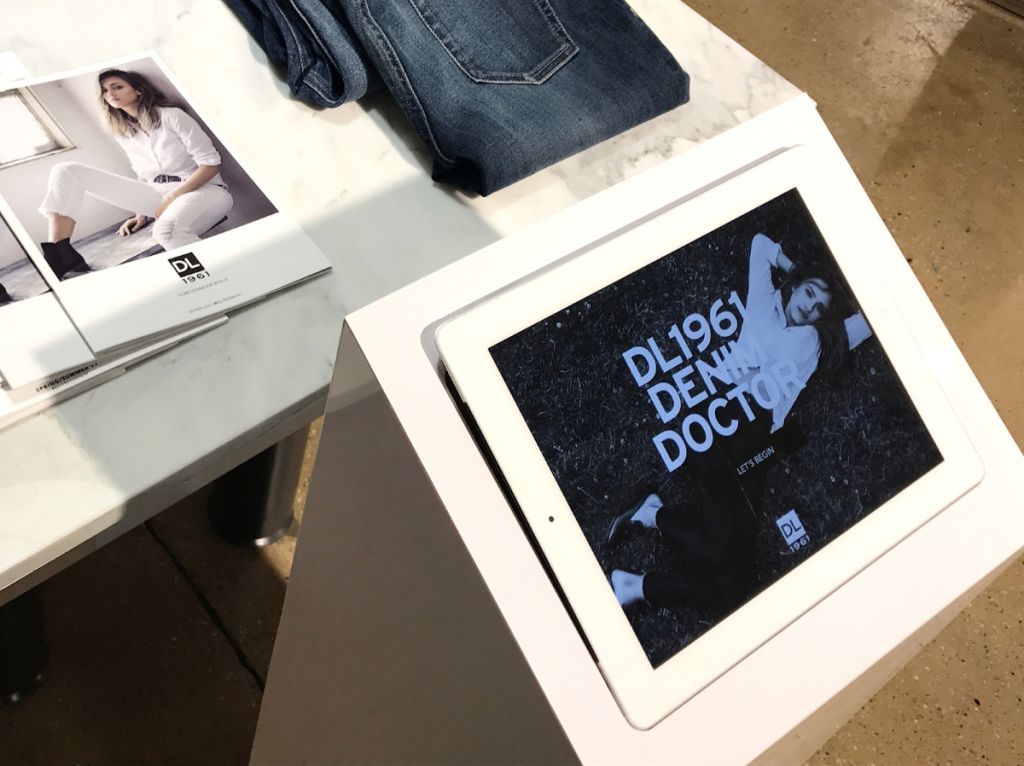 Nordstrom is well aware of this pain and has implemented digital signage to make the jeans shopping saga more manageable. 
They introduced their "Digital Denim Doctor" display, which uses 360-degree pictures, intelligent programming, and a range of filters to make it simple for customers to wade through all the different styles, sizes, and colors available.  
The "Doctor" works by using input information from the customer to determine the best type of jeans for their body type and lifestyle. As a result, shoppers have been able to find their unicorn pair of jeans that they can buy over and over again.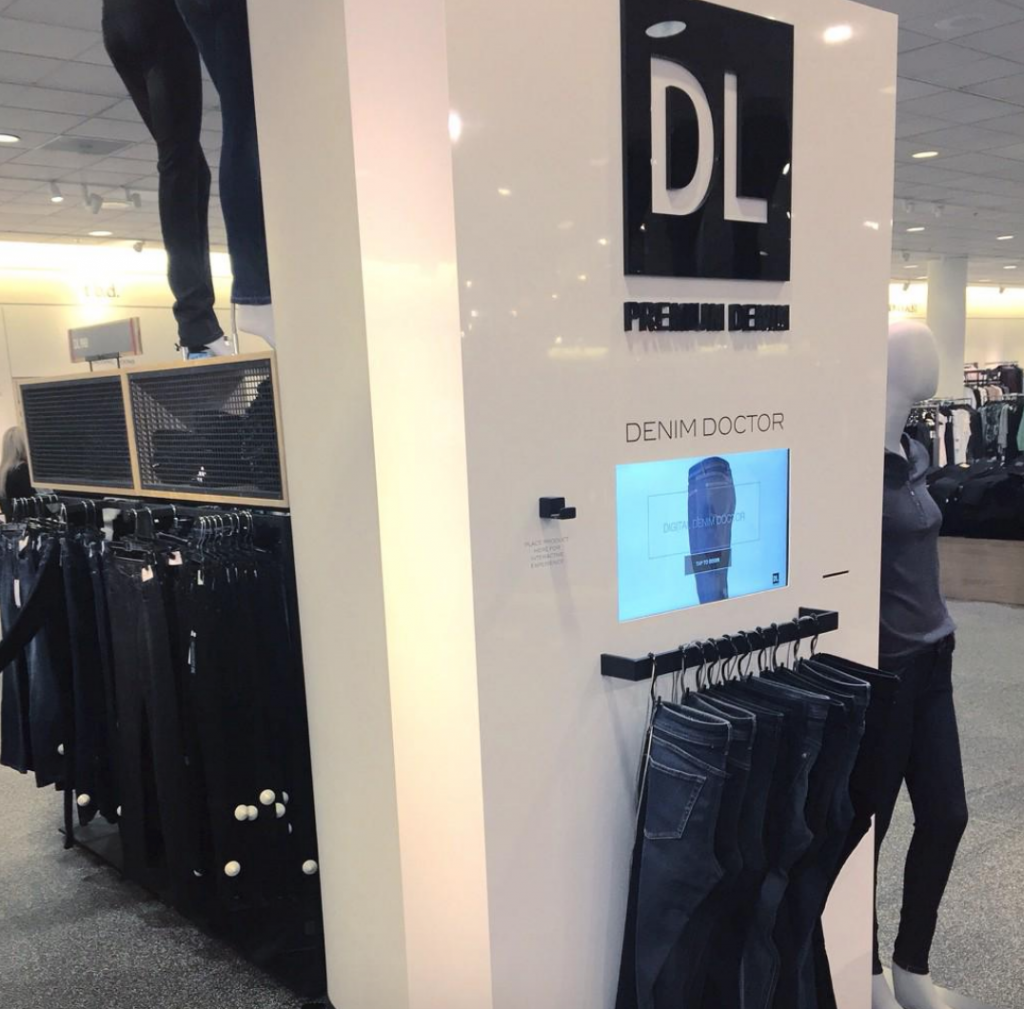 Key Takeaways From Nordstrom:
Solve a common pain point for your customers to build trust and ensure they come back again

Use customer data to provide personalized journeys that make the offline shopping experience quick and enjoyable 
Is Storefront Social The Future?
We're seeing more brands searching for ways to up their game when it comes to the brick-and-mortar shopping experience. With millions of people heading online to make purchases, it's more important than ever for retail stores to create an appealing and enjoyable shopping experience.
For many, this means combining the positives of both online and offline shopping to create a richer experience. 
Personalization is the name of the game, with most of the brands listed here offering recommendations based on customer data, while others are using digital screens to inspire a community vibe and share discounts. 
If you're considering implementing storefront social, think about your customers' biggest pain points and determine if there's a way you can incorporate a digital element to the in-store experience to ease that pain.