More shoppers than ever are turning to social media for product inspiration. Features like shoppable posts and the ability to link directly to product pages from Stories means online stores are seeing more consumers than ever buying through social. 

But just because people can shop from social posts, doesn't mean that brands are making the most of it. Creating a seamless experience is important if you want consumers to get their wallets out while browsing your social feed.

So how do you make sure every click takes the user where they need to go to drive the highest conversions and keeps them coming back for more?

1. Get the Basics Covered

Before you even consider making your social accounts shoppable, it's important that you have your profiles set up properly. This means updating them with your logo, branding, and a clear bio with a link to your website or store.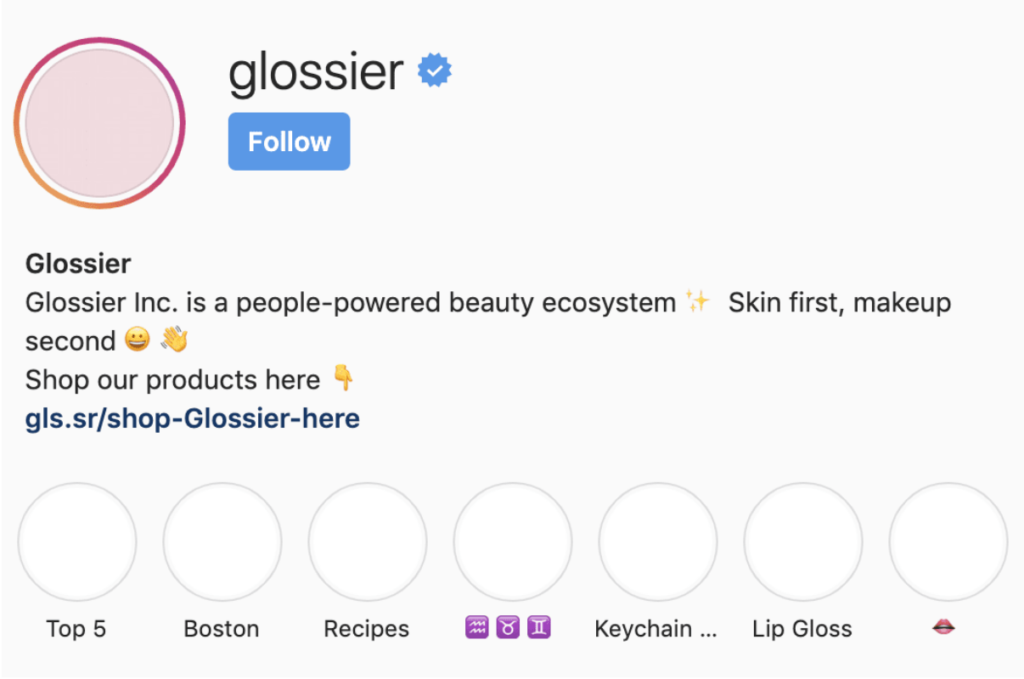 Glossier's Instagram bio is an example of a good, clear profile.

From there, you want to create a consistent social presence so that your followers come to know and recognize your posts. Make sure your visuals are on brand and you use the same tone of voice across channels – however, it's important to note that different social channels call for different kinds of communication. 

Consider creating a brand guidelines packet and a tone of voice document, specifically for social, to help you and your team keep your social channels consistent. Within these documents you should outline:

Posting guidelines, like what times to post throughout the day (check out this guide for the times that get the most engagement on each channel)
Branding collateral, like your logo and colors that can be used on posts
Tone of voice – do you want your brand to come across as casual or formal? Funny or serious? It helps to list out a few words that describe your brand here. This can be slightly different than your overall brand guidelines so that you create a more engaging presence on social 
Image guidelines, like what dimensions your images should have and any templates that your team should use
Hashtag guidelines, including key hashtags that should be used across posts 
2. Speak Directly to Different Audience Segments

Social media has a ton of different features that allow you to speak directly to different segments of your audience. The more you can personalize an experience for a follower, the more likely they are to have an enjoyable time and buy from you.

Here, it helps to dig deep into different customer profiles and create a couple of different personas. Ask yourself these questions but remember to keep them specific to social:

What is my audiences' biggest challenge?
How can my products help them get past this challenge?
What are the demographics of my audience?
What are the key interests and hobbies of my audience?
This will help you get a better understanding of the type of social content each segment of your audience might want to see.

And, by doing this, you can help your followers better accomplish their goals and meet their needs right away.

For example, if you're selling kids' shoes, you can use Facebook's Power Editor tool to promote posts featuring kids shoes to your followers that are parents rather than your entire fan base.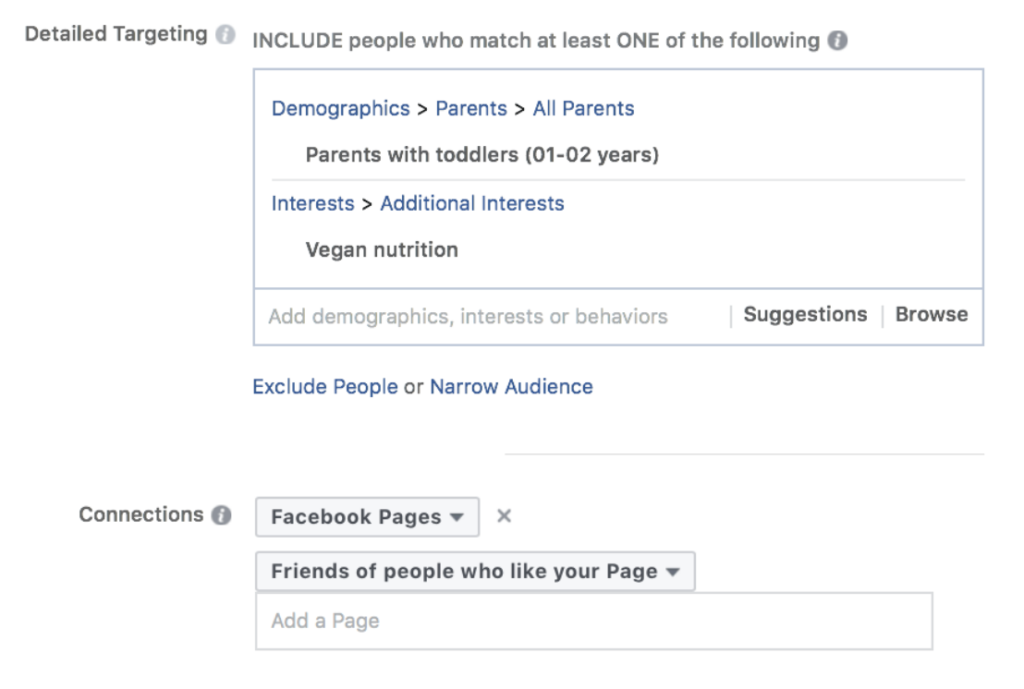 This works in two ways: first, the parents in your audience feel like you're speaking directly to them – you know what they want and are ready to provide it to them. Second, your followers that aren't parents won't feel like you're not the brand for them.

3. Anticipate Next Steps

The best user experiences on social media create a streamlined process where the customer doesn't even have to think about what step they're going to take next. It's a slick process that automatically carries from one stage of the sales funnel to the next.

This is why it's important to keep the customer journey as simple as possible.

Each and every post should have a dedicated call-to-action (CTA) with a single end result you want your customer to take. This might be "Shop Now" or "check out our new items here".

You don't want your audience to question what their next step is.

With TINT's hotspots, global CTAs, and product CTAs, you can incorporate CTAs on all your social posts and track the results they're getting. 

At this point, you need to have a good understanding of the sales cycle and what customers want and need at each stage.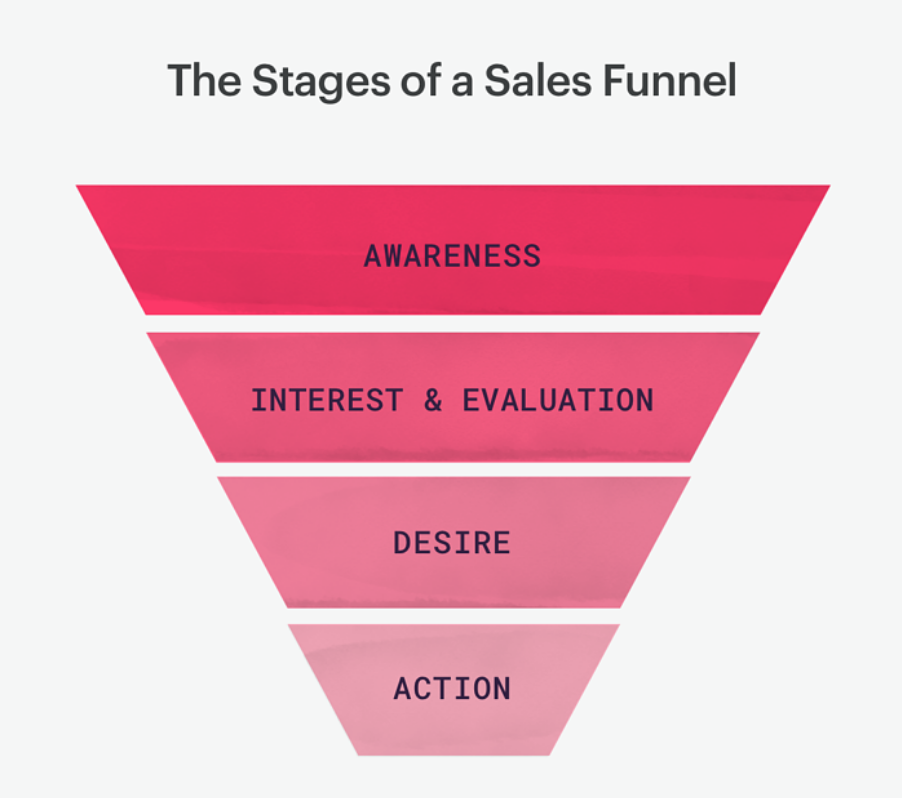 Understand the questions they have at each point and preempt them by sharing content that answers those questions.

Let's say, for example, you sell men's hiking shoes.

Someone in the awareness stage might not know they need a good pair of hiking shoes for their upcoming trip but might be researching a packing list for it.

On the flipside, someone in the action stage basically has their wallet out and is ready to buy. At this point, they have already decided they're going to buy from you after running a comparison with other shoe stores, and it's simply up to you to provide them shoppable posts to help them buy quickly.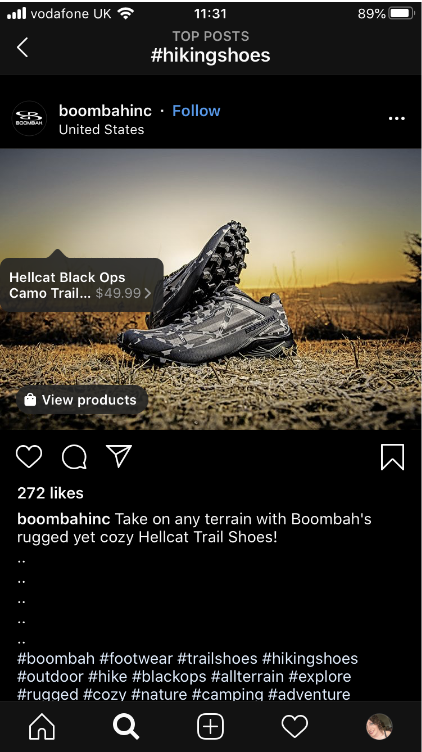 This shoppable post from Boombah Inc falls into the desire and action stage of the funnel. It's aimed at people who have already decided they need a new pair of hiking boots and are ready to hit the buy button.

4. Organize Your Content

Social media platforms make it easy for you to organize your content into different "buckets".

For example, you can use the Instagram highlights feature to organize your Stories into different categories, like "shoes", "testimonials", "UGC" etc.

This helps customers find exactly what they're looking for without having to dig too deep. It also works as a kind of digital catalog and avoids your followers having to scroll through loads of content that doesn't interest them – particularly if they have their wallet out and are ready to buy.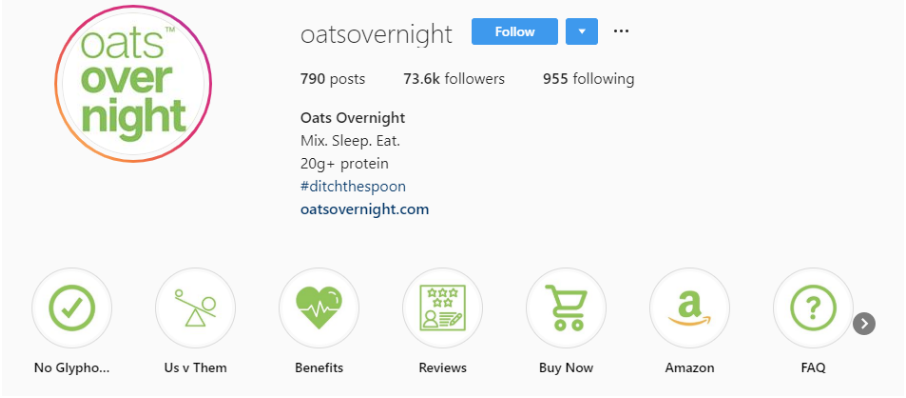 This example from Oats Overnight shows how you can break up social content to fit into the different stages of the sales funnel. It creates an easy way for shoppers to sort through the information they need.

If someone's not yet set on buying Oats Overnight, they might browse through the benefits, whereas someone who knows they need their next Oats Overnight shipment might head straight for the "Buy Now" section.

5. Make Use of In-App Features

Every social media channel comes with a slew of features that you can tap into that helps make the social selling process a little bit slicker.

For example, Instagram's shoppable posts feature lets consumers make purchases without leaving the app, while Facebook's retargeting option in the Power Editor means you can recapture customers that got distracted but who might still want or need what you're offering.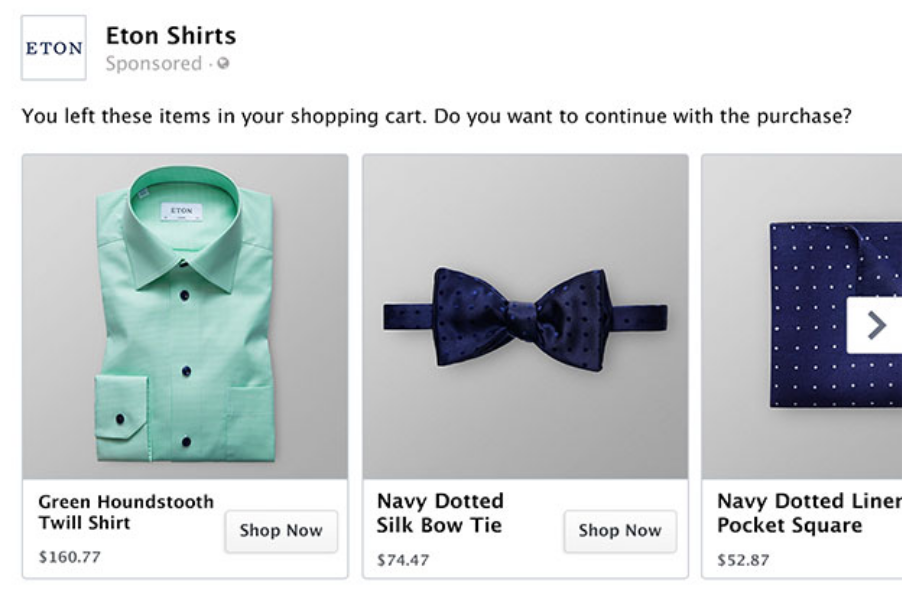 Eton Shirts remarkets to shoppers who have left items in their carts. Cart abandonment rate is high across all industries, but by tapping into social media features you can start to reduce the numbers and provide a better shopping experience. 

6. Provide Customer Service Via Social Channels

There's a high chance consumers will have objections before they buy that instantly puts up a barrier between you and them. 
Social media is a great way to remove the barrier and interact with consumers pre-purchase and answer key questions.

H&M uses a Facebook Messenger bot to answer consumer questions before they purchase. This eliminates the possibility of customers going elsewhere if they can't get an answer to their question right away.

Top tip: it's also important to make sure your customer service is up to scratch after purchase. Past buyers are far more likely to come back if they have a good customer service experience with you.

You don't have to implement a chatbot or use AI-powered technology, though. Simply being available on social media to answer questions can dramatically improve the shopping experience for your customers.

Top Priority: Great Social Shopping Experience

It's a no-brainer: creating an enjoyable social experience for shoppers should be a top priority. If you can do this, you'll tap into one of the hottest ways consumers are making purchases today.

The key is to focus on simplicity. Think about how you can create a purchase path for your users that has the fewest clicks possible before conversion.

Follow that up by implementing these best practices to attract new customers, lower cart abandonment rate, and keep past buyers coming back for more.