Last year, Facebook hit the headlines when it said it was running out of advertising space in its newsfeed.
Sounds absurd.
The potentially infinite Facebook newsfeed is getting clogged up. Fast.  
Since the announcement, marketers have felt the pinch, which has revealed itself in decreasing organic search returns and pricier ads.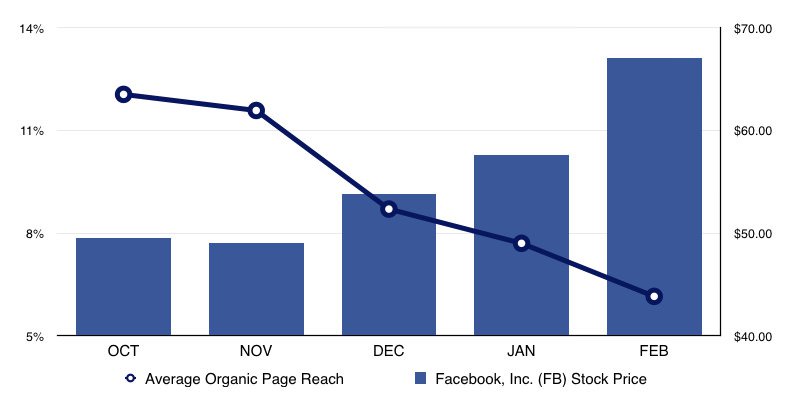 But there is one way that, despite all this, is helping brands get more bang for their buck (and more conversions).
User Generated Content in Facebook Ads
A glut of marketers have found that social ads that showcase UGC in the form of reviews and customer generated images perform much better. They are more relatable to shoppers and more authentic – something consumers are craving at the moment.
Let's look at some cold, hard facts about why UGC is so valuable for Facebook ads.  
76% of consumers

say reviews and photos from past buyers influence their purchase decision

77% of consumers

admit authentic customer photos have a bigger impact on their purchase decisions than polished images created by marketing departments

Facebook ads with reviews see a 50% lower CPA and a 50% lower CPC

compared to normal Facebook ads
The heightened engagement and the affordability of UGC makes it an incredibly powerful tool for brands, and these stats heartily back that up.
And when it comes to conversions, UGC shared to Facebook see conversions that are 40% higher than the industry average.
So now you know why UGC is so effective in Facebook ads, let's take a look at same brands that are hitting the mark.
1. Blenders Eyewear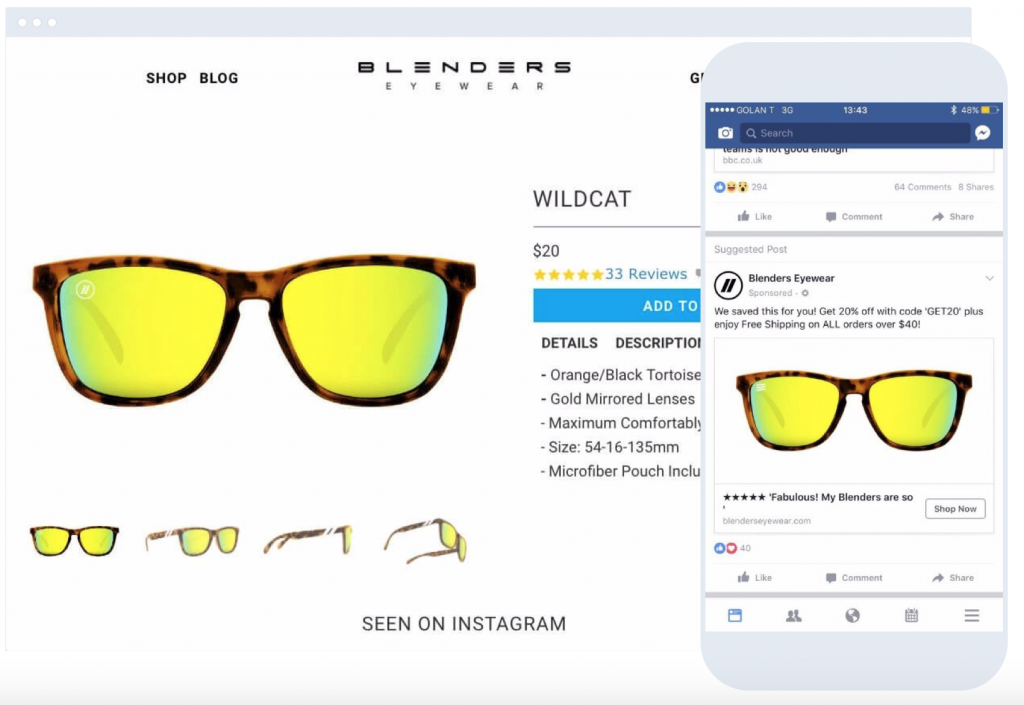 Blenders Eyewear seamlessly blend reviews and star ratings into their ads using Facebook's Dynamic Product Ads format.
Not only does this mean they're targeting shoppers who have already shown an interest in their products, but they take it one step further and add a persuasive dose of social proof to help buyers validate their choice.
What did this mean for Blenders Eyewear?
As a result, the brand lowered their CPA by 38%, increased their return on ad spend by 62%, and decreased the CPC by 40%.
The ads also generated a constant flow of likes, comments, and shares, which helped increase the ad's' relevancy score on Facebook (which is vital if you want your ad to be seen by the right people).
"Having the UGC baked into the ad unit in the form of a featured review elicits a higher engagement rate from our audience and does a great job of turning prospects into customers," claims a spokesperson from the brand.
Replicate Blenders Eyewear's Success
Handpick the best reviews from your previous customers and integrate them into your Facebook ads for a more authentic, persuasive result.
2. Pura Vida Bracelets
Pura Vida's products were made for Facebook. The pretty designs are vibrant enough to stand out on the newsfeed, and their whimsical nature conjures up images of beaches and far flung adventures – exactly what consumers want to lap up while they're slaving away at work.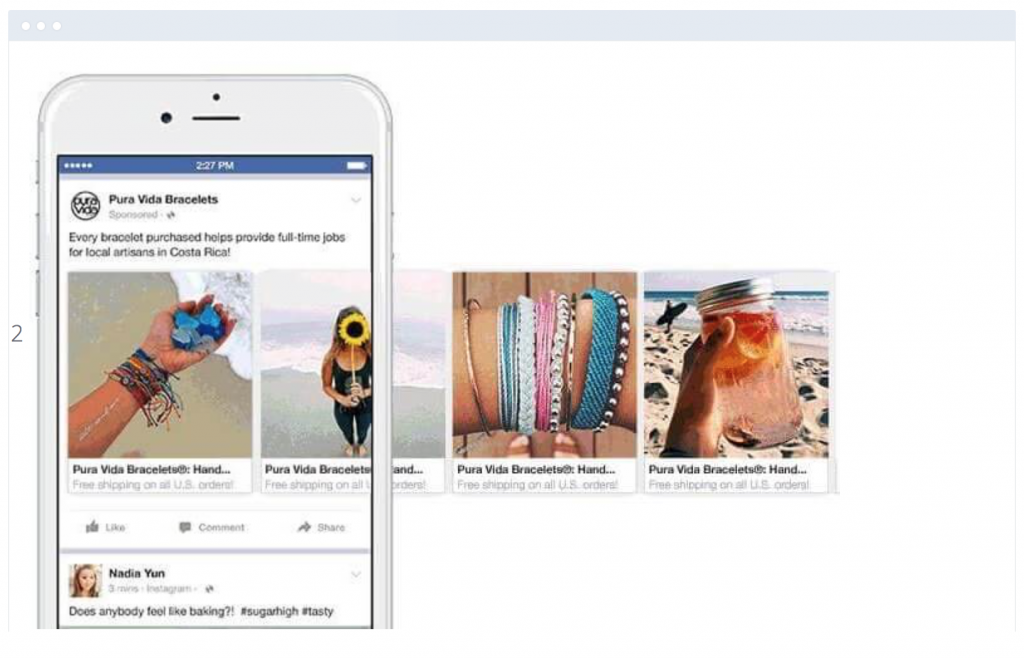 The brand integrates customer photos into carousel ads to create a moving snapshot of the "dream" lifestyle.
What did this mean for Pura Vida Bracelets?
By fully making use of UGC, they provide an authentic insight into the brand and stand out on user's newsfeeds. The campaign has increased the CTR of their ads which, over time, has led to a drastic surge in conversions.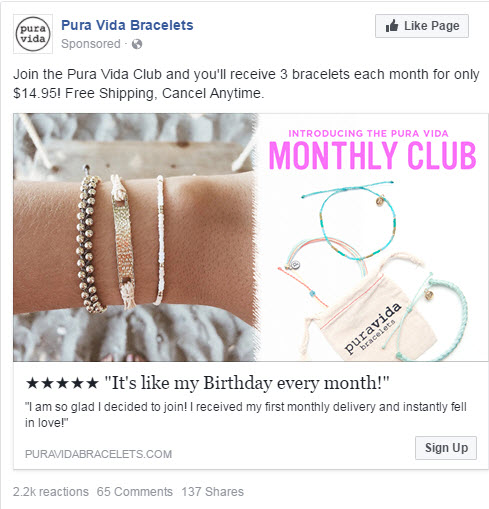 Replicate Pura Vida Bracelet's Success


Hunt down stand-out images created by your customers to create a real-feel vibe on your target audience's newsfeeds. By integrating natural content, users won't skip over it like they might do with highly-polished ads that look like ads.
3. Crown Resorts
Research has shown that UGC is more relevant and trusted in the eyes of consumers, which means it is a powerful tool for increasing ROI.  

Crown Resorts have taken advantage of this knowledge and come up with a relevance-driven approach to their Facebook ads. To carry it out, they identify the best customer-created visual content, get permission quickly, and start promoting it as soon as possible via Facebook ads.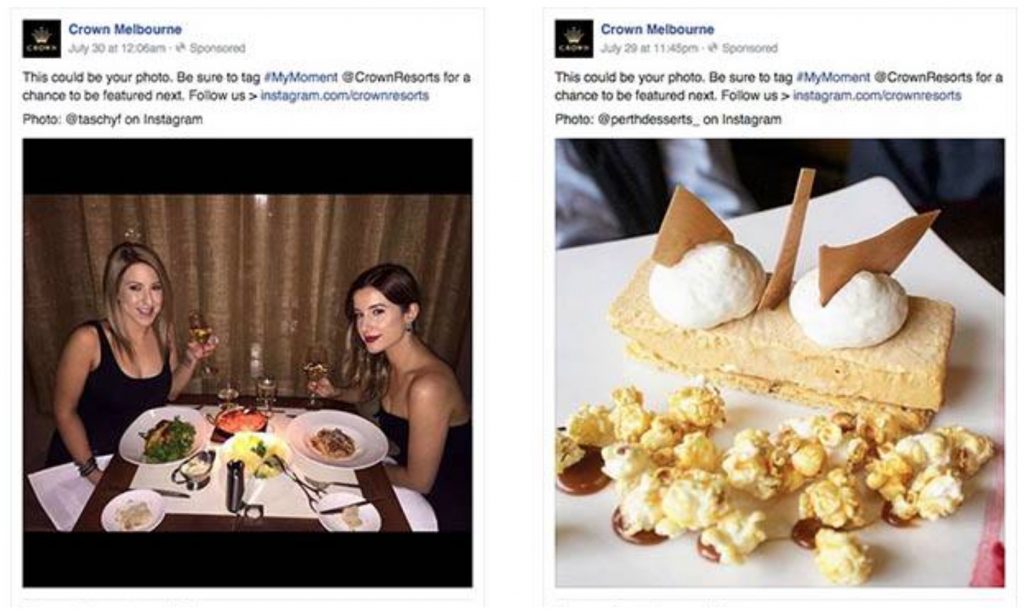 What did this mean for Crown Resorts?


Jumping on the bandwagon quickly and integrating customer created photos as soon as they're posted creates an almost "live", in-the-moment feel to Crown Resort's campaign. 

On top of that, ads with UGC achieved 25% more likes and a 21% lower CPM. Over time, the ad campaign encouraged a 25% increase in positive sentiment about the brand, too, cementing a story and an overall enjoyable customer experience.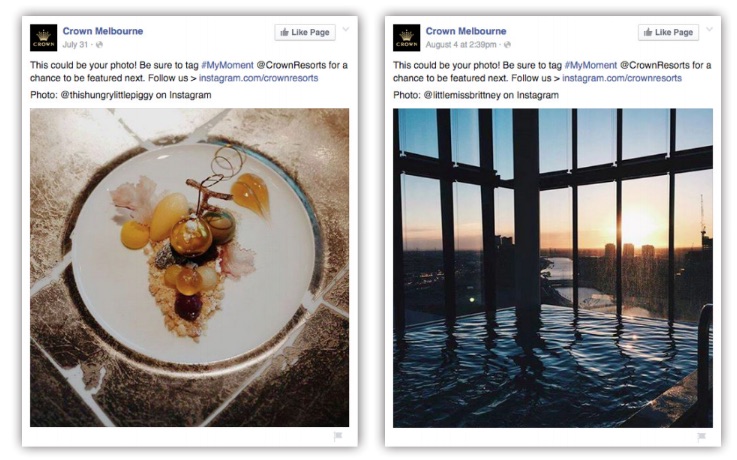 Replicate Crown Resort's Success
The key here is to find customer created content as soon as it's published and create a campaign that is highly relevant and timely to your audience. The in-the-moment approach is incredibly powerful when user feeds are constantly being updated with new and exciting content.
4. Toyota's "Feeling the Street" Campaign
Toyota's annual "Feeling the Street" campaign is a prime example of a brand doing awesome things with UGC in Facebook ads.

Over a period of six weeks, Toyota collected the best customer created content from Instagram and integrated them into stand-out Facebook ads.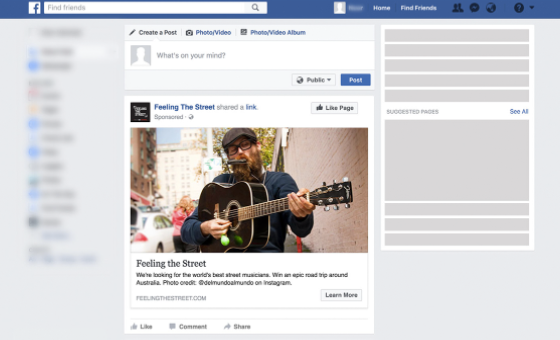 What did this mean for Toyota?
By handpicking and sharing the most engaging UGC, Toyota received more than 1.2 million likes, comments, and shares across the campaign. And, without raising their budget, they managed to secure a 440% increase year over year in ad engagement.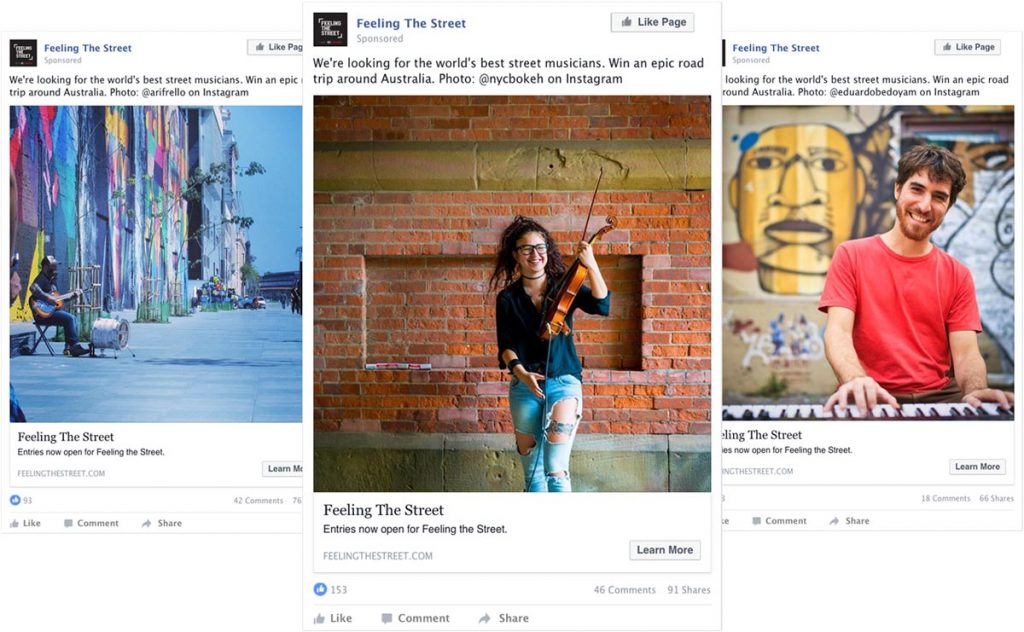 Replicate Toyota's Success
The most noteworthy part of Toyota's "Feeling the Street" campaign is it's selection of customer created content. Instead of picking visuals randomly, they actively select content that is already performing well across other social channels.
5. Pawstruck
The internet loves animals. Fact.

It was no surprise that Pawstruck's Facebook ads perform well because people love to look at cute pictures of puppies, but by integrating UGC into their campaigns they took the world's adoration for all things cute to another level.

The brand took user generated images from other social channels like Instagram and Twitter, and implemented them in a carousel ad format along with customer reviews – kind of like a double whammy of UGC.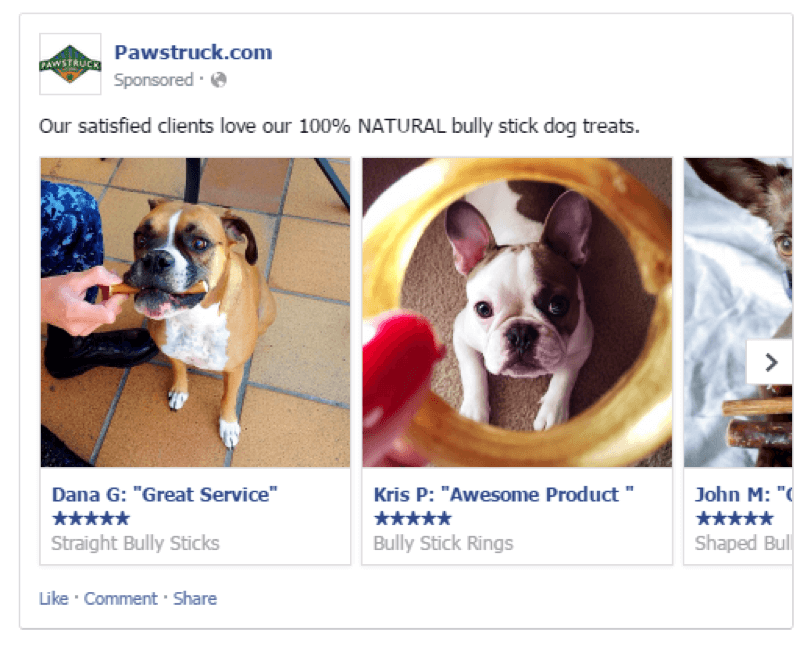 What did this mean for Pawstruck?
After utilizing UGC in their ads, they benefitted from a 30.3% increase in CTR and a 33.6% decreased in CPC.

That translated into a CPA that was five times lower than their non-UGC ads and a CTR that was three times higher than normal.
Replicate Pawstruck's Success

Aside from using animals in their ads, Pawstruck got another thing right. Instead of using either customer reviews or customer images, they combined the two together to create an even more powerful set of ads.

Rather than just using one form of UGC, why not integrate two or three to really hammer home your brand?
6. AJ Hackett Bungy
Adventure and high-adrenalin sports companies aren't newbies on the UGC block – just take a look at GoPro, who have an entire YouTube channel dedicated to content shared by their customers.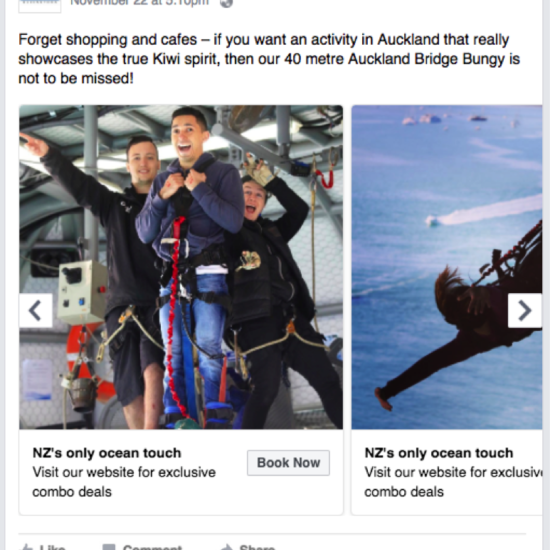 For AJ Hackett Bungy, integrating UGC into their Facebook ads was a no-brainer.

They implement photos created by their previous customers into a series of carousel ads to boost authenticity and to show a perspective of the company that people could get excited about.
What did this mean for AJ Hackett Bungy?
As a result of the campaign, AJ Hackett Bungy saw a 44% increase in CTR, a 60% increase in ad engagement, and a 13% decrease in CPC.
Replicate AJ Hackett Bungy's Success
The carousel ad format works well for UGC Facebook ads because it gives users a selection of images to scroll through, which means there's more chance of them stumbling across one they can relate to.

By implementing customer created visuals in their carousel ads, AJ Hackett Bungy increased the chances of connecting with potential customers in an authentic and natural way.
7. West Elm
Furniture and houseware retailer West Elm was quick to jump on the UGC bandwagon when it came to their Facebook ads.

For the last few years, they've been experimenting with a UGC-inspired approach to their campaigns, collecting images from the popular #mywestelm hashtag on Instagram, Facebook, and Twitter. They then implement these visuals in a series of carousel ads.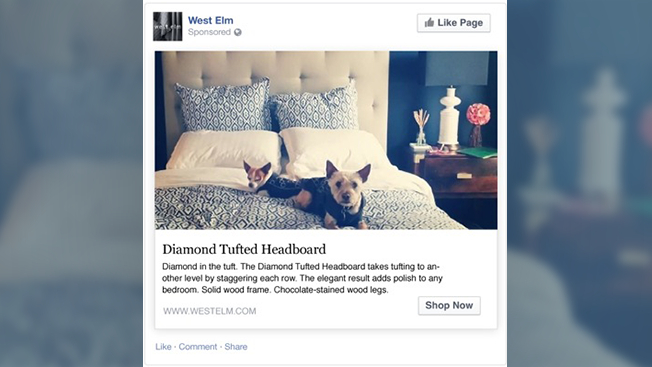 In one experiment, the brand ran an A/B split test that ran two campaigns side-by-side. In one, the visuals were handpicked from the brand's hashtag, while the other incorporated their regular Facebook content.
What did this mean for West Elm?
The experiment produced some amazing results.

The CTRs of the UGC ads were 2.6 times higher than the regular ads, and the visitors that clicked through to the website from these ads converted at a rate of three times higher than the regular ads.

"I think it works because it looks like what people expect in a Facebook news feed," says Aaron Able, the director of social media and digital content at West Elm. "It's a natural space."
Replicate West Elm's Success
Facebook ads can be difficult to get right, which is why experimentation and testing is key.

Try running a split test like West Elm to determine which content performs the best, and then create deeper campaigns that integrate the most engaging and conversion-friendly UGC.
More Engagement, More Conversions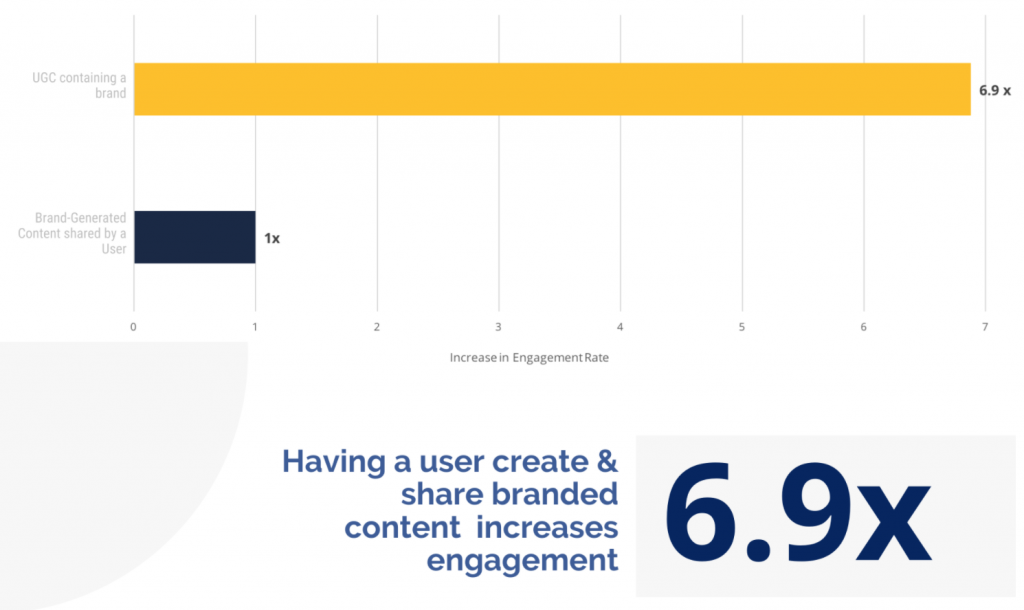 Brands that have been integrating UGC in their Facebook ad campaigns have witnessed the power of authentic, relatable content.

Not only have they seen a surge of engagement on their Facebook pages, but they've converted more customers and created a brand experience that keeps consumers coming back for more.

By handpicking the most compelling content created by their customers, these brands are including the most important people in their businesses – their customers – and driving their content strategy through what their audience actively want to see and what they actually respond to.

And, with 48% of consumers agreeing that UGC is a great way to discover new products, it's not just a strategy reserved for big-name businesses. In fact, integrating UGC into a Facebook campaign can help consumers get a better idea about a product quickly and make a snap decision about whether they want to buy from the brand or not.
Are you ready to start leveraging the power of UGC in your Facebook ad campaigns? Let's talk