Year after year user-generated content continues to prove itself as one of the most powerful tools in a marketer's arsenal. This year, our 2021 user-generated content stats roundup looks at how UGC is diversifying across the world.
Micro-influencers are bumping mega-influencers out of the way. Social Commerce has gone mainstream. Employees are now all marketers. Social Media supports a variety of goals and is getting bigger than ever. Dig into the top 50 user-generated content stats of 2021.
Looking for the latest stats? Here you go: The User-Generated Content Marketing Stats You Need to Know in 2022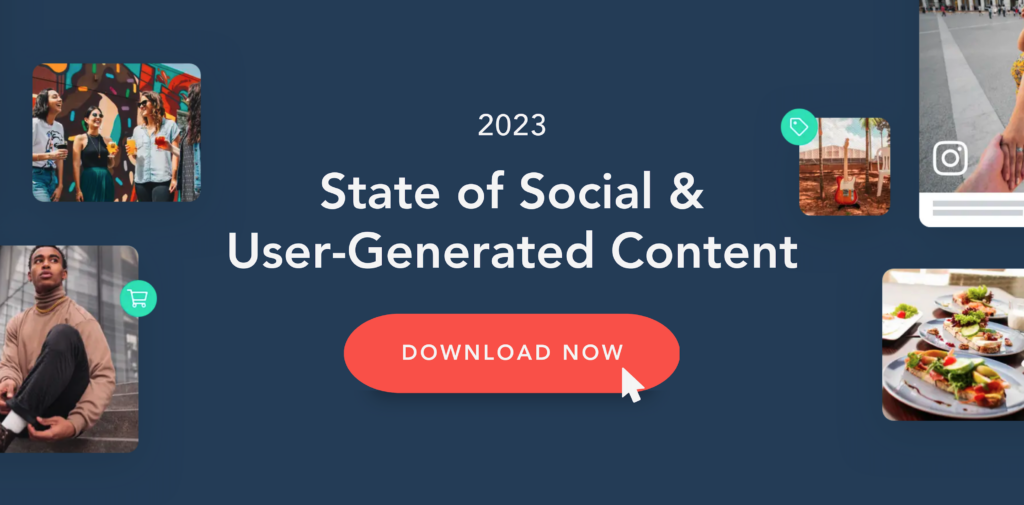 Key 2021 User-Generated Content Stats for Marketers
User-generated content is more important than ever as a turbulent global landscape leads consumers to expect brands to show a real, more authentic face. With screentime at an all-time high, people are constantly creating and engaging with content.
Marketers are Stretched Thin, in a Content Crunch
It is no surprise that 2020 left marketing departments stretched thin and hurting for resources. Savvy marketers are turning to user-generated content and employee-generated content to fix their content crunch. Not only does UGC and EGC save time, but it also is more authentic and performs better than brand-created narratives.

Think Small! Micro-influencers are here to stay.
As influencer marketing continues to evolve, more and more marketers are finding that uber-influencers with their enormous followings are not driving action like they used to. Micro-influencers activated en-masse are more engaging, higher performing, and cost-effective alternative to digital celebrities.

Need a refresher on Micro- and Nano-Influencers? Read our article.
Social Commerce goes Mainstream
Countless consumers adopted new technologies in the face of the global pandemic. Social Commerce entered 2020 as a powerful tactic and exited the year as the top tool for eCommerce. Retailers now know that shoppers are willing to buy their product whenever the opportunity presents itself, on- and off-network.

Social Media Transforms Organizations
This year we turn to the Hootsuite Social Transformation Report to better understand how modern organizations are expanding their use of social. Social is no longer perceived as "just" a tool for Marketing and Communications. The world's top companies are using social media to achieve cross-organizational benefits that increase brand health and directly drive revenue.

67%

of established organizations have used social media to build strong relationships that benefit the business.

84%

of mature organizations have used social media to improve brand health indicators like consumer sentiment, share of voice, and perceived brand value.

78%

of marketers agree that social media empowered them to reach prospects more efficiently than other media.

28%

of organizations report that they can directly attribute revenue to social media engagement.

58%

of organizations with established social media programs have tracked sales that can be, at least, partially attributed to social media.

78%

of marketers consider Facebook

the most effective for reaching business goals

. This is followed closely by Instagram (70%) and LinkedIn (42%).
An Eye on Customer Experience and Consumer Perspective
Customer service is fully social with many brands launching dedicated social media handles and teams to provide service across channels. Your customers want to connect and expect a response regardless of where it is on the internet.

Employee-Powered Marketing
The power is with the people. Marketing is increasingly powered by the entire organization. Elaborate employee advocacy programs are surfacing that encourage, and sometimes incentivize, staff to support marketing efforts on their own personal channels. Expect to see an employee-generated content boom during 2021.

Social Is Bigger Than Ever
Nothing can slow the spread of Social. This year's 2021 Global State of Digital Report is tracking explosive growth around the world. The report is a recommended read. Here are our favorite stats.
4.2 Billion

active social media users worldwide, that's over half the world's population.

2 hours 25 minutes

, the global average amount of time people aged 16 – 64 spend on social media.

44.8%

of the globe uses social media to find information on brands or visit corporate accounts.

74%

of all North Americans are on social media. More specifically (from North to South):

84.4%

of Canadians

72.3%

of Americans

77.2%

of Mexicans

American social media users grew by

4.3%.

That's over 10 million unique individual users added in 2020.
Other Trends for 2021
We always have our eyes on the horizon. Digital trends are being adopted at breakneck speeds. These are a few we know will be strong in 2021.
—
The numbers don't lie. The 2021 user-generated content stats show that UGC is here to stay.  User-generated content, employee-generated content, and micro-influencers are the most effective tools for marketers. Learn how TINT helps the world's top brands engage with these powerful tools. Schedule time with one of our experts today.