Date night is coming up. Your family is visiting and you want to take them out. You're dining out in a new city or maybe you're planning a big event. How do you decide where to book a table? Recommendations from friends? Yelp reviews? Facebook posts? The restaurant's website?
As consumers turn to the internet for dining recommendations, it's more important than ever that restaurants have an enticing, engaging web presence to bring discerning diners through their doors.
Though I titled this post "mouthwatering websites," a restaurant's online presence can (and should) extend beyond their website. Pinterest boards, dining review websites, and recommendations on social media are all opportunities for restaurants to promote their high-quality food and happy diners.
Some restaurants have already figured out the best way to build mouthwatering websites and beef up their web presence at the same time. Their tool of choice? A customized social hub.
Here are some innovative ways that real restaurants are taking advantage of social hub technologies to attract diners:
1. Social Hub as Fresh Website Content
For restaurants already investing time in social media, it makes sense to let it do double duty as fresh, beautiful website content. These restaurants were already posting to social, with beautiful photos from themselves and their diners. Now, that content is proudly displayed on their websites. It's more engaging than a typical restaurant website, and daily social posts ensure that the content is always new.
Redd Wood, an unpretentious Napa Valley osteria, uses their social hub to pull in a combination of their own Instagram and Facebook posts combined with hashtagged photos from happy diners.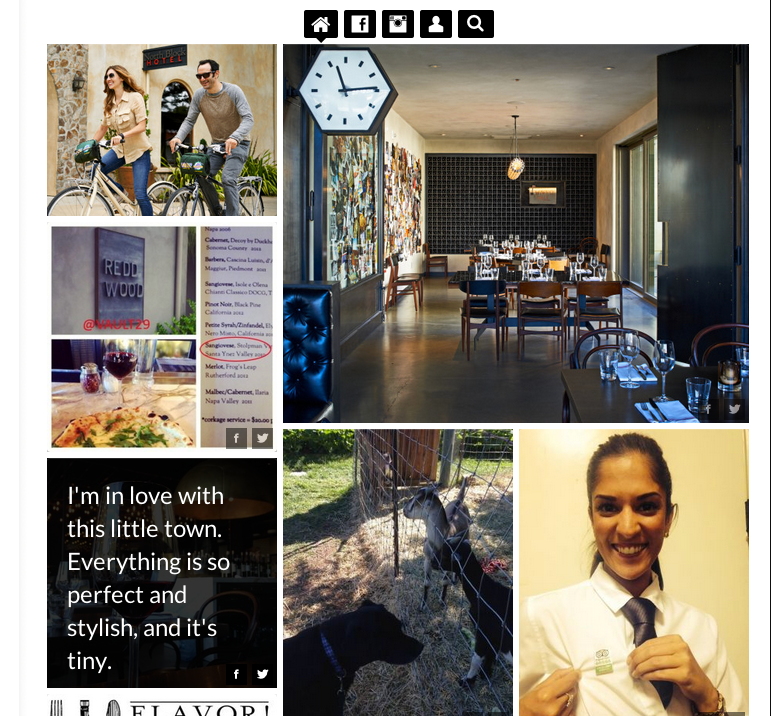 One user posted a photo of Redd Wood with the caption
"I'm in love with this little town, everything is so perfect and stylish, and it's tiny."
Another shared a photo and description of their mouthwatering meal: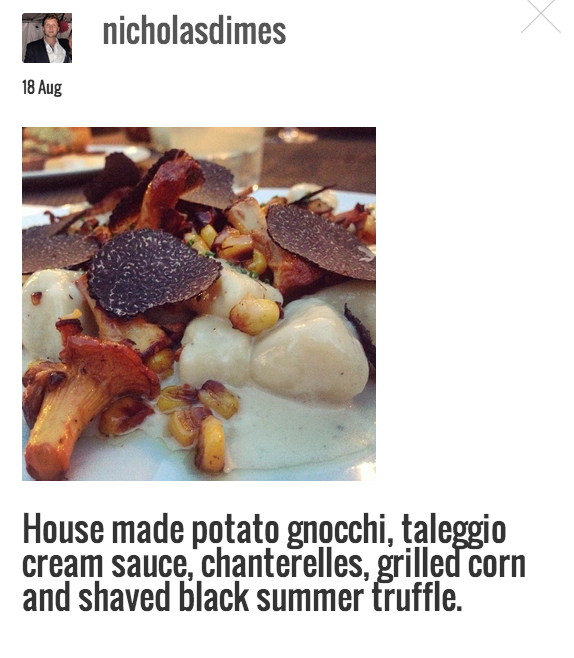 Yum! Who needs food photographers when you have such great user-generated content?
Piatti, a collection of West Coast restaurants specializing in local, seasonal food, uses their social hub to pull in the Facebook posts from each of their locations, all of which have a separate Facebook page. Add to this hashtagged twitter content and an Instagram feed, and Piatti has an engaging social page on their website, which they've aptly labeled "Trending."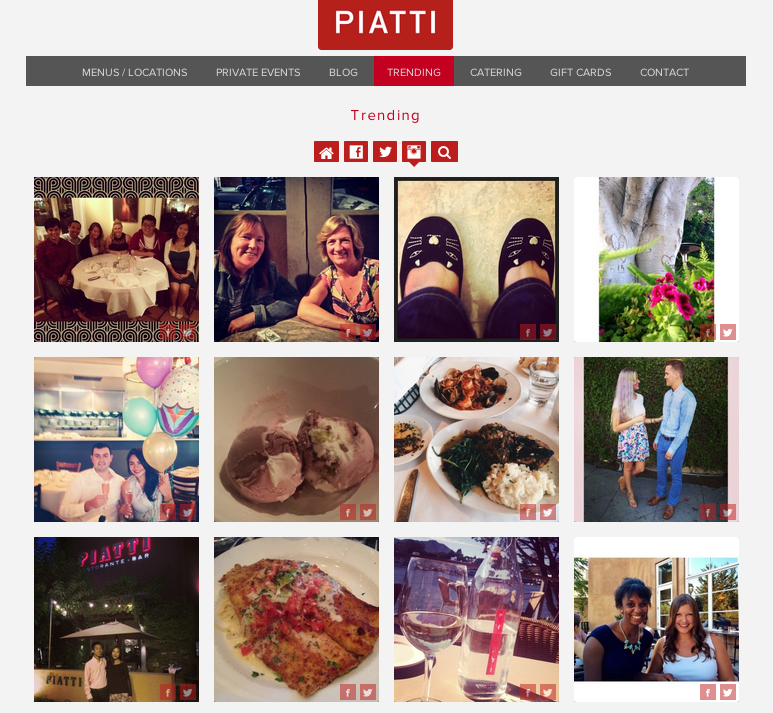 Paragon, a fun dining destination in multiple cities, pulls in slightly different social feeds for each location to provide unique and fresh content for three distinct location pages on their website: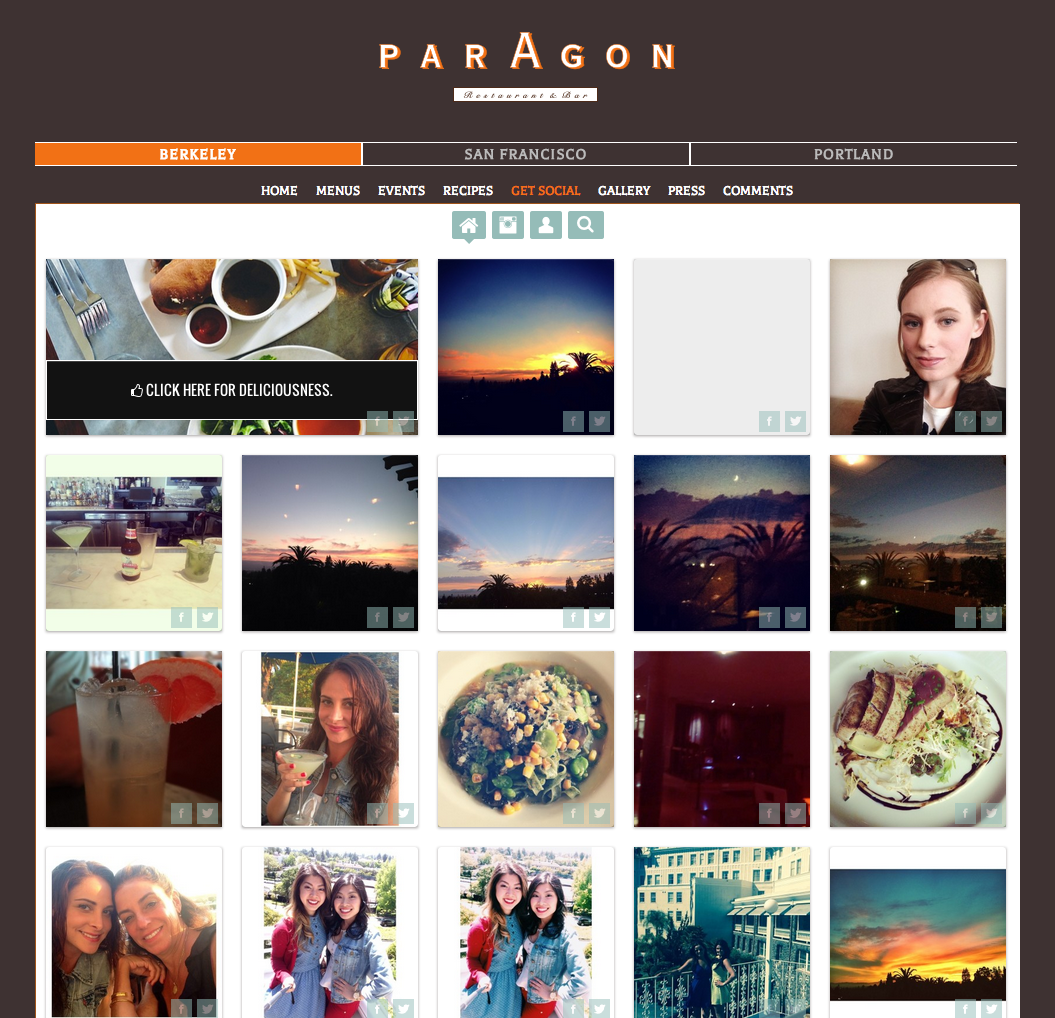 Paragon's Berkley location uses almost entirely user-generated content from Instagram. They used Tint's "add a post" feature to add one pre-made image to the top-left corner of their social hub, directing those who click on it to make a reservation.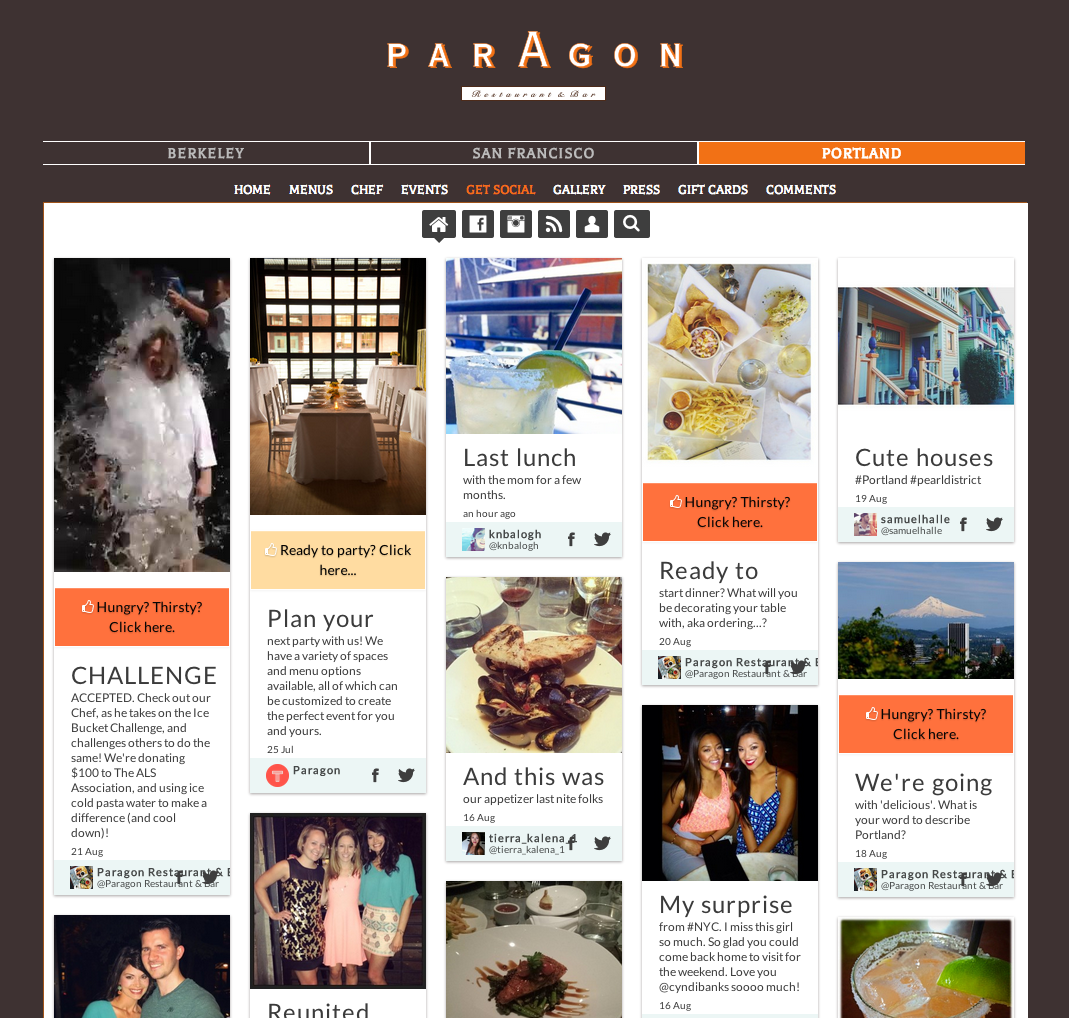 Paragon's Portland location has more social feeds, including the restaurant's official Facebook page (that's why you see their chef participating in the ALS ice bucket challenge) and content from social dining websites (more on that later!).
Creating fresh content for three different location-based web pages would be an otherwise daunting task. Now it's easy to create, and easy to maintain.
2. Encouraging Reservations and Promoting Catering Services with "Call to Action" buttons
Paragon's third page, for their San Francisco location, is a great example of how Restaurants can use Call-to-Action buttons. A call-to-action asks visitors to do something. For example, "Click Here if you Like to Party."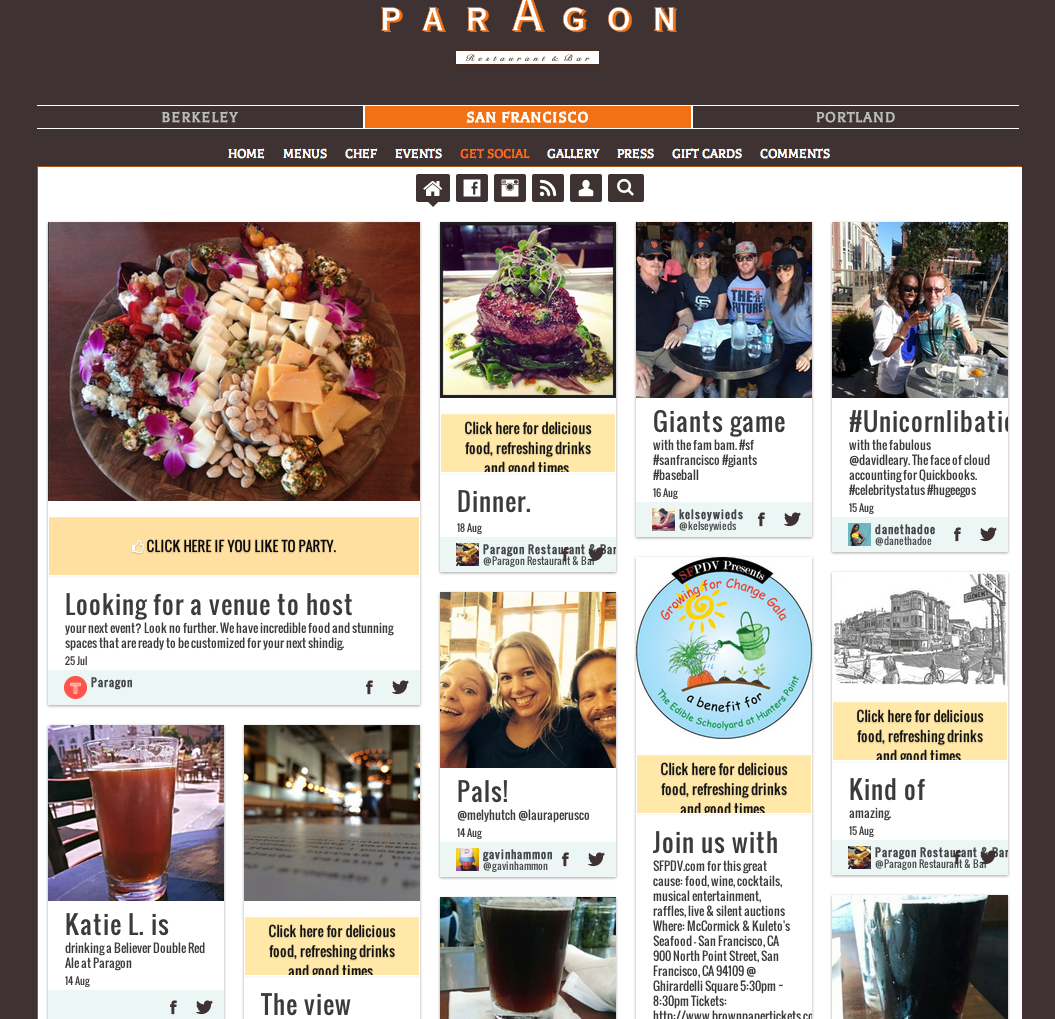 If a website visitor clicks the button, Paragon directs them to their page for San Francisco catering and special events. Other buttons on their hub (for example, "Click here for delicious food, refreshing drinks and good times") take visitors directly to their reservation page.
Corners Tavern takes a similar approach with their delicious and trendy social hub, using call-to-action buttons to promote both their reservations and their private event services: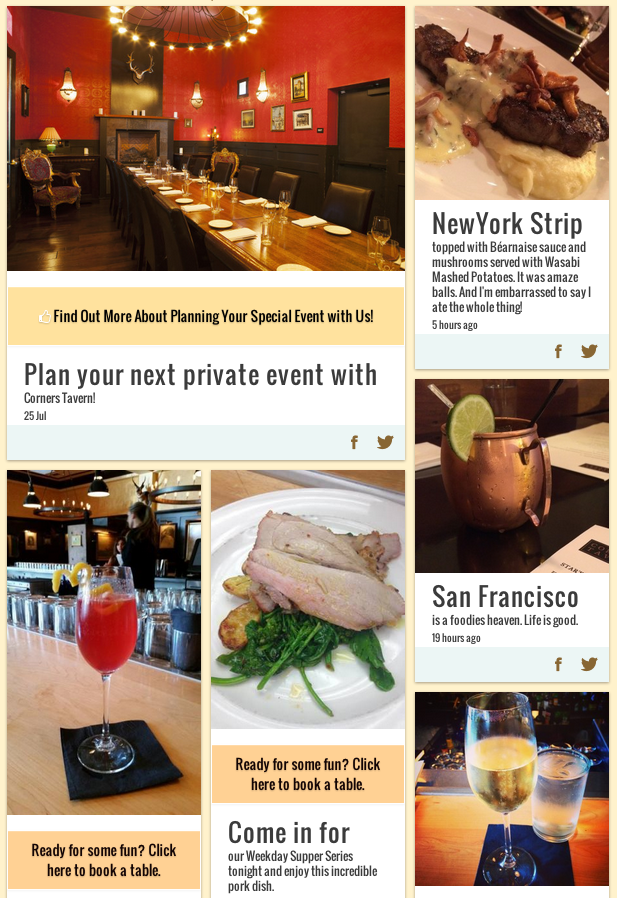 I don't know what's in that ice-cold copper mug, but I'm ready to "Click here to book a table."
3. Reverse, Reverse! Using social hubs on website to promote presence on important social media sites.
This trick is especially useful for destination restaurants or other venues who benefit from a large following on social sites like Pinterest.
Hacienda Cocina, a destination dining experience in Cabo, benefits from a visual social hub that drives website visitors over to their Pinterest board. For a restaurant like Hacienda Cocina, the enticing visual travel images curated on Pinterest are a powerful marketing tool.
For a place like Hacienda Cocina, Pinterest is a great venue to advertise, since one of their specialties is hosting destination weddings, and Pinterest has become a place for brides-to-be to imagine their dream weddings. Hacienda uses its website social hub to encourage visitors to check out their important Pinterest presence. Don't you want to pin that sriracha margarita?
Plantation Gardens, another exotic dining destination (this time in Kauai, Hawaii) uses their social hub in the same way.
Restaurants in exotic destinations or in the bridal business can benefit immensely from a large Pinterest following, so they are using their website to drive traffic to Pinterest. Counterintuitive? Perhaps. Effective? You bet.
4. Taking advantage of "Social Dining Channels" with RSS Feeds
As we saw with Paragon's social hubs earlier, restaurants are not limited to mainstream social media networks. Specialized "social dining channels" can be turned into website content as well.
The Farmer's Union pulls content from Untapped, a social drinking app. Using an RSS feed, The Farmer's Union displays what their patrons are drinking right now, mixed in with their other, more traditional social feeds.
Eating and drinking is inherently social. We like to talk about the beers we've enjoyed and share pictures of the food we're about to eat. For restaurants that want to take advantage of this, social hubs are the obvious answer.
Got a foodie social hub you'd like to share? We'd love to see it! Share the link in the comments below.
Bonus: Already got a TV screen over your bar? We'd love to see how patrons interact with an in-restaurant social hub! Send us your photos.