Every great marketer can agree on one thing: stories sell.  People don't buy products, they buy the stories behind the products. Incorporating visual storytelling into your marketing has never been more important and the following are 9 visual content trends to watch. 
9 Visual Content Trends to Watch (And Try Out!)
Would be customers might not care about the bells and whistles of a product as much as they want to see how other happy customers are using the product in real-time. They want the story that lets them experience the result or solution a product offers.
In addition to persuasive copy, visuals are a huge part of storytelling. Even Twitter (a platform built primarily for text content) mined their data and found that tweets with photos get more engagement and responses than those without. 
#1: Optimism
Marketers use optimism to position companies in positive perspectives. They use visual storytelling to talk about how the brand is lifting others up through their products and why the viewer wants to be part of this community (by buying the product).
This is one of our visual content trends to watch because brands are using optimism to lift up their audience and relate to their desire for more positivity.
Delta engages with their audience on Twitter to ask them where their dream vacation spot is. While this tweet doesn't rely on a visual image, it's structured in the same way an ad spot on a subway advertisement would look (including the line where people can "fill in" the blank). Not only does this create great user-generated content for Delta to use in the future, but it also gives them a quick survey of where people are interested in vacationing. We'll be keeping an eye out to see if Delta comes out with a campaign for the most requested spot in the future…

#2: Nostalgia
Disposable cameras, scrunchies, and bell bottoms are cool again, giving us a reminder that nostalgia should be used in marketing campaigns. One scroll through Netflix and you'll see reboots of shows that went off air years ago.
This is a trend to watch because consumers are loving the idea of a flash from the past and we're seeing that in graphic design, photography, and other visual creative assets.
#3: Diversity
Authentic representation in marketing is crucial moving forward. Brands are put in the spotlight by unhappy consumers if they're not diversifying their products and campaign photos.
"2021 will be the year to show how different people are and how rich our planet is exactly for that. The trend is to use images of real people with their own characteristics, flaws, and uniqueness." -(99 Designs)
We've seen diversity as a huge conversation topic in the fashion and beauty industry for years. Now, we're also seeing it take part in other industries as well. Everyone and every company is being held accountable for being inclusive in their content, whether they're a startup or a Fortune 500 company.
#4: Natural 
It's clear that consumers aren't into heavily edited photos anymore. They want the most realistic depiction of what it's like to use a product which is putting an emphasis on real people.  We see this shift coming as more consumers showcase their trust for user-generated content over branded-created content.
That's why natural, minimal editing, no retouching, and leaving manipulation behind is one of our visual content trends to watch. Natural content is… natural!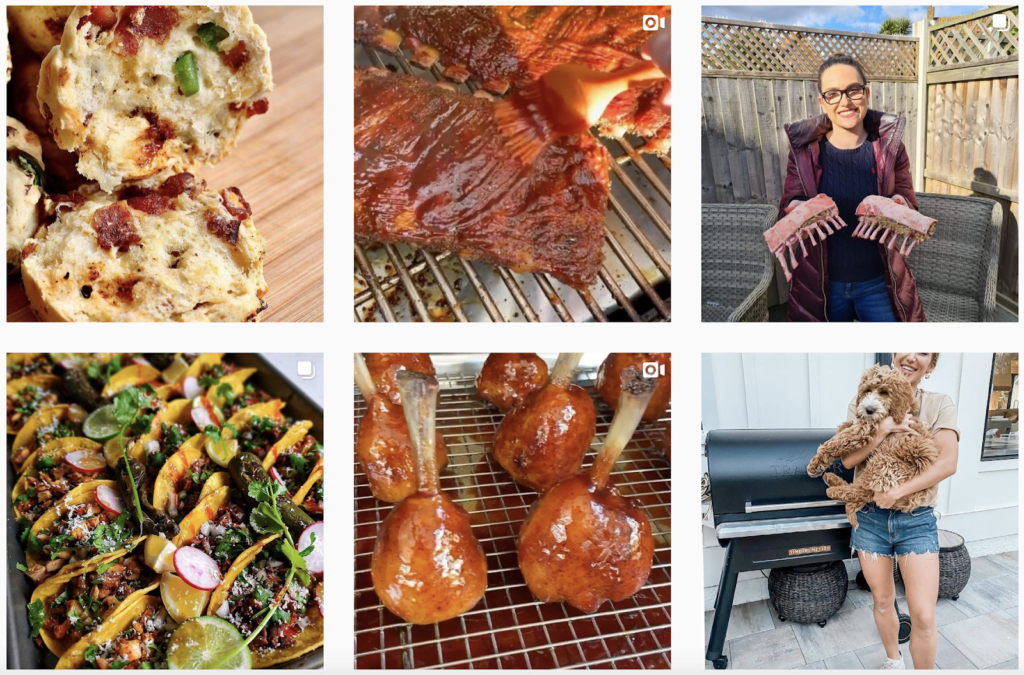 Traeger Grills avoids highly-produced content on their Instagram feed and instead highlights UGC and mobile phone-style photos and images.
#5: Video
One word: TikTok. We've seen a huge rise in video adoption over the past two years and TikTok has become one of the most influential platforms in visual content trends. Even platforms like LinkedIn and Twitter have found new ways for their users to create short-form videos for their audiences. Video has taken over as a way for consumers to give product reviews, showcase their thought leadership, or find creative ways to integrate their favorite products into their videos.
The hashtag #dunkin (representative of Dunkin' the coffee and donut franchise) has been viewed over 3.6 billion times on TikTok.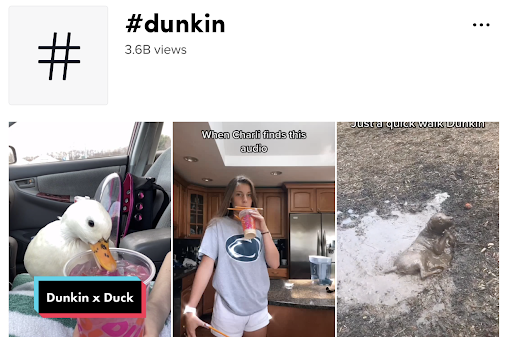 Even with people's attention spans becoming seemingly shorter, long-form content continues to do extremely well. Hootsuite reports that people watch over one billion hours of YouTube videos per day. Videos on product demos, how-to's, vlogs, trick shots, gaming, and more are driving views (lots and lots of views).
#6: Audio-visuals
Audio-visuals describe a static image with audio playing over it. This is becoming more and more normal, especially as platforms like Clubhouse rise to fame. Despite not technically having a visual component to their content, Clubhouse users can still watch their screen to see who's talking and click around on profiles while people are talking the Room.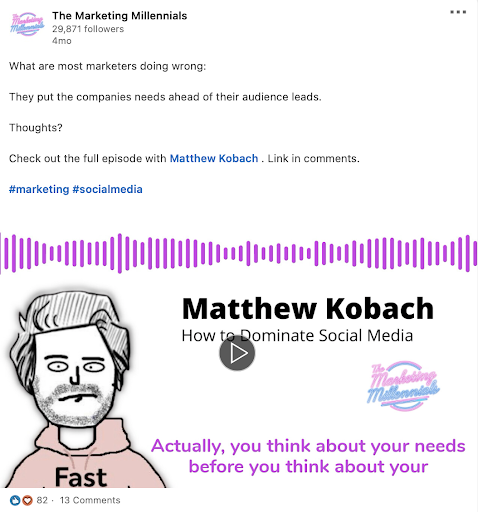 The Marketing Millennials podcast shares audiovisuals to promote their recent episodes on LinkedIn. 
#7: Gifs and Memes
When brands started hiring Chief Meme Officers, we knew that GIFs and memes were officially part of marketing strategies. If you don't have a dedicated folder or Slack channel for relatable GIFs and memes that you can share on your marketing channels with your audience—it's time to create one. This type of content is entertaining and social, playing on a relatability factor to position a brand as a friend.
Co-founder and face of Sweat, Kayla Itsines, regularly uses memes to engage with her Instagram audience of 12.8 million followers.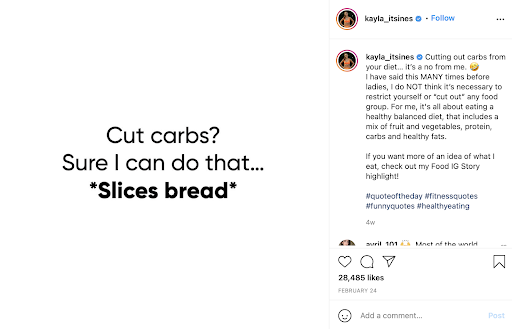 #8: Blended User-Generated Content and Brand Content
The Marriott has seen the impact of user-generated content on their engagement and conversions through working with TINT and using our UGC Studio. Their social media strategy is to blend user-generated content with their high-quality company-created content.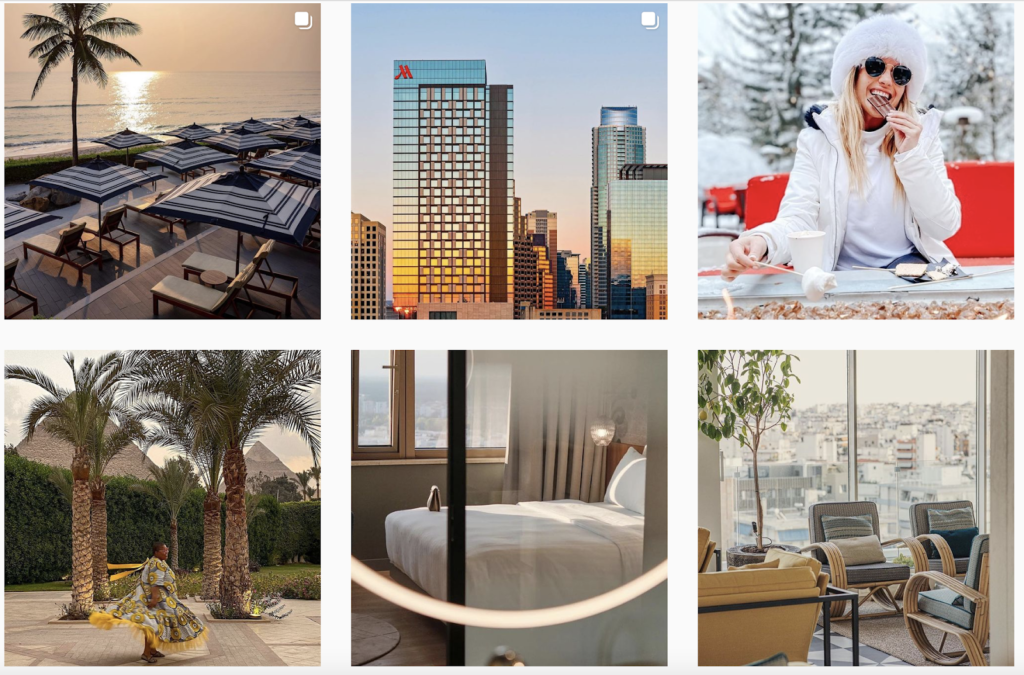 User-generated content is more authentic and trustworthy than company-created content. But, we get it. Your customers can't get those perfect aerial shots or aren't always able to get all of the products you want in one photo. We're seeing the trend for both UGC and brand-created content across different industries as they all rely more and more on UGC to tell their brand story. 
#9: Aesthetically Pleasing
Before you start putting your brand colors together, we don't mean that you need to create aesthetically pleasing content with the same strategy you did in 2017. While similarly filtered, high-quality, stock-looking photos were in then, that's not what we're talking about today. Aesthetically pleasing brands are going in on their brand colors and creating genuine and authentic content. 
Check out Sunwink, a plant-powered beverage company that's not only blending UGC and company content—but also maintaining a cohesive color palette and brand feel.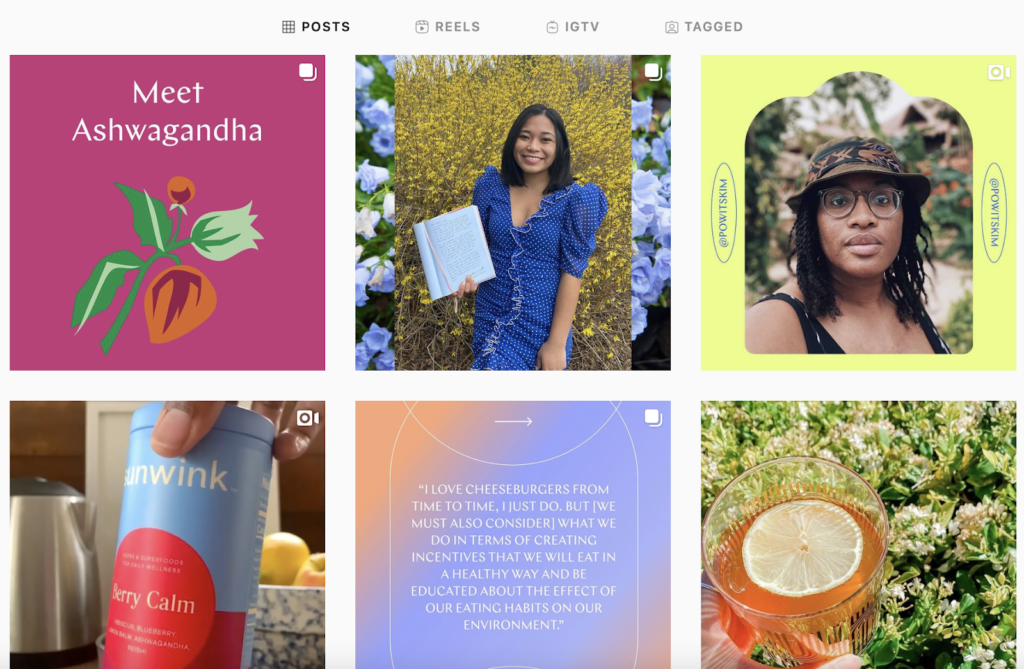 Add Appealing Visual Content that Matches Trends
UGC Studio is the advanced owned and earned visual asset management platform to customize photos, edit, and create dynamic content like videos and GIFs to share across your marketing channels. Edit, and save multiple versions of visual content without using designers or expensive programs like Photoshop.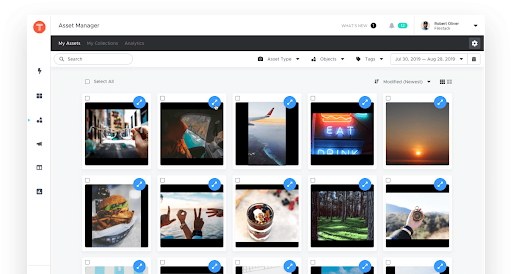 We've built UGC Studio to be a productive part of your visual content creation process with transformation workflows that can be automated to save time on repetitive actions like resizing or changing dimensions for different social networks.
Discover how TINT UGC Studio can help you stay always on top of visual trends and save time organizing and repurposing stunning content at scale. Schedule a time with our content specialists today.