Move over TikTok—there's a new social app getting all of the attention. With its coveted waitlist, Clubhouse has turned itself into all the rage within less than a year of being live. The audio-only app launched in April of 2020 and has grown to host users like Elon Musk, Sophie Amoruso, and Daymond John. 
While every other popular social platform relies on visuals, Clubhouse has broken the mold. Visual content isn't the priority on Clubhouse. Aside from profile photos and emojis, the visual experience on Clubhouse starts and ends with the light grey box that goes around a speaker's profile photo when they're talking.
How do social marketers take on this new social beast?
Here's how Clubhouse works, ideas for how it could be monetized in the future, and what social marketers can do to get an edge. 
How Clubhouse Works
Clubhouse doesn't work like other social media apps do, and that's without question part of the reason for their virality. Social users are used to apps being more than happy to help them open up their account, but Clubhouse took a different approach. They created a sense of "the inner circle" by not letting users just sign up and become members of their community. This is a strategy we've seen before from a huge player in the social platform space—Facebook. 
Facebook started with an invite-only model and then required users to have an ".edu" email address to sign up. It was an effective user acquisition strategy that created the same "inner circle", ramping up the hype around a new way to connect with your college class. In 2021, the same strategy seems to be just as effective, building on the foundation of exclusivity that we've seen successfully used in marketing for decades.
You can save your username on Clubhouse—but unless somebody invites you in, you won't be able to access the app.
How To Get Into Clubhouse:
Every user starts with 2 invites they can share 

If someone creates an account to save their username and is placed on the waitlist, they can be let in by someone inside Clubhouse who has waitlisted user's phone number in their contacts

Clubhouse continues to give you invites as time goes on (after about a week, you'll get 3 more invites to pass along)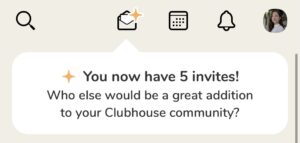 At the bottom of each profile, it shows who "nominated" that user to Clubhouse. The nominator is the person who shared their invite with a new user or who let a waitlisted user in.
What You Need To Know About Clubhouse Rooms: 
Once you're inside Clubhouse, you'll see Rooms. Rooms are the foundation of the Clubhouse content model and where people virtually gather to have conversations. Rooms are like the photos and videos on your Instagram feed posted by people you follow.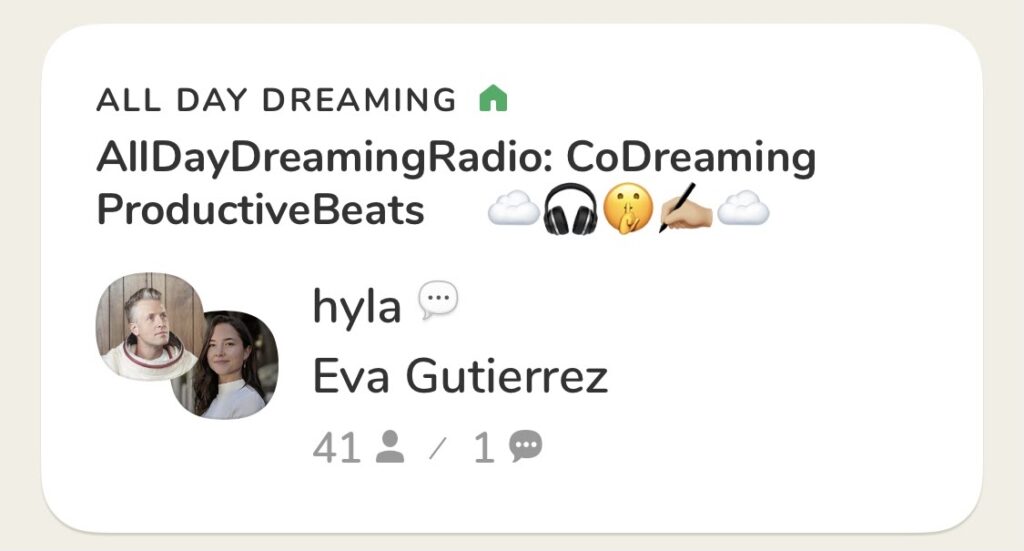 In Clubhouse, your feed is filled with the Rooms people you follow are currently in or topics you told Clubhouse you were interested in (marketing, art, music, psychology, psychedelics, etc.). Each Room shows the topic of the Room and who's currently inside talking and attending. You can hop in and out of Rooms as you want as an attendee.
In each Room there are three sections: hosts (each Room can have more than one host), attendees who the hosts follow, and the rest of the attendees

Depending on the Room size, you can ask to participate in the conversation by waving your hand and a host can choose to have you talk or not

Larger Rooms don't allow everyone to raise their hand
Rooms can be created spontaneously or scheduled as an event. When a Room is scheduled, everyone who follows the hosts will get notified what the topic of the Room is and when it's happening. Users can add Rooms to their calendars to get a push notification when a Room starts.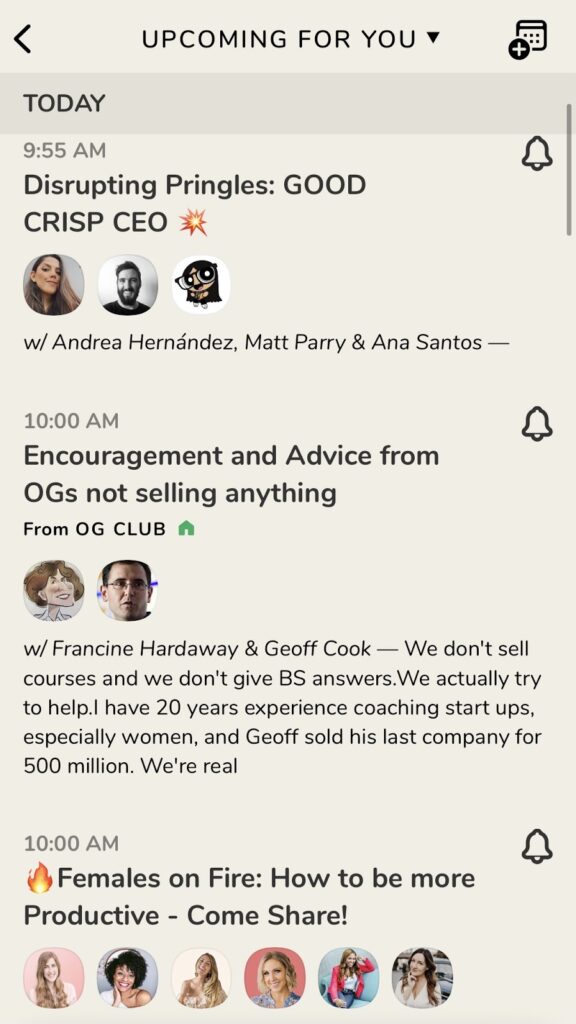 Every room as one, or more, moderators who keep the room in check. These moderators are in charge of staying on topic and making sure the conversation flows in a valuable and positive manner. They'll also call on Room participants who raise their hand to ask a question and will reset the room every 20-30 minutes for new attendees who just joined. When a moderator resets the room, they give a quick summary of what the conversation is about, who's talking, and what attendees can expect (for example, "There will be a Q&A session starting in ten minutes.").
Quick Tips For Getting Started on Clubhouse
Once you're inside Clubhouse, there are a few things you want to do to optimize your profile.
Filling out your Clubhouse bio:
Unlike other social platforms, Clubhouse allows for lengthy bios that are long enough to scroll through. Just like with content, you don't want to write a paragraph and expect your followers to read through it to find out why following you would be advantageous to them.
Use spaces, special characters, and emojis to break up your bio into digestible sections that showcase your expertise and thought leadership on a specific topic. Remember: The above-the-fold content of your Clubhouse bio are the first three lines, so make them count and drive curiosity for a user to click, "Read more."
It's rumored that Clubhouse uses keywords and emojis in bios to help users connect with like-minded people, so integrating specific phrases and emojis to your industry can help you grow your following.
Plugging your products, services, opt-in, etc. on Clubhouse:
You'll want to add a call-to-action to your other marketing channels in your bio. Users can't click links inside Clubhouse, so make sure any website URLs you share are simple and easy to remember. For example, use a URL like tintup.com, not bit.ly/847405. 
Since Clubhouse hasn't started an advertising model yet, make sure to move users from Clubhouse to your other marketing channels strategically. Clubhouse is a great organic marketing channel in its youth, but as we've seen from other social platforms—it's no promise that it continues.
Why Is Clubhouse So Popular?
Clubhouse is rising to fame because of its authenticity. Facebook and Instagram taught consumers to stop trusting branded content and seek out content created by real people (not brands). With 93% of marketers agreeing that consumers trust user-generated content more than branded content, Clubhouse fills the gap in the market that other social platforms have been paving for years.
Clubhouse proves that user-generated content is a huge player in the marketing space. That's all Clubhouse is—user-generated content (UGC) and employee-generated content (EGC) of people showcasing their expertise on specific topics. This supports all of the past research that shows consumers gravitating towards UGC and EGC over branded content:
Ads based on user-generated content receive 4 times higher click-through rates and a 50% drop in cost-per-click compared to average ads

When users create and share content on social media channels, they get 28% higher engagement compared to standard company posts

Websites with featured user content recorded a 90% increase in time spent on-site
Since there's no way to advertise on Clubhouse (yet), we're seeing entrepreneurs and businesses use organic UGC and EGC to increase brand awareness, engagement, subscriptions, and conversions. In the future, marketers hypothesize that Clubhouse will monetize by allowing brands to sponsor rooms. For example, TINT could sponsor a Clubhouse room focused on user-generated content strategies or the latest marketing trends.
Until Clubhouse monetizes, the wild west of fast growth continues. Here are 6 ways your brand can use Clubhouse in your social marketing strategy starting today.
How To Use Clubhouse in Your Marketing Strategy
Clubhouse is the organic marketing dream we've all been asking for from social platforms for years. As cost-per-acquisition only increases and organic reach continues to plummet, Clubhouse gives social marketers a chance to fulfill these dreams. The key is acting fast—there's no way to know how the Clubhouse algorithms will change in the future or when they'll decide to drop their monetization strategy.
Strategy #1: Host Your Own Rooms
Every Clubhouse user can host a Room, whenever they want. 
Create employee-generated content (EGC) by having your team host rooms that educate or entertain your audience (depending on your brand). For example, if we were to host a Room we would cover a mini-training on using user-generated content in your marketing strategy. The training would be 30-45 minutes long and afterward, we'd open the mic for our attendees to ask their questions.
Strategy #2: Set Up Mini-Events
You don't need to wait for your Annual Summit to hold events with like-minded people in your industry. 
On Clubhouse, you can host mini-events with experts or professionals in your industry. Have one of your employees moderate the event and then bring on different guests to teach your audience, have an AMA, or tell entertaining stories. Make these events special by advertising them on your other marketing channels and give your audience an outline of how the event will go. Ask each of your guests to promote the event to grow your Clubhouse audience.
Strategy #3: Treat Clubhouse as Your Podcast
Host Rooms with one or two speakers highlighting specific themes, just like a podcast episode.
Have employees interview special guest speakers in a podcast format, asking them questions about their backstory and then specifics around topics your customer avatar is interested in. For example, suppose you own a comedy club. You can have comedians interview each other on Clubhouse and mention your comedy club regularly as if you were the Room's sponsor (even though that doesn't exist yet, and you get to do this for free still!).
Strategy #4: Host AMAs with Your Community
Have customers, fans, or an audience?
Use Clubhouse to host an AMA where they can ask you any questions they have. For example, your CEO can host a Room and answer attendees' questions. This could be the most personalized way to connect with your audience right now and create EGC that showcases your brand's thought leadership. If you have a smaller audience, offer prizes and incentivize your community to come and hang out with you for an hour.
Strategy #5: Be Part of Other Rooms
Showcase your expertise and thought leadership in your community by participating in other people's Rooms.
You don't have to always be in charge of hosting a Room. There's also the option of joining other people's Rooms. Collaborate with people in your industry with like-minded audiences to schedule a Room your audience will be thrilled to see pop up on their calendar. This will also grow awareness for your brand and engagement as employees grow their following.
Clubhouse has broken the social media norm by ditching the aesthetics and going straight for audio. Users on Clubhouse aren't worried about lighting and backgrounds—they're focused only on the content. 
As Clubhouse continues to grow and its elusive waitlist markets an "inner circle" experience, we'll be waiting to see how they choose to monetize in the future. Until then, using Clubhouse as an organic marketing channel is the opportunity social marketers have been hoping for since Facebook launched their advertising model.
With Twitter Spaces on the horizon, there's no telling what the fate of Clubhouse will be. We'll be waiting to see which monetization model they choose and how Twitter Spaces competes with them in the future.
Until then, we know from past social media experience the time to garner an audience was yesterday, and the second-best day is today. Use these strategies to grow your Clubhouse audience while the app has attention, and most importantly, bring that audience to your predictable marketing channels (like email).
---
Wherever there is a new social channel, TINT will be there with the strategies and skills to help brands grow. Schedule time with one of our UGC experts and discover the power of TINT. Book an exploratory today.