The search for the first-ever Chief Meme Officer has begun! Bud Light Seltzer recently announced this new role with a dedicated microsite and a lot of fan fare.
Memes engage, entertain and make a point instantaneously. The term "meme" was coined by the evolutionary biologist Richard Dawkins well before the internet was a mainstay of life. He equated a meme's ability to quickly propagate ideas and cultural markers throughout society with a gene's role of carrying biological information.
With the explosion of the internet and digital communications, especially social media channels, memes are becoming an increasingly important tool in branded communication. But is it time for a Chief Meme Officer?
Let's take a look at the power of using memes to communicate company messages, the role of user-generated content (UGC) in meme marketing and how organizations can convert conversations into branded memes.
The Power of Using Memes in Communication for Brands
When a meme comes to prominence, there is often a cultural connotation that gets attached to it. "Internet-memes can embed enough symbolic value to be useful for firms," wrote Mickaël Benaim, then a research associate at the University of Manchester, in a 2018 edition of the journal Research Policy. Rather than using a block of text or even a video to explain a particular value of your company, brands can leverage the power of a meme that aligns with a talking point to instantly communicate a message.
Alex Chung, the CEO and founder of Giphy, echoed this sentiment in a Medium post, saying that the power of GIFs is that they can effectively transmit a branded message in a world where attention spans are falling. "For content to work in messaging, it has to be expressive and provide the context that no one has the time to read or write," Chung writes.
An additional power of GIFs, Chung believes, is their power to entertain the audience as much as inform them. Traditional advertising often gets in a consumer's way and they'll go to great lengths to avoid it; this is diametrically opposed to branded content that makes us laugh. "People intentionally use branded GIFs to share with their friends in millions of conversations per day," offers Chung. "Because they are using and sharing brands, not ads."
Memes Wanted
Brands are taking notice. In Research Policy, Benaim identified a number of agencies that have cropped up to help brands create topical memes to market their products. An August 2020 job search on Indeed.com with the search term "meme" turned up roles with titles like Meme and Viral Content Creator and Master Meme Maker. Additionally there were job descriptions that listed meme creation among the skills from corporations such as Microsoft, Apple, Bumble and Live Nation.
Natural Light ran a similar search for summer interns with candidates required to post a "photo, sketch, doodle or tweet of their idea for a new Natty Light flavor innovation" on social channels using the hashtags in addition to their application on Indeed.
And then there's the story of Jenna Palek, who landed a job at TikTok after the video she created for her application went viral on TikTok.
Chief Meme Officer – need the memes!
But what about a C-level executive who specializes in memes? Bud Light Seltzer believes that's a position that needs to be filled and has recently launched a search for their first-ever Chief Meme Officer. On the application site, a bit of clever marketing itself, Bud Light states that they "know a hard seltzer is only as good as its memes and, unfortunately, our memes are trash. We need someone who can change that for us; someone who can pull us out of the pits of cringe, someone who knows how to use the lasso thingy in Photoshop, someone like you."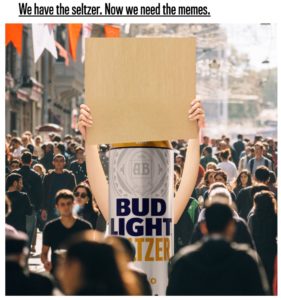 At Their Core, Memes Are UGC and People Like Making Them
When it comes to it, many internet memes are a form of UGC. Static image generators such as Imgflip allow users to quickly co-opt an image by splashing text across it in that all-caps white font that we've all come to identify with memes. These images, such as the "Condescending Wonka," are already anchored in our minds with a specific tone or emotion that prepares us for the message that the user overlays on the image. And just like individuals, brands can use these sites to create pithy statements to use on social media and beyond.
Some brands may be reticent to repurpose memes with trademarked images (brace yourself… HBO retains all those rights to Game of Thrones images). However, they can invite users to create memes or Photoshop branded assets to share with their friends or run contests to solicit memes. This UGC is powerful if a particular image associated with the brand already has some internet cachet.
For example, when a photo of basketball player Patty Mills carrying a guitar and box of Topo Chico went viral prior to the NBA season resuming in "the bubble," the San Antonio Spurs asked fans to Photoshop the image in different situations. The result was an incredibly creative output from the Spurs community that yielded a broad selection of UGC that the organization could repurpose across social media channels.
View this post on Instagram
Should Memes Be Still or Animated?
Memes don't always have to be of the static image variety. They often extend into the realm of video, notably in the form of challenges. These usually revolve around getting viewers to do something crazy (ALS ice bucket challenge), perform a silly dance (the Harlem Shake comes to mind) or try something that's physically difficult (like round-kicking a bottle cap off without knocking the vessel over). In fact, Kevin Ashton argued for Quartz that many of these viral challenges are anything but organic—often, they go viral because companies jump on the bandwagon and push branded content around the emerging meme.
We previously wrote about how participating in video challenges is one of the best ways for brands to advertise to Gen Z on TikTok. And beyond just participating in an organic challenge, companies can gain a lot of awareness by creating branded challenges themselves—this is what Guess did on TikTok with their #InMyDenim challenge that helped garner over 10.5 million video impressions.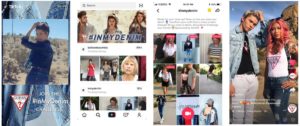 Creating a compelling challenge is equivalent to sowing a fertile field with seeds—if the idea takes, brands can have their pick of great content to repurpose across their channels.
Meme Marketing Through User-Solicited Conversations, Not UGC
Savvy brands have a different approach to creating memes: they turn the tables when it comes to content creation. Instead of soliciting UGC, they try to spark consumer conversations that can be turned into branded content. Need an example? No company does this better than the snark-fueled Wendy's social team on Twitter.
The fast food joint is widely known for their savage tweets on January's National Roast Day, where folks in the Twittersphere ask Wendy's Twitter account to lambaste them publicly. The social team takes no prisoners, and even though the takedowns can be super brutal, consumers and even brands can't resist asking to be roasted. More often than not, those blistering tweets from Wendy's are retweeted by the person on the receiving end of the roast.
Wendy's has continued to evolve this sort of brand-created content strategy. In August 2020, Wendy's posted that they've been working on their Photoshop skills, tweeting "hit us up and we'll spice up your profile pic." The tweet went viral, with almost 100,000 likes and tons of requests. Wendy's created hundreds of Photoshopped pics that many users turned into their profile image. Even more fascinating, brands including Target, Xbox, and Dodge, and the Memphis Grizzlies basketball team asked Wendy's to co-opt their logos, effectively tying their brand to the hamburger joint with the square patties.
Memes Are Here to Stay
While social platforms and technologies may come and go, the power of the meme might long outlast them all. They can instantaneously communicate a thought or emotion while providing a lot of entertainment, both for the sender and receiver. While there may not be many Chief Meme Officers in the future, meme making will be a vital role in effective brand communication.
Need help discovering user-generated memes to be repurposed across your brand's channels? The TINT platform makes it easy. Request a demo today!