Every year, we see new and exciting creative marketing campaigns and the B2B space is no different. 
We know that any purchase decision has an element of emotion and B2B buyers are no different. They are seeking out a human connection with businesses and crave personality-filled campaigns that speak to all their senses. 
This coupled with the larger buying teams involved, businesses are seeing a 31% increase in the sales cycles. This tends to be because there are more gatekeepers to go through, and approval is needed at every step of the journey.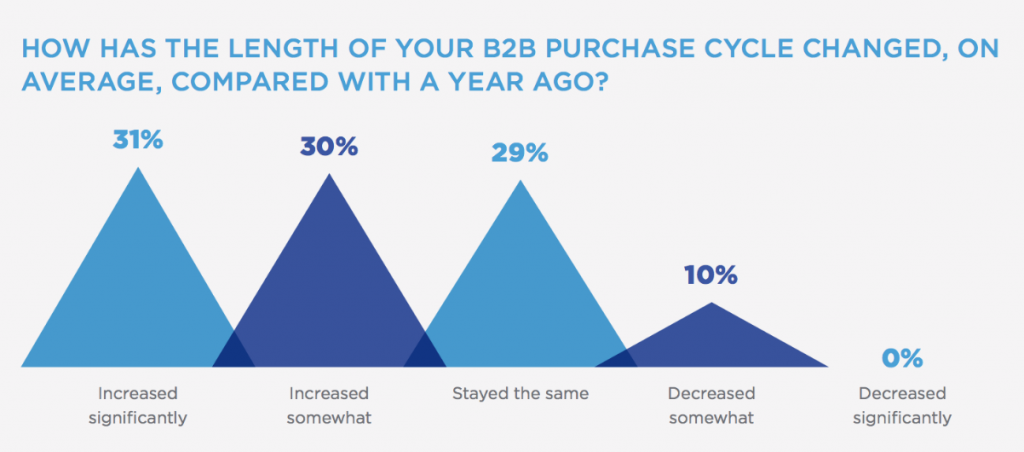 As a result, talented B2B marketers are pushing the boundaries with their campaigns to combine creativity and an effective strategy. The influx of compelling B2B campaigns has raised the bar for marketers, which means we're seeing more inspiring marketing campaigns than ever before.
Here are some of the most exciting B2B marketing campaigns from the last year to get your creative juices flowing. 
1. Drift's Employee Advocacy Campaign 
Joining the B2B tech sector isn't easy these days. In 2020, there were over 8,000 marketing technology companies in the world compared to just 100 in 2013.
Drift was born around the same time that marketing and sales automation reached its peak, but founder David Cancel predicted that the trend would blow over, leaving consumers craving human connections with brands. 
To fully embrace this need for real-person relationships, Drift put its employees at the center of its marketing, and they did this in a number of ways. 
Firstly, they launched a "Power User Spotlight", which highlights an individual member of staff and their role in the company.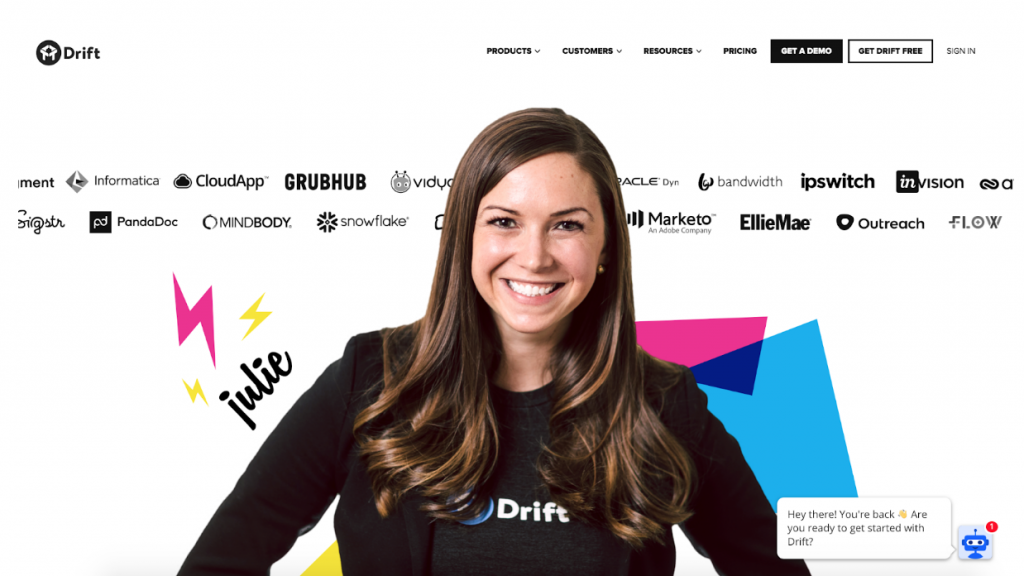 This person is splashed across the homepage to give the brand a human face, and they also get a featured interview that outlines how they use Drift.
Their human-first, employee-centric campaign filters into every part of the brand. Every image that includes a person features a member of staff – no stock photos here – and their weekly podcast regularly talks about how the team functions internally. 
When it comes to social media, Drift is all about sharing employee experiences too. 
For example, in any ordinary marketing team a designer might be asked to build a landing page and deliver the finished piece at the end of the week. At Drift, the designer is encouraged to document that process via social media – both the good parts and the bad parts about the process. 
This was true for their content strategy, too. Instead of focusing on listicle content, Drift interviewed David Cancel himself as well as other executives to create narrative-driven, employee-focused stories.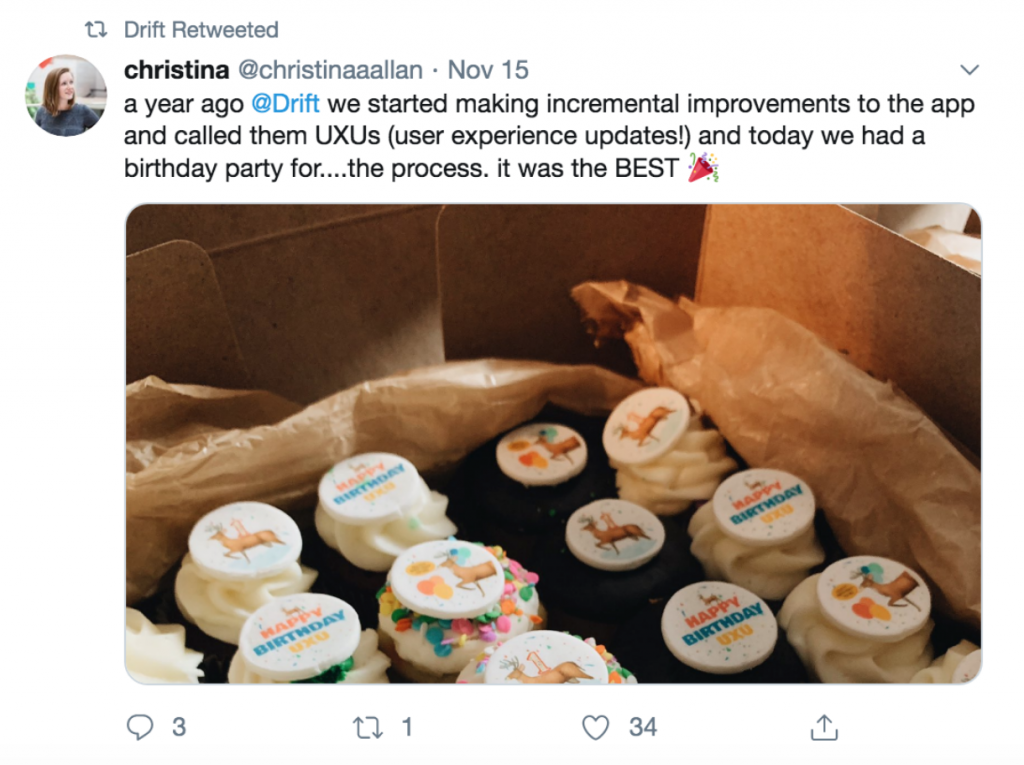 Drift regularly shares its employees' Tweets and content on social media. 
Drift knew that the campaign had to bring a much-needed human touch to the B2B tech world, and they did that by shining the light on the humans at the center of their brand: their employees.
Why The Campaign Worked So Well
Sharing content and experiences from the inside creates a human connection with   a brand – something that can be difficult to create but is so important for B2B companies today.
Drift embraced Gary Vaynerchuk's "document, don't create" strategy for content marketing. They document everything they do (a quick photo here, a video if warranted there) and share it quickly across social channels.
This creates a strategy that feels really "in-the-moment" and makes it easier for customers to relate and connect. 
Related Article:
2. Shopify's "Let's Make You a Business" Campaign
Shopify's "Let's Make You a Business" campaign launched over the summer with the aim of encouraging the next wave of small business owners to use Shopify to grow and manage their business.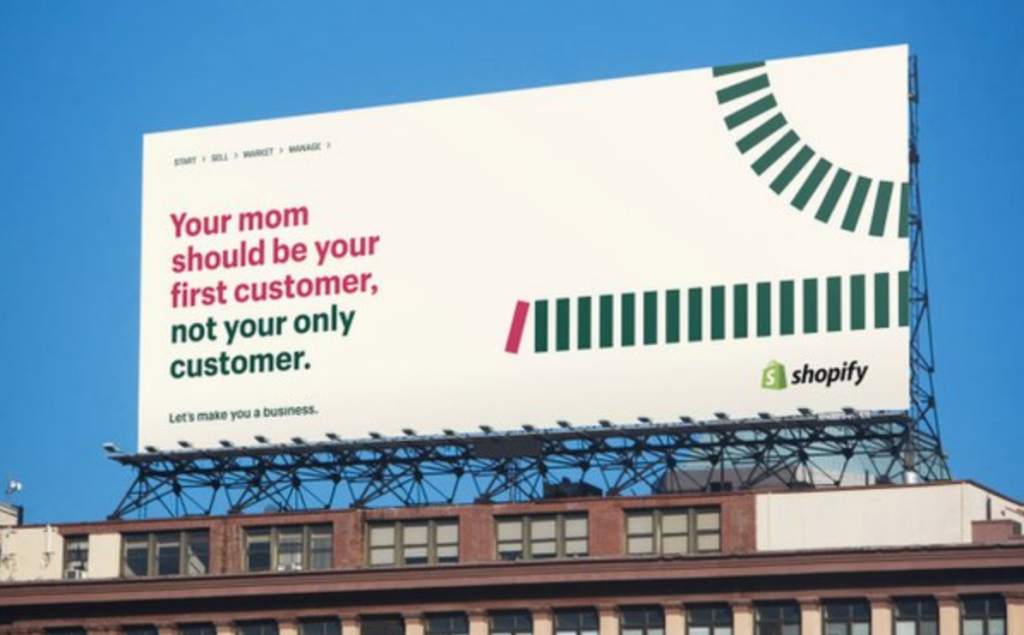 The campaign included a combination of mediums, including a TV ad that was shown across North America, physical marketing like posters, billboards, and vinyls on empty shop fronts that are splashed with quotes like "let's make your mom's 'famous' recipe actually famous", and video that highlighted why Shopify was the best platform to start a business on. 
With content related to the campaign available on numerous different platforms – in any one day, a potential business owner could see a poster on their way home, watch the TV ad while having their dinner, and come across the video while scrolling through their phone before bed – Shopify hoped to make itself as visible as possible to stay front-of-mind.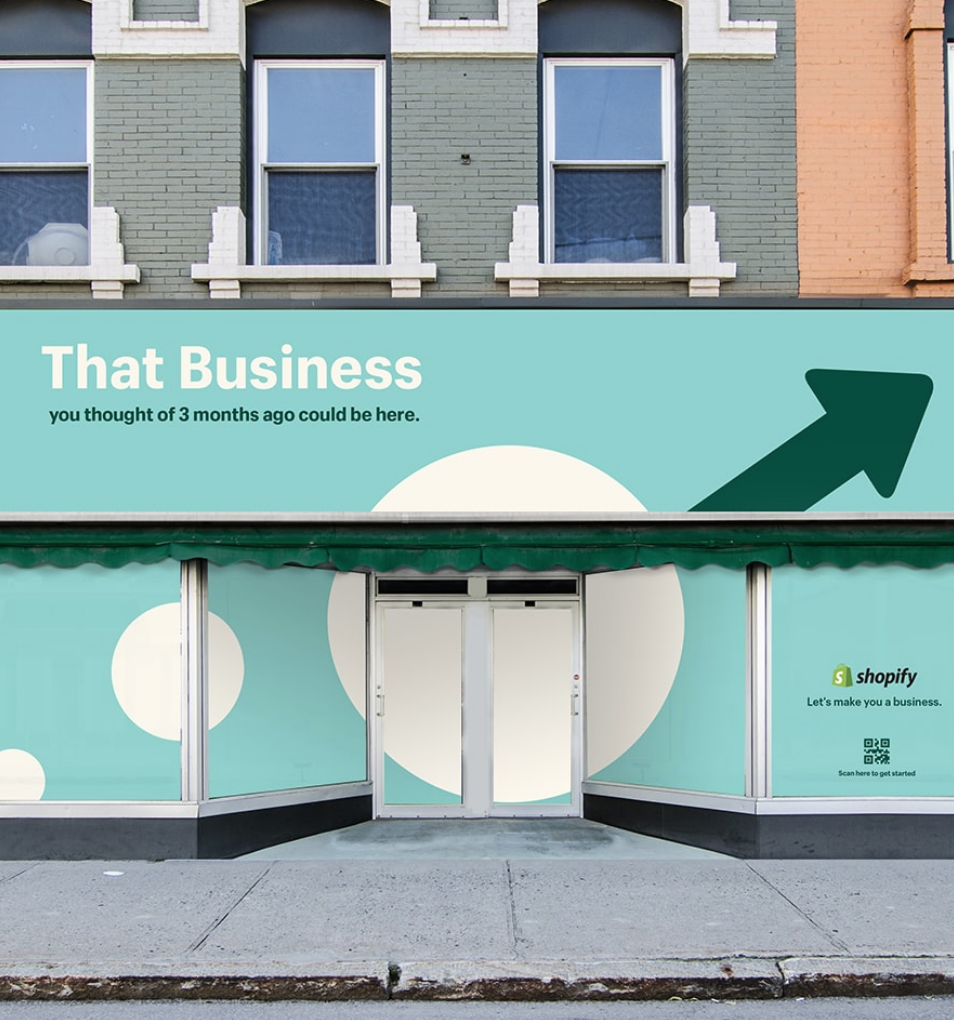 Why the Campaign Worked So Well
The campaign penetrates every part of daily life, from online to in-the-street, keeping the brand front-of-mind. 
"We want to be a household name people associate with entrepreneurship," says Shopify's CMO Jeff Weiser. "This campaign is an overarching statement about our mission and objective, which is evergreen, meaning it'll be true a year and five years and 100 years from now." 
The campaign was focused on raising awareness of the brand and cementing it as the best platform to start a business on. 
Even if a person hasn't yet decided to start a business, the omnipresence of the ads and digital content means that, when they do finally decide, there's a high chance they'll choose Shopify. 
3. Me + Moo App for 5GRuralFirst
With many mobile providers gearing up to launch 5G, 5GRuralFirst has created a dedicated app as part of their mission to promote the benefits of 5G in rural areas. 
It was promoted to users via niche publications in the farming industry and gained coverage on top media sites, like Reuters Global and CNN.
The app works by linking a connected device to cows, either around their neck or via an IoT sensor on their leg. This allows farmers to check on the health, wellness, and whereabouts of their herd through the app..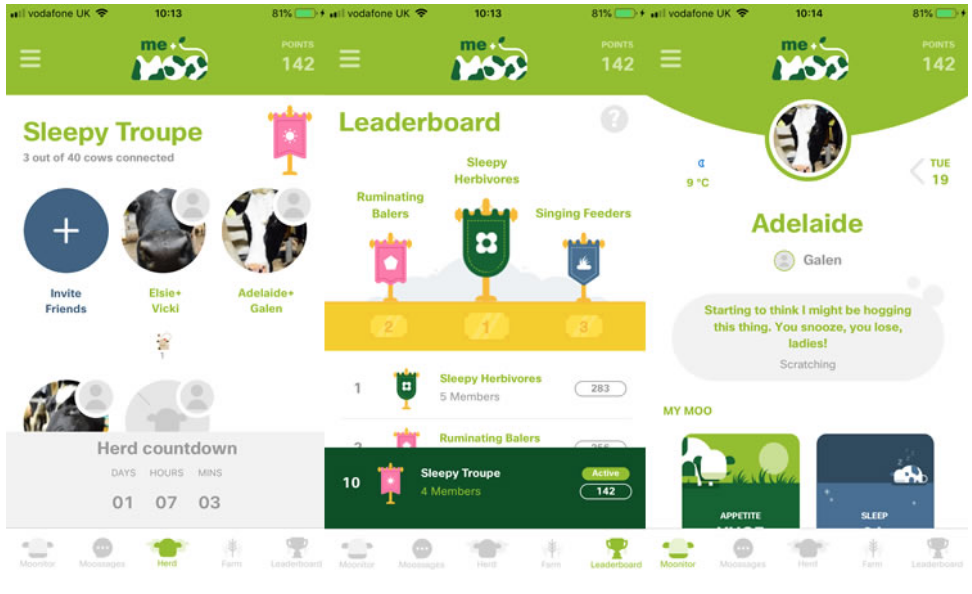 On top of this, the app is packed full of educational content, including vlogs from farmers and in-depth information about the 5GRuralFirst project. 
The campaign's main aim was to showcase the benefits of having 5G in rural areas – particularly on farms, which often get overlooked by the tech industry.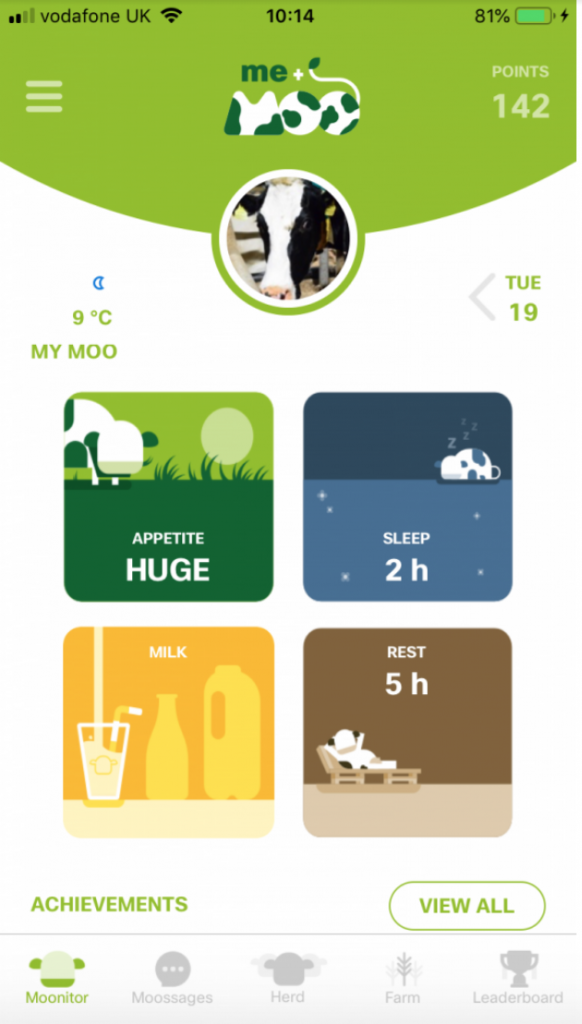 The emergence of a vibrant agritech industry has seen more rural businesses tapping into technology to improve their efforts, and Moo + Me is proof of this. 
Why the Campaign Worked So Well
At first glance and for those who aren't insiders, the rural industries tend to be seen as particularly non-tech savvy. 
However, 5GRuralFirst tackles this by injecting a sense of playfulness into their campaign while still educating consumers on the benefits of 5G in rural areas. It's a fun campaign that has an educational undertone to it; a match made in heaven in the B2B world. 
And really, who doesn't want an app that puts a cow in your pocket? 
4. IBM's Every Second Counts Campaign
IBM tackled the trending topic of data breaches with their "Every Second Counts" campaign. 
Throughout the campaign, the brand used a mixed media approach made up of videos and social tiles that directed users towards a central landing page that featured two short films.
These films were the focal point of the campaign, with the aim of educating businesses on cyber disruption through real-life stories.
The surrounding content included promotional video trailers that showed snippets of the two main films and GIFs that were shared across social media to raise awareness of the campaign. All of this content linked back to the landing page that featured the two key films. 
The final cog in the campaign was a series of thought leadership pieces on BusinessInsider.com and research promoted from IDC and the Ponemon Institute that were shared as downloads to drive lead generation.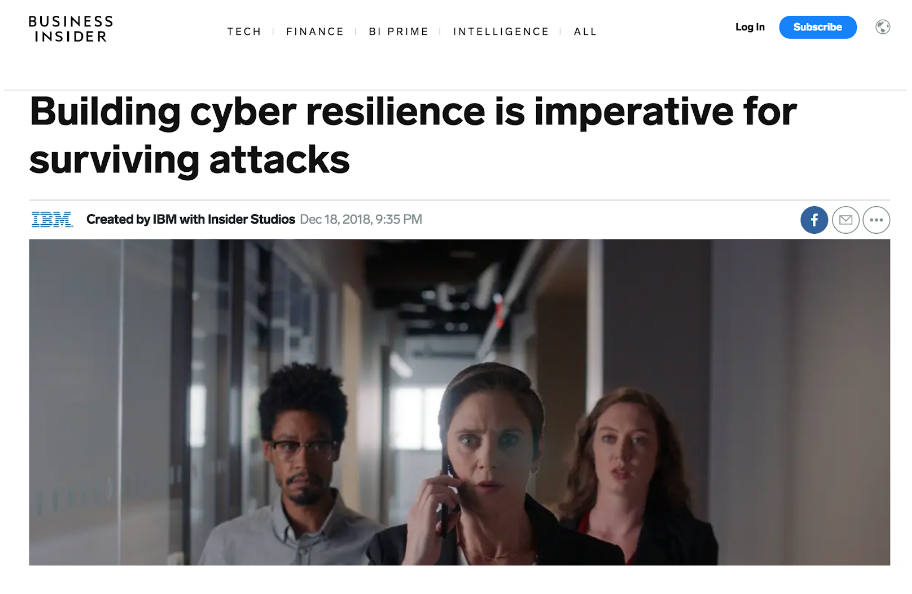 Why The Campaign Worked So Well
"Videos about managing cyber disruption were identified as a critical element to stop time-stretched CIOs in their tracks and drive engagement," said IBM when asked why their campaign deserved to win an annual Shorty Award. 
They essentially took an important and pressing issue that loomed over the heads of businesses worldwide and turned it into a media adventure that served to educate viewers through a range of different mediums.
The campaign worked on different layers, too, with the full-length films at the center of it and numerous other digital and mixed media content spidering out from that to increase the campaign's reach. 
Trending Issues, Employee Advocacy, and Cow Apps
From Drift's employee advocacy campaign to 5GRuralFirst's innovate cow app, these campaigns are without a doubt some of the most creative and adventurous B2B executions we've seen this year. 
They also offer insights and education into the topics and brands they're promoting which is why they've been so successful.
Request a consultation to learn how UGC can improve your next big campaign.