It's beginning to look a lot like Christmas, which means it's time to start thinking about how you and your brand will celebrate in style.
Will you create a holiday campaign that treats your loyal customers? Will you work hard to create a viral campaign that gets chins wagging and people talking?
Whatever you decide to do, the festive season is a time for sharing and giving, and creating social campaigns that bundle all this up in a warm, fuzzy way is how brands connect with their audiences at this time of year.
Let's take a step back for a moment.
Did you know that, on average, retailers make $57.4 billion on Black Friday and $2.29 billion on Cyber Monday alone?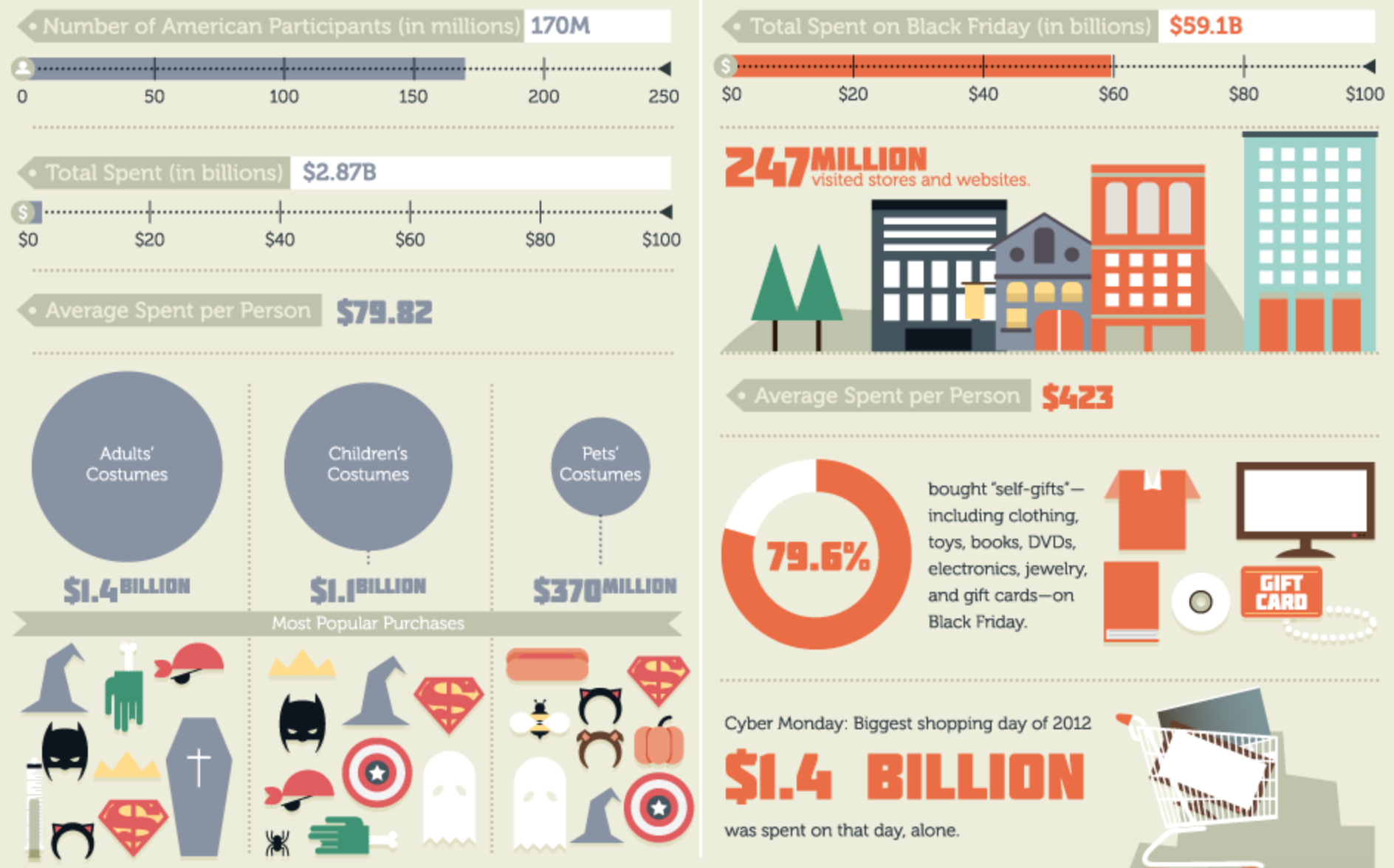 These special days give marketers something to gear their campaigns towards and give them the chance to experiment with things like tone of voice and visual content.
Usually, there's a heavy dose of lightheartedness associated with the holidays and social promotion during this time – partly because platforms like Twitter, Instagram, Pinterest, and Facebook are all places to find inspiration for gifts, decor, and party ideas.
We're not just talking about Christmas and Thanksgiving, though. Oh no. Throughout the year, brands make use of all the festivities to create a common connection with their people.
Here is a quick look at some of the most successful holiday social media marketing campaigns that have graced our screens so far.
Tide and #ScaredStainless
The cleaning brand stepped away from their industry's tired, polished ads and did something a little different for Halloween in 2013.
They created six unique Vine videos that paid homage to cult scary films Carrie, Psycho, Poltergeist, Paranormal Activity, The Ring, and The Shining.
Tide products took the spotlight in all six of the six-second recreations which were shared across Tide's Facebook and Twitter accounts.
Why Vine? You may ask (especially considering the apps very short lifespan – it was shut down this year). Well, when it comes to marketing horror, gore-and-shock has always leaned on sudden, short-lived moments.
Why did it work?
Cultural relevance is key. There must have been plenty of times you've cringed at a brand's attempt at a forced holiday campaign, but Tide got the balance just right. They managed to keep things light, despite the dark content they were sharing.
Chipotle and #Boorito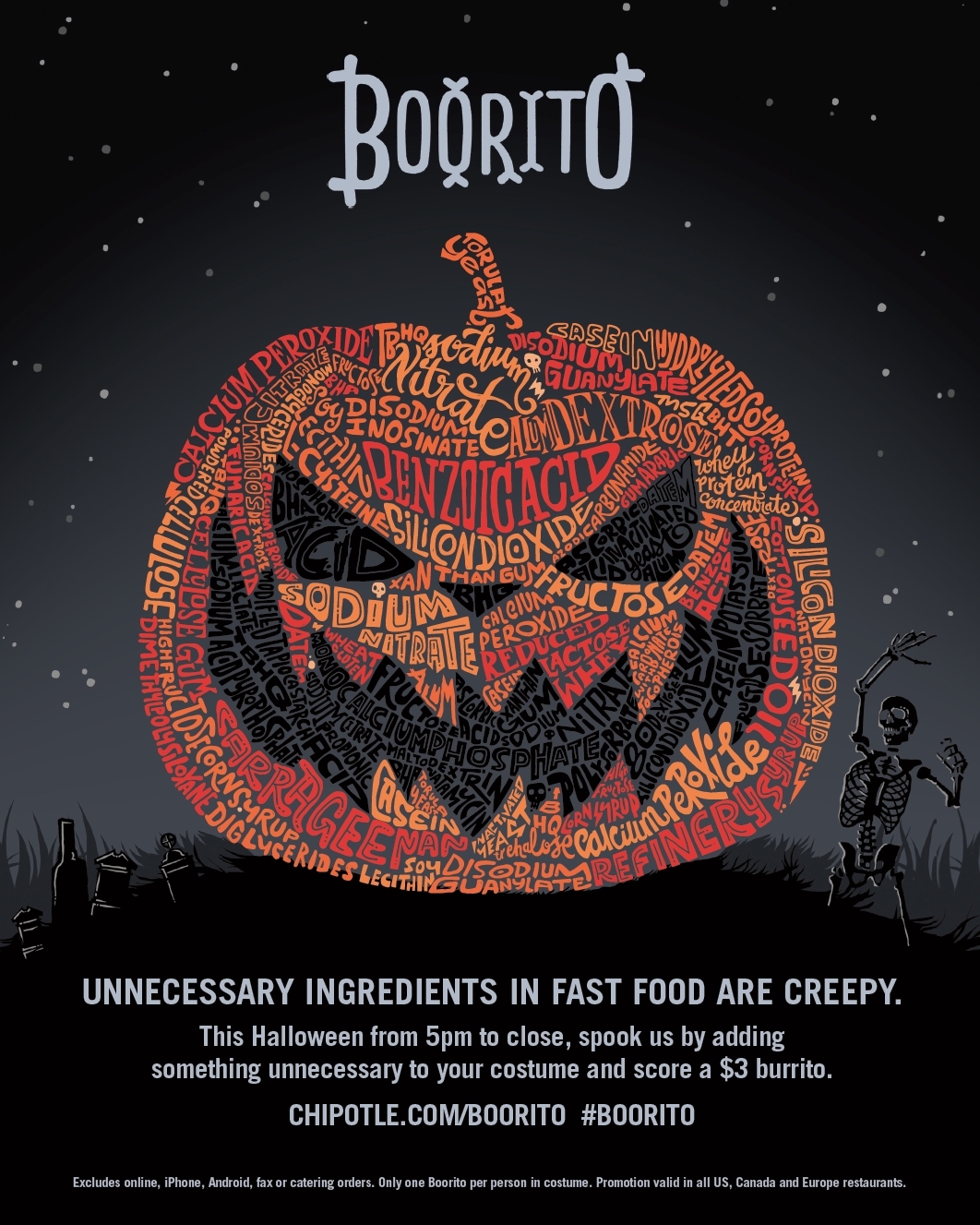 Chipotle has always been one for grand marketing campaigns that stand out amongst a sea of sameness, and their Boorito Halloween promotion was no different.
To publicize their Halloween discount, they released a #Boorito video that encouraged customers to get dressed up and head to their nearest Chipotle. Customers that did exactly that between 5pm and closing time scored a burrito, bowl, salad, or an order of tacos for just $3 while also helping support the Chipotle Cultivate Foundation.
Why did it work?
Boorito included the customers – they were a pivotal part of the campaign, but it also helped that the money spent during the campaign was for a charitable cause.
Tesco Wine and #Hallowine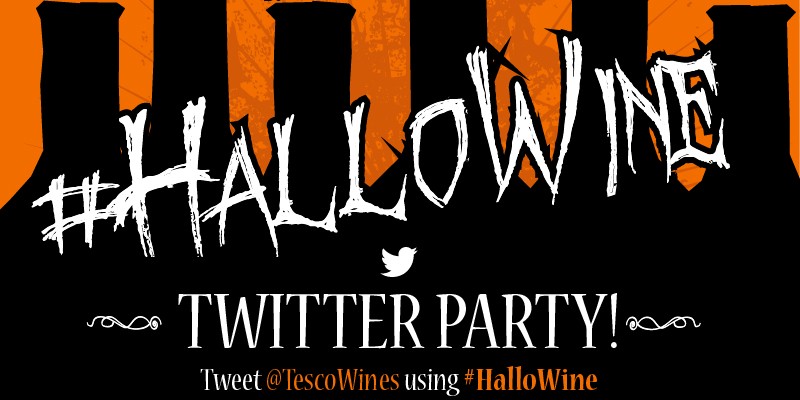 Wine and Halloween may not seem like a match made in heaven (cheese, yes, but Halloween? Not so much), but Tesco, a UK supermarket, made it work.
Throughout the scare season, they invited fans to attend a Twitter Party where they could interact and answer questions using the #Hallowine hashtag. Those who retweeted the invite were automatically entered into a draw for a number of prizes from Barefoot Wines.
Why did it work?
Besides the fact that everyone loves a little tipple every now and again, #Hallowine was a hit because it offered the audience something. If they did a simple task like retweet a sentence (a quick, 30-second activity), they could win a prize. And people love prizes.
Kellogg's and Rice Krispies Scares
Kellogg's went one step further to scare their fans.
For Halloween, they created a collection of public installations that gave unsuspecting passersby a scare. The branded vending machines were splashed with #ScaresVendor and offered "free Rice Krispie scares" to any brave soul who put their hand inside.
The kicker? There were people hiding in the machines laying in wait to grab any rogue hands that were after a free treat.
Why did it work?
Kelloggs' campaign was a real-life interactive activity. It wasn't just an online hashtag campaign, but a full-blown act to scare and shock people in real life.
Starbucks and the #redcupcontest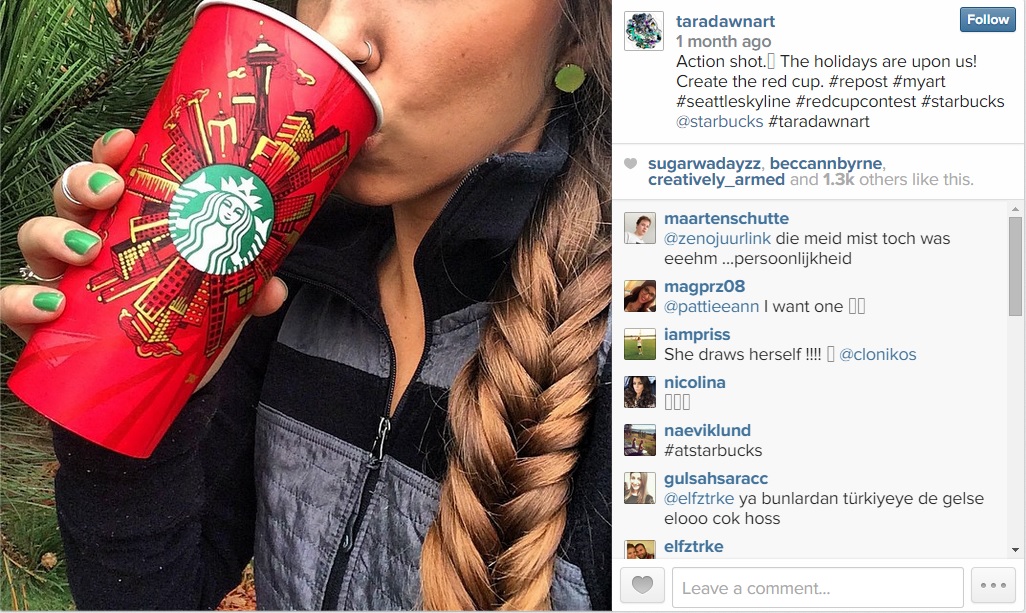 These days, we all know the Christmas season doesn't begin until Starbucks have dusted off their red cups. This long-standing holiday tradition is something fans (and non-fans) look forward to every year.
The #redcupcontest made good use of the tradition by inviting customers to share and tag their photos of their Starbucks' red cups for a chance to win one of five huge prizes.
The results of this campaign were staggering. In just the first two days after the launch of the campaign, a photo was uploaded to Instagram every 14 seconds. With over 40,000 entries overall, it's safe to say the #redcupcontest was a huge hit.
Why did it work?
Again, prizes (remember: people love prizes). More importantly, though, Starbucks tapped into User Generated Content, where customers became advocates for the brand and were involved in the marketing.
The whole campaign touched on customers' creativity and used the growing trend of personal storytelling.
Barnes and Noble and #BNGiftTip
Picture this: there's one week until Christmas and you still haven't found the perfect gift for your partner, family member, or friend. Cue panic mode, right?
In 2014 there was a better way. Barnes and Noble took to Twitter to soothe the fears of last-minute shoppers. They introduced the hashtag #BNGiftTip to encourage people to request gift recommendations for loved ones.
Why did it work?
The campaign generated an open and candid conversation between the brand and its customers and, in an age where we crave connectivity and personalization, the intimate approach (like getting advice from a friend) really won fans over. Not only did it actively help people, but it was a fantastic show of excellent customer service.
Walmart and #WellWishes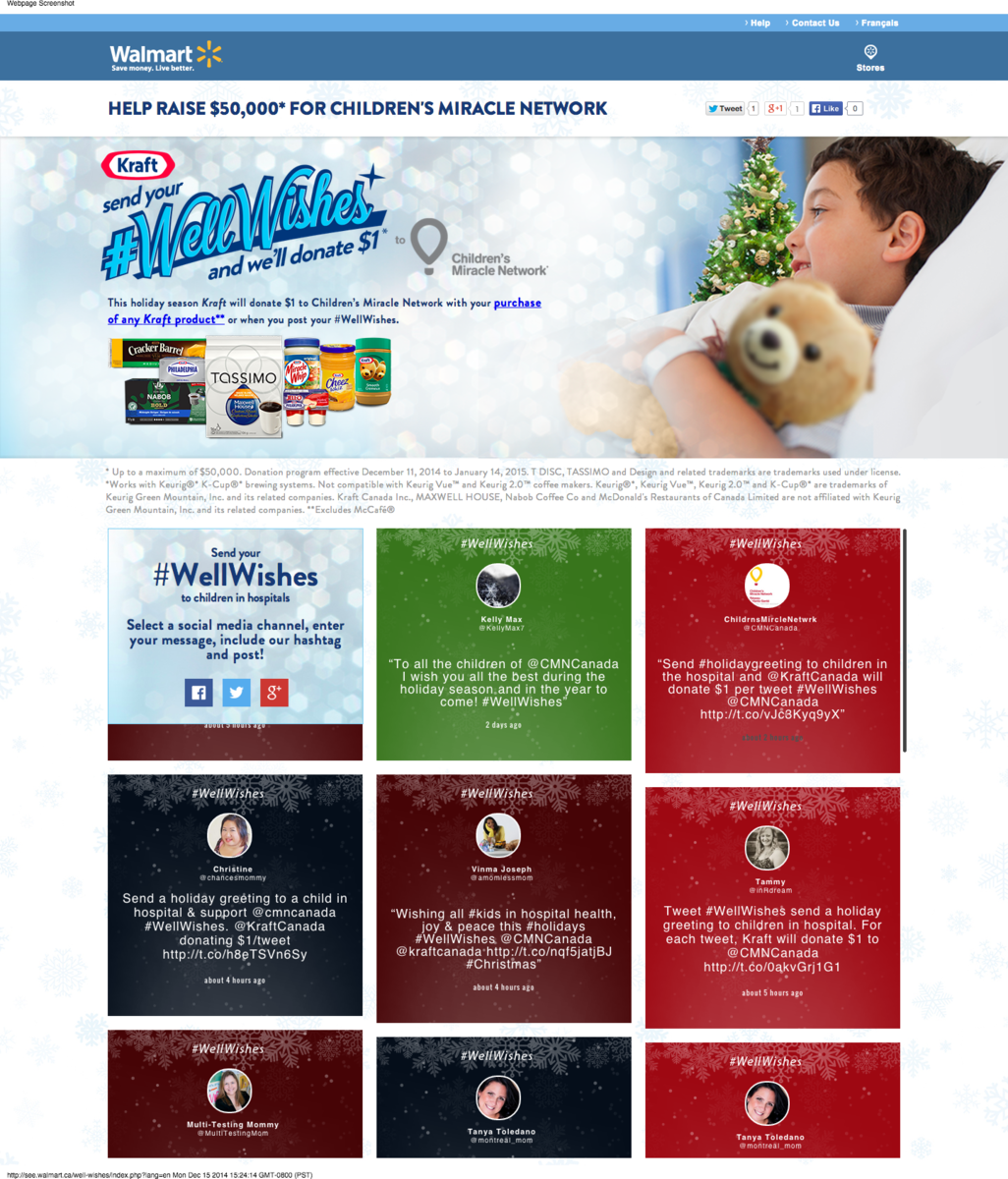 Walmart really stepped it up a notch in the season of giving with their #WellWishes campaign. It saw $1 donated to the Children's Miracle Network with every purchase made from the Kraft brand, while the hashtag was used for sending well wishes to children in need.
Using TINT to bring all the wishes and social messages together, Walmart managed to create a heartwarming campaign that spread the love at Christmas.
Why did it work?
People love to help other people, especially in the festive season. Not only did people feel they were doing their part by donating $1 with every purchase, but they could share their Christmas messages with the children the Miracle Network helps.
Budweiser and #HolidayBuds
Budweiser never fails to entertain. Their #HolidayBuds campaign was centered around selling vintage crates and bottles of Bud and encouraging people to share photos of them on Instagram (more often than not using vintage filters).
Why did it work?
Budweiser chose a niche crowd and spoke solely to them. Targeting millennials, they tapped into their love of nostalgia with the vintage cases and bottles, and gave them the perfect prop to populate their Instagram feeds with. 
Storm Brand Design and #Antlerify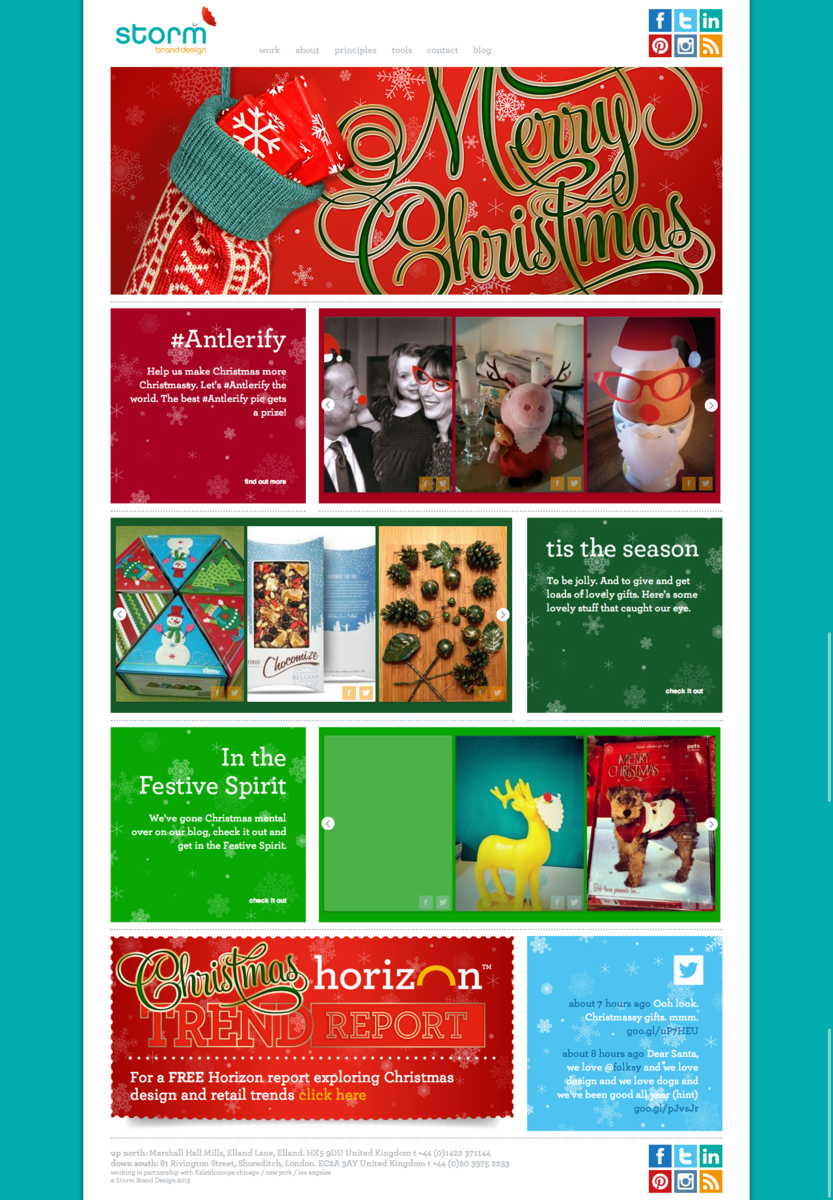 Brand design agency Storm got into the Christmas spirit by getting loyal fans and customers in one of their marketing campaigns. As well as using the TINT platform to create a festive-themed landing page, they invited people to share their creativity with the hashtag #Antlerify.
What exactly was #Antlerify? It was a UGC campaign that invited people to add antlers to their photos and share them with the hashtag to raise awareness of the brand and create a fun, festive feeling around it.
Why did it work?
People love dressing things up, right? Adding antlers to objects, pets, and friends is a fun way to spend the season but, jokes aside, Storm involved their customers and made them feel a part of the brand which is why it worked so well – t'is the season of togetherness, after all.
TD Bank and #MakeTodayMatter
The holidays are all about goodwill and giving back, which is why TD Bank's Thanksgiving campaign was a hit.
The company created a video showing themselves giving $30,000 to 24 people in 24 communities across the US and Canada. These people were then tasked with figuring out how to give the money back to their neighborhoods. They had just one day to fulfill their mission.
In the true nature of giving, the video received more than 3.5 million hits and was lauded across media channels as a huge success.
Why did it work?
People love heartwarming stories. Fact. TD Bank played into this, tapping into the true, giving spirit of the holidays. It wasn't about pure consumerism, but instead invited people to consider the real meaning behind Thanksgiving.
Old Navy and #OneMillThrill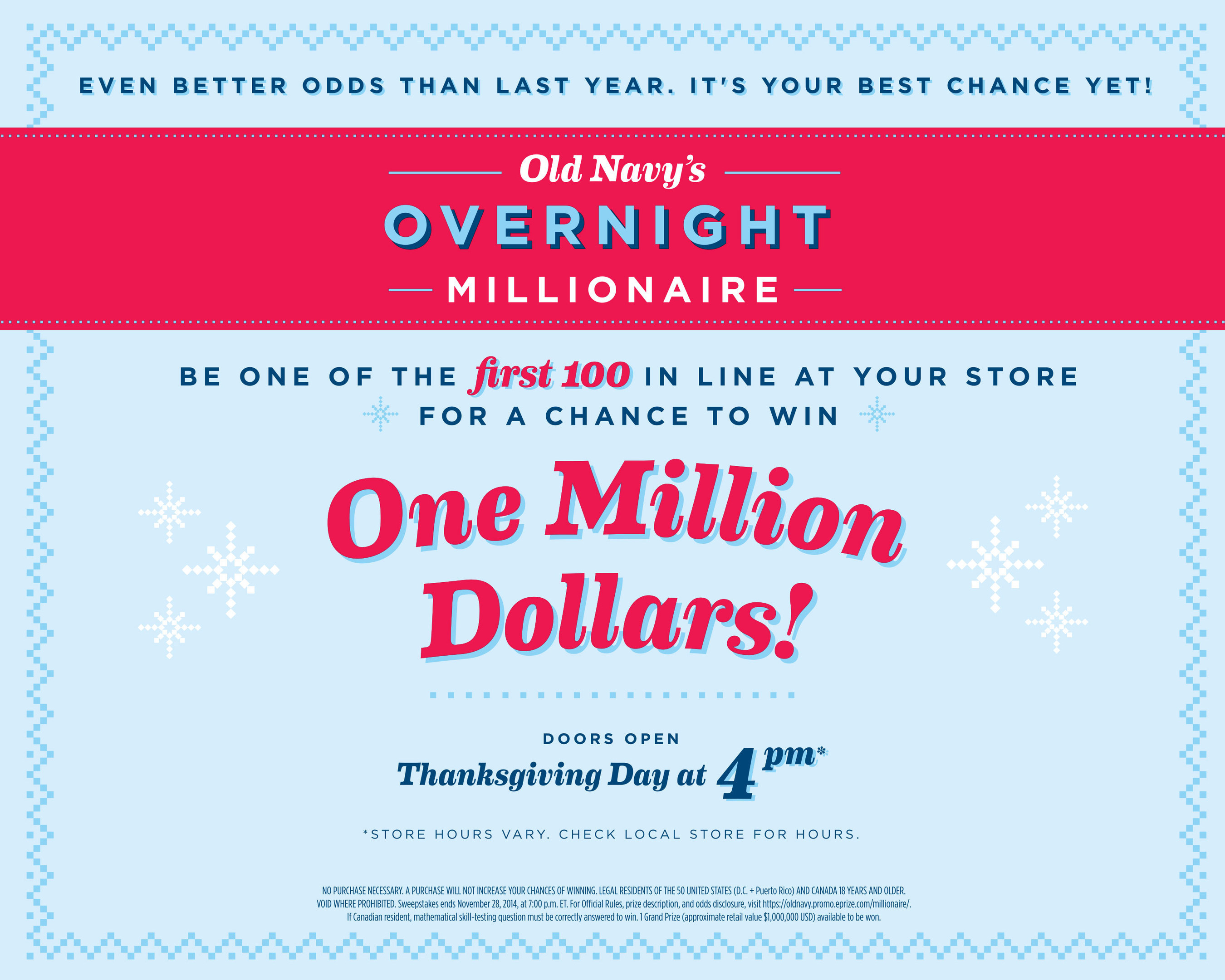 Old Navy's #onemillthrill campaign is a veteran in the world of holiday marketing. The campaign gave the first 100 shoppers in line at every Old Navy store in North America the chance to enter a competition to win a whopping $1 million.
The accompanying hashtag was used to create a conversation between participants (who were eager to check they were in the running) and the brand, including pictures of customers standing in line and their purchases.
Why did it work?
The #onemillthrill campaign successfully built anticipation, creating excitement around the contest (it certainly helped that the prize was $1 million, too).
The holiday season is a time for sharing, giving, and fun, something that all of these festive campaigns manage to do. Not only do they share a different side to well-known brands, but they give customers and fans the chance to be a part of the action.
The options for holiday marketing ideas are endless, but it's important to get started early.
We're here to help you power your holiday campaign with UGC! Request a demo today.