Creating fresh, hot content that keeps consumers clamoring for more isn't easy. In fact, it's incredibly difficult.
In a Content Marketing Trends Survey, More than 53% of marketers claimed they don't have the resources to consistently churn out great content, while a further 40% said they just don't have the budget to do it.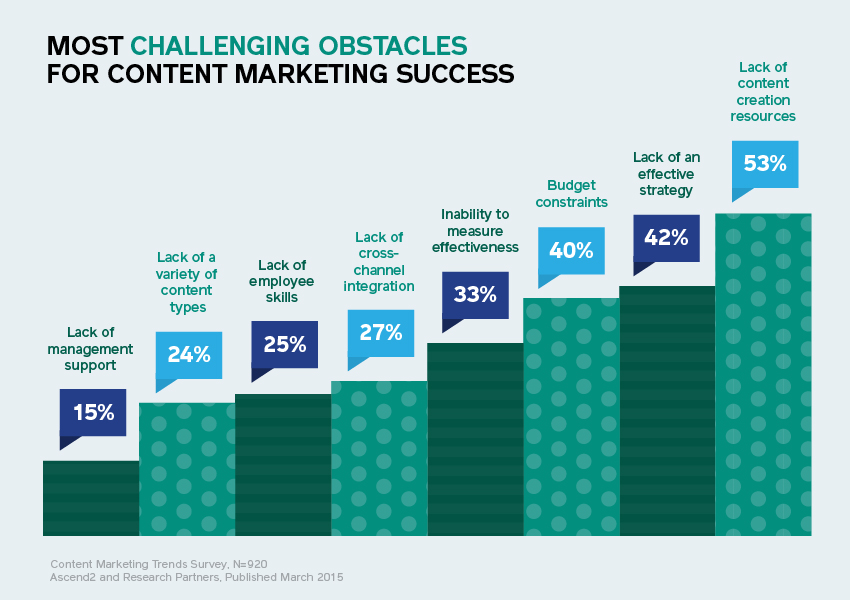 But what if we told you that publishing thigh-slappingly good content doesn't have to be a daunting task?
Maybe you don't believe us. Maybe you don't think it's possible. Maybe you're sitting there, vigorously shaking your head because seeing pigs fly is a more promising prospect at this stage in your content creation game.
Content Curation is Your Friend
If you're unable to push out amazing content every single day (and, really, who has the time?), content curation is the answer.
While it's important to keep producing original pieces of content that reflect your brand vision and cement your spot in your industry, you can fill in the gaps by curating content that's already out there.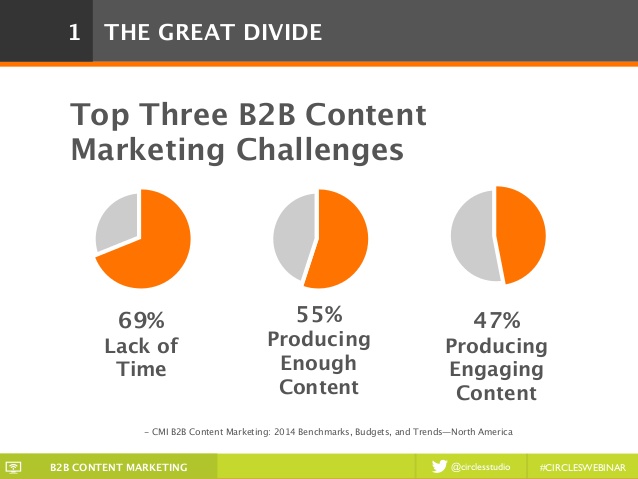 You see, finding good, relevant content online has always been an issue for marketers. It's a time-consuming process, trawling through feeds and sites trying to find that little nugget of gold.
But content curation (or, more simply, the art of sharing content that's already out there) means you can tap into the millions of pieces of content being produced every day. No matter who your audience is or what industry you're a part of, there is already tons of content out there just waiting to be used.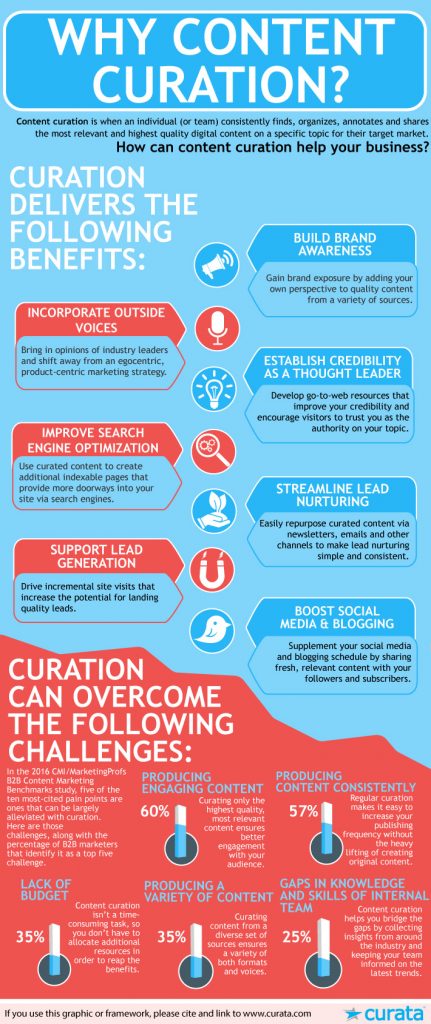 Back in the day, curating content was a job in itself. Marketers would have to find the time to go through other sites to discover content already out there. Again, it was a time-consuming process that almost wasn't worth the event.
Flash forward to today, and technology is on your side.
The slew of new content curation tools mean you can quickly find relevant blog posts, social media content, and videos without having to break a sweat (or spend a lot).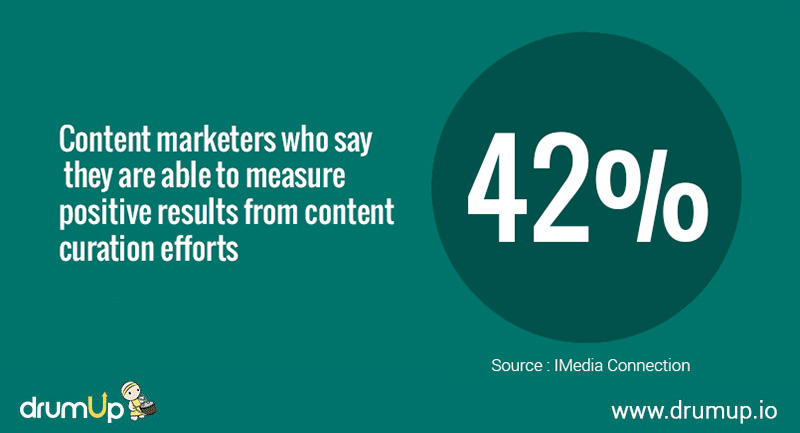 But with so many content curation tools out there, it's easy to get caught up in the big-name social media tools. However, dig a little deeper, and you'll find a flurry of fun tools that can help you straighten out your content strategy in minutes.
We've put together a list of some of the best, but before we dive in, let's look at what makes a successful content curator.
What Makes a Successful Content Curator?
When trying to find the perfect content curator for you, look out for ones that offer:
1. Personalization
The biggest problem with the traditional content curation was finding relevant goods. A good content curation tool today will let you personalize your account to make sure you're only getting stuff that's a fit with your brand and content strategy.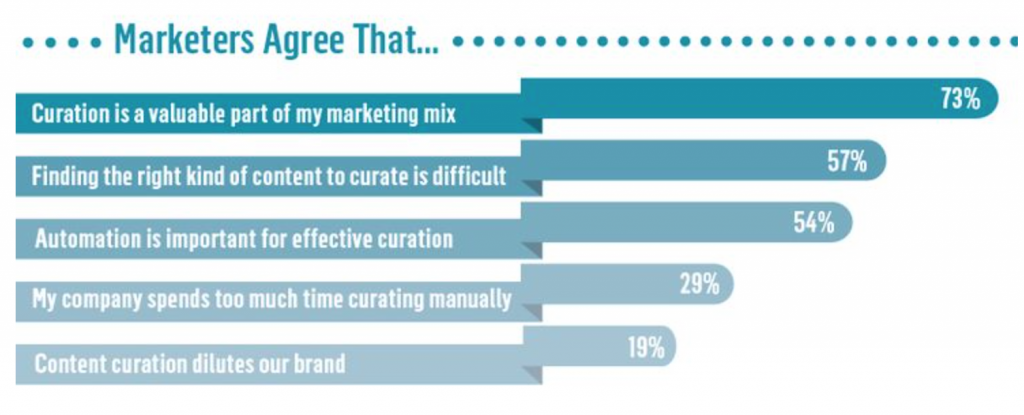 2. Time-Saving
Content curation is the antidote to not having enough time to create content, which is why it's important to find a tool that actively saves you time – otherwise, what's the point? In one report, 54% of marketers agreed that automation is important for an effective curation strategy, which helps save time and make the process easier.
3. Stats and ROI
Content marketers are often stumped for stats. They struggle to measure the ROI of their campaigns and therefore can't justify spending to their superiors. Not with a good content curation tool, though. The majority of newer technologies offer in-built data that lets you see what content is performing the best.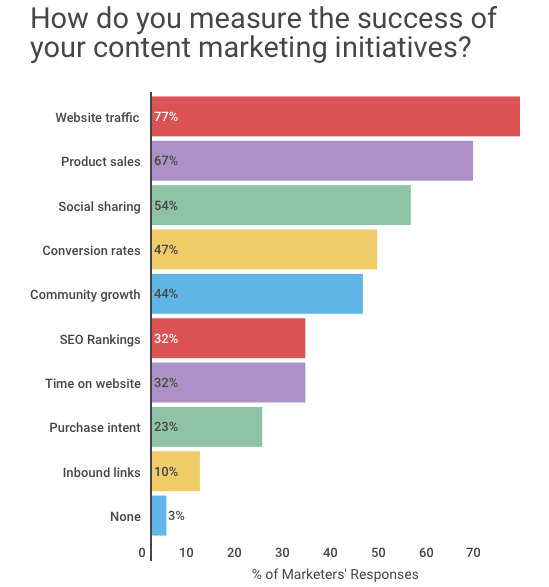 Key ROI metrics marketers use to measure the success of their content strategy. Source.
Now you know what a good content curation tool looks like and offers, it's time to explore your options.
1. Kapost
Organizing the entire content process from start to finish is no easy feat, but Kapost lets marketers structure their creation (and curation) process from the planning stages, ideation, and production, right through to distribution and analysis.
Take Lenovo, who transformed their content marketing approach by using Kapost. They used the tool to organize their content according to overarching themes and built workflows to aid collaboration between team members. As a result, they doubled their asset production, spent 50% less time on team administration, and increased their revenue by 58%.

2. Feedly
At its core, Feedly is an RSS reader that lets you track the feeds of your favorite sites. Taking it a step further, you can curate specific content that caters to relevant keywords, topics, and domains. By grouping together industries and subjects, you can quickly see what other sites are posting about and how popular those posts are.
ThoughtWorks, a San Francisco company, use Feedly's Shared Collections feature to make their content go further and to coordinate and manage employee advocacy campaigns.
3. Answer the Public
Google's autocomplete is a rabbit warren of ideas for content. It's built up a database from millions of searches people have carried out to predict what you're going to ask. Answer The Public taps into this automated autocomplete tool, but it adds in a eye-catching visual element.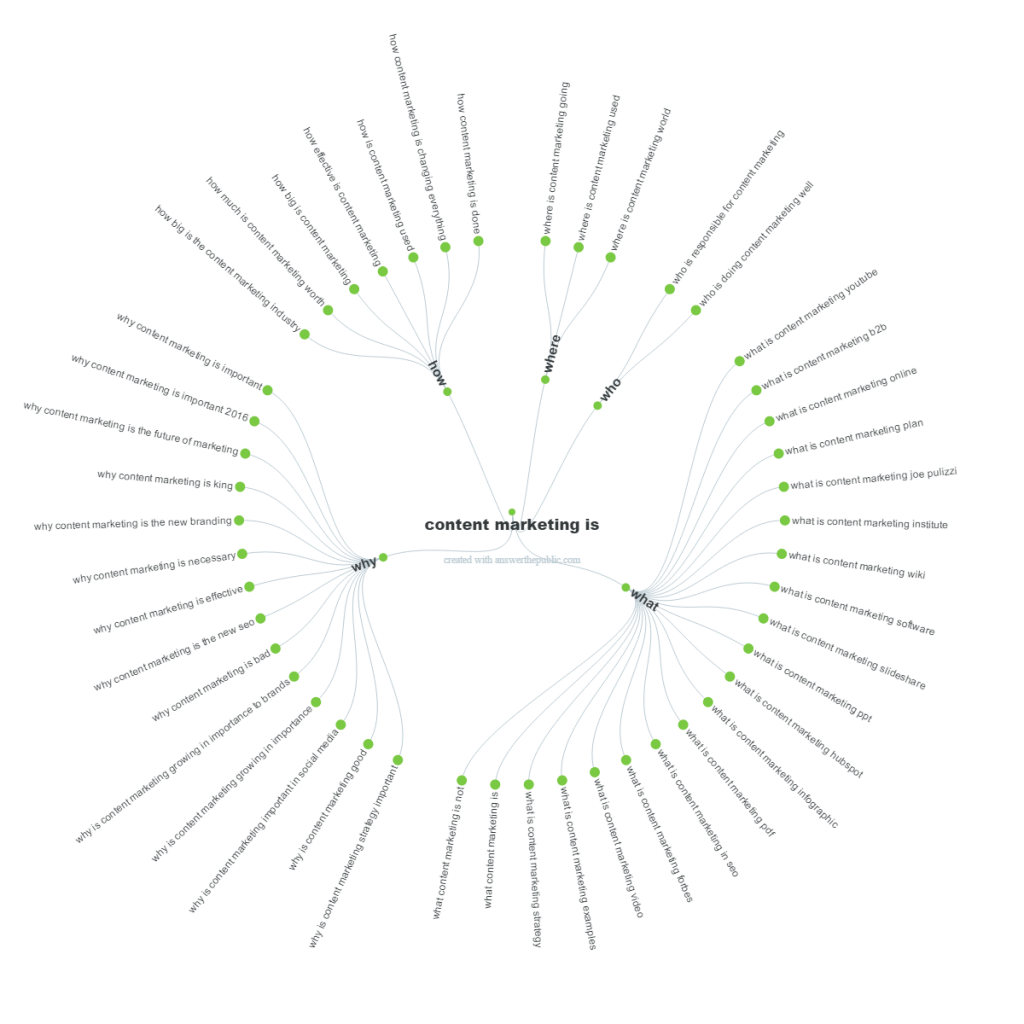 When the results are displayed for the key phrase you've entered, they're split up into variations of questions, like who, what, where, why, and how. These are then shown in a downloadable image which can easily be implemented into presentations and other platforms.   
4. Triberr
Triberr lets you connect up with industry leaders and share their content with your own audience. Within the app, marketers can access groups based on specific topics or industries and then have instant access to articles published by key figures in those areas.
As well as easy access to high-performing pre-existing content, you can also discover trending topics in your niche and come up with interesting angles and inspiration for your own original content.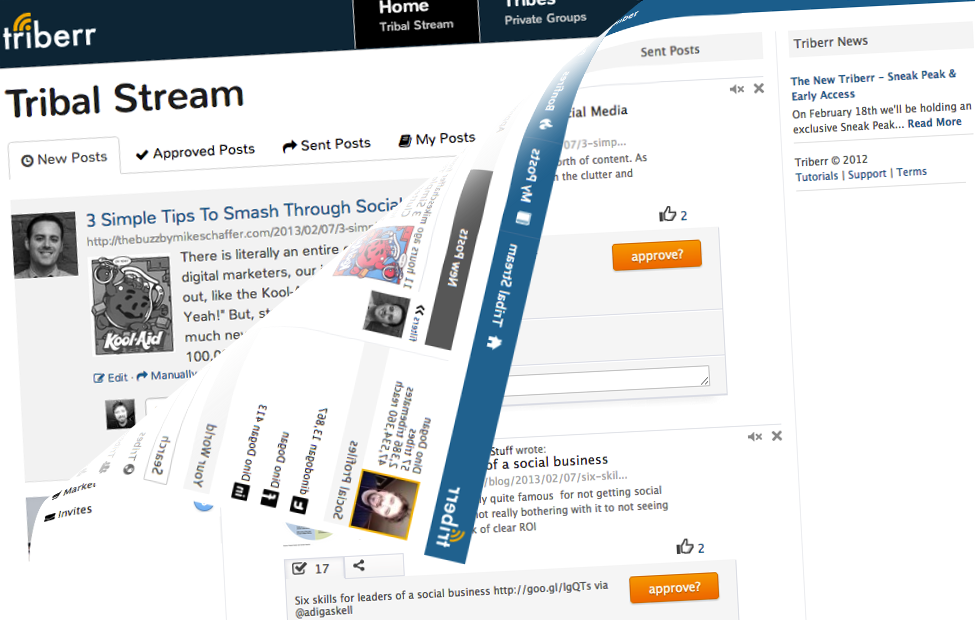 According to Branderati, 46% of US executives said that an increase in brand advocates was was one of the most important benefits of social media, and Triberr lets brands and influencers easily connect. In one campaign run by TOMS Shoes, influencer Daniel Melbye's post generated more than 1,300 shares in the Triberr group it was a part of.
Not only did the brand get tons of shares, but they also had access to a range of social posts about their products from key influencers.
5. Snip.ly
The problem a lot of marketers see with content curation is they're not actively driving consumers towards their brand. By serving up content from other people, they think they're pushing potential customers away.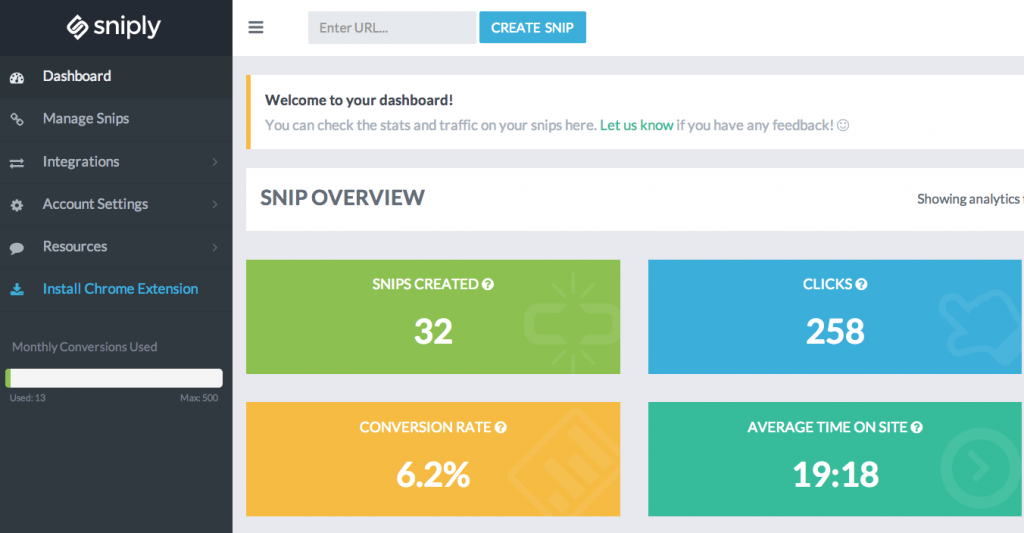 Which is where Snip.ly comes in. This clever tool adds a custom call-to-action to any page on the web that links back to your site. So, if you're sharing a piece from a competitor, the consumer will still see a link to your site when they visit the page.
Plus Belle La Vie, a French TV show about the life and times of residents of le Mistral, used Snip.ly to drive potential viewers to its site. They created 90 "snips" (or calls-to-action on other shared content) which generated over 1.5 million clicks. As a result, they converted 109,000 viewers who might otherwise have missed their TV show.
6. TINT
Generating enough content to stay at the top of the game is difficult for even the most content-savviest of marketers, but there's a huge amount of assets already out there just waiting to be tapped into.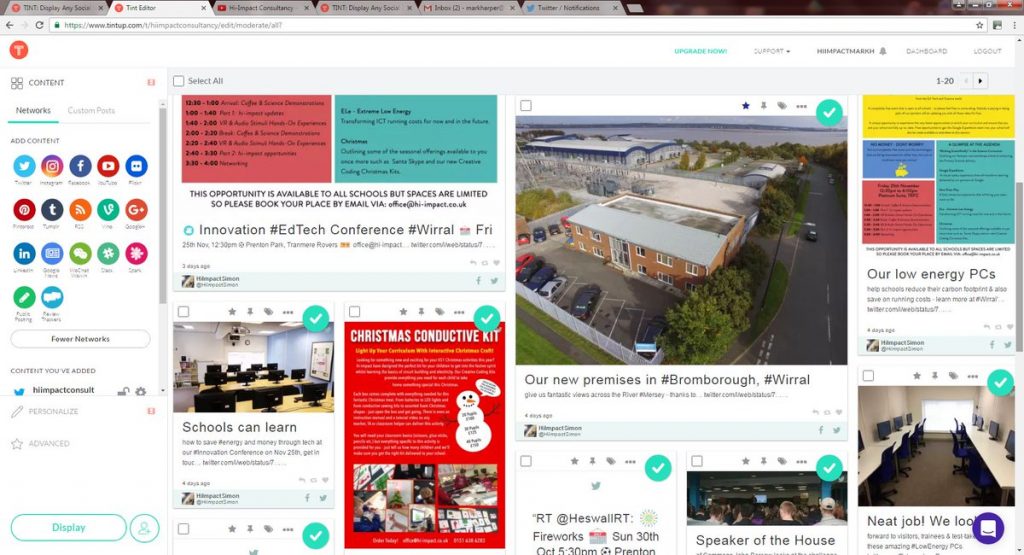 TINT lets you bring together consumer-created content by pulling in hashtags from a range of platforms and letting you display the curated content on a display stream, whether that's on a website, at an event, or on a digital billboard.
UK-based shopping district, Oxford Street, implemented TINT to pull real-world content from a major event onto their website so that the rest of the globe could join in the fun. As a result, they garnered more than 93 million impressions across social media and reached consumers across the planet.
7. Scoop.it
Scoop.it is now used by more than 2.5 million marketers around the world to search for keyworded content. The platform lets brands find content around a specific subject and share that content directly onto their social channels or embed it onto a webpage.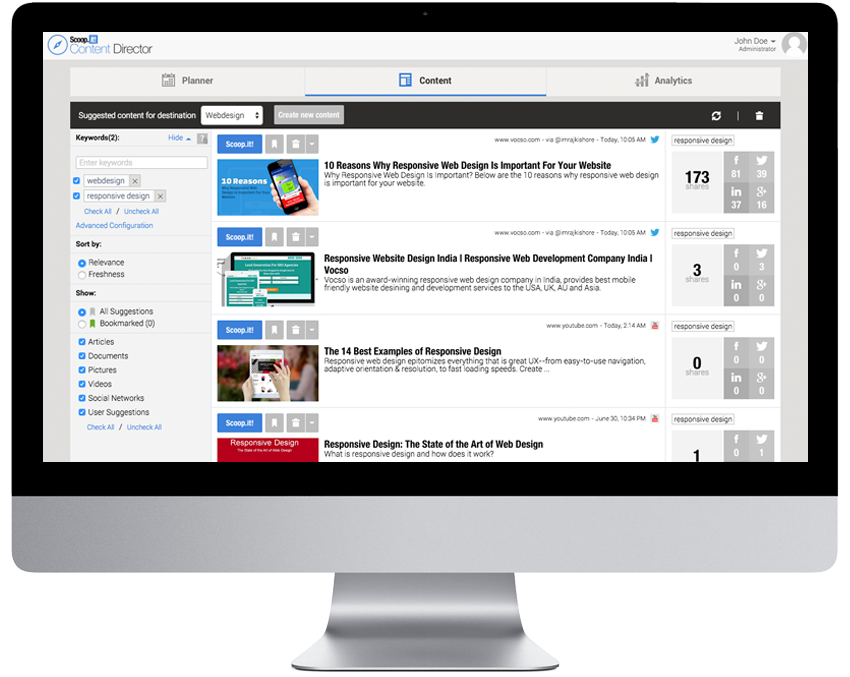 Taking it further, marketers can then find out the ROI of their efforts with in-built measuring tools and predictive insights.
For many marketers, finding relevant, high-quality content to share across social is a hugely time-consuming activity, and without knowing the data behind their strategy, it can often be difficult to know what's working and what's not. This is where Scoop.it picks up the slack, providing both great content as well as statistics on how that content is performing.
A Silicon-valley based SaaS company had tried outbound marketing and advertising to increase leads, but wanted to to add content marketing as another potential channel. They implemented the Scoop.it Content Director, which provided solid analytics for leads generated from the content they shared.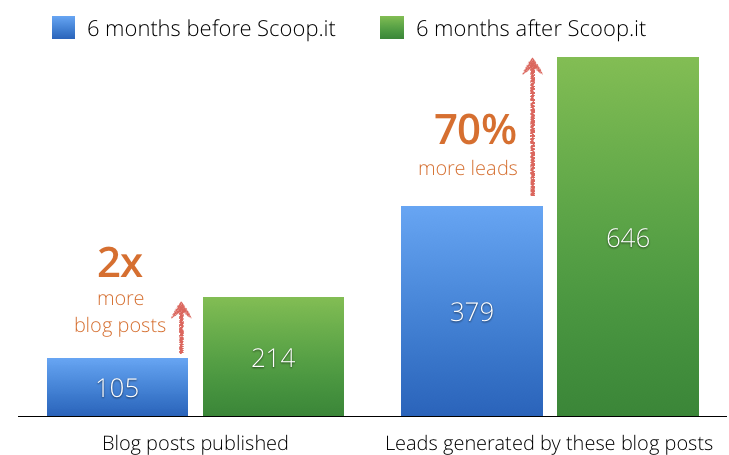 Six months after implementing Scoop.it they had increased their leads by 70%.
8. Twitter Lists
Twitter Lists let brands monitor content from competitors, influencers, and news sites to discover new content for real-time marketing tactics. Within the platform, marketers can set up designated lists and populate them with people who are sharing great content in their niche. From there, brands can re-share the content, re-purpose it, and build up their social feeds with timely, relevant content.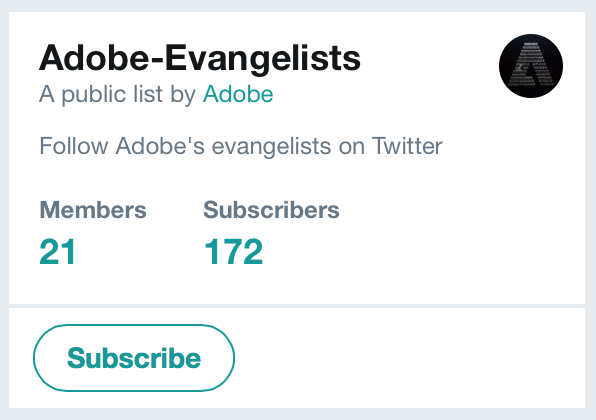 Adobe is a pro at using Twitter Lists, and has dedicated feeds for each of its products. But, on top of that, they have also created a List especially for its company evangelists. These are the people who shout about Adobe and its products from the rooftops and, by keeping a close eye on what they're posting, the brand has access to content from some of their most loyal fans.
9. Storify
Visual content is incredibly important in this fickle internet age. In fact, 37% of marketers claimed visual marketing was the most important form of content for their business, second only to blogging (which came in at 38%).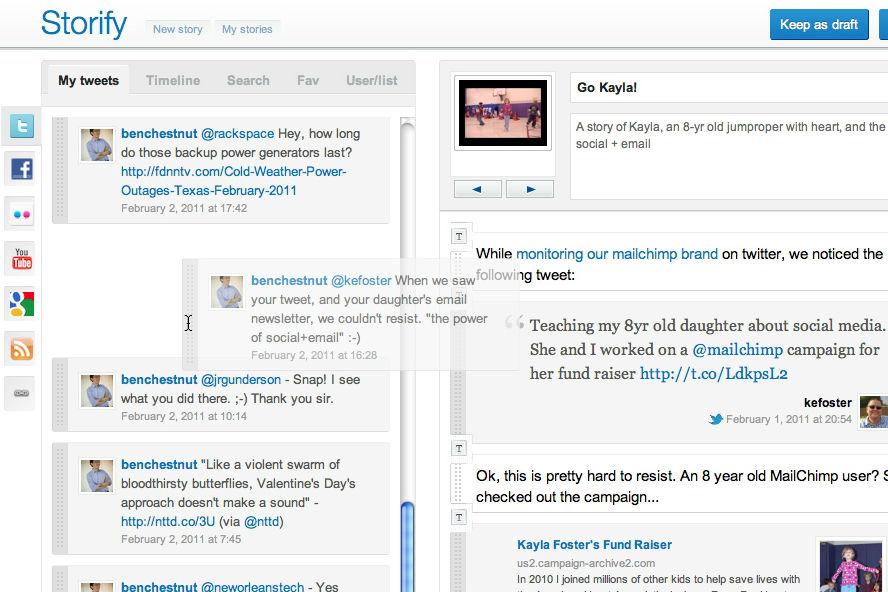 But for most marketers, finding the time, resources, and budget to create visual content is a struggle. With Storify, brands can create eye-catching storyboards for their campaigns that bring together hashtagged content and other pieces in one place. As well as inserting your own content, you can also fill in the gaps with content created by others for a more comprehensive insight into a topic or industry.

The British Heart Foundation used Storify on National Kissing Day to remind people all over the world that the greatest kiss of all is the kiss of life. Their campaign was centered around getting emergency life support skills onto the national curriculum, and they did this by using the hashtag #GreatestKiss and pulling together the content from Twitter and other social platforms into an attractive story.
When National Kissing Day was over, they embedded the campaign video and media coverage into the Storify wall to highlight the goals and successes of the campaign.  
10. BuzzSumo
BuzzSumo keeps marketers up-to-date on trending topics in their industry. In the search segment, you can punch in keywords and timeframes to discover high-performing content that has been published in the last week, month, or year.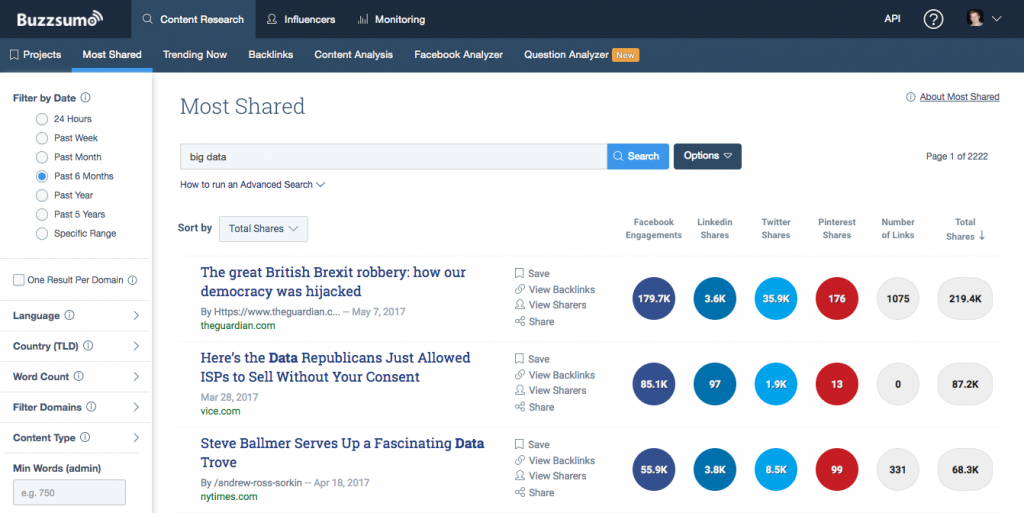 In the "pro" version, marketers can hook themselves up to automated alerts for when new content is published in their industry. What's more, it's easy to search for content by topic and share it directly on social media from the in-built dashboard.
Finding out what topics are hot in any industry at any given time is a bugbear for many marketers, and BuzzSumo helps ease that pain.
Digital agency, Blueclaw, tapped into the power of BuzzSumo to discover the biggest influencers in each market and to find high-performing content for their clients' social media feeds. They found that implementing the tool has dramatically reduced reporting time, which often took in-house teams hours to correlate before using BuzzSumo.
11. Curata
This intelligent content curation tool quickly digs into popular articles and content around specific search terms, which means brands can easily find stuff to share that's relevant and timely.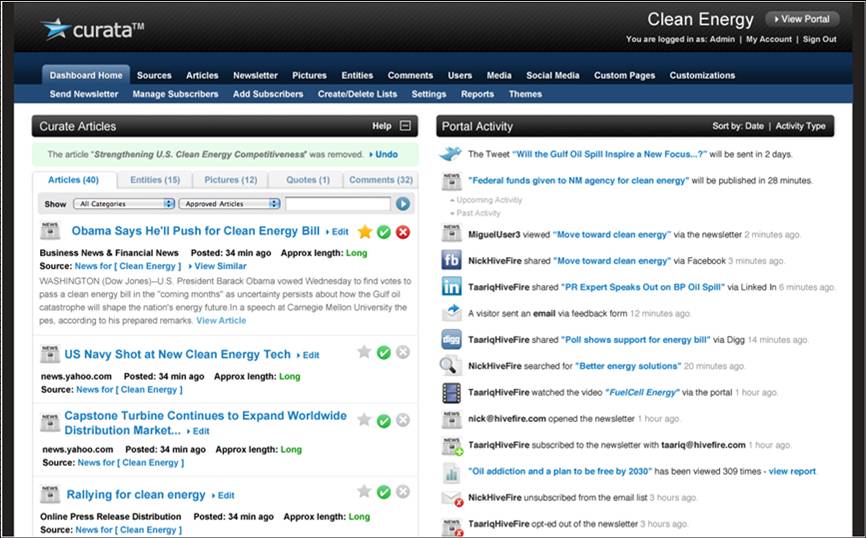 It works by scouring blogs around the internet and tailoring a content list for marketers to look through, offering extra features like annotation, and in-built sharing to populate social feeds with the click of a button. Most marketers don't have the time to hunt down relevant blogs and keep up-to-date on their publishing schedules, but Curata automatically does this for you.
Alcatel-Lucent, an innovator in tech communications, implemented Curata to bring their audience thought leadership pieces and boost their authority in their ever-growing industry. They used the tool to find, organize, and publish highly-specific content in real-time which led to a higher volume of web traffic.  With easy access to hundreds of relevant articles, Alcatel-Lucent were publishing 5-30 articles per day and spending just 45 minutes on daily curation.
12. Quora
Question and answer site Quora helps marketers find content that revolves around specific niche questions and industry-related subjects. The tool is accurate and efficient at providing results for relevant keywords, and all answer are searchable and can be organized. Even better, Quora clocks your interests and user-behavior to present content based on previous reading and engagement habits.
For Neil Patel, using Quora generated a huge amount of quality referral traffic to his site without him having to create fresh content. Instead of publishing original content on the site, Neil discovered questions on trending topics in his industry and provided informative articles to them.

Quora quickly became his second biggest referral site and he noticed the users that were arriving from there were highly-engaged.  
Content Curation Saves Time and Boosts Authority
When so many marketers struggle to keep on top of the ever-changing world of content creation, the ability to curate content that's already out there is a huge benefit.
Bringing together blog posts, videos, and social shares from customers, influencers, and other industry-related brands saves a huge amount of time while continuing to boost authority. What's more, the tools here often provide detailed data so marketers can continue to prove the ROI of a successful content strategy.
How have you been curating relevant, high-performing content for your brand?