Having a great visual strategy helps make your content more compelling and more valuable to readers, and can significantly increase readers' engagement with your posts. Generic stock photos or a lack of photos can make your content seem uninteresting at best and unprofessional at worst. By developing a simple but consistent strategy for selecting images that fit well with your brand's tone and style, you can make your content twice as effective to make a mark on your industry. A great way to learn how to boost your visual marketing strategy is by taking a look at a blogging niche that relies heavily on leveraging great photos: food blogging. With a few key techniques culled from these food-blogging experts, you can give your content strategy a boost without too much extra work.
Why Visuals Matter to your Content Strategy
1. Images give readers a better idea of what to expect
Food bloggers know images can have a huge impact on how readers perceive their posts. Readers want to know how a dish is going to look before they test it out for themselves, so having images to accompany your written content helps assure readers that you know what you're doing. Cooking and eating are highly sensory experiences, so making sure that even a fraction of the visual experience of eating translates to your blog content is a big part of keeping people interested in what you have to say when you write about food.
Great image selection can help convey your tone much more effectively than copy alone. Strong written content is a must-have for successful blogs, but compelling images help communicate important concepts almost instantaneously. They give readers an idea of what kind of ideas to expect from your post, and can make a huge impact on what they ultimately take away from your content. A great set of images helps get readers in the right mindset for your content before they even get past your title.
2. Images extend your content's shareability
Food bloggers know that some social outlets are so image-focused that you have to have visual content to use them; even the world's best pork chop recipe won't get any play on Pinterest if it doesn't have a mouth-watering picture to accompany it. Food bloggers have their own aggregate sites like Foodgawker and Tastespotting that put a premium on submitting high quality, drool-worthy pics — even if you write great recipes, your posts won't be accepted without compelling photos.
Whether you're writing about food, software, or politics, social media rules sharing. Ensuring your content has a strong presence on Facebook, Twitter, and other social platforms relevant to your industry helps to make sure that your content lands in front of as many potential readers as possible. Studies have shown that Twitter posts with compelling images consistently received 18% more clicks and 89% more favorites than those without, so including images in your post is a great way to stand out among the many links that get posted to social every day.
But you can't tack on any old photo and expect it to see amazing results. Social media is a highly competitive arena when it comes to sharing. The better your images are, the more likely you are to see a meaningful impact on your content's reach.
3. Good images can boost your credibility (and bad ones can weaken it)
For many successful food bloggers, using original photos is a given. After all, you want to showcase the recipes and dishes that YOU make. Using images that are clearly stock photos, or look too generic can call into question the originality or quality of the recipes and reviews you're posting.
Taking your own images isn't always feasible, or even necessary. But generic stock photos can bring down the perceived quality of your post. Make the effort to find images that are interesting, compelling and NOT overused; if an image is the first result you get for your topic during a Google Image Search, chances are it's not a great choice.
How to Develop a Visual "Language"
Food bloggers do a great job of developing a feel and sticking to it. One of my current favorites is Lady and the Pups, a self-dubbed "angry food blog." This decadent blog uses images that reinforce that branding; blogger/chef Mandy uses dark backgrounds and plays up the deep, lush colors of dishes in her pictures to highlight the bold style and strong flavors that make her cooking style unique.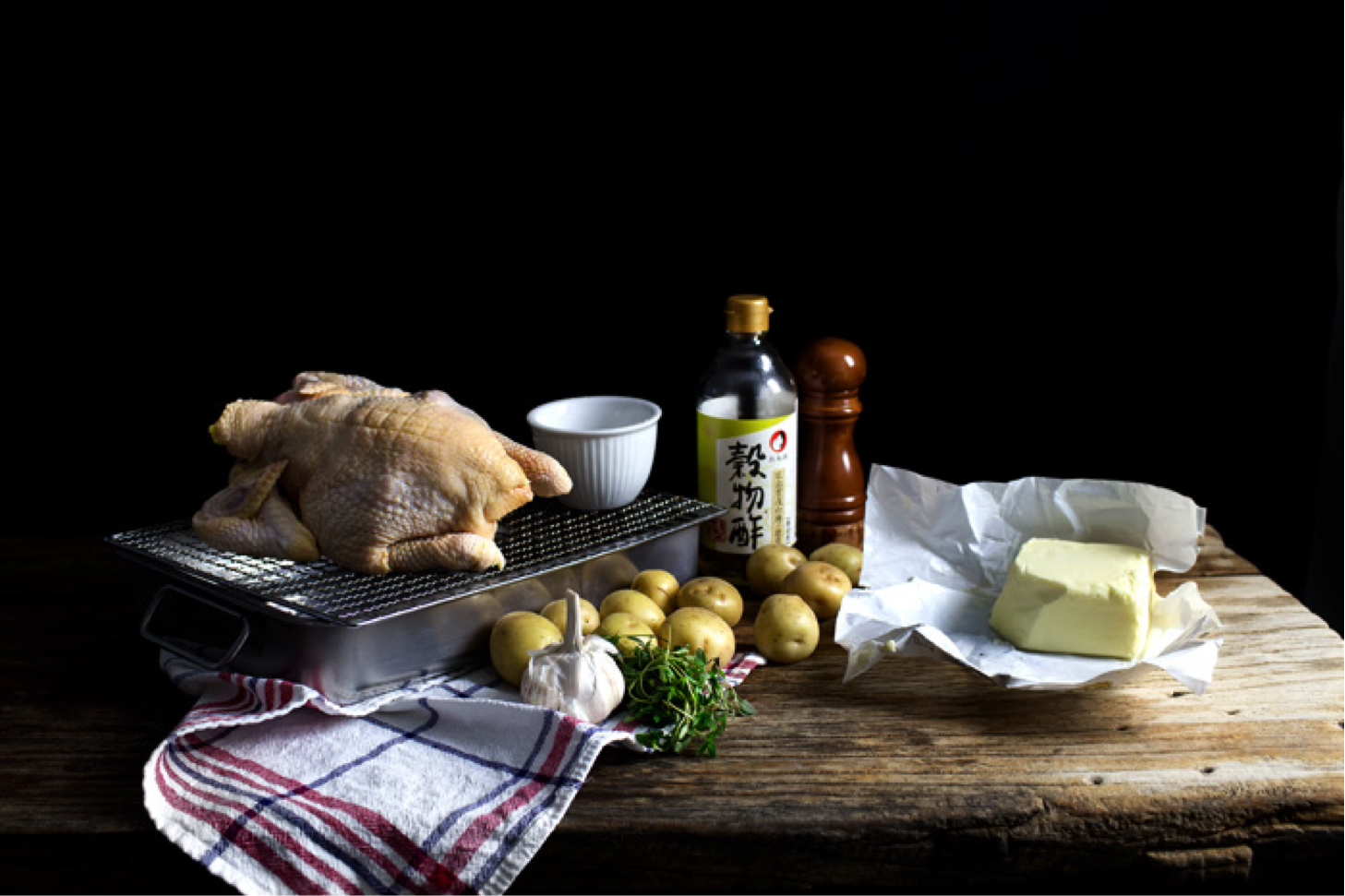 At the other end of the spectrum is Bakerella, best known for her cakepops and other whimsical confections. Her blog has a bright, cheerful feel to it, and her photographs convey that too — her photos tend to be awash with light and play up the cheerful, friendly tone of her posts. Both Lady and the Pups and Bakerella are food blogs that use original photos, but each has a distinct visual language that reinforces the written (and cooked) content they provide.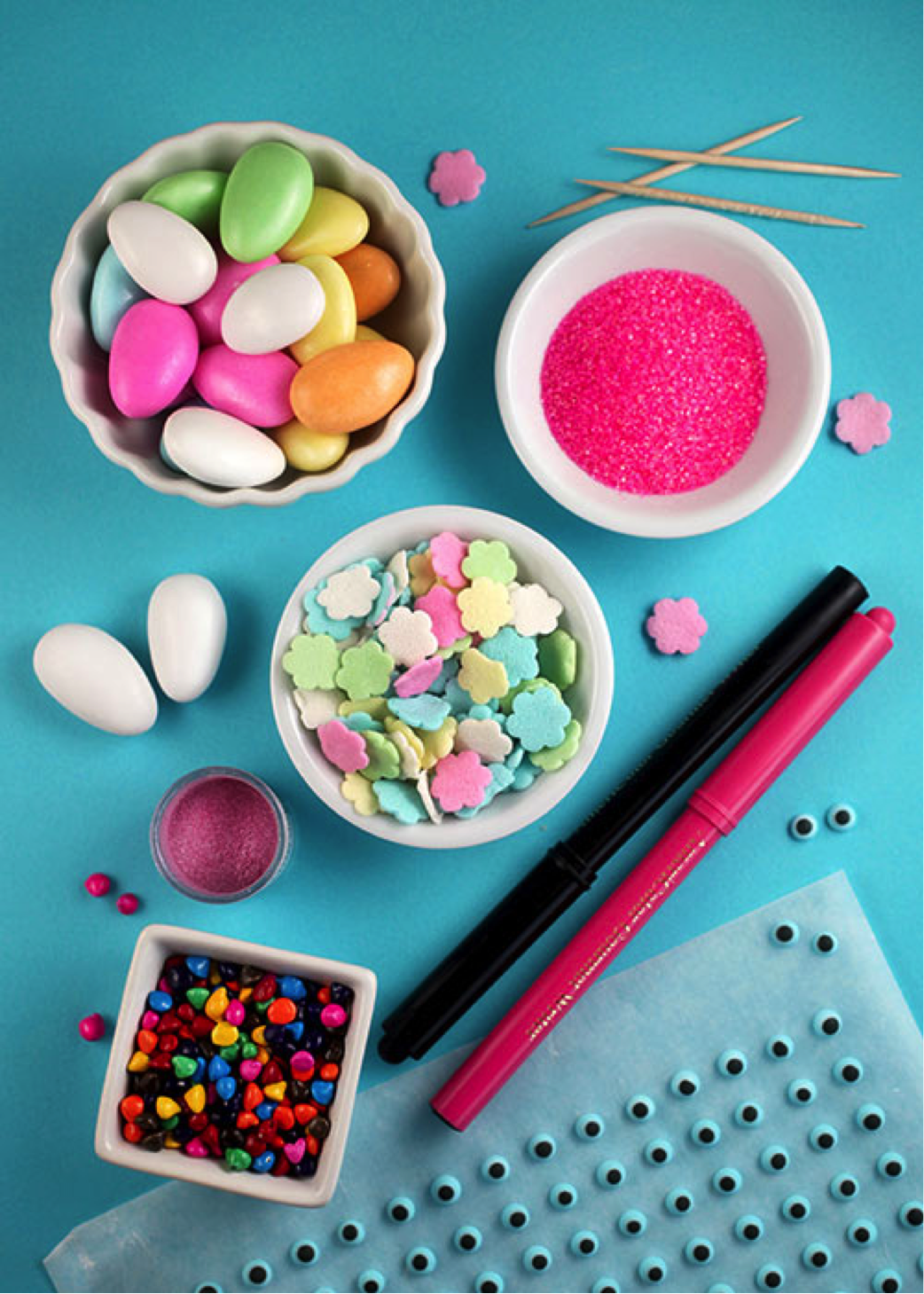 Many companies spend significant time thinking about their style when they start content marketing campaigns — they consider language and word choice carefully and might even have an extensive style guide. It's important to develop a visual style and language as well. If your brand is sleek and edgy, peppering your blog with bright, goofy photos can be jarring and remove the reader from the experience of the post.
A great example from right here at TINT is this post on creating a KPI dashboard. Although KPIs are a relatively abstract topic, the image selected for this piece subtly evokes the idea of measurement and analysis with a wooden ruler. Beyond the actual content of the photo, the soft focus and warm colors of the photograph fit well with the overall aesthetic of the TINT Social Studies blog. By contrast, a sleek, ultra-minimalist KPI dashboard would feel off-brand for TINT.
Use images to reinforce your brand, keeping in mind things like tone, composition, and color to create a visual language that complements what and how you write. Knowing the tone and style you want your content to convey is important in defining your visual style and ensuring that your branding is cohesive from post to post.
How to Cultivate a Visual "Library"
Use Your Own Photos Wherever Possible
The best way to ensure that your visual content is on-point and unique to your brand is to use original photos and images in your posts. It's the most foolproof means of ensuring that your visuals are brand-appropriate, fresh, and original. Food bloggers often style and photograph their own dishes, and with a decent camera (and someone on your team who has an eye for composition) you can do the same. You might notice that we do this a lot at TINT – many of our blog posts feature photos from around the office. It's a great way to put a tangible, friendly face on your product and remind users that you're real people.
If you'd like to take it up a notch, consider hiring a pro photographer to do a few sessions with your team or product. You can utilize them if you're lucky enough to have a photo-savvy employee or an in-house photographer. Well-shot and edited photos of your team at work, people using and loving your products, and maybe even few shots of the office goldfish (or in TINT's case, dog) provide great visual fodder for a wide range of topics.
Cultivate and Maintain an Image Library
Chances are, you'll take and/or find many more pictures than you'll use for any one post. Keep a backlog of on-brand photos and images that you love and can select from for future content. Food bloggers often have an excess of photos from the production process. Deb Perlman of Smitten Kitchen does a great job of incorporating these odds and ends throughout her website. She has a variety of cool photos peppered throughout her blog to keep her site stylistically unified and provide visual interest to otherwise text-heavy pages.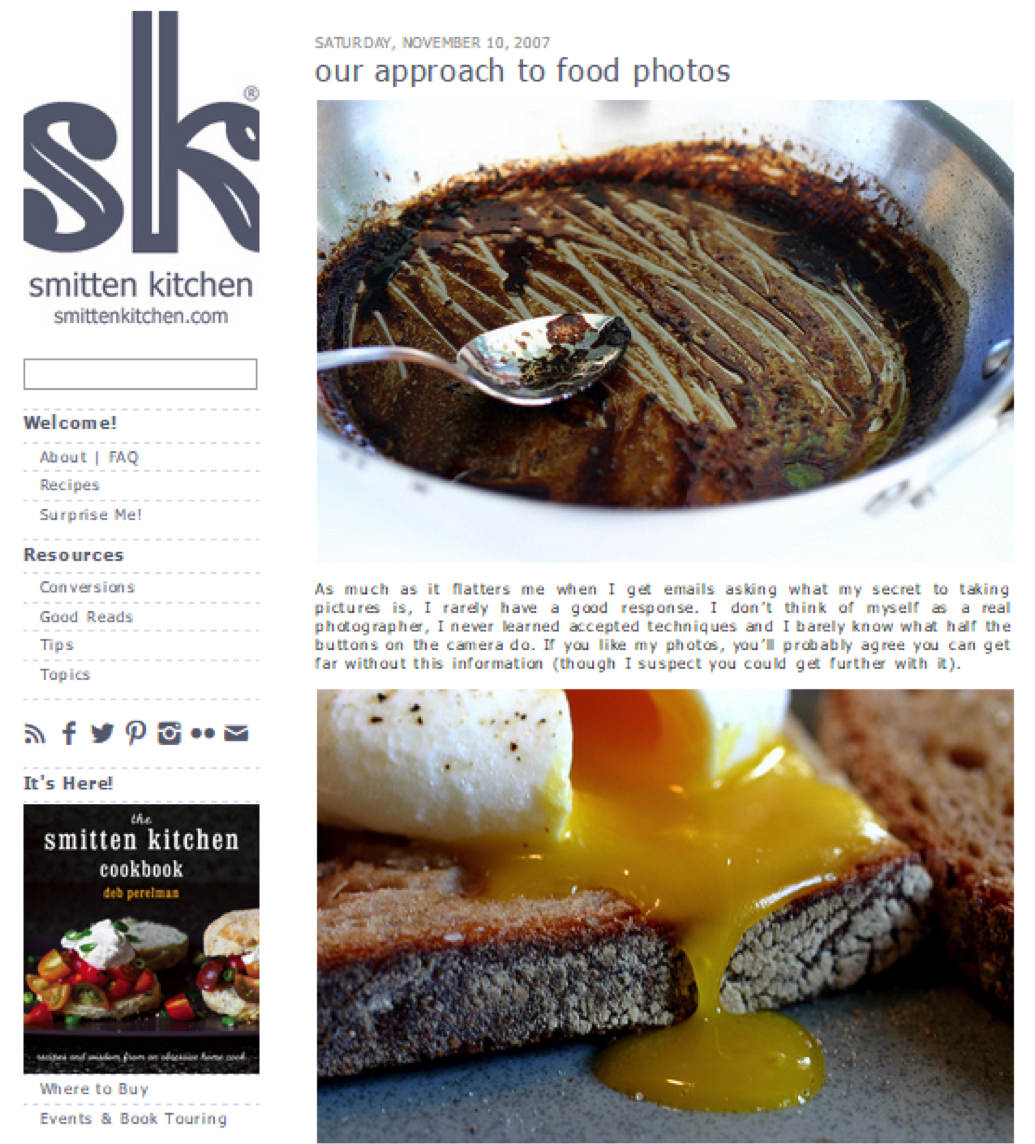 Keeping a backlog of great photos and images is great for big teams, too. Not only does a healthy repository of photos streamline the publishing process (no more rooting around the depths of Google Image Search the night before your deadline), it helps content teams with multiple contributors stay on the same page and present a unified visual voice. Keeping a backlog of photos can also be a great way to rev your creative engine and come up with new ideas for content. A candid shot from your office might inspire you to write about a topic that you hadn't considered before.
To make sure your content library stays organized and efficient, keep everything in the same place, like a shared Dropbox folder. Make your visual library accessible to everyone on your team,  and annotate visual assets to keep track of when and where they've been used and where they came from so you can give the proper attributions.
Get the Whole Gang Involved
Food lovers' hub Food52 does a great job of leveraging user-generated content by running recipe contests that showcase see just how creative Food52 readers can get. Showcasing images submitted by fans of your brand on your site can be an awesome way to build a sense of community and brand loyalty among users. Putting out photo requests to fans of your brand, especially after big events or new product launches, is another great way to get great visuals and inspiration for your content. (Check out our article about other brands that effectively leverage user-generated content). Just remember that even if your users aren't pro photographers, you still need to get the proper permission to use photos, so ask nicely first!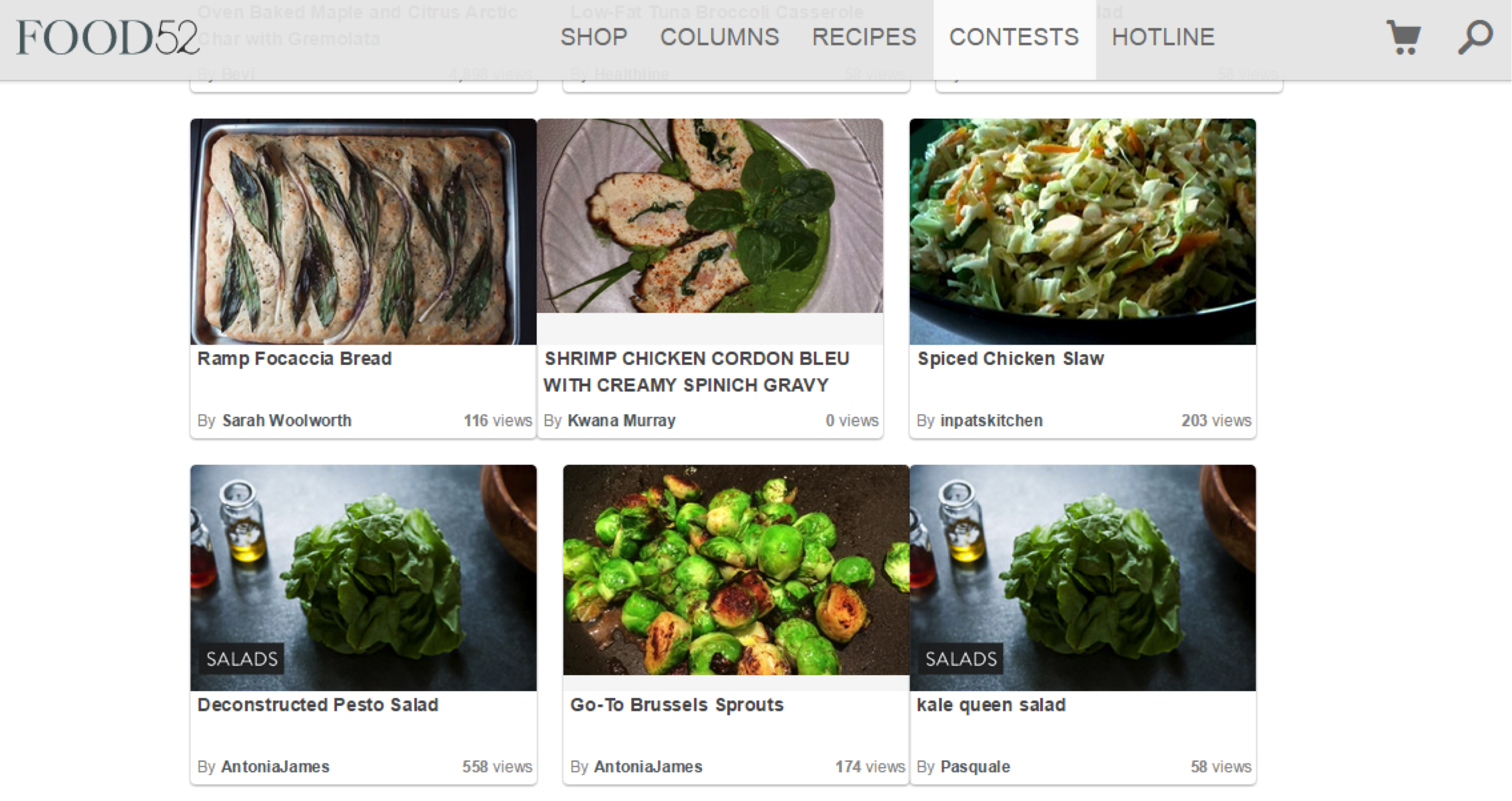 Another great way to source photos might be your very own team members, who can be a great resource for those around-the-office shots. If you've got great employee-generated photographs, consider letting them contribute content directly to your Dropbox library, or ask for contributions on a regular basis.
Whether you're creating images, pulling them from the community or just hunting down the perfect pic to capture your tone, putting a little extra thought into your visual content strategy can greatly impact the success of your content marketing campaigns. A good photo or graphic puts a finishing touch on a great piece of content, making it irresistible to readers and helping you communicate your brand even more effectively.
Feeling inspired. Schedule time with our content specialists to start creating your own galleries, web embeds, and community-sourced content.