Early Adopters may be the key to marketing a safe return.
Hotels, restaurants, clubs, museums, and similar businesses have found themselves in an unexpected situation. In March 2020, as businesses temporarily closed their doors due to the pandemic, many business operators expected a few weeks of downtime before reopening. They certainly didn't think it would take over a year before they could return to some sense of normalcy.
Their time in limbo seems to be almost over. Depending on location, they're able to open to varying degrees. But regardless of geography, customer expectations of safety and sanitation have changed. Many people are hesitant to venture out as the world returns to normal. 
New sparks of creativity are required to get customers through their doors. Businesses need to inspire confidence when their customers travel, eat out, shop, venture into the world.  The key is tailoring this new offer to the right people in their marketing messaging.
The key is finding the brave few who will be first to return to old habits and re-engage with brands they may have taken a break from during the lockdown.
These people are the early adopters.
Who Are The Early Adopters?
Early adopters are the people who are ready, and excited, to be the first.  While they certainly prioritize health and safety, they have trust in their hotel, restaurant, etc. to make sure they're sticking to the new protocols. When we look at the early adopters ready to get out there again, we see 3 main types of personas:
#1: Domestic tourists
Domestic tourists are okay with traveling inside of their country. They don't have to deal with travel restrictions or worry about another COVID-19 outbreak and having to rush back home. These are tourists in the USA living in California who are happy to take a road trip to Utah or those living in Spain who will make the drive, or take the train, from Barcelona to Madrid. These domestic tourists are looking for hotels to stay at, restaurants to eat in, nightlife, and daytime activities. 
#2: Business Travelers
Business travelers have the force of their business behind them as they travel domestically or internationally as needed. Some businesses need their employees to be in specific locations, and no matter what the situation with COVID-19 looks like they have to get them there. These travelers are going to be looking for less entertainment and more comfort wherever they're staying. We won't say that they're not going to be found in nightclubs or pursuing museums during the day, but chances are their focus is on where they are staying and what they'll be able to eat while they're there.
Some travel destinations are also considering a marketing strategy focused at "Bleisure". Since business travelers are already visiting destinations around the world, tourism marketers are encouring them to stay for a few extra nights, bring a plus one, and maximize their enjoyment while they're already there.  Read our primer on Bleisure Marketing.
#3: Generation Y and Z
Millenials (Gen Y) and Zoomers (Gen Z) don't have the same fears around COVID-19 as Generation X and the Boomer generation. While they are certainly focused on avoiding the virus, these generations knows that they're risking less by taking a weekend trip than somebody in their golden years. 
These early adoptors can be seen as the forefront of the new normal. They're paving the way by saying yes to the new offers from their favorite hotels, restaurants, nightclubs, museums, and more. They're happy to test out this new normal and to give it their own stamp of approval (or disapproval). But first, they need to know the opportunity is there.
User-generated content and Early Adopters
Brands can use user-generated content to showcase early adopters. People want to know that other domestic tourists, business travelers, and folks their age are on the move. Instead of putting together a well-produced ad campaign to get people back through their doors, they can show their customers experiencing this new normal and giving their real-time feedback on what it's like. For example, a hotel can transform their offer from a vacation destination to work away from home destination (we'll go over this and more examples shortly).
User-generated content (UGC) is created by customers. It's the photos they take on their phone when they see the view from their hotel, the video they take at dinner, the Instagram story that pans around the club as they're dancing at midnight, or the aesthetic shot of a mural as they walk to their next destination.
Brands care about UGC because it performs:
One-quarter of the search results for the world's biggest brands are linked to UGC

Websites with featured content see a 20% increase in return visitors

Forty-eight percent of customers say user-generated content is a great method for them to discover new products
When it comes to advertising, consumers are interested in seeing the experience of the product or service through the eyes of someone similar to them. And that's where UGC comes in.
Brands can incentivize users to post UGC with campaigns that ask for user-generated content in return for a prize, offer to feature the guest's post if they use a specific hashtag, print their photo, and use it in marketing materials, etc.
Here's how three brands are focusing on early adopters to keep themselves top-of-mind as they wait to be able to open at capacity again.
Examples of Brands Targeting Early Adopters
#1: MGM Resorts: Viva Las Office
MGM Resorts took an abrupt pivot in their messaging by stopping their efforts of showcasing a relaxing weekend in Vegas away from work to a relaxing weekend in Vegas with work. Only during COVID-19 can this pivot make sense, and right now it certainly does. MGM has created a Make Your Own Hours service so guests can check-in and out at the time that works best for their work schedule, give each guest their own Executive Assistant during their stay, and $375 in beverage and food credits.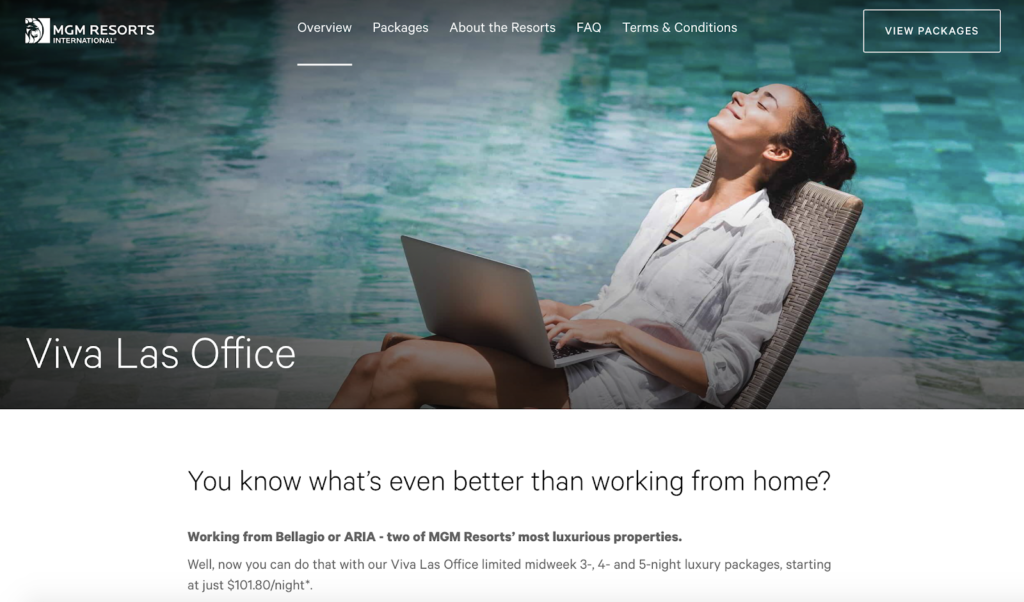 The Dubai Rove Hotel created this on a smaller scale by converting some of its hotel areas into podcast studios for creators, then repurposing the creator's content across their digital channels.
#2: InterContinental New York Times Square: Escape Your Tiny New York City Apartment
View this post on Instagram
Business travelers are certainly interested in getting a change of scenery—but they're not the only ones. Domestic tourists and younger generations are happy to feel freedom after being cooped up in their homes, particularly those smaller New York City apartments. InterContinentail New York Times Square hotel pivoted their messaging from welcoming tourists from around the world to welcome tourists from their own backyard. They use user-generated content to promote their self-care retreats.
#3: Chipotle
Chipotle, with content known for being branded directly to Generation Z, jumped right into action when stay-at-home measures were put in place. They quickly realized that their new offer had to be something that held serious value to people stuck at home, and they nailed it with their Free Delivery option. Starting on March 12th, 2020, Chipotle announced it would give free delivery on all orders over $10 purchased through their app. They brought new users on to their app and now regularly promote ordering through campaigns like, guess the final score between LA vs. PDX and (potentially) win free burritos for life.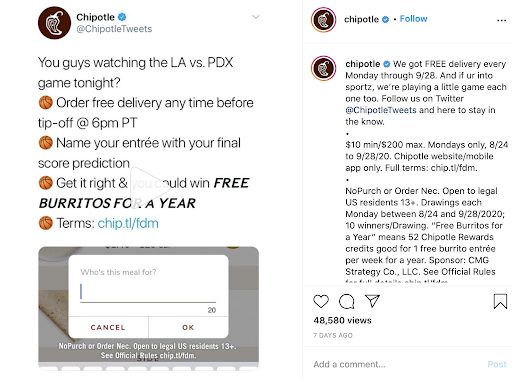 Brands like MGM, Dubai Rove Hotel, InterContinental New York Times Square and Chipotle are making strides ahead as they figure out how to reach their ideal customers today while still waiting to be able to return to normal in the future. They're forging the relationships that will make them top-of-mind when hotels reopen to full capacity, restaurants can fill their dining room, and in-person businesses can get back to their usual routines.
They're focused on creating offers for their early adopters and ensuring their messaging is spot on by shifting their marketing and using user-generated content that tells the value of the new offer for them.
Don't know how to pivot your offer or messaging to suit these early adopters? Our content and social experts are available for a no-obligation consultation to help you plan your safe return marketing strategy. Together, we'll walk through a blueprint designed to scale as your visitors, guests, and customers return. Schedule a time to chat.