Conferences, speaker sessions and other events have an exciting world of new tools that can help their events achieve that holy grail of good events: audience engagement.
From integrating social media into your Q&A session, to lightweight photobooth solutions, to throwable microphones, here's three pieces of event tech that will help your event market itself and keep attendees paying attention.
At the recent CMX Summit in San Francisco, community managers and community strategists came together to discuss what community means, and better ways to engage their communities. All three of these tools were in use there, and they worked as well in tandem as they do individually. So what are these three tools worth paying for?
1. CatchBox: Throwable Microphone revamps Q&A Sessions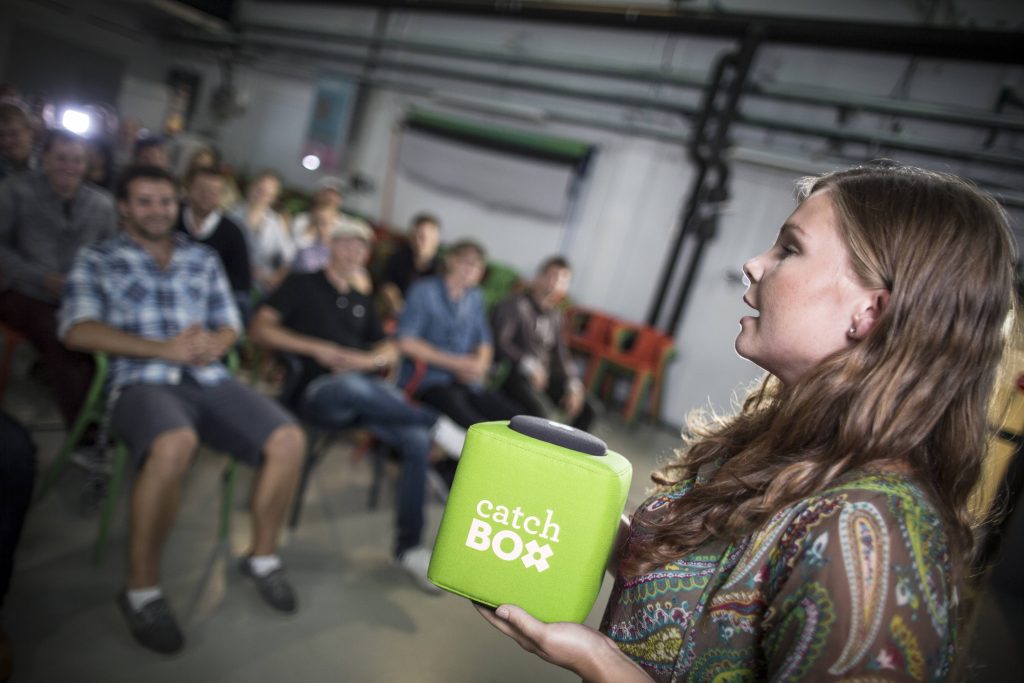 The traditional Q&A model involves audience members lining up to ask questions via microphone. Variations on the theme involve ushers passing the mic throughout the audience. As Catchbox points out in a cute little promo video: this slows things down and can suck the energy out of a speaker session.
Enter Catchbox: a throwable microphone that can be tossed to audience members who would like to speak. The mic itself sounds surprisingly great – it could pick up the sound of my voice when I held the box chest high and asked a question, but it didn't pick up any other sounds — rustling, feedback, or any sound as it was thrown. Turns out Catchbox is a carefully engineered product that uses built-in sensors and microprocessors to determine when the mic should pick up sound and when it shouldn't, based on movement.
The audience at CMX loved the boxes — the passing of the microphone became a fun game, rather than an energy suck.
What: Audience microphone for better engagement at Q&A sessions
Price: Starting at $499
Learn More: http://us.getcatchbox.com/
2. TINT Social Display: Get your attendees to ask questions and share their photos on any social channel.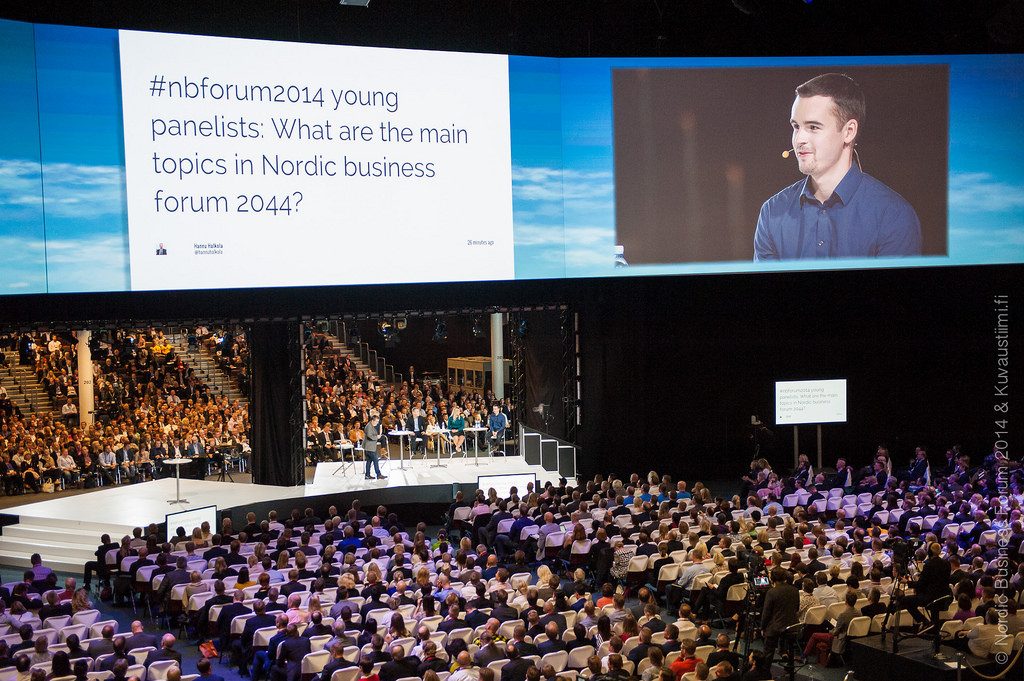 An innovative approach to Q&A sessions that has been gaining popularity is asking audience members to pose questions to the speaker via social media. By leveraging a social media aggregator like TINT, you can easily collect and moderate these questions and display them on large screens for the speaker to answer. This technique is especially effective for larger audiences where traditional Q&A sessions can be unwieldy or impractical. With TINT, you can create a seamless and engaging experience that encourages active participation from your audience and fosters a sense of community around your brand or event.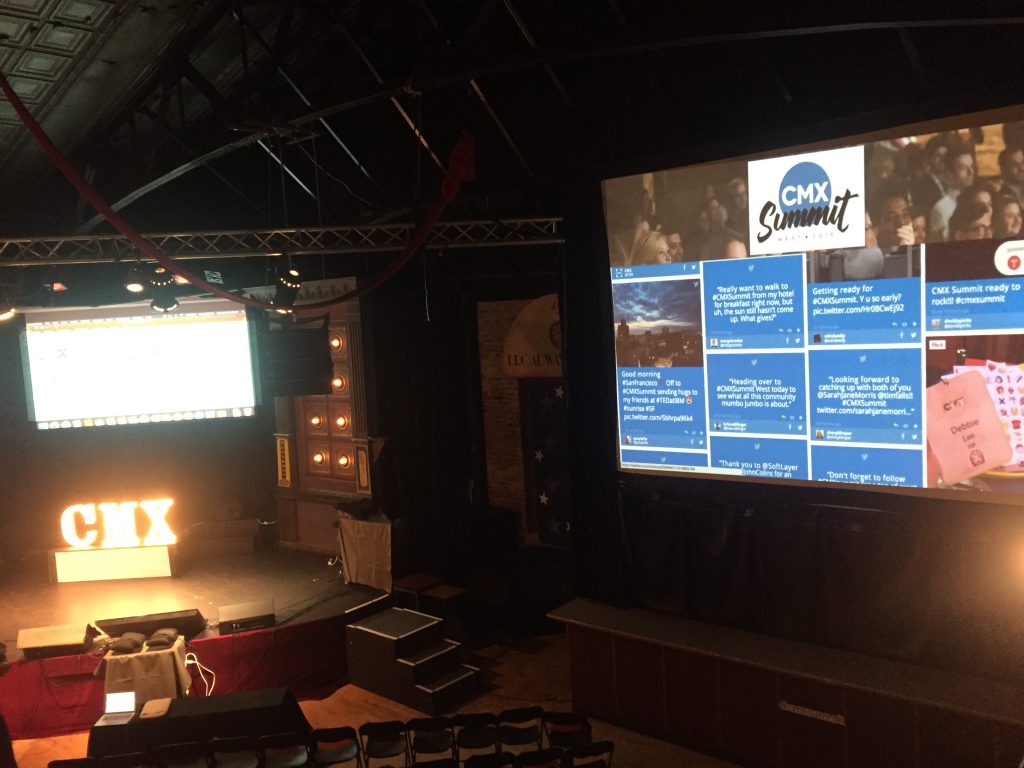 Using a social display during a speaker or conference doesn't need to be centered around the Q&A. At CMX, a giant wall of tweets and Instagram posts was quietly scrolled by during the entire conference, which prompted audience members to share their comments and photos throughout the event.
What: Social Aggregator + Display Tool
Learn More: http://www.tintup.com/
3. Halo: A socially enabled photo booth
Photo booths are a popular way to amuse event attendees and get them to take pictures at your event. Simple Booth Halo is a new, lightweight spin on the old photo booth standby — a halo of light that mounts around an iPad, running simple and well-designed photo booth software. The pitch on halo's website points out the main advantage of this kind of hardware:
"Is it a photo booth? Is it an iPad? Nobody knows. It's just cool."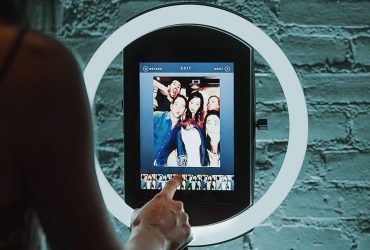 The app makes it easy for guests to post their pictures directly to social media or send it to their friends. This is a great way to prompt some user-generated content. Just make sure you invite users to tag their posts with the appropriate hashtag so they can show up on your social display. Bonus points go to the app for stitching pics together into animated GIFs.
What: Lightweight photo booth with social capabilities
Price: Starting at $3,800
Learn More: https://www.simplebooth.com
What are your favorite event engagement tools? How do you incorporate social media into your events? We'd love to hear from you. Talk with one of our event specialists today.