Instagram: it's the platform for selfies and filtered, overly-curated shots, right?
But when you consider that more that 95 million photos and videos are posted every single day on Instagram, it's time to sit up and take notice – especially if you're a fashion brand.
Why? Instagram recently ran a Fashionistas on Instagram report that showed some fascinating findings and revealed why the platform is the best in the world for clothing companies.
Let's take a look at some stats.
According to the report, fashionistas in France, Germany, Italy, Spain and the UK are on Instagram every single day of the week and check their feeds an average of 15 times a day.
"These new findings show how engaged and influential the fashion community is on Instagram," says Amy Cole, EMEA head of brand development at Instagram. "They post three times as often as the average person, with 230% more followers. They're also ready to turn their passion for fashion into purchase – with one in three Instagrammers buying an item they've discovered on the platform."
This just shows what a huge opportunity there is for fashion brands and retail stores to share their stories with consumers and reap the rewards on Instagram.
The European Fashionista
The report focused on European fashionistas hailing from the UK, Germany, France, Italy, and Spain. They were found to be a highly engaged audience, consuming and interacting with five times as many posts as the average, non-fashionista instagrammer.
These fashionistas are thought to be highly influential in their own right, too, with an average of 230 followers each. What's more, they post three times more than the average user every month, showing their dedication to the platform and their willingness to engage.
And if that wasn't enough, European fashionistas on Instagram generate about 397 feed impressions, which is a whopping six times higher than the average consumer on Instagram.
So now we've got the hardcore stats out of the way, let's dig into why Instagram is proving to be such a major platform for fashion brands.
Why Instagram is So Big For Fashion Brands
It Makes Fashion More Accessible
There's really no doubt about it: Instagram has flipped the way people think about and experience fashion.
Instead of being a once a month event or a seasonal thing, it's now a 24/7 event all over the world. The biggest brands can share their latest lines with a click of a button and consumers can discover new trends and styles almost immediately.
"Acting as a digital megaphone, Instagram's eager global audience creates and amplifies fashion trends on Instagram," says Nicole Barclay, Global Head of Social at NET-A-PORTER.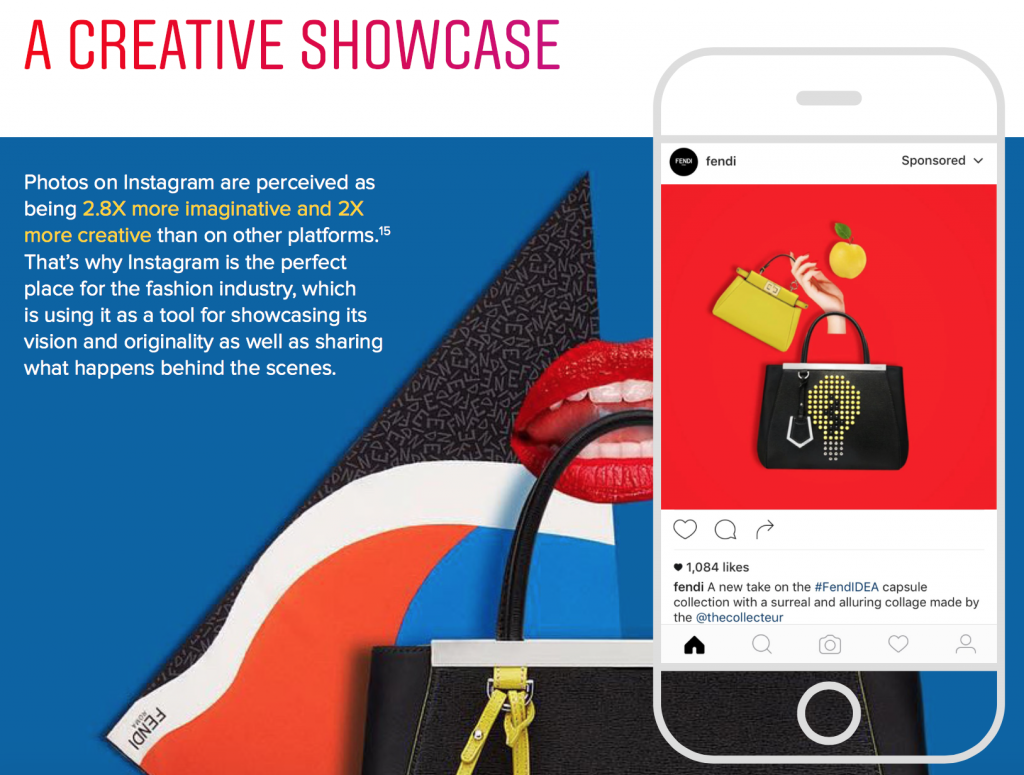 It's a Creative Platform
It goes without saying that Instagram is one of the most creative platforms out there, and the photos posted are considered to be 2.8 times more imaginative and 2 times more creative than on other social media platforms.
This makes it the perfect place for fashion brands to showcase their wares. The industry is an extremely creative one, and Instagram gives it the chance to showcase that along with behind-the-scenes snippets.
It Makes Fashion More Authentic
"Still imagery in its previous form was just too polished," says Barclay. "What the audience couldn't get from the fashion industry was access and for the first time in history, Instagram has provided the viewer with a behind the scenes, real insider access to an industry that was previously closed to them."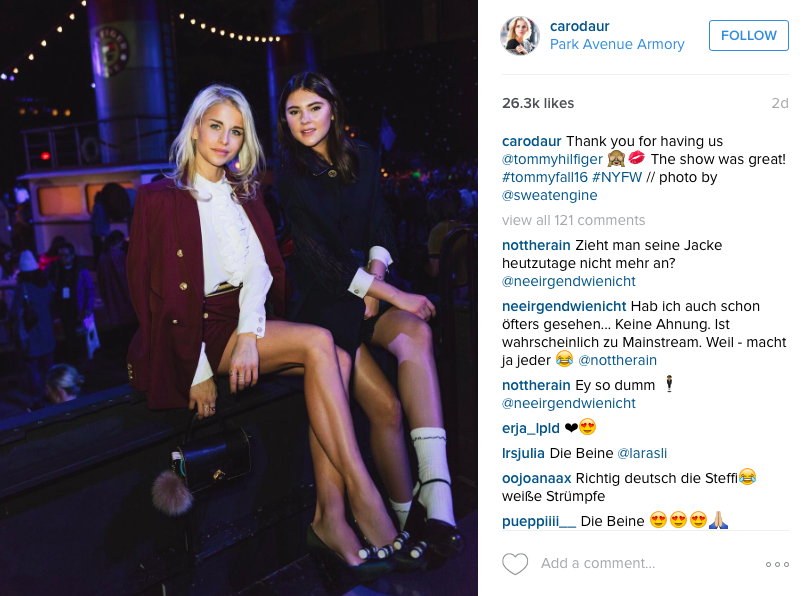 Take Tommy Hilfiger, for example. At his New York Fashion Week show earlier in the year, he created an "Instapit" area that was totally dedicated to publishing shots on the platform. By doing this, consumers were included in the conversation and became a part of Hilfiger's story at Fashion Week – something they'd never had had access to in the past.
In a way, we can see that Instagram has changed the way consumers interact with fashion brands. They're no longer this unreachable holy grail, and instead are accessible, authentic entities that consumers can be a part of.
This openness and authenticity has changed the landscape of the fashion world. "Everyone has the same tools to play with on Instagram," says David Nedzela, CMO of Menlook. Everyone, from the general public, to celebrities and bloggers can share their stories in an engaging way simply by using their mobile.
It Helps Fashion Brands Connect With Their Audience
"In 2014, Dazed started running Dazed Emoji Polls on Instagram," explains Laura Bradley, Editorial Director at Dazed Media Studio. "The engagement was super high. The @dazed and @dazedfashion accounts aren't just about strong imagery – they are about starting conversations and debates."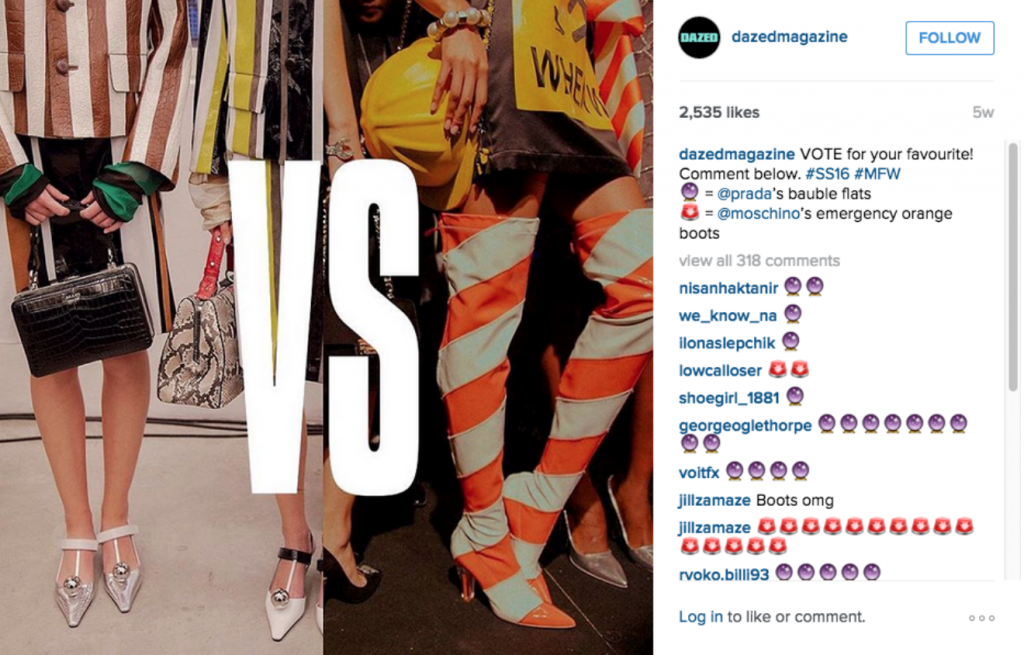 Throughout this campaign, consumers could vote with one simple emoji or use it to share their thoughts on a specific topic.
What Makes a Good Fashion Instagram Account?
Now that fashion brands have this platform to share their authenticity and engage viewers behind-the-scenes, how can they excel at Instagram? Or, in other words, what makes a successful fashion Instagram account?
"I like seeing a mix of personality, character and product in fashion accounts," says Bradley. I'm always drawn to ones that feel authentic and genuine."
So, from the report we can determine that a good Instagram account for a fashion brand shares:
Behind-the-scenes shots from shows and shoots

The latest trends as they're emerging in real-time

Styled shoots

Insider access to the industry

Stories and conversations between the brand and consumers
So how can fashion brands get started?
The report digs into the different kinds of ads brands can run on Instagram, showcasing the benefits of each and why they work for the fashion industry in particular.
We're going to cover them briefly here, but before I dive in, be sure that you choose a format that's fully adapted to your marketing objectives.
Ads are ideal for driving awareness or encouraging action among a highly engaged mobile audience. And remember, more than one in three Instagrammers (not just fashionistas) have bought a fashion item they found on Instagram. For many, it's a key part of the customer journey.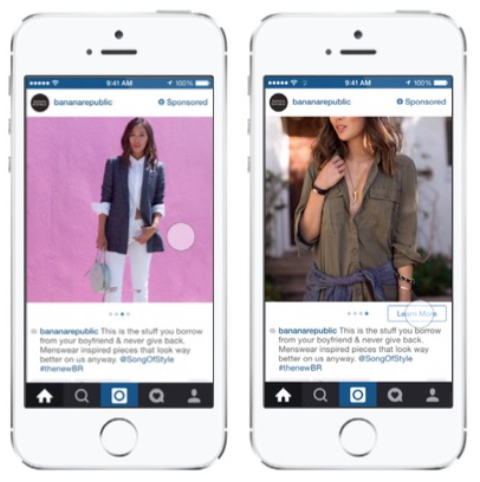 Photo and Video Ads
These simple ad variations allow you to tell your brand story through beautiful photos or videos – ideal for the fashion industry which is highly visual and creative.
Photo and Video Carousel Ads
These kinds of ads help businesses to share sequenced stories in an even more compelling way than before. They give consumers the chance to interact by swiping left to see more photos and videos of a clothing line, a story, or an event.
Dynamic Ads
These ads form part of a campaign that you can set up just once and continue to share with consumers. They show-off relevant products to consumers who have been on your website or browsed your app in the past – basically, consumers who are already interested in what you're offering.
Direct Response Ads
These ads feature a direct call-to-action button to drive a selection of different goals. When you take into account the fact that 70% of direct response campaigns on Instagram saw an increase in action taken, it's easy to see how successful these ads can be.
But Instagram isn't all about using ads. In fact, it's the personable, authentic side that makes it so appealing for fashionistas. With the ability to create in-the-moment snapshots and behind-the-scenes videos, you're giving consumers the chance to dig beneath the highly-polished images and the fictional narratives created in the marketing department.
Whether you're planning on using ads, influencer marketing, User Generated Content, or another type of campaign, here's what you can do to get it right according to the report.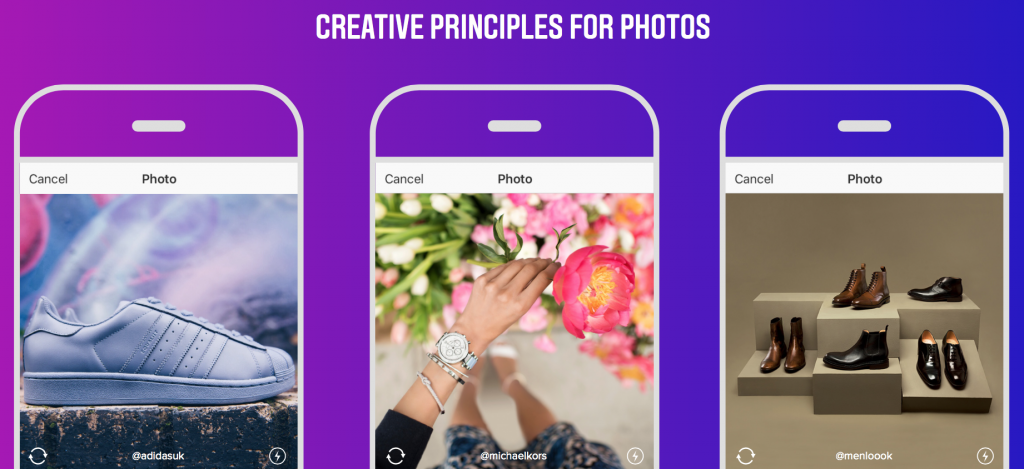 Be on Brand
Standing out on Instagram is about not only sharing your brand colors and imagery, but also about creating an experience for consumers.
How do you want your brand to make them feel?
"A customer can feel and see that creative honesty in your content and messaging and on Instagram that emotive quality sets you apart," says Barclay.
Have a Concept
You need a story and a goal to your campaign. Instagram might just look like a load of pretty pictures, but the best accounts and campaigns have a binding narrative that weaves together the company, the message, and the consumer.
"Instagram allows you to engage with the audience via little snippets of the longer story," says Craig Smith, Brand Director at Ted Baker.
Make it Well-Crafted
Fashionistas are creative people, so your campaigns need to be well-crafted to capture their attention. Think about lighting as well as thematic issues like narrative and ethics.
Let's look at one final example from John Lewis.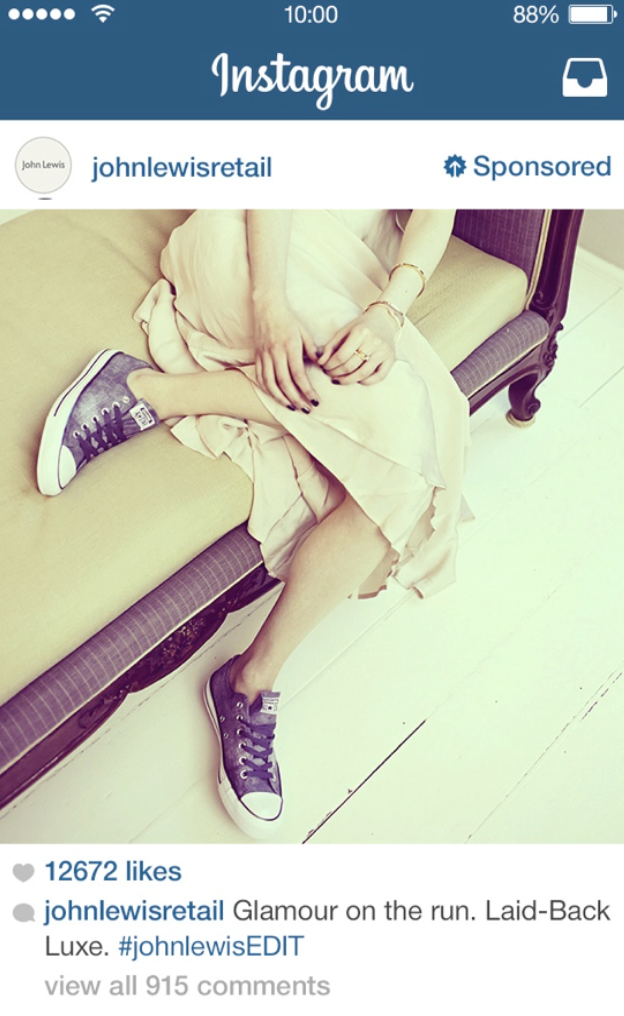 Since its origins as a drapery shop in the 1800s, John Lewis has grown a huge following and is now one of the best-loved department stores in the UK. To get there, it has remained innovative, and that's still the case with its current dedication to Instagram.
The goal for a recent campaign was to connect with a younger, female audience in order to bring its autumn and winter collections to a new range of people.
To do this, they came up with a campaign called "The Edit", that highlighted key trends at the forefront of the fashion industry. They partnered with influential British fashion bloggers, sharing simple shoots with the bloggers, but Instagram allowed them to go one step further. The endless creative possibilities of Instagram meant they could explore new campaign ideas, like "get the look" videos.
So what were the results?
Not surprisingly, the results were fantastic and fascinating. John Lewis saw a 14 point increase in the amount of purchase intent amongst 25-34 year-old women and social engagement shot through the roof – they went from 14,000 Instagram followers at the start of the campaign to 24,000 at the end.
It's safe to say plenty of well-loved fashion brands are jumping on the Instagram bandwagon, and for good reason.
The highly-polished, exclusive nature of the fashion industry is now so much more accessible for regular consumers, which makes it that much easier to get involved, swap stories, and engage with brands. Request a demo of TINT today