This is part of a 4-part series about increasing employee engagement with employee-generated content.  
1) Assessing Your Employee Advocacy Opportunities
2) Strategies for launching your employee advocacy program
3) Benefits of an employee advocacy and EGC social media plan
4) Get more content from your employees
The hardest part about setting up a successful employee-generated content (EGC) campaign is getting people to participate.
When people don't participate, you don't get enough content and the campaign slowly dries up to nothing.
Not ideal, right?
Having an engaged team helping out on your EGC will not only bring it to life, but it will also help your brand in other ways.
Companies with higher than average levels of employee engagement see around 27% higher profits, 50% higher customer loyalty levels, and 38% more productivity.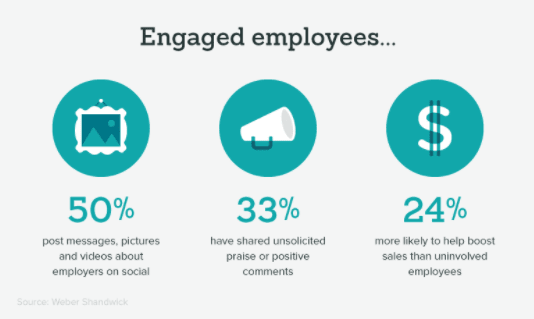 So, with that in mind, how can you make sure your employee advocates are consistently willing and ready to participate and provide endless streams of content?
Incentivize Employees
We love to feel recognized – it's part of human nature.
In fact, 60% of top organizations stated that employee recognition has been vital in driving individual performance.
So it makes sense that incentivizing employees with recognition and other factors will do wonders for your EGC campaigns.
Let's take a look at some of the ways you can use incentivization.
Putting the Best Posts on a Dedicated Page
People like to stand out for good reasons.
They like to feel like any effort they put into a project pays off, and by setting up a dedicated page to showcase the best content from your EGC campaign is a great way to incentivize employees to keep taking part.
For example, if you're running your EGC campaign as part of a recruitment drive, you can publish the best posts on the careers page.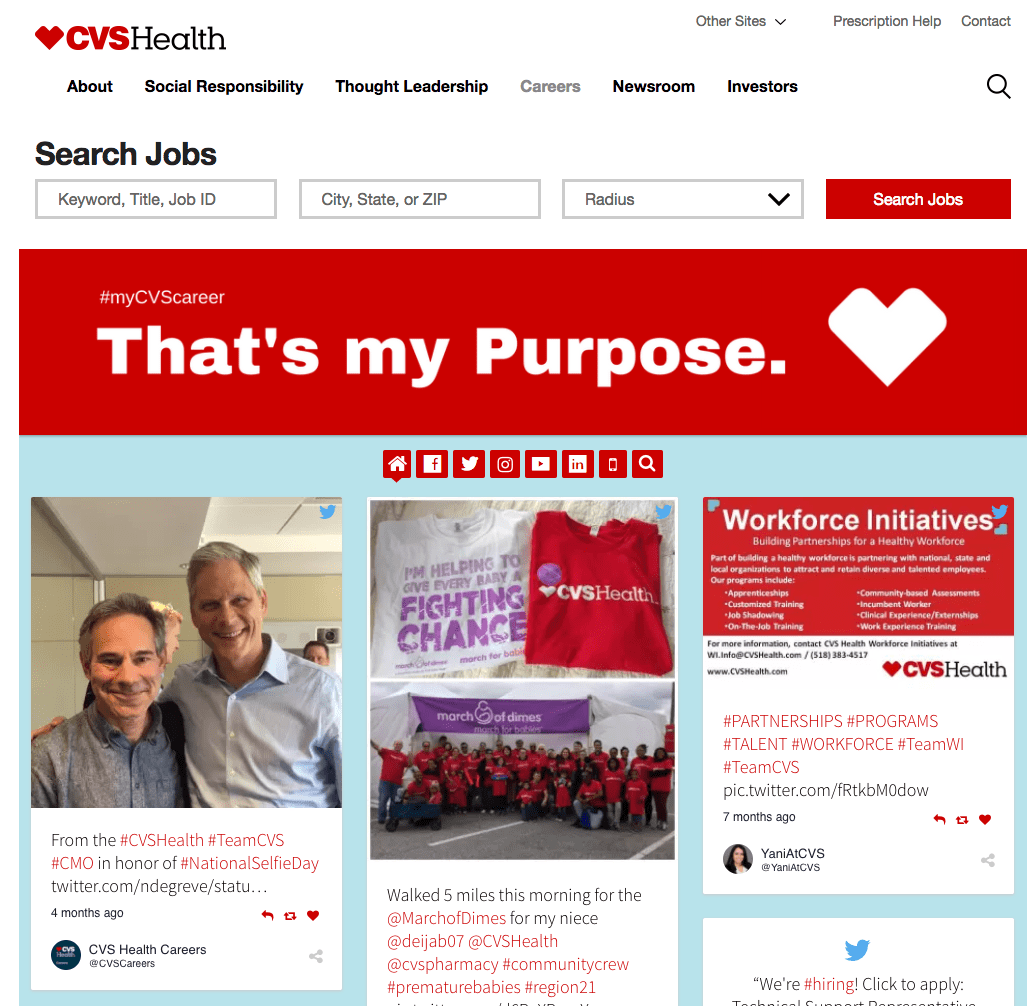 CVS Health uses TINT to showcase its EGC campaign on its careers page.
Not only does that mean that employees have something to aim for (and you can make it a weekly or a monthly showcase to provide continuous incentivization), but it will establish a sense of pride and belonging.
Why? Because the best content (a.k.a. Their excellent content) will be the face of the company for potential hires.
That's a pretty big accolade, right?
Company Contests
People love winning, too.
They say it's the taking part that counts, but who really goes into something not wanting to win?
Creating company contests is a great way to get employee advocates to consistently take part in EGC campaigns.
For example, you could offer a prize for the best post or the most creative contribution.
Again, this could be a weekly or monthly occurrence to give employees the chance to compete every month for prizes or the title of Winner.
Give Shoutouts
Providing prizes and a leaderboard is all well and good, but your EGC campaign doesn't need to be that elaborate to work.
In fact, simply providing shoutouts to people who are sharing can be enough to spur people on to continue taking part.
You can do this by:
Retweeting and sharing any posts that people publish as part of your EGC campaign

Sharing certain posts around the office, either by printing them out or on screens

Bringing up posts at relevant meetings or around the watercooler
Activate Digital Signage
Think about where your employees spend the most time.
It's in the office, right?
By consistently presenting your EGC campaign where employees are most likely to see it, you're giving them continued exposure to it and more chance to want to get involved.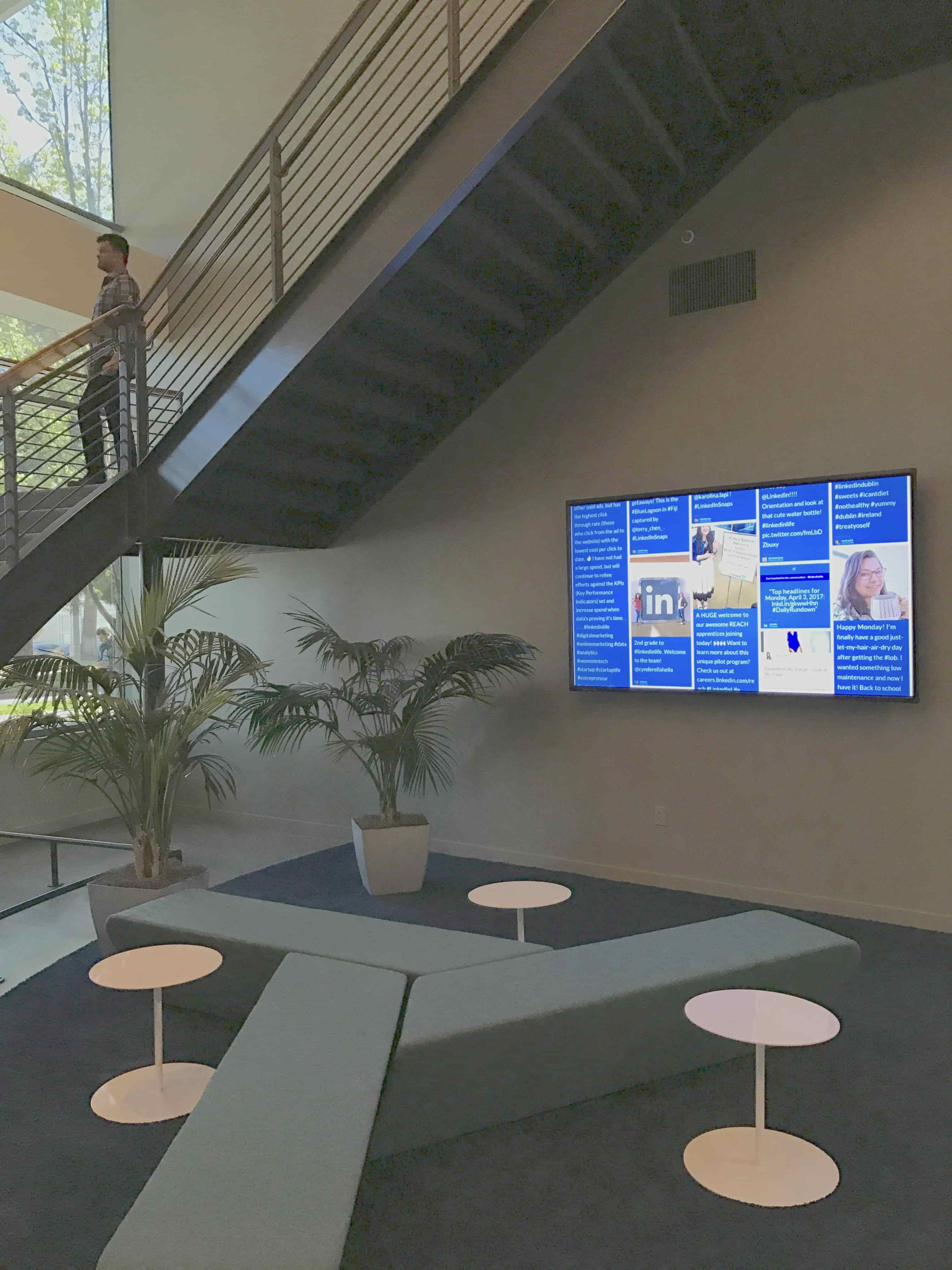 EGC in action on digital signage at LinkedIn
You can set up digital signage around the office to make sure the content is always front and center of your employees' minds.
We'll talk more about how you can properly execute this in a bit.
Engage Employees Within Their Comfort Zone
You might find that your employees aren't very active on social media, in which case you might have to try a little harder to get them involved.
At this point, you can start to generate their interest via tools that are within their comfort zone – like text messages or emails that encourage them to take part.
It might also be worth setting up some guides that show employees how to post on certain social channels if you want them to actively participate.
Create Themed Days
One of the key aims of any EGC campaign should be to create more opportunities for content creation. You'll then have more content (it's a no-brainer, right?!), which will give your campaign more exposure on the channels you're publishing it.
This means getting creative.
A spirit week-type event can work well for this, where each day of the week has a unique theme. This gives employees a focus for their content and gives them multiple chances each week to get involved.
Hire a Professional Photographer
If your EGC campaign revolves around your employees posting images of themselves on social media, you want them to look and feel their best.
People are more likely to publish content about themselves if they feel like they're presented in the best way possible.
So how can you make sure this happens?
One solution is to hire a professional photographer to take a series of photos for and of your employees, or you can always hire a local influencer to show your employee advocates the ropes of taking better photos for social media.
I Have an EGC Campaign Set Up and Running, Now What?
So now you have the basics of your EGC campaign laid out and a system for getting employees to take part.
What happens next?
How do you keep things smoothly running along so that your employees are constantly posting new content and sharing new things?
Follow Through With Recognition
If you've promised prizes or recognition for employees who take part, honor that!
Actually put photos on the careers' page or stage a monthly awards ceremony where the top participants receive prizes.
You can use TINT to do this by creating a new page on your website and pulling in all the content related to your EGC hashtag onto that page.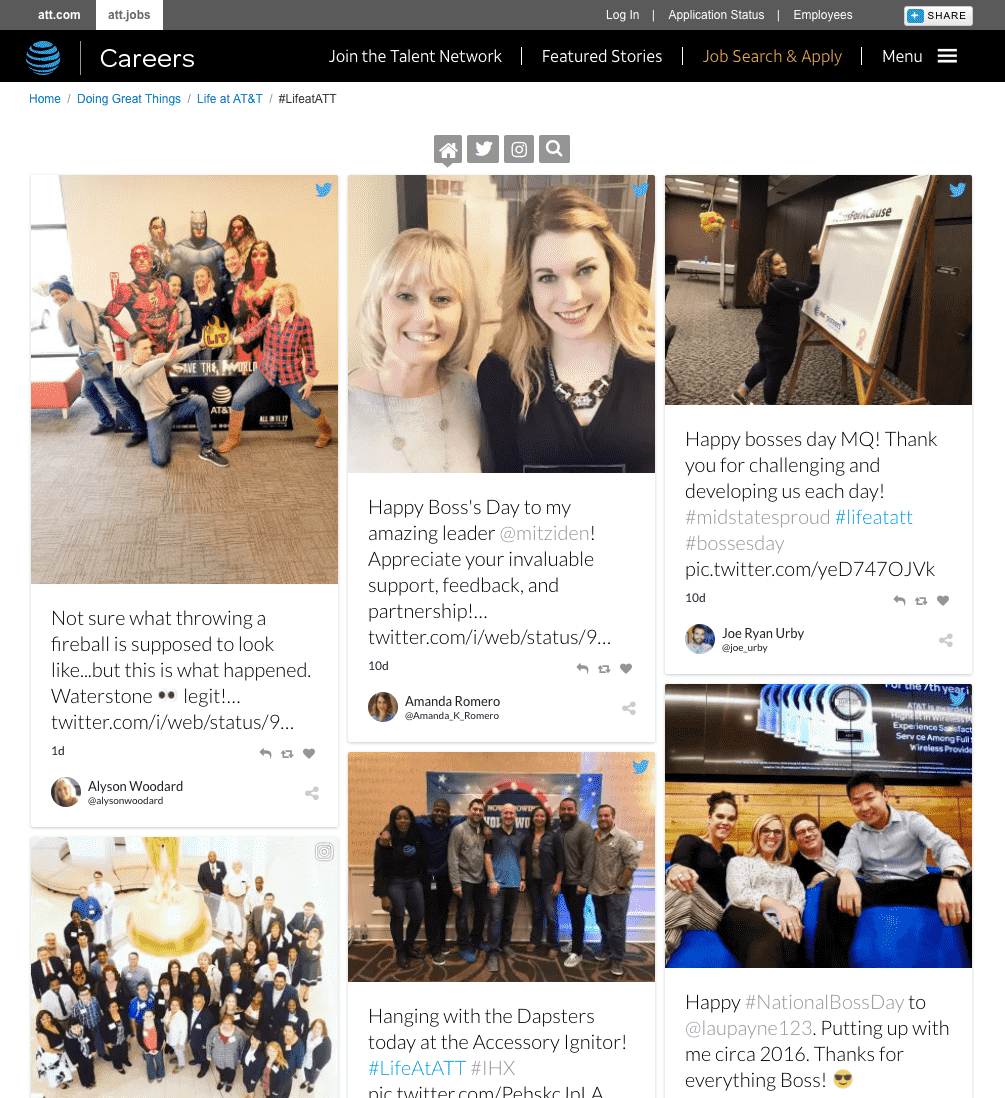 AT&T uses TINT to showcase EGC on their jobs page.
Create Employee-Generated Social Ads
Once you've got your employee generated content, you can start to use it in other ways for your brand.
Today, there's a lot of talk about consumers becoming more active in the marketing process. They no longer instantly trust a brand and can spot an ad a mile away, so it seems counterproductive to create ads off the back of your EGC campaign, right?
Well, actually no.
While it might be easy to think that customers won't trust people who work for your brand, studies have shown that 55% of consumers actually see employees as very credible sources of information about a business.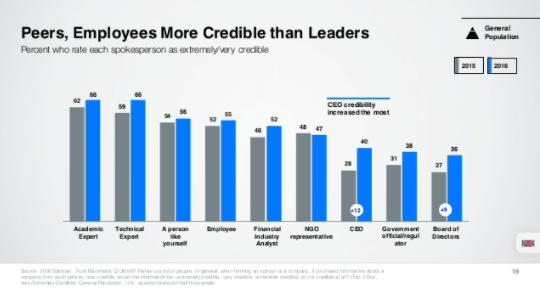 If your aim is attracting millennials, this transference from content to ads works well.
Millennials tend to look for positive interactions and engagement on social media and have become wise that a large majority of content is just being pushed at them in the hopes that they'll buy.
Having employee advocates take an active role in your brand's communication actually increases the positive engagement that millennials crave.
In fact, it has been proven to receive eight times more engagement than if the content was created by the brand.
With the content you have from your employees, you can create focused Facebook ad campaigns and Instagram ads that showcase the culture of your brand and are more likely to be received well by millennials.
Encourage Employees to Attend Events
People are more likely to share social updates about things that make them look good and that are different from their day-to-day lives.
If your employees are often tied to their desks in the office all day, the content they create as part of your EGC campaign might become same-y and stagnant.
To inject a bit of spice, send them to events, conferences, and team building days out so they have something different to upload.
This will also present your brand in a good light because you're actively investing time and money into your employees.
Not only that, your employees will bring back new information they can share with the team which will help serve the larger goals of your brand in the long run.
Final Thoughts
Your employees are the biggest marketing assets and best advocates your organization has, yet their power often goes untapped.
To get the most out of what they can offer and to encourage that much-needed engagement, you can employ a variety of different techniques, from offering prizes and incentives to helping them utilize what they have already.
The result is not just a successful EGC campaign with consistently new and high-quality content, it also increases employee engagement in general and allows your employees to gain more awareness of the amazing moments your team has.