Hashtags and hashtag campaigns didn't die. They just aren't being used correctly.
Starting organically, hashtags mixed with user-generated content seamlessly until marketers started (as we always do) to try to turn hashtags into conversions. Organic hashtags turned into obviously sponsored tags and hashtag campaigns that deterred social media users from engaging with content—instead of motivating them to want to learn more.
As an example, Influencer marketer Ian Borthwick gives his two cents on how Coors Light used the #MadeToChill hashtag in their campaign with Patrick Mahomes II.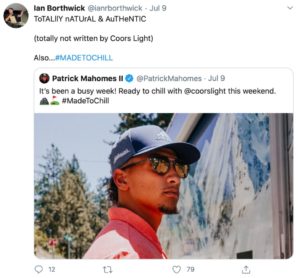 This doesn't mean that hashtags are dead, it means that marketers need to reevaluate how they see hashtags working in their user-generated content marketing strategy.
What is User-Generated Content?
User-generated content (UGC) is content created by "users" (AKA real people). This content usually exists in the form of reviews, images, or videos. People create UGC when they take a photo or video using a product, experiencing a service, visiting a restaurant or hotel, or other destination.
Here's an example of UGC in action from clothing company, feat.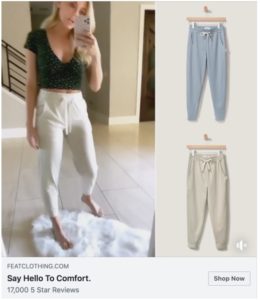 On the left-hand side of this Facebook UGC ad is a customer wearing the sweatpants and talking about how much she likes them in a video. feat put the two color choices of the sweatpants she's wearing to the right-hand side of the ad to drive a UGC inspired eCommerce purchase.
Why should companies care about UGC?
Ads based on user-generated content receive 4 times higher click-through rates and a 50% drop in cost-per-click compared to average ads. They also have the opportunity to go viral in a way that regular ads just can't, as proven by the Chipotle and David Dobrik collaboration.
Chipotle teamed up with Youtuber David Dobrik to give 5 people a year's worth of free Chipotle. The contest ran on TikTok and users had to tag Chipotle with #ChipotleSponsorMe in their UGC TikTok to enter to win.
To date, the #ChipotleSponsorMe hashtag has been viewed 2.2 billion times on TikTok massively spiking Chipotle's awareness with TikTok's largest demographic—Generation Z.
This hashtag campaign did two things incredibly well:
It gave users enough incentive to want to create content specifically for the hashtag
It gave Chipotle an easy way to find UGC on TikTok (that can now be turned into ads and other promotions)
Let's take a look at how hashtag campaigns can be used in marketing strategies.
How Hashtags Help You Find User-Generated Content
Chipotle used the #ChipotleSponsorMe hashtag to find their giveaway winners (and massively promote their product). This is where hashtags play a huge role in pulling UGC content and transcend industries.
Delta uses #SkyMilesDelta to pull UGC from its customers. Their Instagram is almost entirely dedicated to UGC that used the #SkyMilesDelta hashtag and they've even dedicated a webpage to UGC with the call to action of "Explore #SkyMiles Life".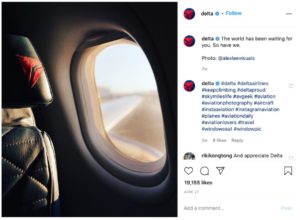 While few campaigns are going to see the success that #ChipotleSponsorMe did, there's still a high ceiling on how user-generated content can create brand awareness and give you direct access to your customer's posts about your product.
This is when marketers can create a hashtag that makes them think hashtag campaigns are dead. The Coors Light #MadeToChill hashtag has as of this post only been tagged in 2,166 Instagram posts which tells the Coors team this hashtag didn't motivate very many of their customers to create UGC around it.
What went wrong? Let's explore further.
What Makes a Good Hashtag Campaign?
A good hashtag campaign gives users a hashtag they want to incorporate into their content (like Delta's #SkyMilesDelta) or a good reason to incorporate the hashtag (think back to the Chipotle collaboration with David Dobrik).
A good hashtag campaign has one of two goals:
Long-term success defined as regular UGC (#SkyMilesDelta)
Short-term success defined as a huge spike in UGC (#ChipotleSponsorMe)
Long-term success defined as regular UGC
If a hashtag campaign's goal is to create regular UGC, a good hashtag campaign is going to tie the hashtag to the most exciting events in the buying journey.
For example, #SkyMilesDelta has tied itself to the most exciting part of a Delta customer's buying journey: the travel. This is when customers are the most excited about their Delta flight purchase—and when customers are excited about a purchase they're more likely to share it.
These are the 3 parts of the buying journey you want to show your hashtag campaign and give customers the option to share their excitement:
When they buy the product: Make it easy to share a new purchase by placing a "Share on Social" button that automatically fills in a Facebook or Twitter post with your hashtag
When they receive the product: Use the call to action "Share on Social" alongside your hashtag on a note inside the box (eCommerce) or in the email with more information about their digital product
When they get the benefits from the product: Send a follow-up email to check-in with customers and remind them to share their results on social media with your hashtag
Short-term success defined as a huge spike in UGC
If a hashtag campaign's goal is to get a lot of people behind the hashtag, it's going to need to give users a good reason for using the hashtag. Chipotle gave the users of its hashtag campaign the chance to win a free year of chipotle—something their demographic was more than willing to trade in return for the #ChipotleSponsorMe tag.
Make sure you have these 4 things in place before setting your hashtag campaign live:
Your offer: Ex. Five people will win a year's worth of Chipotle
What users need to do to enter (including what hashtag they need to use): Create a video showing Chipotle why they should be sponsored and tag it with #ChipotleSponsorMe
When you'll announce the winner: The users have two weeks to submit their content using the #ChipotleSponsorMe hashtag
How the winner finds out they won: David Dobrik will comment on their post telling them they've won
A good hashtag campaign makes both parties (user and business) feel like they won. These are the campaigns that show hashtags aren't dead—most marketers are just using them wrong.
Hashtags need to support the user-generated content they're going to be paired with, not make users feel like they're promoting a product with nothing in return. That's why hashtag campaigns work best at the 3 most exciting parts of the buying journey and in giveaways where users are willing to trade an entry to win in return for a hashtag on their post.
We're here to help you create a winning hashtag campaign that gets tags, drives brand awareness, and promotes your customers to brand ambassadors. Talk to one of our UGC experts today