User generated content is powerful – fact.
A staggering 93% of consumers turn to user generated content when making a purchasing decision, but implementing customer-created content at the end of the sales funnel isn't the only time it can work its powerful magic.
And powerful magic it is.
There's a ton of marketing and advertising noise circulating the internet (on average, consumers are exposed to 5,000 ads per day), so branded content can only be trustworthy up until a certain point.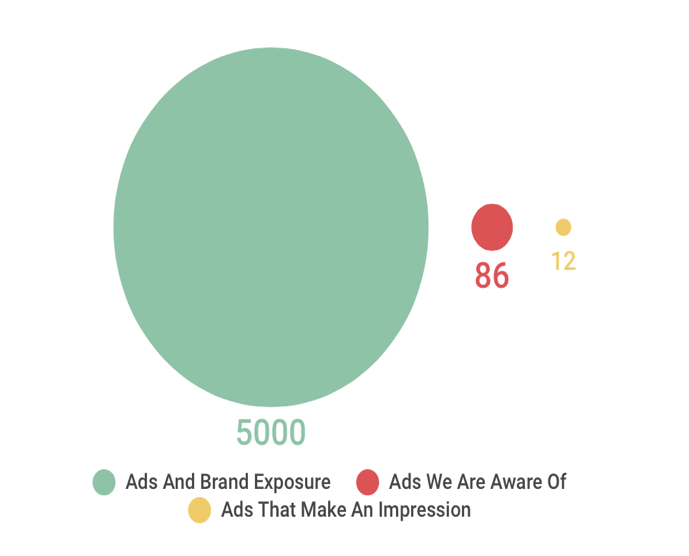 And, in an age where humanizing marketing is a high priority for brands, integrating UGC throughout the entire buying process builds trust and creates connections.
There's one advertising platform that acts as a springboard for several stages of the purchasing process, and that's good old Facebook. Running ads on this social platform has been a key marketing strategy for years, but now, with millions of ads circulating users' newsfeeds every day, it's vital that you stand out with engaging, eye-catching content.
Which is where UGC comes in.
UGC and Facebook ads might just be a match made in heaven, and here's why.
Why Use UGC in Facebook Ads
Think about the different components of a Facebook ad.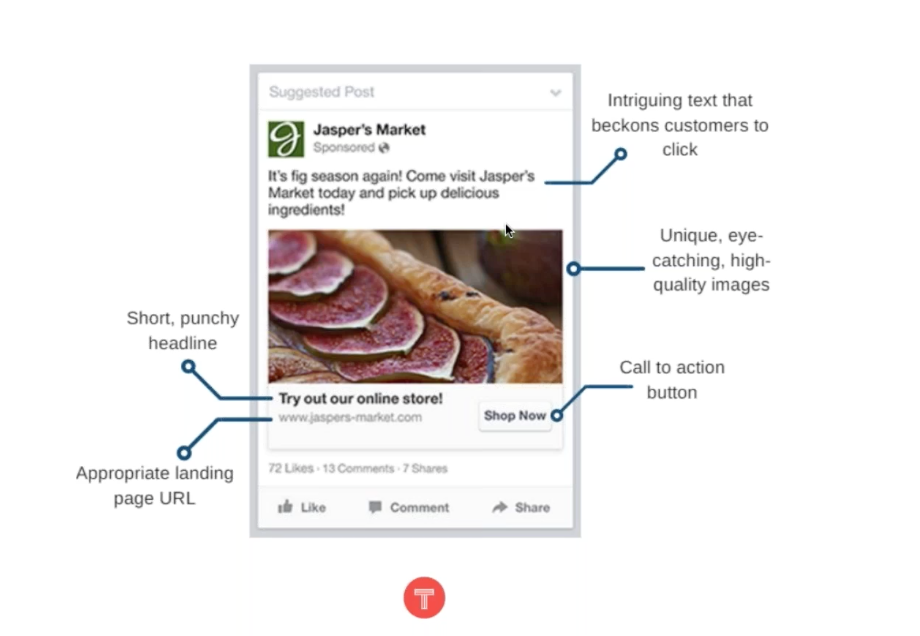 There's:
Intriguing text that beckons customers to click

Unique eye-catching high-quality images

A call-to-action button

Short punchy headline

Appropriate landing page URL
The main elements to consider are the text and images. These are the two things that will work in tandem to attract people's attention as they're scrolling through their feed.
On that note, let's talk about relevancy score.
This is something Facebook implements to determine whether the content it's showing its users is relevant to them.     
The score, which is out of ten, is calculated by how much engagement the ad is getting. This accounts for things like shares, comments, "likes", and clickthroughs.
If your score is high, you'll get more impressions at a lower cost – simple. This is because Facebook has a lot of ads running at any given time and it wants to make sure only relevant content with value is showing up consistently.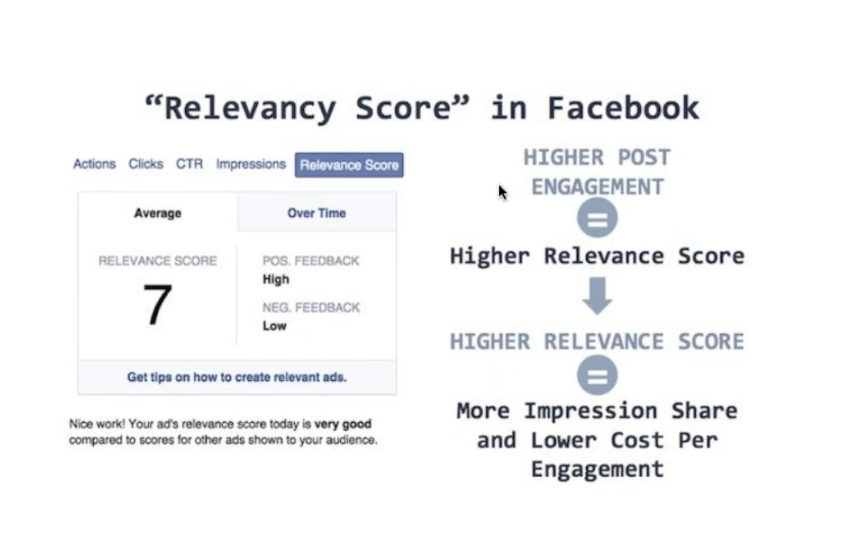 As you can see below, a 1% increase in post engagement leads to a 5% decrease in cost per engagement. The numbers don't lie.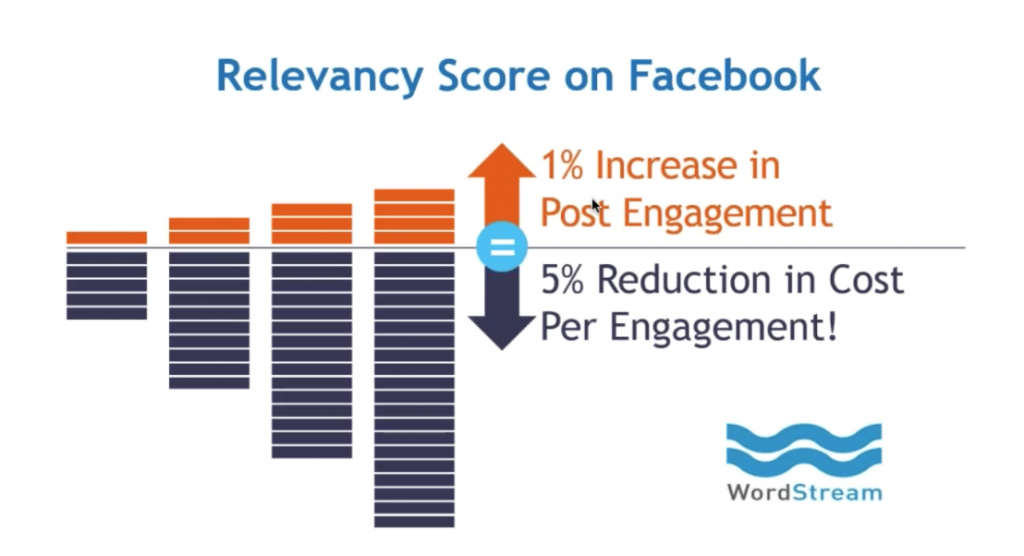 The biggest challenge when it comes to Facebook ads is getting that relevancy score up, and a lot of that comes down to the images and text you're implementing.

Below are two examples of Facebook ads that use UGC. On the left, you can see the images have been created by customers – they're raw and genuine.
On the right, the text has been created by fans, which shows two different ways you can implement this tactic. Alternatively, for a bigger impact, you can combine both user generated text and images.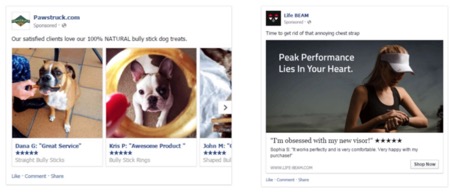 Then comes the next hurdle: how can you get your hands on this type of content for your ads?
You want the best Facebook ad.
But to have the best ad, you need to have great content, and we all know that it's time-consuming and expensive to create great content.
Cue the power of social media, where more than 1.8 billion pieces of content are shared every single day.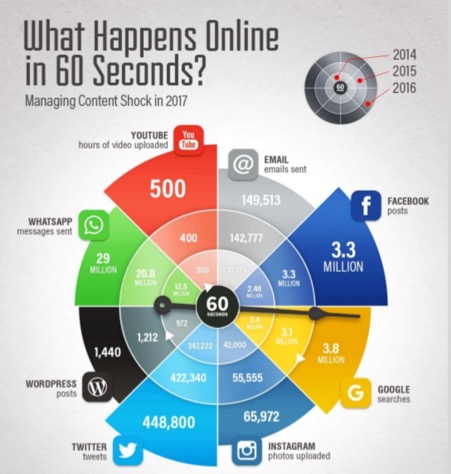 Amongst that, there is great content being created by your fans, customers, and audience all the time, and most of that can be found quickly and easily. Once you have your hands on it, you can separate it out for your Facebook ads.
Not only does utilizing UGC bring you an abundance of content, it's also proven to be more trusted.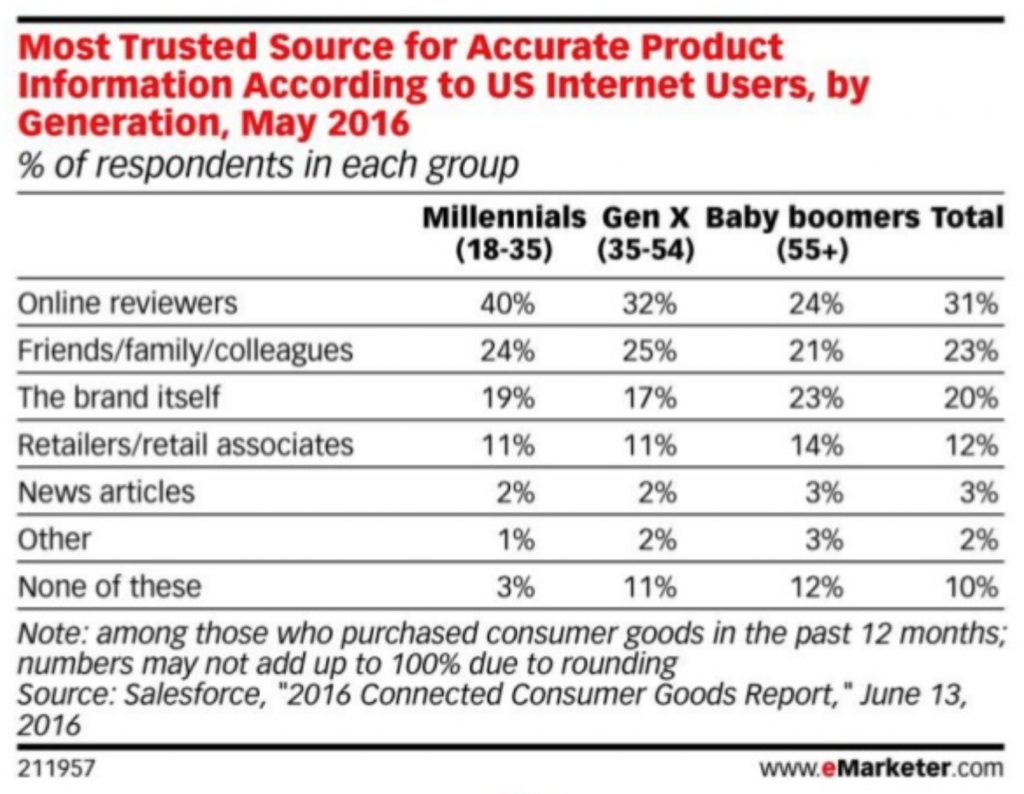 So let's just take it back a step and recap. UGC:
Saves you time

Saves you money

Is more trusted by consumers

Is engaging (which makes it a high contender for a high relevancy score on Facebook)
To show this in action, let's take a look at an experiment AirBnB ran. On Instagram, they "regrammed" user images as well as shared their own branded content.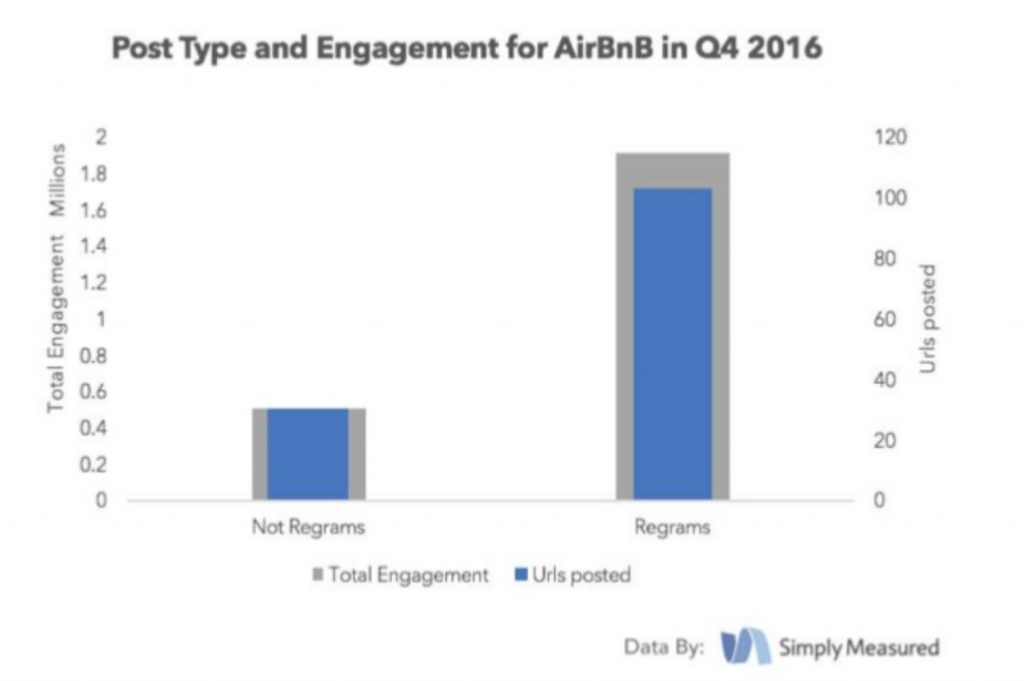 The results? The regrams received much more engagement than the branded images.  
Finally, UGC provides you with a lot of content. This means you can refresh your ads regularly so your campaign doesn't get stale and you can keep things on-trend and highly topical.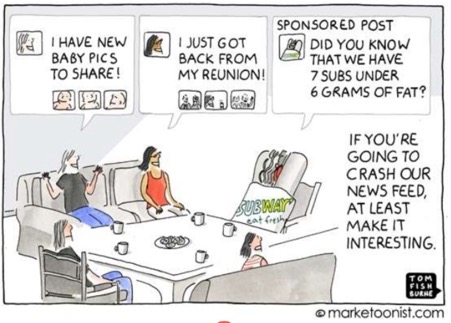 When implementing UGC into Facebook ads, your motto should be this: if I'm going to crash people's newsfeeds, I need to at least make it interesting, relevant, and engaging.
How to Integrate UGC Into Your Facebook Ad Strategy Safely
So now you know why UGC and Facebook go hand in hand like peanut butter and jelly, it's time to look at how you can bring them together in an authentic, trustworthy sandwich.
There are two ways you can start the process (hint: one of these is much more efficient than the other).
1. Manually Integrate It
You can start implementing UGC into your Facebook ads immediately. You can start right now, tomorrow, or next week.
Start by logging into a relevant social network and using the search tool to find your hashtag or a specific keyword that relates to your brand.

This example of Uniqlo shows that there are almost three million posts using the hashtag #uniqlo on Instagram – that's a lot of content waiting to be used.
When you hit search, you'll see a selection of top posts as well as more recent posts. Ideally, you want to stick with the top posts, as these are the ones that are getting the most engagement (which, if you think about it, equals quality).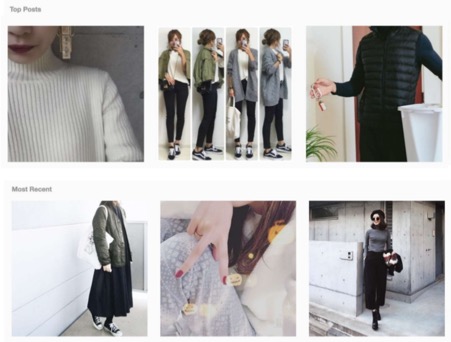 Now, here's the legal bit.
You could just screenshot the post and go on your merry way, but legally you need to ask for permission if you're going to use it in an ad.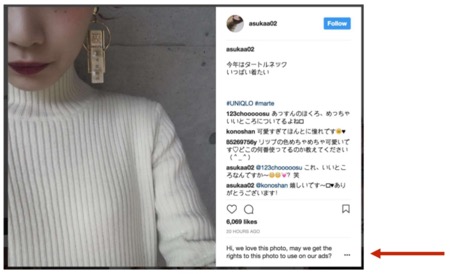 A simple comment on the post, like above, will do the job.
Once you've got the rights (or the go-ahead from the user who posted it), you can then screenshot the image, download it, and upload it into your Facebook ad manager in the "Images" section.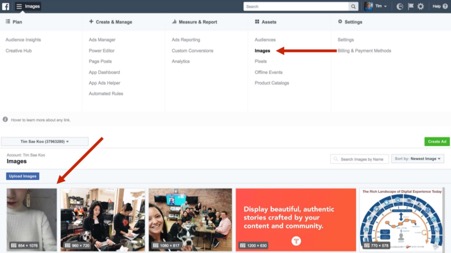 At that point, you'll want to look at the copy that was posted alongside the image on social media and add that in if you wish.
Phew, that's a lot of work to get one image for use in a Facebook ad.
There must be an easier way…
2. Automatically Integrate It
Instead of the time-consuming manual process, you can also automate the whole lot with a tool like TINT.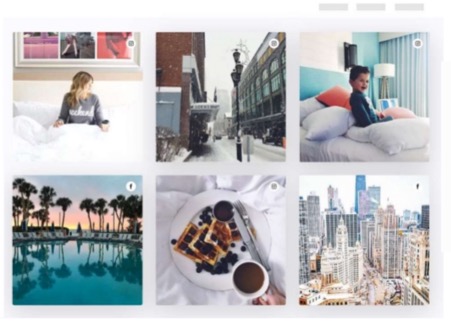 First, the tool collects the content from a multitude of networks. Within minutes, you can look at images and text posts from Instagram, Twitter, and Facebook, and define them by a location filter, hashtag, or specific keyword.
Next, the tool will analyze the content to determine which posts are the most engaging and effective. Take the Uniqlo example of three million pieces of content. That's a ton of content to sift through, and there's no way one person can do that alone.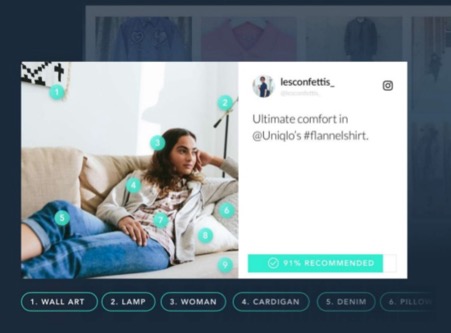 Instead, the automated process uses machine learning to dissect the attributes of the image, like how many likes, shares, and comments it's received, and whether the person who posted it is an influencer.
When that's done, you can automatically get the rights to use the image by typing your own message, inserting your terms and conditions, and encouraging creators to reply with a hashtag that puts the content straight into the system.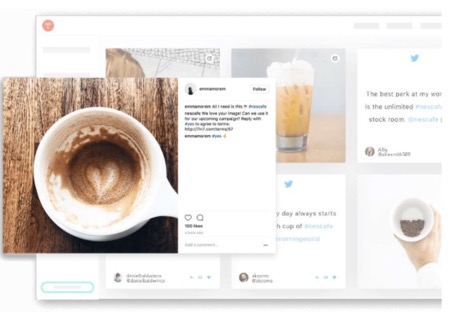 Once that's been approved, the content will automatically be added to your Facebook ads manager.

How Brands Have Successfully Integrated UGC into Facebook Ads
When the content is uploaded and you're ready to fire out some ads, what can you expect to happen?
Let's take a look at some examples.
1. Yotpo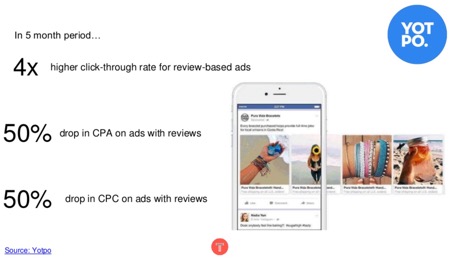 Yotpo used UGC reviews in an ad campaign over a five-month period and garnered a 4x higher clickthrough rate, a 50% drop in CPA, and a 50% drop in CPC.
It's not just a case of hitting and hoping, though.
If it was as simple as clearing the rights to UGC and flowing it into your Facebook manager, everyone would be doing it. Instead, it takes some experimentation, like optimization and A/B testing – but we'll talk more about that later.
For now, let's hear from Billy Kovalsky, the Head of Yotpo Ads, to see how UGC Facebook ads have aided their marketing efforts: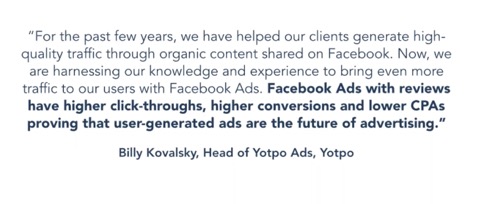 2. Crown Resorts
Crown Resorts used a similar tactic by implementing content created by their customers into their Facebook ads, but they added a unique twist to their campaign.
As well as a UGC photo, they also clearly stated that the image was from one of their previous guests. They're shouting about their UGC from the rooftops, highlighting that it's not Photoshopped or manipulated by the brand in any way.
On top of that, they also shared how others can be featured in the next ad. By doing that, they opened up a two-way dialogue with their audience, creating that connection that consumers crave so much today.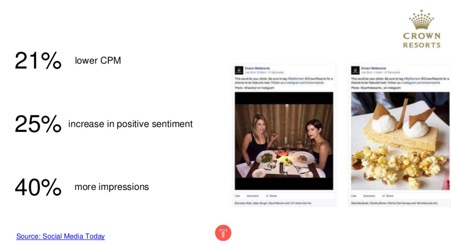 And the results?
Their UGC ads resulted in 21% lower CPM, a 25% increase in positive sentiment, and 40% more impressions.

Ads can get old quickly, so implementing UGC into their campaign made them timely, especially when content that had been created just a couple of days ago was integrated.
3. 

A J Hackett Bungy
A J Hackett's goal was to generate more brand awareness and increase conversions with their Facebook ads.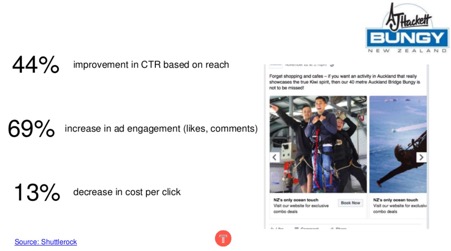 Instead of launching their ads straight away and hoping for the best, they carried out some specific tests by creating UGC ads in tandem with branded content. They pitched them against each other over a week and found the UGC content showed a clear improvement, including a 44% increase of CTR, a 69% increase in engagement, and a 13% decreased in cost.   
The Battle of Conversion Rates – UGC vs Stock Photos
To really show the power of UGC in Facebook ads, one agency pitched UGC against branded content to see if it could outdo polished stock photos and professional models.
They ran the experiments with Nike and Zara, using stock photos from the website and UGC from Instagram. For Nike, the UGC ads generated 3x as many clickthroughs, while the UGC Zara ads had 2.5x more clicks with a much lower cost.

Finally, they switched the experiment up even more and created a landing page for a Zara shoe. In the first example, they had a stock photo of the shoe alone, and in the second they had the stock shoe plus three UGC images taken from Instagram of customers wearing the shoe.
The aim was to measure whether more people would click "Buy Now" or "Add to Cart" on the UGC option or the standard stock photo landing page.
It doesn't take a genius to figure out that the UGC landing page saw 4x more clicks than the stock photo page, despite similar amounts of traffic to each one.

It boils down to this: UGC beats out stock photography every single time. It's cheaper,
more trustworthy, and creates an authentic brand image.
The key to success is running as many tests as possible and keeping the winners. You can:
Try out different images and A/B test different UGC

Isolate tests and compare one element at a time

Keep testing until you have a stable test size
Want to Run UGC in Facebook Ads? Here's What to Ask Yourself
Where is My Audience in their Buying Journey?
Are you looking to target new visitors? Are you running brand awareness ads for first timers, or are you targeting returning customers?
Depending on which group you want to reach, you'll have a different approach. For new visitors, we recommend highlighting your best-selling product which will draw enough interest in a focused way so your new visitor is instantly intrigued.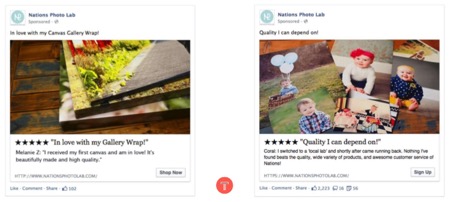 If you're targeting returning visitors who are already familiar with your products, you might choose to pitch your UGC around your overall brand.
What Kind of Story Do I Want to Tell?
Storytelling is at the core of every marketing campaign, and Facebook ads are no different.
Think about what makes your brand or product unique and how you'd like others to see it. You can also consider the main things people don't know about your brand and highlight those in your ads.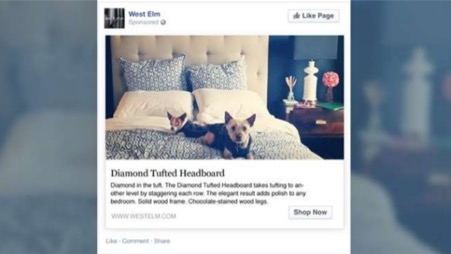 If you want, go ahead and jot down some words that come to mind for this section.
What Kind of UGC Will Support That Story?
Once you've sourced content using the keyword search of social platforms, you can then dive deeper by segmenting what you find into content that also has specific tags, like "fresh" or "cool" to align with how you want people to see your brand.
What's Next For UGC and Paid Ads?
Facebook ads aren't the only place you can implement UGC.
There are other channels you can run paid ads on, like Instagram, where you can reach another group of people.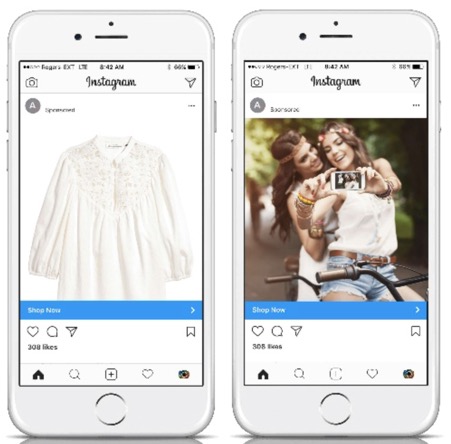 The whole buying journey starts at the awareness stage, and to create cohesive branding with your customers as content creators and top advertisers, there are ways you can use UGC beyond social media, like on your website, a designated landing page, product pages, or in your email marketing campaigns.
Why UGC Is Really Taking Off Right Now
Marketing has gone through a fascinating evolution.
In the past, there was sneaky sales people selling things and pushing their products on customers. In the 50s, fictional characters became a technique to represent certain personalities and to give consumers something to relate to – think Tony Tiger and the Marlboro Man, but this can only go so far.
Today, your customers are your biggest advocates, and social media and the surge of mobile usage has meant people can create content whenever they want and wherever they want.
They're going to continue being the voice of your brand amongst all the marketing noise out there. These are the people that future customers can relate to the most, and by implementing their content into your Facebook ads, you're increasing your authenticity and building trust amongst your audience.
Are you ready to start unleashing UGC in your marketing strategy? Drop us a message and we'd love to strategize with you!