Brand teams today have an abundance of marketing channels at their fingertips, from digital and social advertising to email marketing and beyond. However, with so much competition in the marketplace, cutting through the clutter and making a meaningful impact can be challenging. 
That's why a Community Powered Marketing strategy can help your brand survive and thrive in a crowded space in this decade and beyond. 
At TINT, we believe every brand has a consumer community. It's just a matter of how you interact with them, how much business value you get from that engagement, and how you can maximize your relationship with your consumer community. 
Is your community sitting in an untapped database collecting dust?
Is your community trapped behind a gatekeeper called Meta who requires you to pay up to talk to your audience? 
Is your community slowly turning into Transaction Drones in a rewards program where they will quickly abandon you for the next shiny thing? 
Or is your community engagement a combination of headache-inducing Excel spreadsheets that require manual management? 
Perhaps you already have a dedicated community strategy, or your brand IS your community. You may need new ways to nurture your audience into the future. 
No method of engaging with your consumer community is wrong, nor is Community Powered Marketing about throwing away everything you're doing and starting from scratch. Let's talk about the ingredients of a Community Powered Marketing strategy and what it can offer to your brand. 
What is Community Powered Marketing?
Community Powered Marketing is an organizational mindset centered on identifying, integrating, and maximizing engagement channels to foster community connection, ultimately increasing customer retention, driving new acquisitions, and delivering valuable insights to move your brand forward. 
Why is a Community Powered Marketing Strategy Important? 
Our digital communities have become an immutable part of our overall social connection, especially in the past few years. Marketers have taken notice. 
In our landmark study of more than 4,900 consumers, The Big Online Brand Community Study, we found 56% of consumers said their online community involvement has increased in the past three years, and 84% of consumers say the community surrounding a brand has an impact on how they feel about the brand. This was especially prevalent for Gen Z consumers, with 92% saying community has an effect. 
Communities are becoming increasingly valuable (vital even!). The study also found: 
79% say community is important when it comes to engaging with their favorite brands
74% say a brand community makes them more likely to write a product review
78% say a brand community makes them more likely to try new products/services from the brand
88% of consumers who participate in a brand community say they share content and offers from the community often 
Combining this information with shifts in ecommerce demands, the disappearance of third party cookies, and a heightened focus on privacy, marketers are putting considerable emphasis on direct consumer relationships to maintain market share amidst sweeping changes in the next three to five years. 
It's clear brands of the future will be defined by the community of consumers they cultivate. These power brands will prioritize building relationships supported by shared values and experiences. 
You don't just have to take our word for it, either. A McKinsey report recently named "community" as the big idea in 2020's marketing. Harvard Business Review's article "When Community Becomes Your Competitive Advantage," quotes, "Communities are going to change the nature of how we interact with brands, products, and other people." 
Additionally:
A recent report from Gartner identified the top priorities for CMOs in 2023 that included: 
Aiming for high-value personalization
Customer journey orchestration creating value 
Restructuring teams for operational effectiveness
Build teams that drive short- and long-term digital growth 
A Community Powered Marketing strategy is exactly the digital experience to win over consumers and provide an efficient powerhouse to your marketing efforts. Community Powered Marketing helps you to:
Create a digital ecosystem for consumers to feel connected to your brand
Deliver personalized brand experiences fueled by zero party data
Streamline your marketing stack and amplify existing marketing efforts
Achieve immediate results with word-of-mouth advocacy as well as long-term loyalty 
Steps to Building a Community Powered Marketing Strategy (And Who Is Getting it Right)
With more than 13 years of experience engaging millions of consumers in online communities on behalf of brands, our team loves to share the wisdom we've collected to help you cultivate a thriving community for your brand. 
Step 1 – Assess How You're Currently Engaging With Your Consumer Community 
Look at your overall marketing channels and identify how and where you engage your audience. 
Some marketers may find that most of their community engagement happens in their email list or database. Others may say it is their loyalty or rewards program, while many might see it's their social media brand page or hashtag. 
Again, none of these channels are wrong when it comes to community engagement, but it's essential to understand how you're currently engaging with your audience.
How Hero Cosmetics Assessed Community Engagement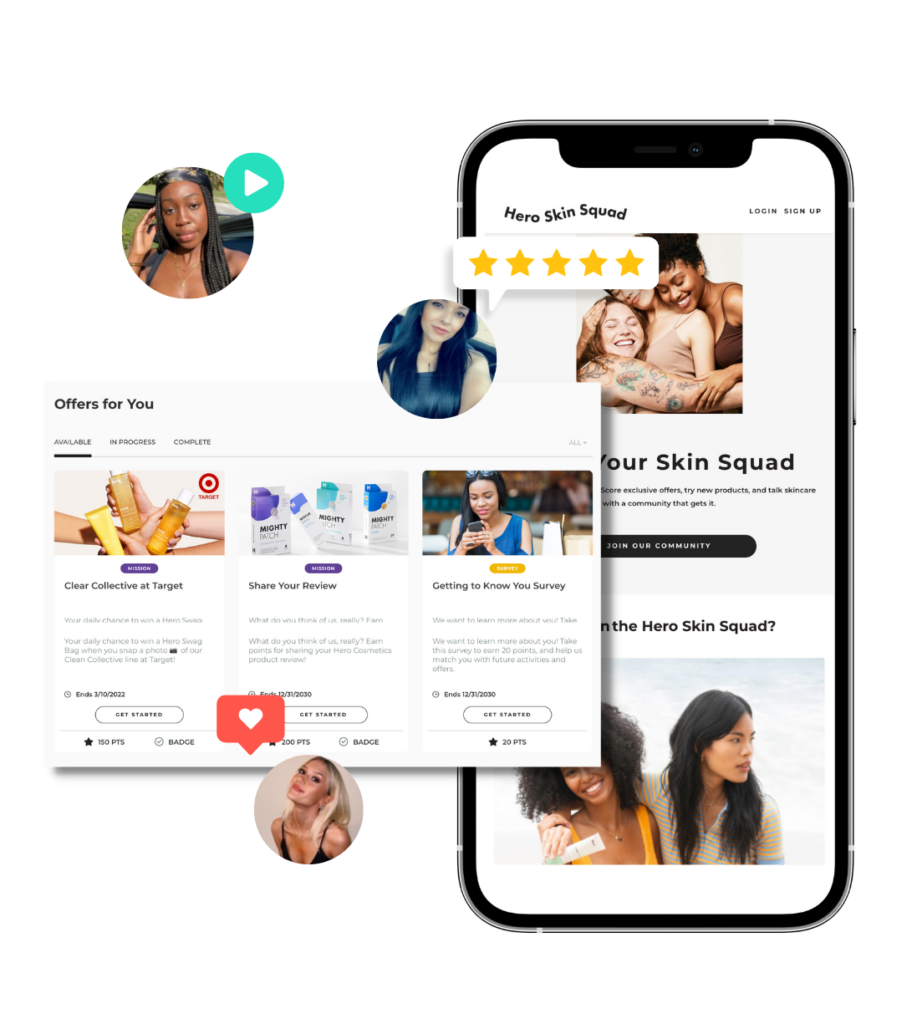 Hero Cosmetics, creator of the popular "Mighty Patch" acne product, is a leader in utilizing digital and ecommerce platforms to build a booming business. The brand knew it had a passionate consumer base but needed help activating consumers to help achieve ecommerce goals – namely, driving authentic product reviews and user-generated content. 
The brand created its Hero Skin Squad as a destination for consumers to connect with the Hero brand, sample new products based on personalized information, and share their thoughts and opinions with others. Consumers feel valued and empowered to be a part of the brand's growth. 
VP of Marketing at Hero, Amy Callhoun Robb, says, "We are incredibly excited to see the immediate impact our community is having on our brand. The Hero Skin Squad is actively sharing their positive experiences with our products, participating in product development, and helping us spread the word about our new launches. The activities and insights coming out of our community are creating great value." 
Step 2 – Identify Gaps in Current Engagement 
Typically, marketers run into the same three gaps regarding their consumer community engagement. These gaps are: 
Community ownership – includes data ownership and having to pay third-party gatekeepers to access your community.
Community activation – involves your ability to go beyond one-way communication and get your community to take action. Marketers may be challenged by delivering personalized communication to drive purchase conversion, participation in brand promotions, or generate word-of-mouth advocacy. 
Community connection – many brands struggle with connecting consumers in a meaningful way through either knowledge exchange or shared values 
Once you identify the gaps in your community engagement, you can prioritize how a Community Powered Marketing strategy can best serve your brand. 
How Clio Snacks Identified Engagement Gaps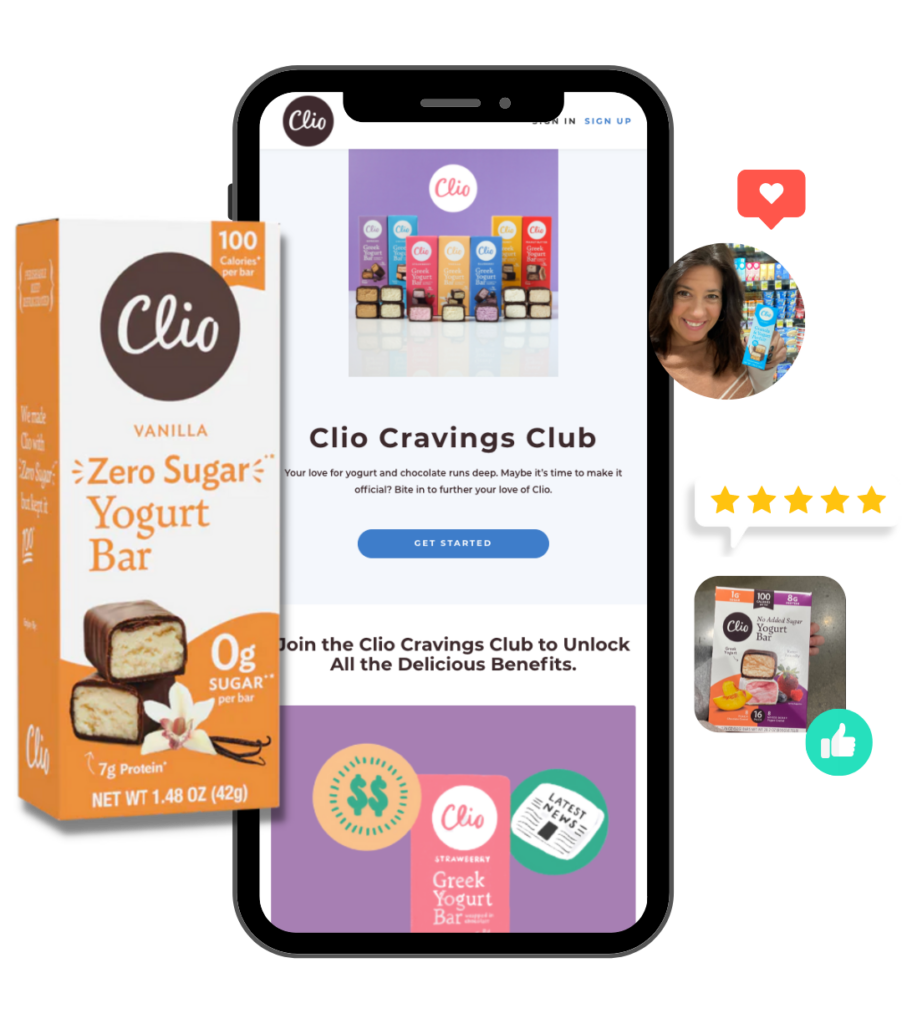 Fast-growing yogurt brand, Clio Snacks, struggled with creating an effective strategy as most of their community interaction lived on their brand's Facebook page. 
In addition to having their community owned by a third party, they were stuck using Excel spreadsheets to try to run activations with their consumers. They realized it was not a sustainable model for long-term engagement and decided to cultivate their community as an extension of their brand website. 
They started the Clio Cravings Club, where they can directly engage with their community. In just 100 days of launching, they saw an 18% increase in Net Promoter Scores and a 25% lift in brand loyalty. 
Step 3 – Find Areas to Leverage Community Throughout Your Brand Funnel 
Community Powered Marketing is about utilizing your strong consumer base to amplify your marketing initiatives. 
Your consumer community can help throughout the business funnel. This can include anything from:  
Product ideation
Product development 
Audience research
Marketing and creative testing
Product testing and feedback
Reviews and recommendations on key ecommerce channels
Traffic to your website
User-generated content
Conversion and promotion amplification 
Purchase follow up 
Continued loyalty 
Brand advocacy
How DSE Healthcare Utilized its Community in Go-To-Market Strategies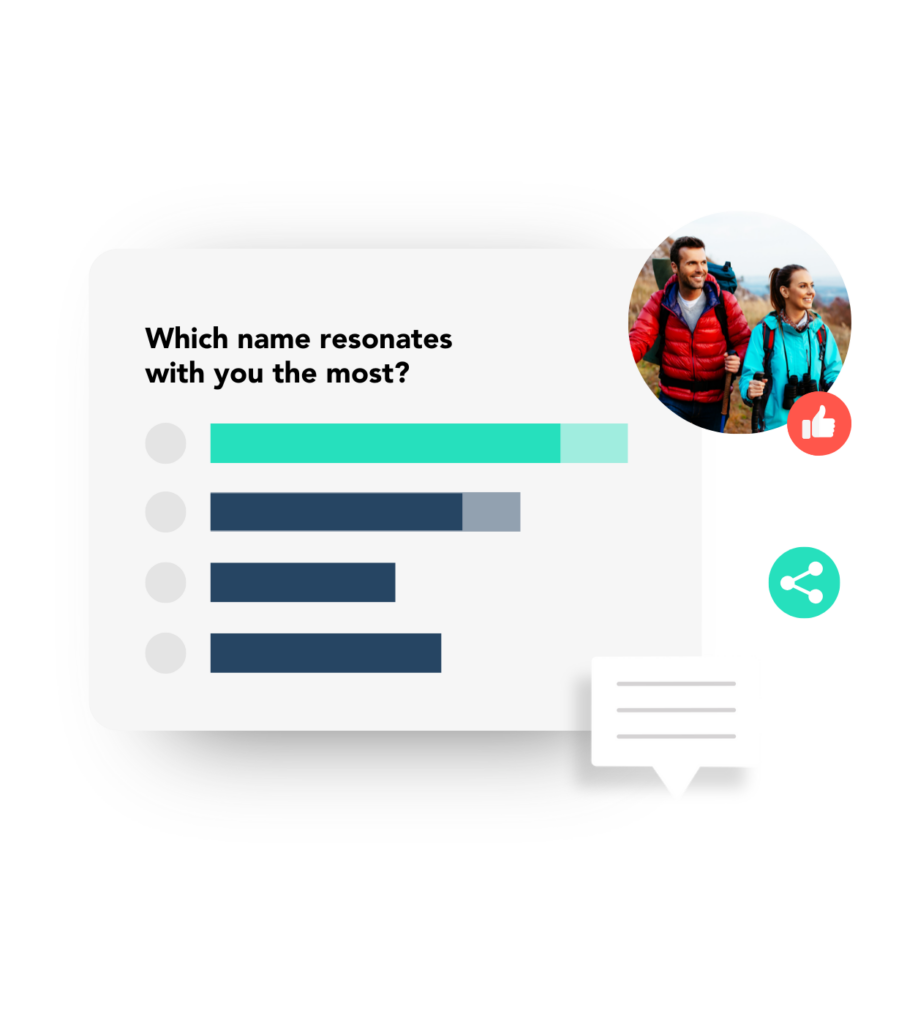 DSE Healthcare Solutions, a provider of specialty health brands, created its Upside Community as a place to fuel innovation and success for new product launches. 
Iron supplement brand, Fergon, utilized its consumer community throughout the go-to-market strategy for its Fergon Iron Restore product. 
Michele Muhammad, the company's Chief Sales & Marketing Officer, stated, "Fergon Iron Restore was completely developed with the help of the community. They helped us name the product, sampled it, and gave us reviews. That whole thing happened within The Upside community." 
Step 4 – Mobilize Consumers in a Dedicated Community Space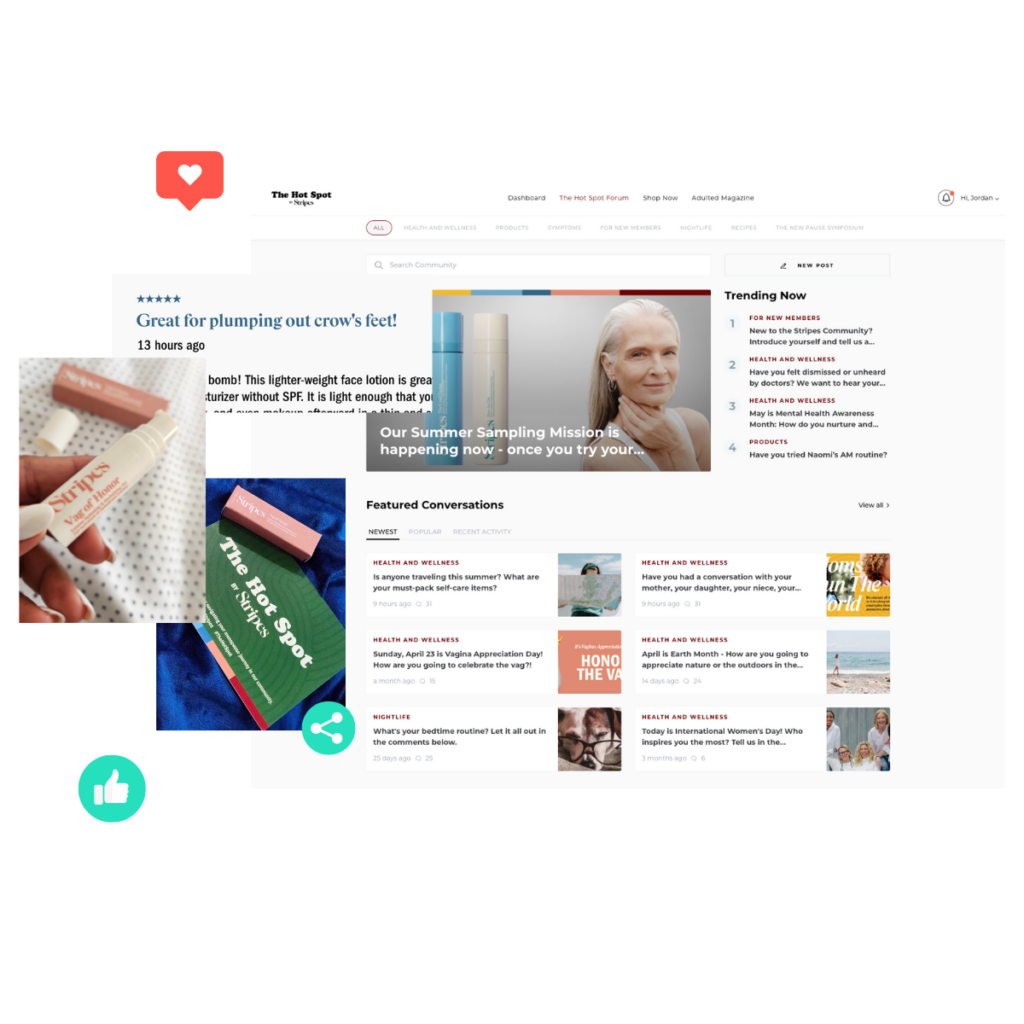 For many brands, an online community can be the missing piece to a complete digital presence. It's important to determine the right online community platform for your brand. 
With TINT, we empower your team to mobilize your consumer community easily through a customizable community platform that can be set up in as few as four weeks. 
You can create a community destination that matches your brand's look and feel and link directly from your website. We also integrate a wide selection of existing tools for streamlined efficiency in your tech stack. 
Inside your brand community, consumers can access a personalized dashboard of brand activities – from surveys to polls to sampling programs, word-of-mouth campaigns, exclusive content, and much more. 
Consumers can also access a dedicated community discussion forum where they can interact with other community members to ask questions, share stories, and engage in an ongoing way in-between purchases. 
Step 5 – Grow Ongoing Community Value
A cautionary finding from our Big Online Brand Community Study was that 78% of consumers believe brands are overusing the term "community" without providing a real community experience. 
Community must be more than a buzzword marketers use to entice consumers to engage with them long-term. 
Creating a community engagement strategy that will produce long-term results and lasting business impact is essential. 
At TINT, we developed the Comm-U-N-I-T-Y engagement model to give brands a structure for creating a positive experience for consumers. A strong community strategy will: 
U – Use Reliable Frequency – ensuring community members have regular opportunities to participate and will achieve the "Goldilocks" zone of engagement (not too much, not too little, just right). 
N – Nimble in Growth – embraces evolving growth with time and welcomes opportunities to co-create the community culture. 
I – Impactful Motivators – deliver engagement efforts focusing on fulfilling research-backed high-impact emotional motivators for consumers. This includes making consumers feel like they "stand out from the crowd," "have confidence in the future," "have a sense of thrill," and "have a sense of belonging."
T – Trusted Environment – offering a dependable, easy-to-use, mobile-optimized platform. A brand will also keep itself accountable to the community, do what it says it's going to, and maintain consumer privacy and security paramount. 
Y – Yields Value – provides a strong value exchange for what consumers will receive for participating. This value can be in personalized experiences and discoverable activities that surprise and delight consumers. 
How TINT Can Help With Your Community Powered Marketing Strategy 
TINT's online brand community platform empowers you to mobilize your consumer community in a dedicated branded destination and cultivate lasting relationships. With more than 20+ engagement activities available to brands, consumers can be assigned a wealth of activities to participate in – including writing product reviews, creating user-generated photos and videos, completing surveys and polls, participating in discussions, amplifying eCommerce, and in-store efforts, and much more.
Using TINT, brands can drive new customer acquisition significantly, secure emotional and long-term brand loyalty, and "future proof" with agile insights and ongoing data collection. 
Interested in More? 
Download our Big Online Brand Community Study to discover more about what consumers seek in a community strategy – or contact us to learn more.