User generated content (UGC) and the holidays go together like Santa and his sleigh. 
At this time of year, we eagerly await the arrival of festive content from our favorite brands, but sometimes it can all feel a little overwhelming.  
This is where UGC swoops in and saves the day (or the season). 
Content created by fans, followers, and customers can be a refreshing addition to glitzy holiday marketing campaigns and a welcome break from the bombardment of holiday promotions. 
After all, the festive season is a time for giving and sharing, and nothing generates shares quite like UGC. 
In fact, people are twice as likely to share UGC than other types of content. 
With that in mind, let's dig into the ways you can embrace the festive spirit of giving and sharing and leverage this powerful marketing technique. 
First Things First… Encourage Your Followers to Get Involved
In order to create a successful UGC campaign that's bursting with inspiring content, you need to get your followers on board. This means encouraging them to share their pictures, videos, and reviews about your brand and products.
There are several different ways that brands have approached this: some package their campaign as a contest where a UGC post counts as one entry, while others create a designated hashtag to foster a sense of community.
Top tip: use TINT's Experience Builder feature to generate engagement and empower your customers to share specific content and collect it together in one handy portal. 
Actively encouraging your followers to make or create something in this way has the potential to create a deeper connection with them, particularly if they're creating something specifically to post as part of your UGC experience.

Take KitKat, as an example. 
The world-famous candy brand inspired its customers to take action by encouraging them to share ways they incorporate the chocolate into their holiday recipes and crafts.
The customer-centric approach with a holiday spin, gave the brand clever, branded, and, most importantly, valuable content to share. As a result, their marketing teams could relax on content creation because they already had access to all the content they needed for a festive campaign. 
Show Off UGC On Your Website
A successful UGC campaign gives you access to a swathe of content that's relevant and engaging – not to mention persuasive, as people are far more likely to listen to the experiences and reviews of their peers than the brand itself. 
The key is to make the most of all the content you collect. 
Don't just share each piece once on social media and let it disappear into the ether. Instead, publish content across different platforms, leverage every piece more than once for different purposes, and get creative with where you place it.
Consider displaying your UGC:
On your website homepage 

On relevant product pages 

On a specially-built microsite 

On your blog 
For example, you might repackage a series of festive UGC pictures into a 12 days of Christmas display on your website.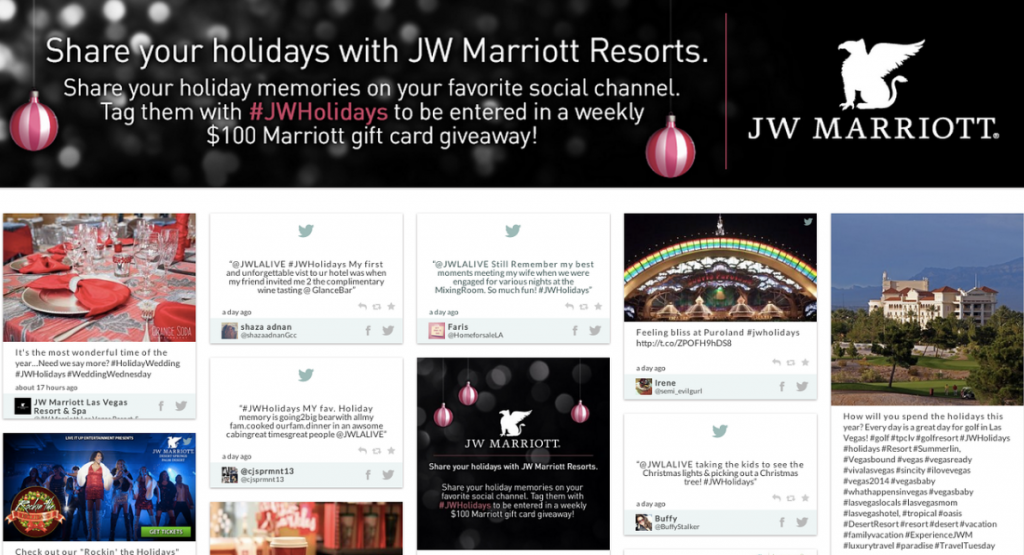 JW Marriott is a pro at packaging up and sharing their UGC across their website. 
Not only do they pull all the content into one, scrollable place, they add an additional element to the campaign by giving users the chance to win a holiday when they post a piece of content. 
Inspire Action With Calls-to-Action
While UGC is widely shared and also one of the most engaging forms of content, it's also a great way to generate more conversions and inspire action amongst your followers.
Calls-to-action (CTAs) are an important part of any marketing strategy, but combining them with UGC makes them a force to be reckoned with. This is particularly true when you consider that Instagram influences almost 75% of user purchase decisions. 
Incorporating effective CTAs in UGC can help you capture the attention of shoppers looking for the perfect holiday gift – just make sure your CTAs are clear and concise. 
Top tips for creating a compelling CTA:
Use words that inspire action, like

click

or

buy

Make sure your CTA stands out and doesn't get lost in the image – you don't want users to miss it!

Keep it short and simple

Deliver on your promise (i.e.

don't

announce that users can get 50% off if it's not true) 
Now you know how to create the perfect CTA, all you have to do is put it together with some of your festive UGC. 
You might decide to share an Instagram post with a CTA that encourages people to click a product or use TINT's hotspots and Instagram CTAs to guide followers through to your product listings.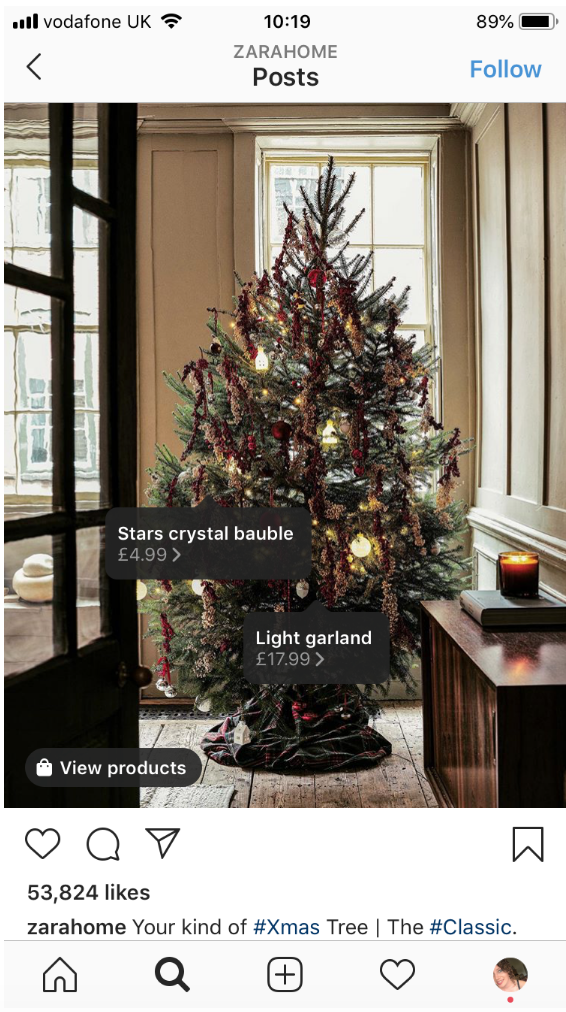 Zara Home overlays images with shoppable product CTAs that encourage followers to clicks through and find out more. This is particularly useful during the holiday season, as you want to capture people who are in gift-buying mode. 
Encourage and Curate Video Content 
User generated pictures are great, but take it to the next level this Christmas by encouraging your followers to share videos as well. 
According to research, relevant videos drive more engagement and revenue for brands on social media. 
Not only do they build a deeper connection between your followers and your brand, but they provide the perfect way to instill a sense of community at this time of year. Reports have shown that they also increase credibility for a brand too, which is incredibly helpful when you're competing against millions of other businesses to get the attention of Christmas shoppers. 
Sainsburys leveraged the power of UGC video for their successful Christmas campaign.
The brand encouraged their customers to send in short videos of themselves doing festive things and then sewed them all together to create a longer video that solely featured their customers.
The result was a community-inspired piece of content that gave viewers the warm fuzzies at this special time of year. 
Showcase Customer Reviews and Testimonials
People are on the hunt for presents at this time of year, so make it easy for them to buy from you with plenty of peer reviews of your products.
Reviews are incredibly important in the buying process, especially when you consider that a whopping 97% of all consumers turn to reviews before they make a purchase. 
The key to leveraging reviews is to not be afraid of getting creative with how and where you display them. 
As well as splashing testimonials from review sites across their relevant product pages, you can also share them across your social media channels with a handy link to the product that's been mentioned. 
Don't forget to repost any reviews your customers have put on their social channels, too, as this provides a really quick and easy way to get positive reviews out there.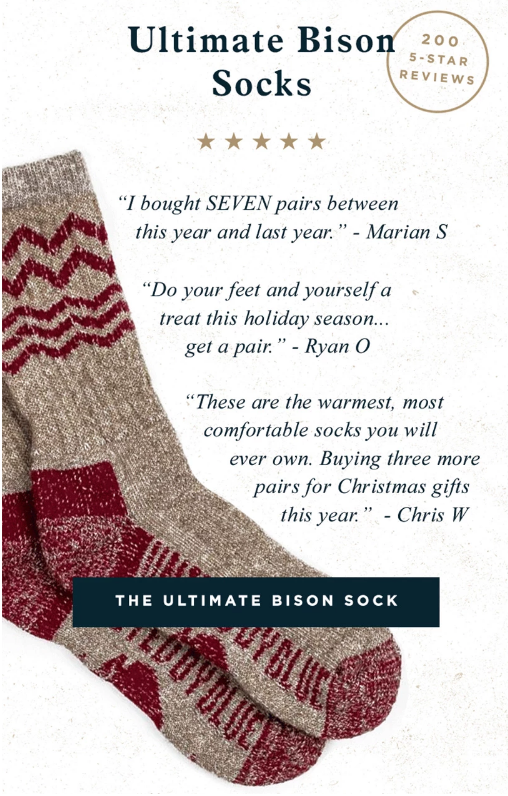 Bison Socks turned their Instagram Stories into festive testimonials by adding a few key customer reviews to their posts. They also tacked on a button that hinted at 200 more 5-star reviews for an extra layer of social proof. 
Integrate UGC Into Your Emails
There's a high chance you'll be sending more emails than usual around Christmas as you encourage last minute gift purchases. This provides you with the perfect opportunity to drop in some UGC to make your emails more engaging and persuasive. 
If you're promoting a specific product or a gift guide, you might decide to share some UGC related to those products, or you might collect a handful of customer reviews to sprinkle throughout your emails.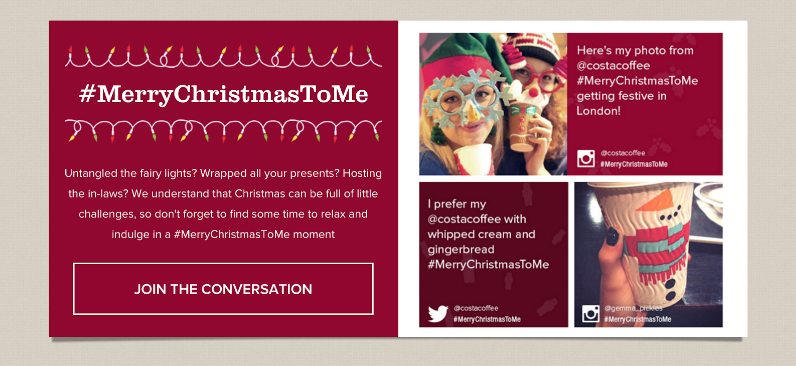 Costa Coffee is a great example of how a brand can use UGC in an email. 
In fact, this entire email segment is dedicated to promoting their festive UGC campaign, #MerryChristmasToMe. They show off a couple of pieces of UGC that have already been shared and encourage subscribers to get involved in the campaign themselves. 
This adds a fun and light feel to their holiday campaign and nurtures a sense of community around their brand. 
The Holidays Are Coming – Are You Ready? 
The holiday season is a time for sharing and giving, and UGC ties in perfectly with this festive tradition. 
Whether you decide to publish UGC on your website, display it on relevant product pages, share it across your social channels, or sprinkle it throughout your holiday emails, tapping into this powerful marketing tactic will help increase brand awareness and foster more sales at this important time of year. 
The tips we've provided here – along with the fun and festive examples – will help you create campaigns that leverage the inspiring UGC you have access to and encourage action in your followers. We can't think of a better Christmas gift. 
So tell us, which of these ideas will you be implementing this holiday season?