User-generated content (UGC) increases trust, engagement, and revenue – and it's everywhere. We're excited to present the State of UGC 2021 Report, a deep-dive into insights from top marketers across the globe.  
Download the State of UGC 2021 Report
This year our findings demonstrate the importance of incorporating your customers' voices as a core element of your marketing and brand strategy. Our research uncovered five critical themes using data from 5,000+ customers and perspectives from leading practitioners and strategists across industries. These themes cover topics from improving marketing efficacy to activating the ultimate conversion tool using social commerce.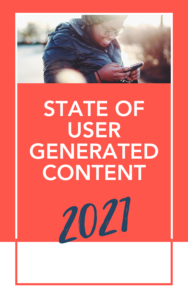 Don't miss the State of UGC 2021.
Important User-Generated Content Statistics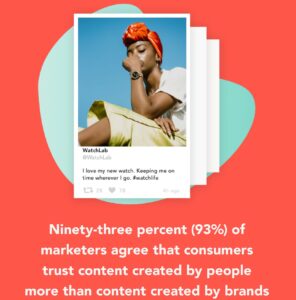 93% of marketers agree that consumers trust content created by people more than content created by brands. Learn more in the State of UGC 2021 report.
93% of marketers agree that consumers trust content created by real people rather than content created by brands. 

75% of marketers are currently working with micro- or nano-influencers.

72.2% of marketers report having more job responsibility now compared to 2019

52% of marketers find time a major challenge when it comes to content production

51.5% of marketers faced a budget reduction in 2020. Only 16.9% saw budget growth.

41.2% of marketers report that engagement is their top performance metric

33.3% of marketers say one of their top challenges is creating enough content (volume) to meet their marketing objectives

24x: the number of times a brand message is reshared when distributed by employees.
Major Themes in the State of UGC
Theme 1: The Battle for Engagement
Engagement is a leading indicator of brand health. People, that is customers and prospects, will only engage with a brand that is interesting, present, and active. That consistent expectation of engagement can be a challenge when you realize that 72% of marketers have more responsibilities than ever.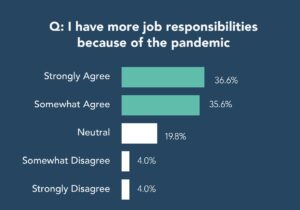 Producing a significant enough amount of content for all channels, social or otherwise, has caused a time crunch for most marketers. Consumers are quick to recognize when brands are cross-posting content rather than posting the most relevant content to each specific channel. Marketers must find ways to connect and build trust without falling behind in their content output. 
Feeling the crunch? Learn how top marketers are using UGC to maximize their content strategy. 
Theme 2: Omnichannel is No Longer Optional
Most marketers struggle to feed the ever-growing beast of content needs. There are more social channels and content networks than ever. Customers are fragmented across channels. Gone are the days you could pick just one, now your customers expect to find you wherever they are.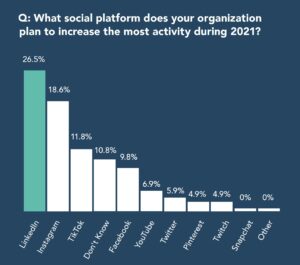 What social platform does your organization plan to increase the most activity during 2021? Compare with other marketers. 
Each distribution channel and social platform requires its own strategy. Social media cannot be relegated to the intern or the junior social manager. Social media managers now require a seat at the table to help brands connect with consumers and committing social faux-pas. 
Do you have the right content for the right channel? The State of UGC 2021 explores the unique experiences of each social platform. 
Theme 3: Influencer Marketing has a New Definition
Gone are the days of the mega-influencers with seven-figure price tags. Influencers are around us every day. They are active on every platform, every channel, and in real life. "Real influencers" are more effective, cost-effective, and accessible than big-ticket virtual celebrities. More so, their recommendations come off as authentic and sincere. You may see an ad, and not realize it is one.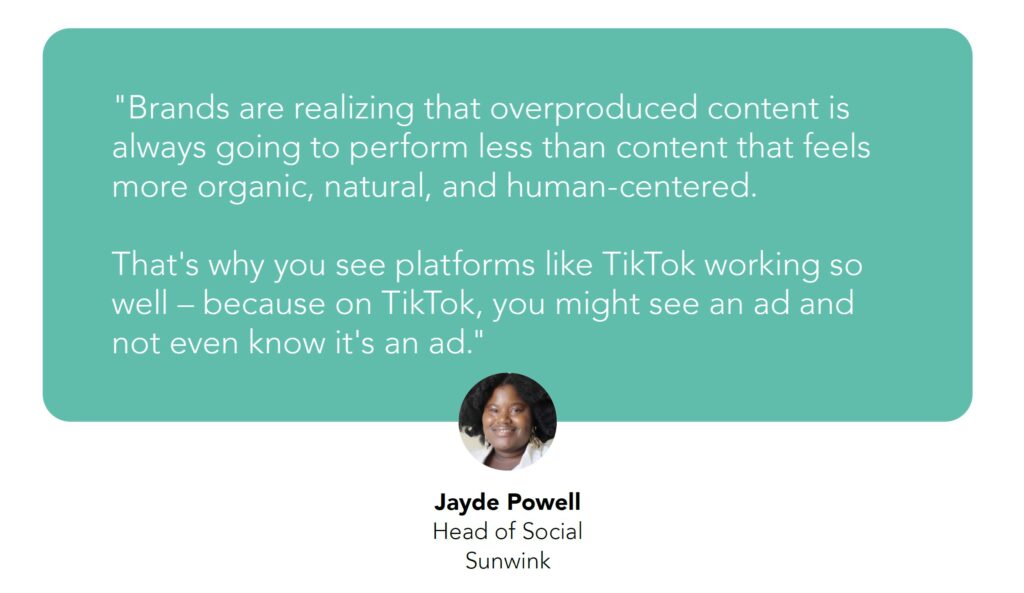 75% of marketers are working with small, nano, and micro-influencers as part of their 2021 marketing programs. Is your interaction social or parasocial? Discover the difference in the State of UGC. 
Theme 4: Social Meets eCommerce
Special things happen when social media meets eCommerce. Social Commerce is a disruptive strategy that is changing the future of shopping. As people increasingly buy online, they expect a seamless customer experience. They want to buy the things they see on social and in video without ever leaving their platform of choice.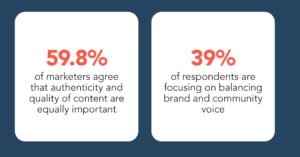 This has lead to eCommerce operators producing shopping opportunities that are safe, convenient, and hyper-personalized. Simple algorithmic recommendations are passe, now customers expect brands to intuitively understand their needs. The world's top brands are using UGC to resonant with this generation of digitally-savvy consumers. 
Shoppable Social and Social Commerce are the future. Don't be left behind. Download the State of UGC report.
Theme 5: The Rise of Virtual and Hybrid Events
The pandemic brought the events, hospitality, and tourism industries crashing to a halt. But the gears of progress are never to be stopped. Virtual events found a foothold in the industry, but new interactions are starting to spring up. 
Know the difference between a hybrid event and a hub-and-spoke? Learn about the rise of new event formats in the State of UGC 2021 report.
UGC and marketing with authenticity remain the most powerful way to engage with customers and increase conversions. Download the State of UGC 2021 report or, better yet, schedule time with one of our UGC specialists to learn how TINT helps the world's top brands achieve their marketing goals.