Nothing But Brilliant: LightSail Marketing
Reading Time:
4
minutes —
Marketing
This is the third post in a weekly series on unexpectedly amazing marketing. Today we look at how LightSail Energy uses thought leadership. Check out our first post about Nest Labs and our second post about Poo~Pourri.
Twelve years after dropping out of middle school, Danielle Fong found herself on the Forbes 30 Under 30 list. Fong earned the prestigious award by co-founding  LightSail Energy — a company creating a game-changing energy storage system. Today, Fong's clean-tech startup is grabbing attention from major news outlets, entrepreneurs, and big investors like Bill Gates and Peter Thiel.
Marketing new technology can be hard. Last week, we covered Nest Thermostats, another technical product that must find a way to market itself beyond dry tech specs. While Nest turns to funny, relatable videos, LightSail Energy has turned to that elusive golden fleece of PR and content marketing: thought leadership.
Danielle Fong gets thought leadership right —  and her ability to distinguish herself and her company make her a useful role model for anyone interested in developing thought leaders for their own brand. Her unusual story as a dropout and natural abilities as an entrepreneur have resulted in global interest in her company. Some of these skills you can't teach. But some you can.
Here are three things Fong has done that help position her as a thought leader, that you can do too:
1. Share the Deeper Reason Behind Your Choices
At 12-years old Fong decided the traditional education system wasn't for her; so she left middle school and enrolled in college courses. By 17 years old, Fong was a college graduate with honors in Physics and Computer Science. After dropping out of Princeton's PhD program, Fong moved to San Francisco and co-founded LightSail Energy.
Fong estimates that less than 1 in 10,000 people in the world have chosen to forgo middle school. She recognizes how unique her choices have been, but she doesn't share her story simply for a shock factor. Fong wants others to learn what she learned that day – there are usually other possibilities to explore.
Normally speaking to a crowd of students, scientists or entrepreneurs, Fong says that she tries "to give them a message of possibility – of finding your own way, of what you as an individual can do and how you don't have to be defined by the system."
Check out Fong's TEDx speech to hear the whole story of her journey to co-founding LightSail:
Did you catch that? You're listening along to Fong's extremely unique life story, and then all of a sudden you're learning about her company. Fong's story isn't the introduction to a sales pitch — it's a sincere explanation of why LightSail was created.
She makes LightSail feel like the grand finale to an interesting life novel. The kind of novel that people – regardless of their interest level in clean-tech – want to keep reading.
Of course, you don't need to drop out of middle school to be a thought leader. Everyone has an interesting story. Sharing that story can help consumers understand the purpose behind your company — focusing on the person rather than the product can provide a refreshing avenue to capturing and keeping your audience's attention.
2. Help Others in Your Community with Similar Interests
Fong goes beyond telling people to seize more possibilities in life.  Fong actually assists young scientists and entrepreneurs in the San Francisco area (LightSail is located in Berkeley) with pursuing a non-traditional educational path.
As a mentor for the famed Thiel Fellowship, Fong works with highly motivated young adults (all under 20 years old) who've chosen to forgo attending college, for at least two years, while they work on an entrepreneurial or research project.
As Fong works with some of the most eager entrepreneurs in the world, she shares stories from her experiences building LightSail. In turn, Lightsail enjoys publicity-by-proxy to this reputable program. It is a short hop from mentor to thought leader. Even if you don't have the reach that Fong does, find a space where your thought leaders can mentor and teach. Sharing your knowledge is the first step.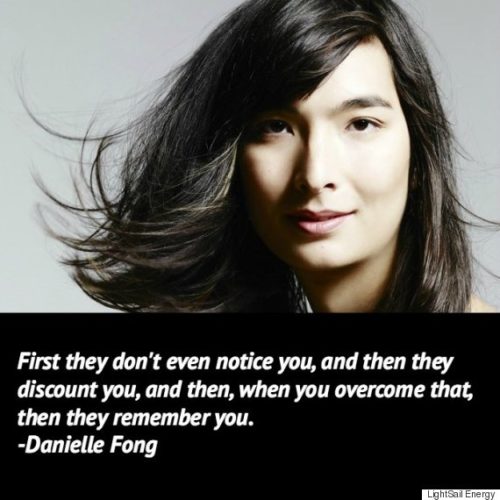 3. Thought Leaders Earn the Media's Patience
Prominent publications are taking notice of LightSail. For a company that has been around for five years and hasn't shipped a single product to market, this is amazing media stamina. Publications like the the Wall Street Journal, Fortune and The Economist continue to cover LightSail. Why?
Because Fong's intelligence, drive and passion make her someone worth following. While her first company has yet to bring their first product to market, she bristles with possibility. She might be the next person to change the world — and that's too interesting to ignore.
Check out Fong's interview with Forbes after being listed as a Forbes' 30 Under 30:
Thought Leadership in a Modern Age
Is thought leadership viable for your brand? What are you doing to establish yourself or your CEO as a thought leader? What special story can you bring to the table? Let us know by commenting below with #SocialStudies.
Tune in next week to see how one company is excelling at marketing by making it a low priority. Until then, you can comment on this post, or any other topic addressed on our blog, by Tweeting with the hashtag #SocialStudies. We'd love to hear about brands whose marketing you admire. Subscribe to this series by typing your email in the "Get the newsletter" box at the top of the page.