On October 3rd 2016, TINT teamed up with the White House to bring User Generated Content (UGC) to President Obama's South by South Lawn event, a hugely inspiring festival of art, ideas, and action that brought together change makers, activists, and artists.
The event was the first of its kind, and we helped spread the word through installed social media displays where attendees could interact with the exhibits and have their say on the issues and topics being discussed via social media.
So, What is South by South Lawn?
Earlier in the year, President Obama traveled to South by Southwest in Austin to participate in a conversation all about civic engagement. There, he invited a huge range of creative thinkers and talented entrepreneurs to come together and tackle some of the toughest challenges the country faces.
The spin-off event, where all these entrepreneurs and thinkers came together, became South by South Lawn.
It's goal? To inspire and celebrate innovation, hosted and attended by young people and those who support active change in the community.
Work already being carried out in the community was celebrated, and TINT captured it all on screen, bringing a sense of togetherness and community to the event through social media sharing.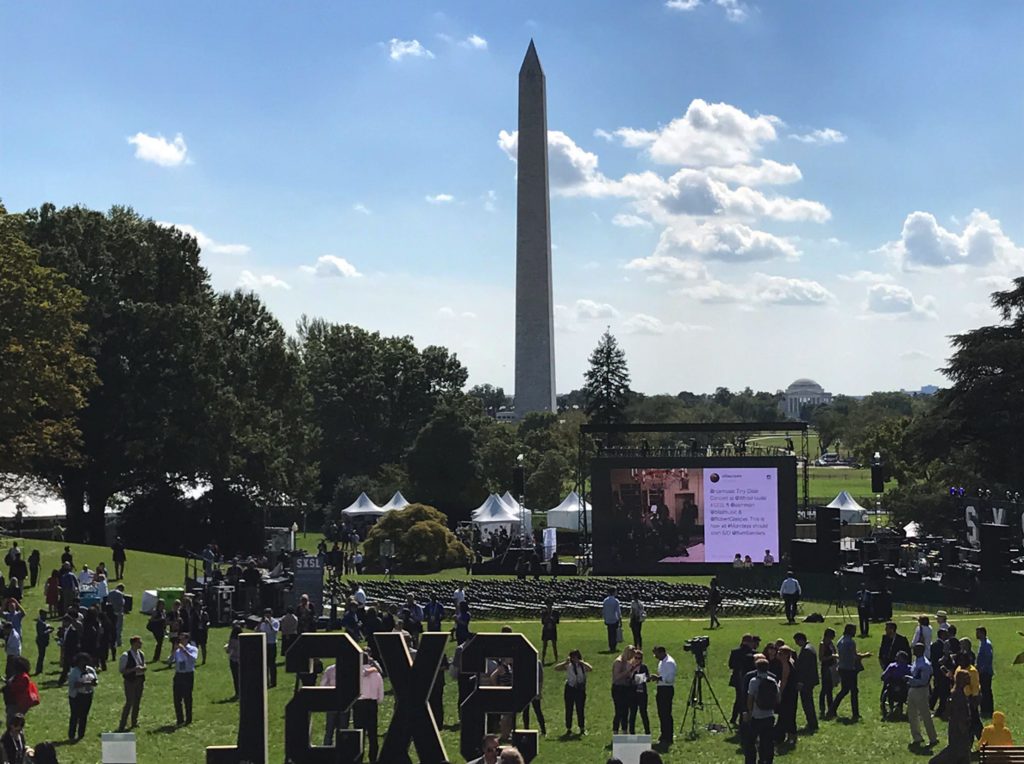 The TINT display at the White House's South by South Lawn event
Highlights of South by South Lawn
Throughout the day, South by South Lawn (dubbed SXSL for short) hosted a selection of thoughtful panel discussions that tackled major issues like climate change, new-age technology, and social innovation.
The focus was on how different themes and topics are shaping our world and how we, as humans, are changing how we interact.
So, it made sense that TINT was the perfect accompaniment, providing guests with an engaging way to interact with their fellow attendees and to respond in real-time to the talks on offer.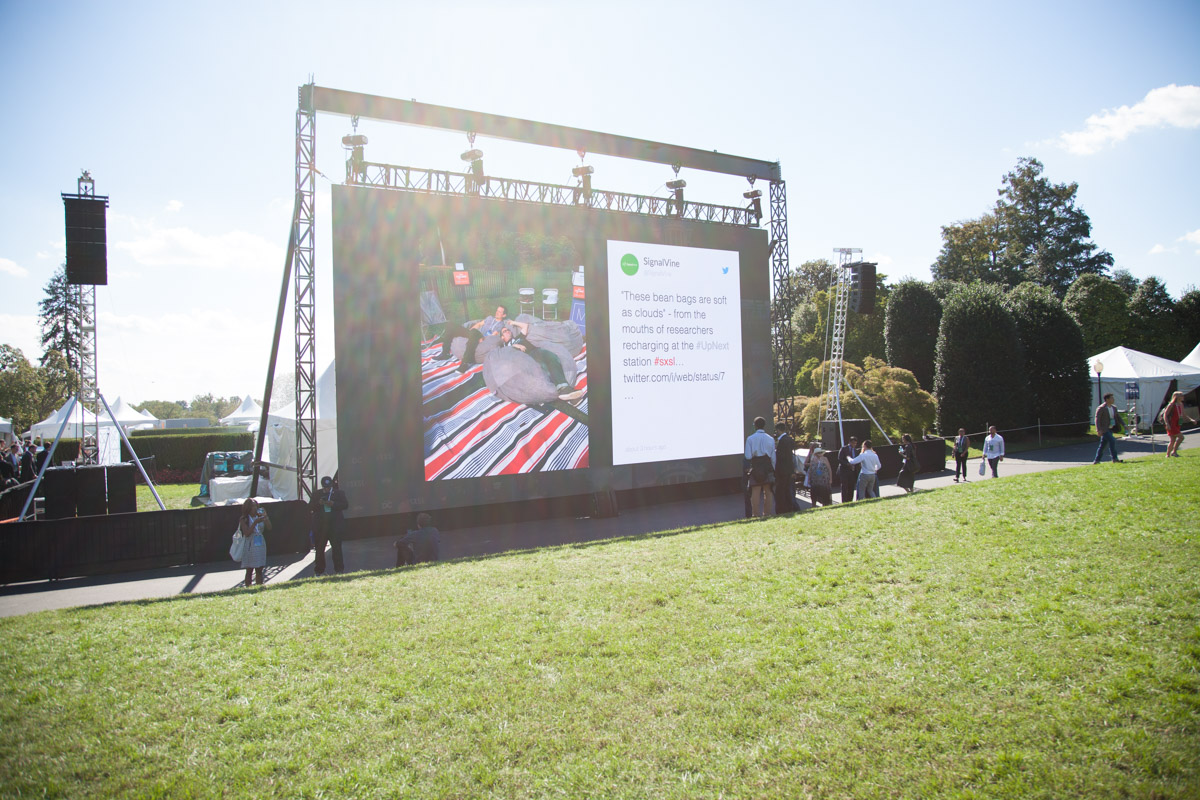 Attendees shared their images via the TINT display
Some of the major talks included:
1. A conversation with President Obama, Leonardo DiCaprio, and climate scientist Dr. Katharine Hayhoe about protecting the planet. After the talk, DiCaprio's new climate documentary, Before the Flood, was screened on the South Lawn of the White House.
2. A panel discussion led by Jenna Wortham, a staff writer for The New York Times Magazine, that focused on the tech community and how entrepreneurs and social innovators are using new technologies to address challenges and make America a more tolerant, fair, and healthy nation that's full of opportunities. Attendees were asked to consider how they might use their time towards lasting change.
3. A talk moderated by Danielle Gould, found of Food+Tech Connect, that delved into how evolving diets, increasing populations, and climate change is affecting our food supply, and how key innovators are making food more accessible, sustainable, and healthy.
4. A discussion led by The Honorable John Lewis, congressman and civil rights icon, and moderated by entrepreneur and activist Anil Dash that showed how unelected citizens were creating change with hashtag movements and other tech-inspired ideas.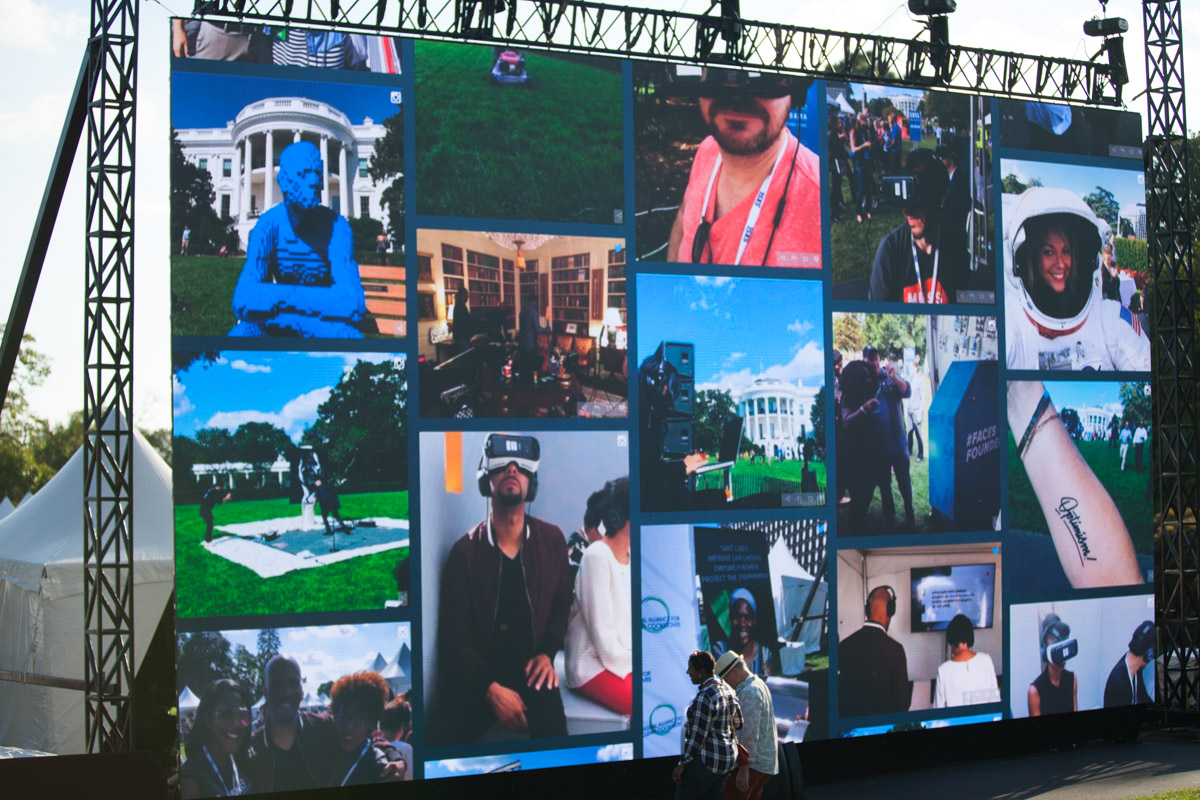 The interactive exhibits were a hit with the attendees, who shared their experiences on the TINT display.
Inspiring People
Alongside in-depth talks from some of America's biggest change agents, there were a number of inspiring people who had been nominated to attend.
These included Justin Garrett Moore, an urban designer and the Executive Director of the NYC Public Design Commission, Jason Kass, founder of Toilets for People, Nekpan Osuan, co-founder of WomenWerk.com, Deidre Groves and Shelley Danner of Change Detroit, Derrick Cameron, Artistic Director of Ghetto Film School.
Throughout the talks, the attendees played a key part. They were consistently asked to consider their role in world change and their community and were encouraged to share their thoughts, feelings, and ideas via social media, which Tint gathered together onto the big screen.
Interactive Exhibits
The whole nature of the event was interactive, encouraging attendees to question their actions and getting them to really dig deep into their own ideas and thoughts on prominent issues.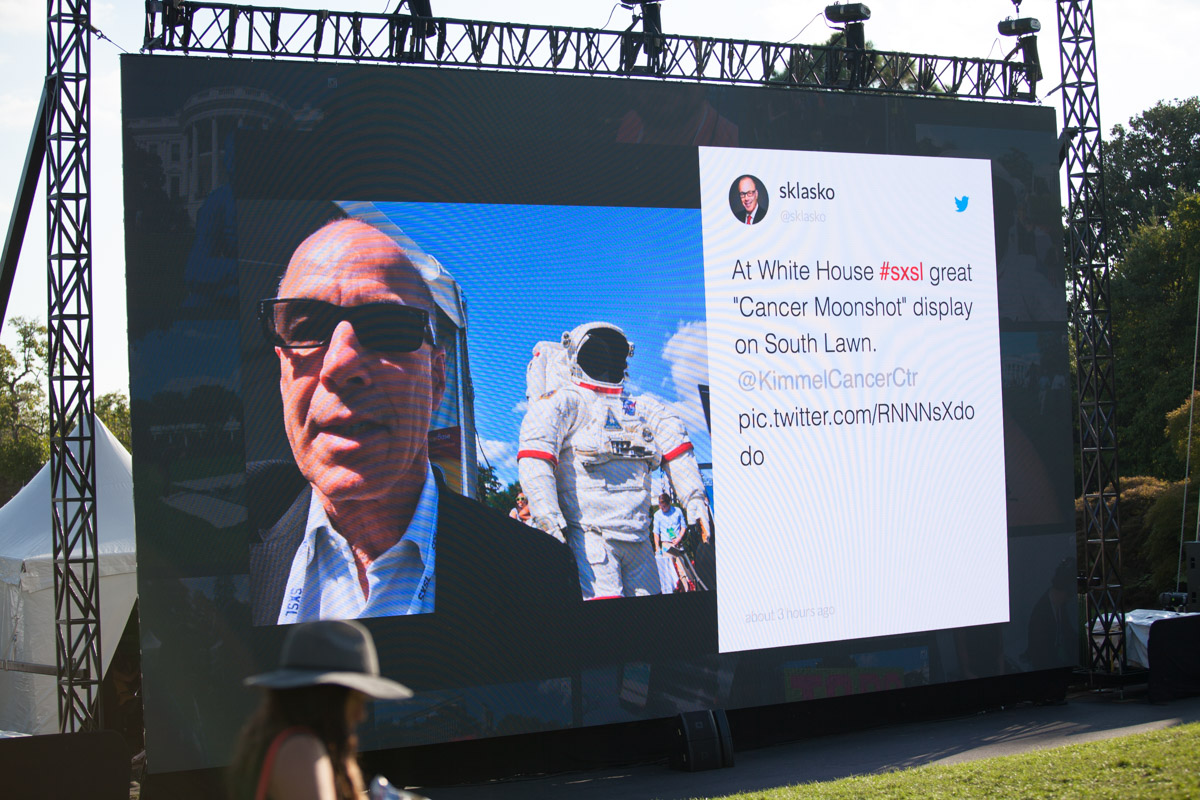 To help, SXSL set up a selection of interactive exhibits for attendees to get involved with.
6'x9' showed attendees what it felt like to be locked up in a 6-foot by 9-foot cell using virtual reality. The 9-minute experience replicated the psychological impacts of confinement that prisoners face.
Cancer Moonshot allowed visitors to interact with the technology at the forefront of cancer care in the future. An Internet of Things experience showed them how wearable technology might be able to increase collaboration between cancer patients, scientists, and physicians in the future.
The #FacesofFounders campaign invited guests to get their photos snapped and get involved in the movement for a more inclusive approach to entrepreneurship.
The Find Your Park machine allowed attendees to experience all 400+ national parks in America in just 60 seconds using audio, visual cues, and geo-location elements in a bid to get the younger generation in tune with their local parks.
MTV's Open Your Eyes gave attendees an art show in virtual reality, featuring young creatives creating immersive visualizations of their opinions on issues ranging from gun violence to climate change and immigration.
This is just a tiny sample of the incredible array of interactive exhibits that were on display at SXSL that encouraged attendees to get interested in and take action on a range of important topics.
The interactive elements was huge throughout the entire event, which is where TINT came into play.
How TINT Captured It All
TINT displayed a huge interactive social media wall at the event, bringing the interactive element to life across multiple social platforms. Attendees could use the hashtag #SXSL to share their thoughts and opinions on the talks and upload photos of themselves participating in the interactive elements.
Brought together, this encouraged social engagement – people loved seeing their thoughts projected on the big screen, while the issues created genuine, thoughtful discussions across social media that added to the event.
Because it was such a social, innovative event, it made sense that there was a real-time social media show to run alongside it, where attendees could fully get involved, and big issues could be given a prominent place on the big screen.
---
Excited to see what we did at South by South Lawn? Ready to add UGC and digital engagement tools to your next event?  Drop us a line for a free strategy session!