When consumers reach a fork in the road, they make an educated decision on which path to take.
For brands, this "journey" that their buyers go on is more than just guiding them down the right route, it's also the chance to build a relationship with these people and essentially take them by the hand.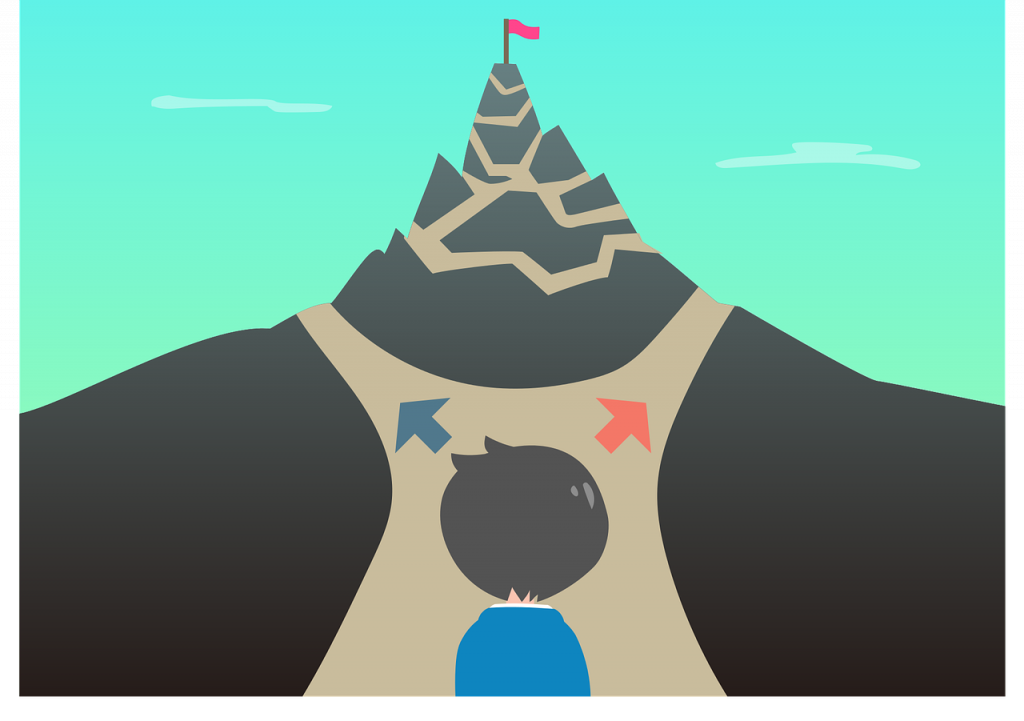 It's wholesome to think about (anyone else getting the warm fuzzies?), which is exactly the sentiment Loews Hotels taps into.
They understand that, with consumers seeking more and more authentic opportunities with brands, having a great experience is now so much more important than finding the cheapest deal or saving a quick buck.
We're going to dig into this in a bit more detail later on, but first here's a quick look at just how important the customer experience is for brands across all different industries: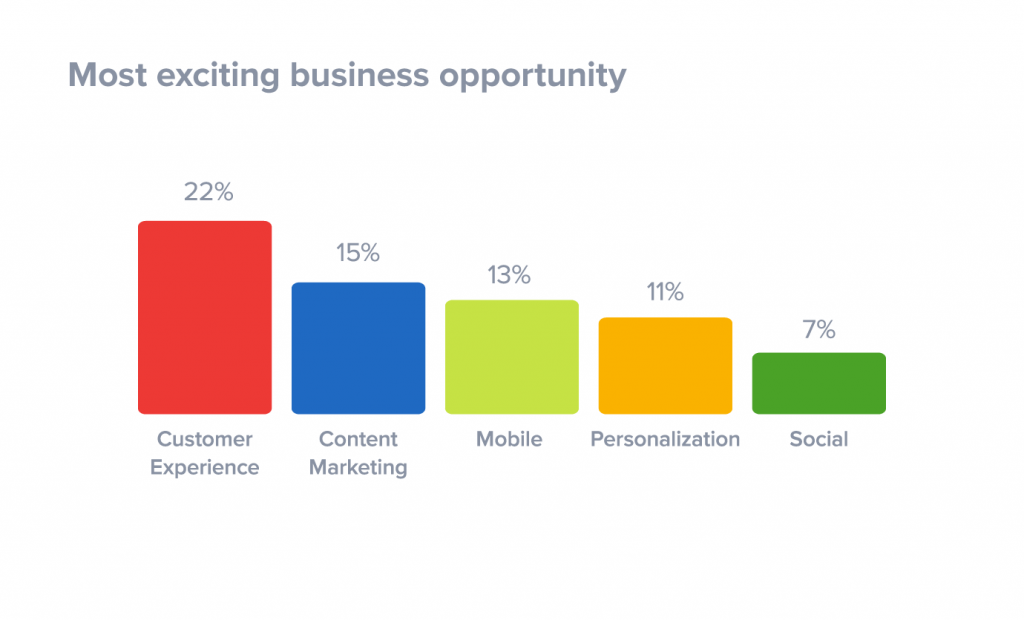 In fact, the experience customers have with a brand will outshine price and product as a key brand differentiator by 2020.
Which means – you got it – that simply undercutting your competitors isn't enough to keep customers coming back for more.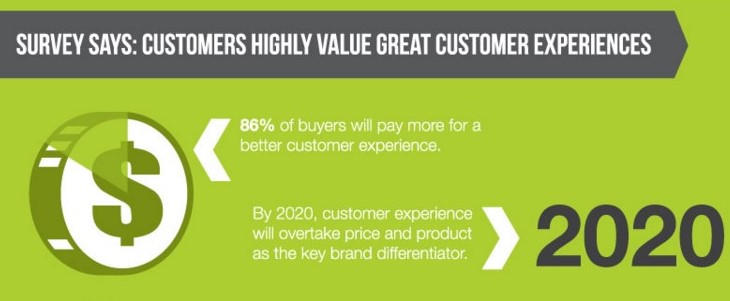 It may sound like a daunting prospect – I mean, having to actually build relationships is time-consuming and requires a certain amount of effort – but the payoff can be immense.
When you perfect the customer journey and create an experience that consumers literally can't get enough of, you'll experience things like:
Improved customer retention

Increased customer satisfaction

More sales
It's a win-win situation: your customers have a blast and your business grows. It's an absolute no-brainer.
The tricky part comes when you need to engage consumers at each step of the process.
A lot of brands make the mistake of going straight for the sell without even stopping to get to know the customer and their individual needs.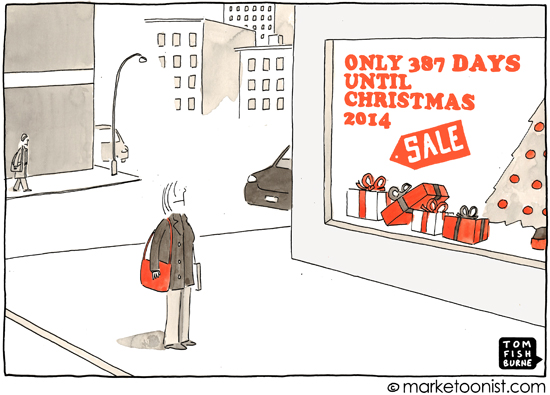 You wouldn't expect someone to marry you the first time you met them, so why would you expect them to part with their hard-earned cash before they know a single thing about you?
Moving consumers through the customer journey gives you a solid opportunity to build rapport and create a deeper connection.
And, when you have a deeper connection with someone, it's difficult for them to ghost you (or choose a competitor instead).
So how can you engage consumers each step of the way?
Let's take a quick peek at the customer journey: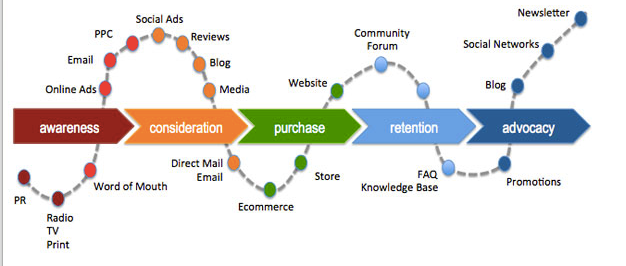 There are five key steps:
Awareness

Consideration

Purchase

Retention

Advocacy
While each step requires a different plan of action, there's one thing they all have in common: they all provide information in the form of content to push people from one stage to the next.
Easy enough, right?
Except this can be a huge stumbling block for marketers.
Why?
Because one of the biggest struggles marketers face is creating enough engaging content, plus the thought of just adding to the noise that's already out there is off-putting for some.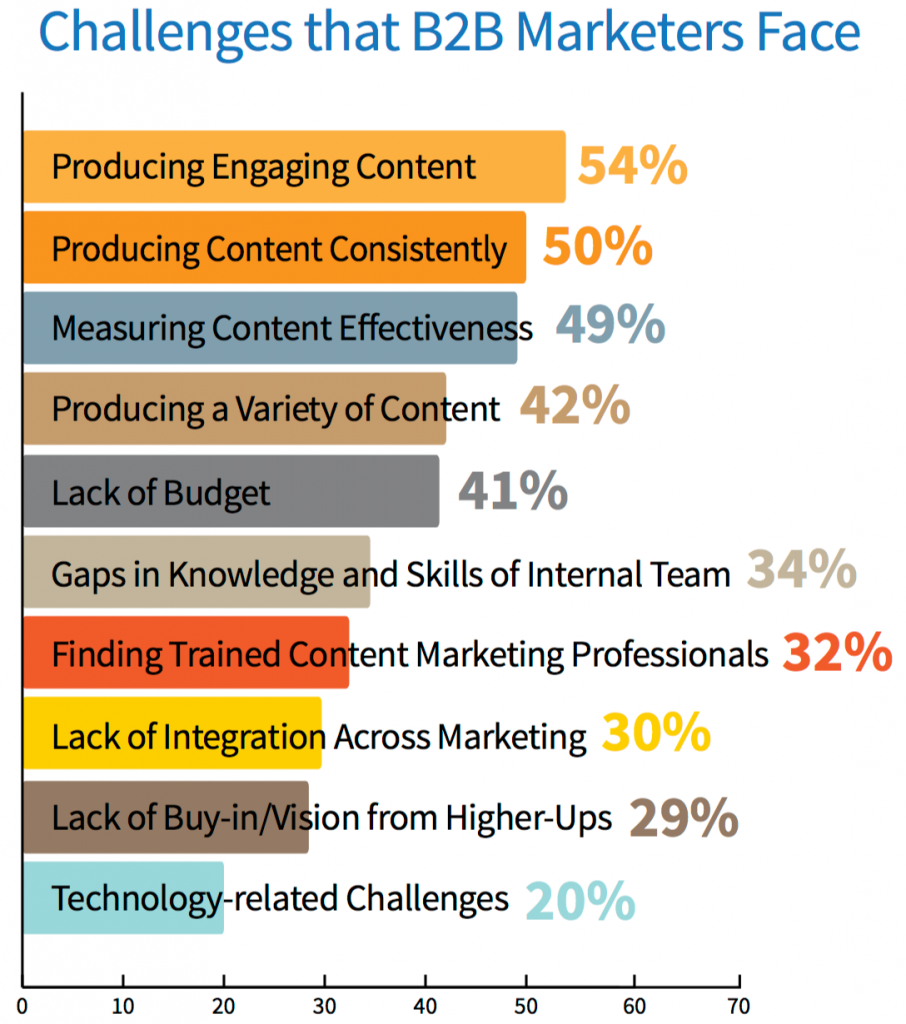 Just think about it:
The amount of ads and branded content that consumers get exposed to on a daily basis has risen from 500 a day to more than 5,000 a day.
That's an insane amount of content to try and stand out amongst.
Which is why it's important for brands to serve up content that's relatable and reaches their consumers on the right platforms and in the right way (more on the "right" way later).
In research done by the Aberdeen Group Inc. it's claimed that companies that spread their content out across a number of different channels and different steps throughout the customer journey retain 89% of their customers compared to just 39% of brands that don't do that.
So now you know just how important the customer journey is, how can you make the most of it and create content that seamlessly moves potential buyers from one step to the next?
Let's look at Loews Hotels.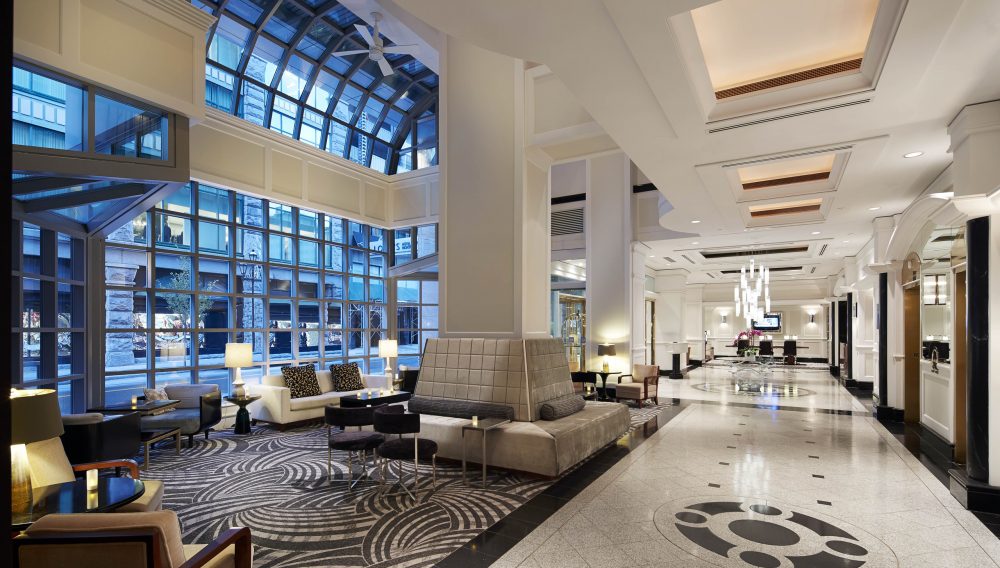 The successful hotel chain has opened 24 properties across the US and Canada since it first opened back in 1960.
You might be thinking, "Yeah, yeah, this is just another hotel chain, what's the big deal?"
But, while Loews does have a number of properties across a number of states and caters to a huge range of people, they still crave connection with their customers.
"We're all family, and you're joining our family when you check in," says Simon Kopec, the Director of Social Media and Content Strategy for the brand.
Creating a Scalable Content Strategy
The biggest challenge Kopec faced when coming on board was scaling content.
Less than 10 years ago, brands just needed one piece of amazing content, like a print ad that could be published in five different magazines, or a video that would go out across a number of different networks.
Today, brands have just the same amount of money as they did back then, but they now have to create thousands of ads and posts as well.
But Loews Wanted to Keep Things Personable and Engaging…
The methods of yesteryear didn't quite cut it for Kopec, who mentions just how important personalization in content is today – something that is much, much trickier with traditional advertising when you only know the demographic of a magazine and not much else.
He and the Loews team wanted to tap into the deeper social element of social media, where different audience segments can be targeted at different steps of the customer journey.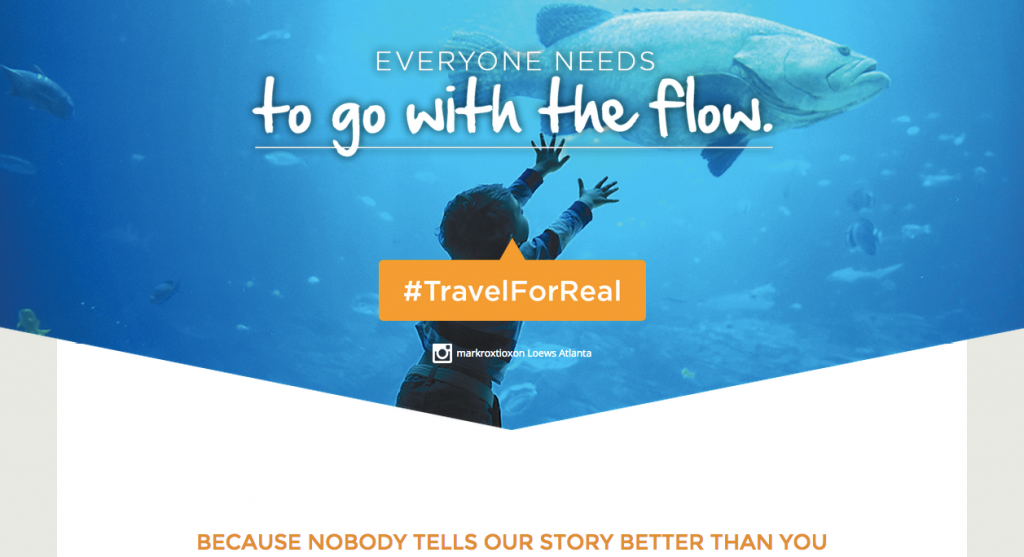 How Loews Use UGC to Create Tons of Content
Knowing that they didn't have the budget to create mammoth amounts of content to deliver to different people at different stages of the customer journey, Loews turned to UGC and integrated TINT.
By being able to tap into an infinite amount of content being created by their 10,000+ guests all over the US and Canada, Loews found themselves with an endless supply of content at their fingertips.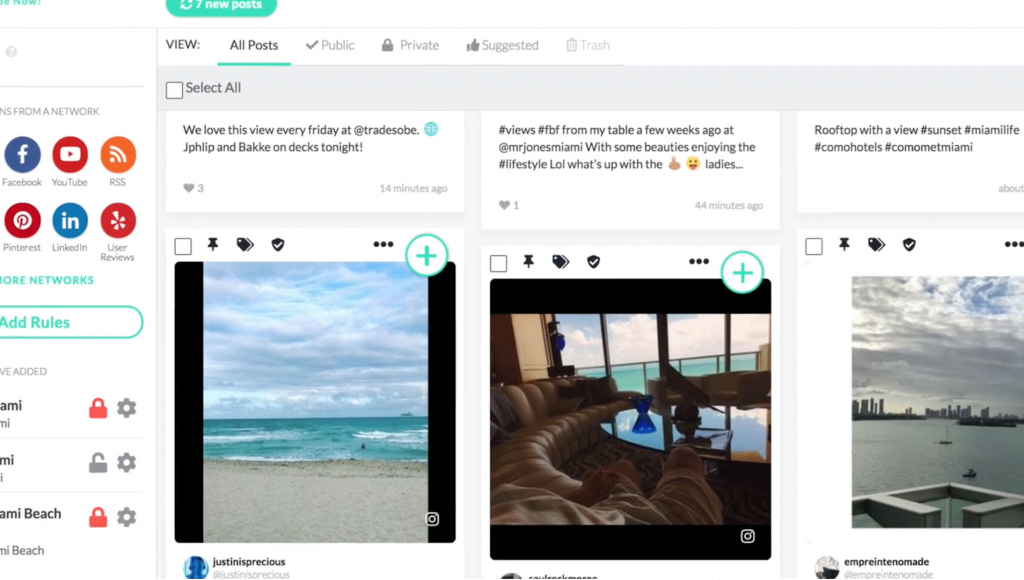 It meant they could run marketing campaigns on the fly (if a hotel needed to promote their rooms by the next week, they could handpick content from guests rather than scheduling an expensive photo shoot), but more importantly than that, it meant they could harness the kind of content people wanted to see at each step of the customer journey.
Using a Hashtag Campaign to Generate Endless Content
But getting these things going is always difficult.
To put the wheels in motion, Loews set up the #TravelForReal campaign with the main purpose of creating content on a small budget.
Guests and previous customers were invited to share videos, reviews, images, and content using the hashtag for a chance to win a prize.
By the end of the campaign, Loews was armed with a whole library of content they could use across their customer journey. Here's what they did:
1. Using UGC to Generate Awareness
To attract consumers to the Loews brand, the team shared UGC content across social channels. This meant potential buyers could more easily relate to the brand and it would be on their radar as an "authentic" option.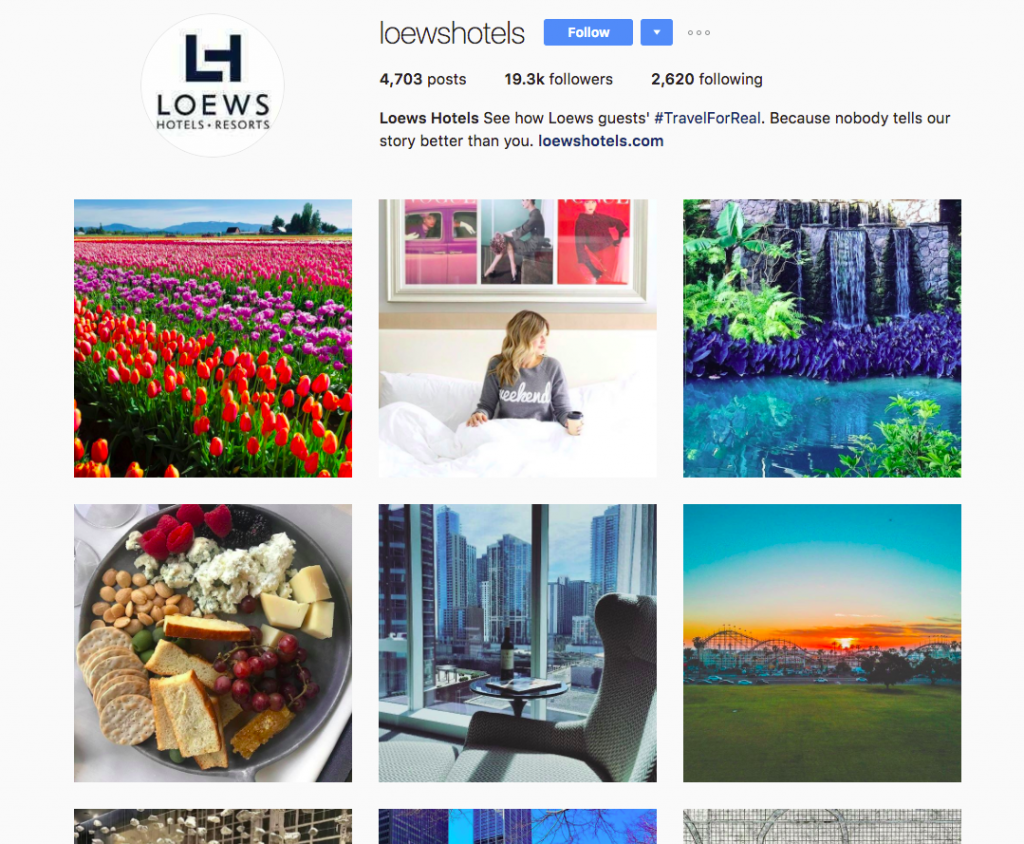 They also integrated some of the UGC they'd gathered in paid ads across different channels to reach a wider audience.
2. UGC in the Consideration Stage
These days, consumers look to buy from brands that they connect with.
Having that human relationship is so valuable in this digital age, and it can mean the difference between a consumer going with your brand and a competitor.
To push people through the consideration stage, Loews used relatable imagery from their UGC stash.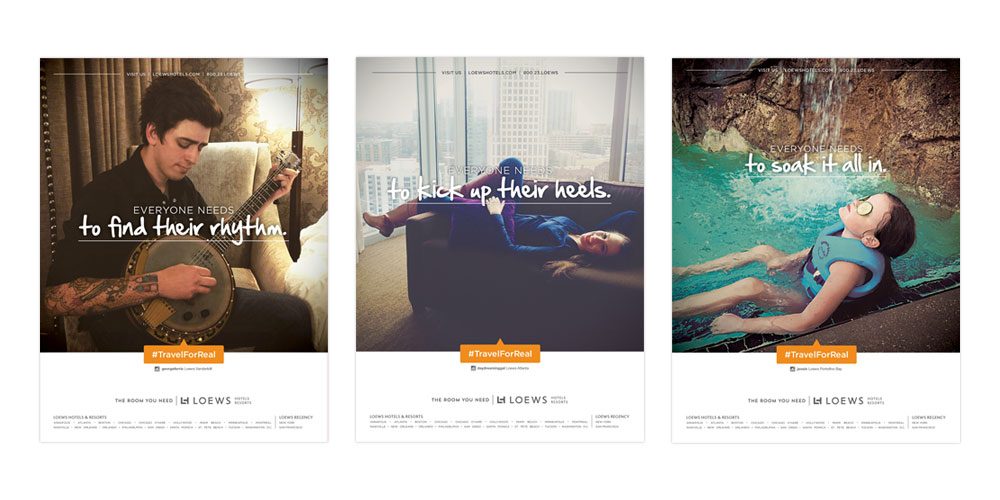 For example, if they're targeting a mid-20s single male who's traveling to Boston for a trip with friends, they'll share content that another mid-20s male has posted to create a deeper connection.
3. Leveraging UGC to Make a Sale
The most important part for brands is making the sale, but when Loews' customers were this far down the funnel, it didn't feel like sleazy selling because they'd already used the previous two steps of the journey to create a connection and build on it.
By this point, the customer was basically sold on booking with them.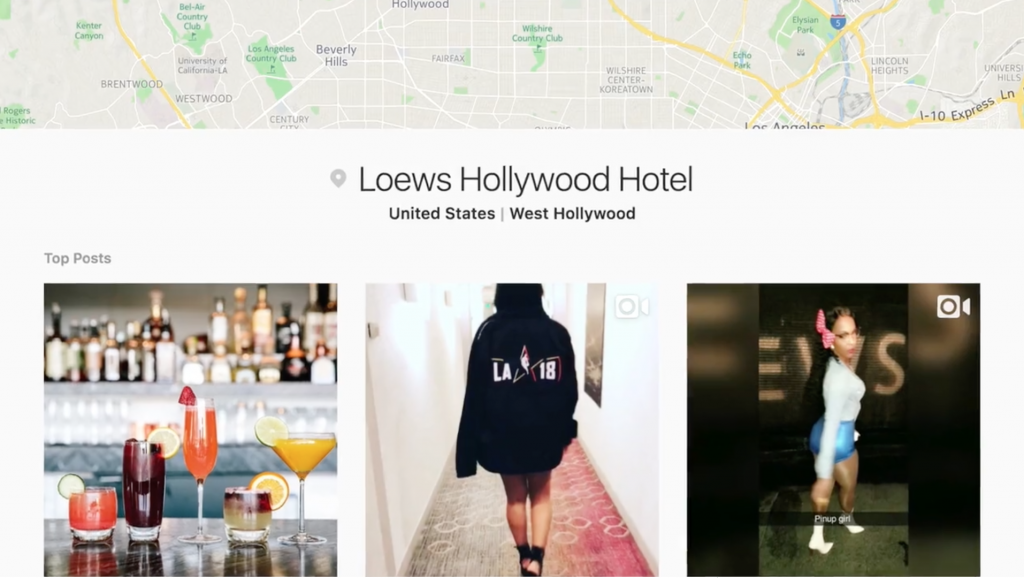 But, just in case, Loews integrated UGC feeds on their website and booking pages of each hotel so potential customers can start imagining their trip and creating emotional anticipation.
4. Sharing UGC On-Site to Keep Customers Coming Back For More
Some brands think the sale equals the end of the relationship with the customer.
They've done the deed and that's that.
But Loews knows that's far from the case.
When you consider that the majority of a brand's customer base is returning customers, it's important to hone relationships and continue to nurture them.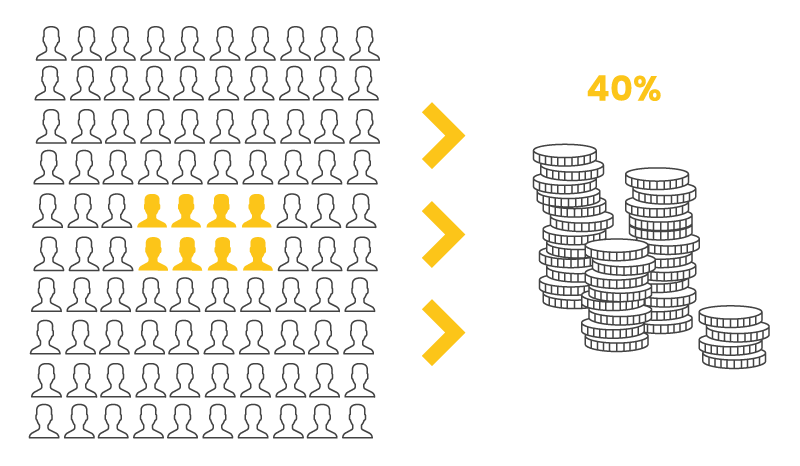 To do this, Loews implements UGC screens using TINT in the lobbies of their hotels. As well as showing content posted by other guests that focuses on that very location, they also show content from other hotels.
So, if a guest has been thinking about visiting New York, but has no firm plans, they might see UGC of people having an awesome time at a Loews hotel in the Big Apple and immediately want a slice of the action.
5. Creating Raving Fans With UGC
The final step of the customer journey is turning customers into loyal fans. These are the people that will shout about your product from the rooftops, and Loews knew they needed this as a weapon in their artillery.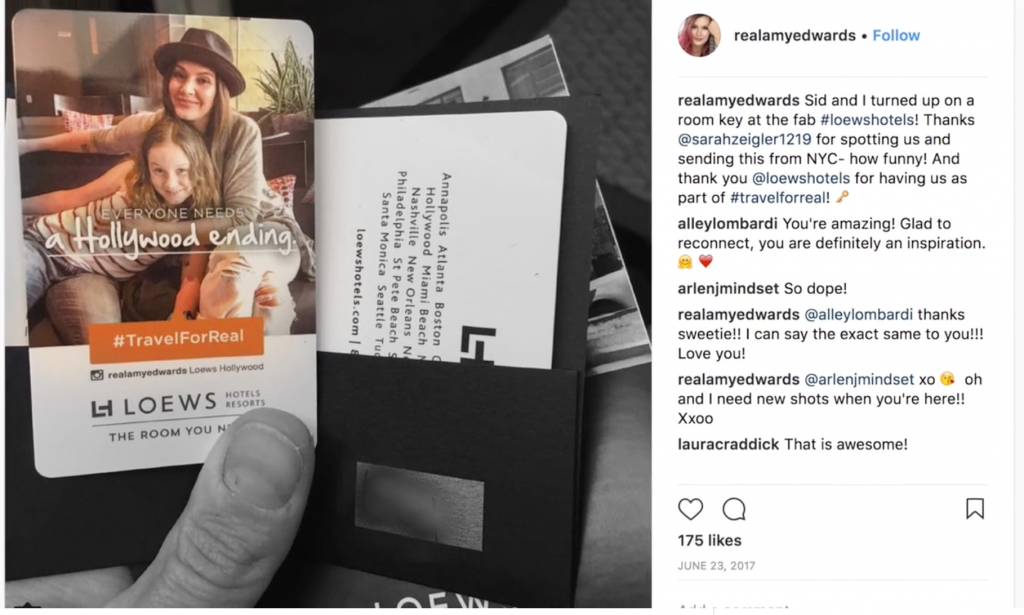 They did this by giving guests the chance to be featured on the UGC walls on their site and in hotel lobbies around the US and Canada.
But they also took it one step further by printing some of guest content onto key business cards and other materials.
In one example, Loews printed a UGC photo of a same-sex couple onto a key card which the couple were absolutely thrilled with. This again deepens the emotional connection between guests and the brand and shows that Loews really does care about who stays in its hotels.
"It's unlikely that couple will book with any other hotel," Kopec adds, hammering home the power of these connections.
UGC is a Vital Part of the Customer Journey
Guiding consumers from one step to the next is no easy task – everyone wants a different experience and has different needs.
But what most consumers do want is a connection with a brand they buy from or book with.
Building relationships is the easiest way to seamlessly manoeuvre buyers from one step to the next, and the polished, un-targeted ads of yesteryear just aren't doing that anymore.
Instead, content created by other guests and consumers is more powerful than ever, giving future buyers the chance to see what they can experience if they stayed with Loews.
For the brand it's a serious win-win situation: they get an endless supply of content they can use across a variety of different channels, and the consumer gets to feel like part of a caring community.
Find out how you can integrate UGC throughout the customer journey and book a demo with TINT today!