UGC marketing is a marketing methodology that involves marketing your brand with authentic content generated by your users. It has quickly become one of the most powerful forms of marketing, and for good reason: Audiences are craving authenticity. When they get it through a brand's Instagram or Twitter, they respond with engagement.
To learn more about how today's marketers are approaching user-generated content, TINT has just released a 'User Generated Content Marketing Report' and the findings will blow your mind. The study examines the role of user-generated content within a successful marketing strategy and why UGC is so important for marketers today.
We surveyed 500+ marketing and business professionals, 42% of which were TINT users and 58% professional marketers not using TINT, and found that user-generated content has had an impact in three key areas: humanizing marketing, boosting social media metrics, and supporting marketing campaigns.
Results showed that 25% of TINT users listed "increasing engagement" as their key goal, showing they adhere to the idea that content boosts awareness and engagement. A further 42% claimed that engagement was their key performance indicator (KPI), highlighting just how important interaction and community is for brands today.
The report also found that TINT users and non-TINT users alike struggled to find the time to create content. Keeping up with the fast pace of the internet is a major sore point for marketers, with 36% saying that lack of time was the primary factor for not creating as much content as they'd like.
Key Statistics for Marketers:
UGC has an impact beyond the top of the funnel
59% of marketers say UGC helps them easily display content online

Almost half of marketers agree that UGC humanizes marketing – something that's incredibly important in an age where consumers are seeking authentic connections with brands

UGC helps 45% of marketers increase their social metrics

44% of marketers say that UGC supports their marketing campaigns
UGC is invaluable in wider marketing campaigns
Almost 60% of marketers claim UGC is a helpful addition to their overall marketing strategies

43% go so far as to say that UGC is invaluable to their marketing

When it comes to authenticity, 70% agree that UGC makes marketing more human
UGC is a powerful Omni-Channel strategy
Marketers leverage UGC across all parts of their marketing strategy, from email marketing and ad campaigns, to presentations and microsites

65% of TINT users are able to easily leverage the UGC tool for their marketing activities
Key UGC Marketing Insights
1. UGC Makes Marketing Authentic
75% of respondents claimed that UGC makes content more authentic. Given that most consumers have used social media to share their candid thoughts on a brand, it makes sense that marketers see this strong relationship.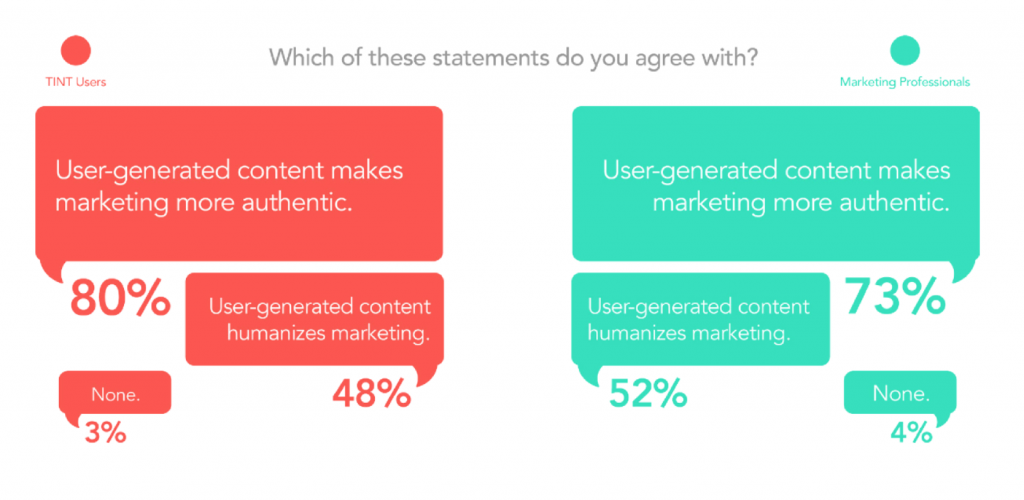 2. UGC is a Powerful Tool for Boosting Social Media Metrics
34% of TINT users surveyed and 45% of marketing professionals agreed that UGC helps increase those all-important social media stats. This result shows that UGC isn't just about subjective feelings, it has the potential to improve key marketing metrics.
3. Increasing Engagement is the Main Goal
So which metrics are impacted the most by UGC? 41% of marketing professionals ranked content engagement as their top KPI.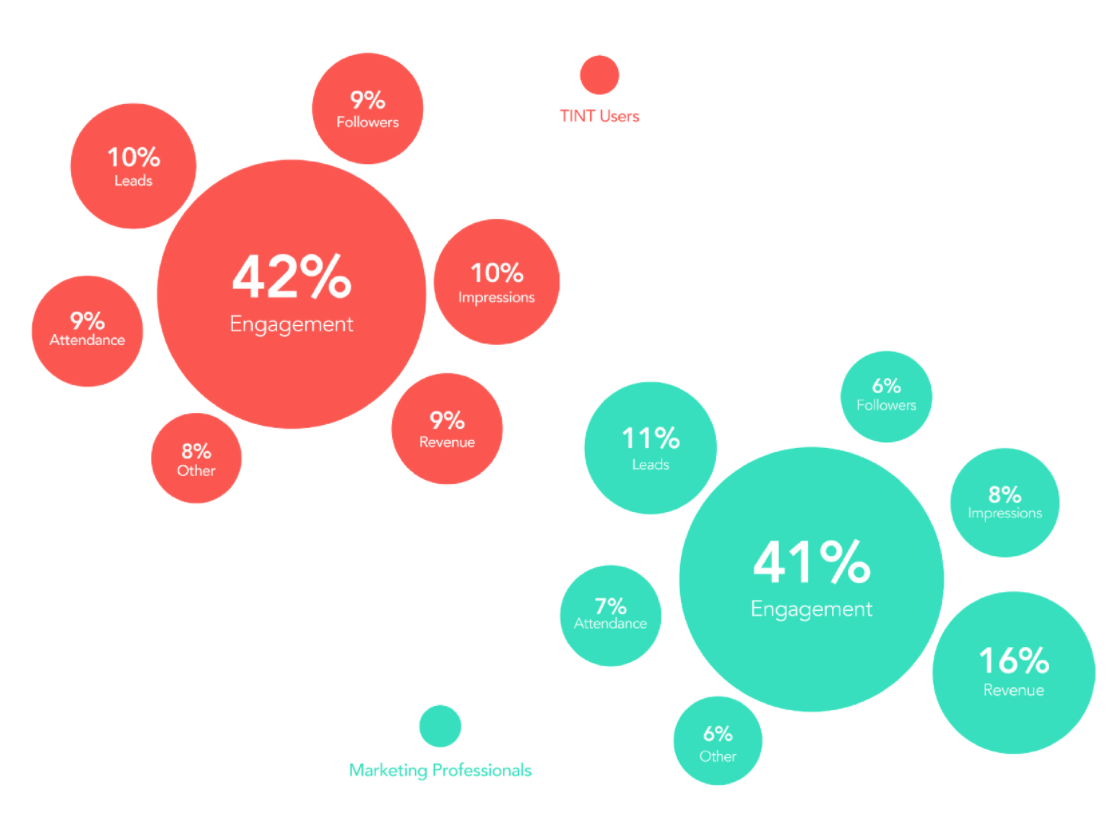 When seen in the context of the marketing funnel, it's clear that the top of the funnel is the most impacted by UGC. For a brand looking to scale reach, UGC is compelling type of content.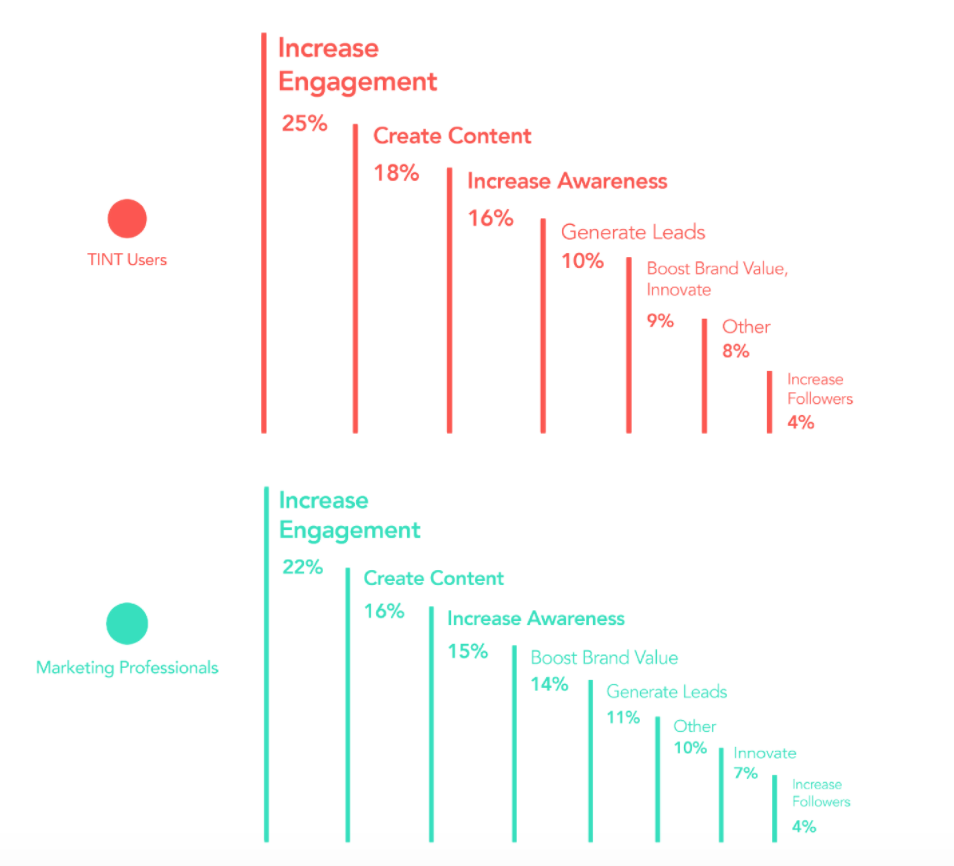 4. Time is the Biggest Setback
36% of TINT users surveyed admitted their biggest concern when it came to content marketing was not having enough time. This insight reveals why so many marketers turn to software to automate their use of UGC, and why there are a plethora of UGC platforms available.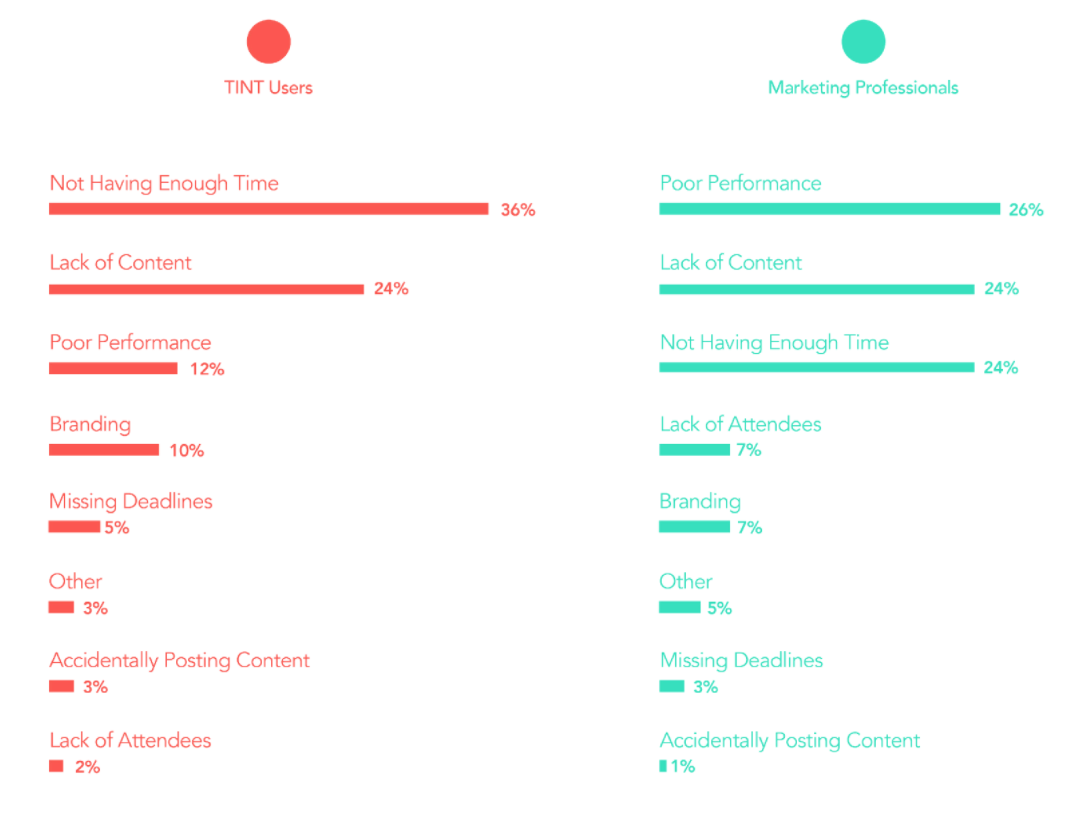 5. UGC is Now Mainstream
For 43% of TINT users and 42% of non-TINT users, UGC is already a key component of their marketing strategy. From this result, we predict that as UGC becomes more mainstream, audiences will come to expect brands to integrate it into their marketing. Brands that don't stand to lose trust and market share.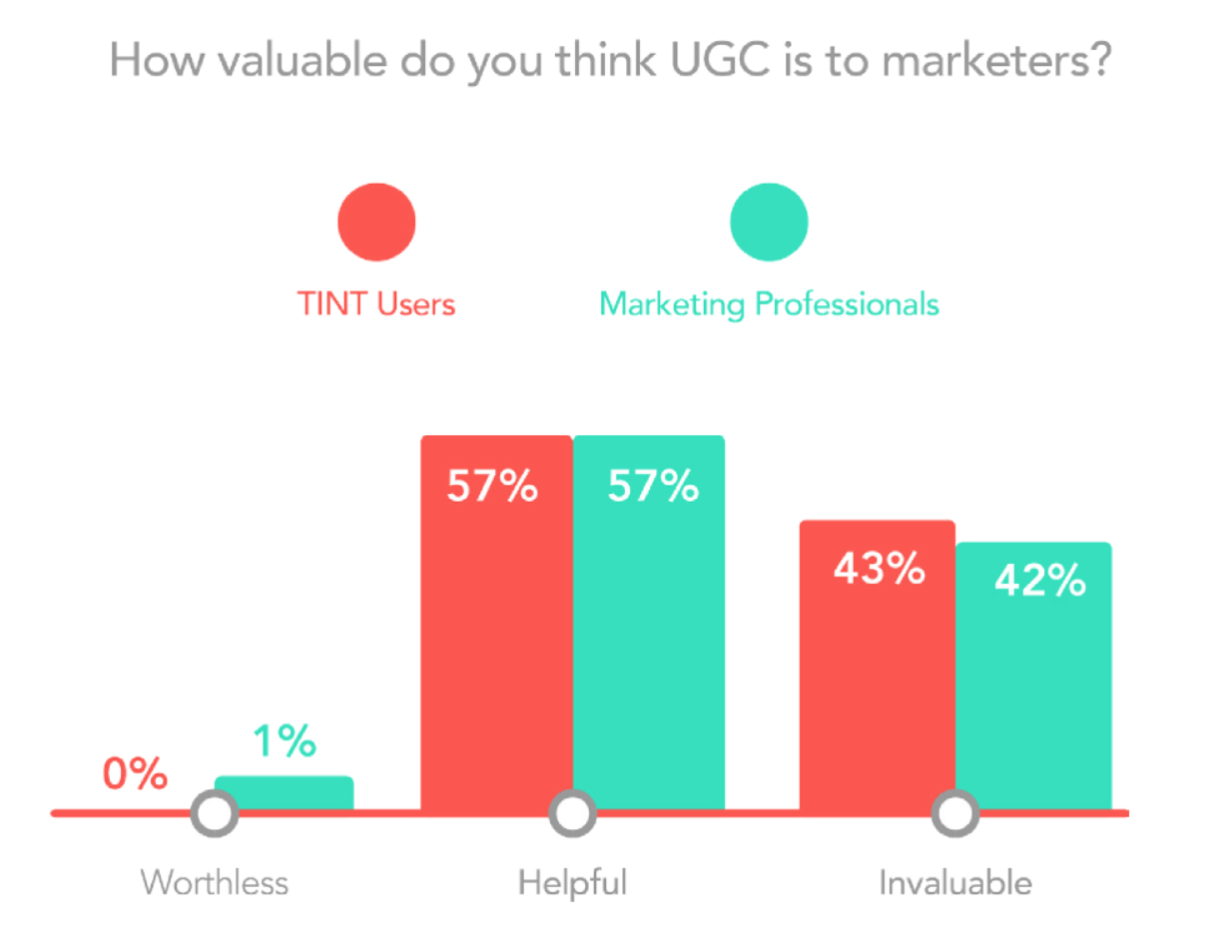 When 92% of consumers are more likely to trust a recommendation from a friend than branded content, the authentic approach to content is the best practice.
The report shows that marketers are increasingly becoming aware of the power of UGC, and not just for top of the funnel activities. Authentic marketing in the form of UGC can be leveraged at all stages of the consumer journey, saving marketers time, money, and resources.
Download the full report here!