Today, consumers look to other consumers for affirmation, confirmation, and validation to inform their purchasing decisions, choosing to heed the word of people like them over the companies themselves. It's all about authenticity. If you're a marketer looking to harness your audience's reach, you'll likely turn to user-generated content, and the first tool you'll look for is a User Generated Content platform to manage it.
But with so many tools and platforms on the market, how do you choose which one is the right one for you? This guide is meant to answer this question.
First, let's dig into what a User Generated Content Platform is and isn't.
What is a User Generated Content Platform?
A User Generated Content platform is essentially software-as-a-service (SaaS) that helps you curate images, videos, and other online media (user-generated content, or UGC) so that you can use it to tell your brand's authentic story.
It's about visual storytelling but it's also about making life easier for digital marketers, reducing the time it takes to source media and clear the legal rights to use it on your various channels. Whether the content you are using comes from one user or a hundred, a UGC platform simplifies the process and helps you stay organized.
What about Influencer Platforms?
UGC Platforms and Influencer Platforms overlap in that there is a spectrum of influencers that range from mainstream celebrities to micro-influencers that may only influence the purchasing decisions of their immediate friend group. UGC Platforms cover the micro to macro influencer side of the spectrum, while Influencer Platforms cover the macro to mega influencer side.
To break the influencer spectrum down visually: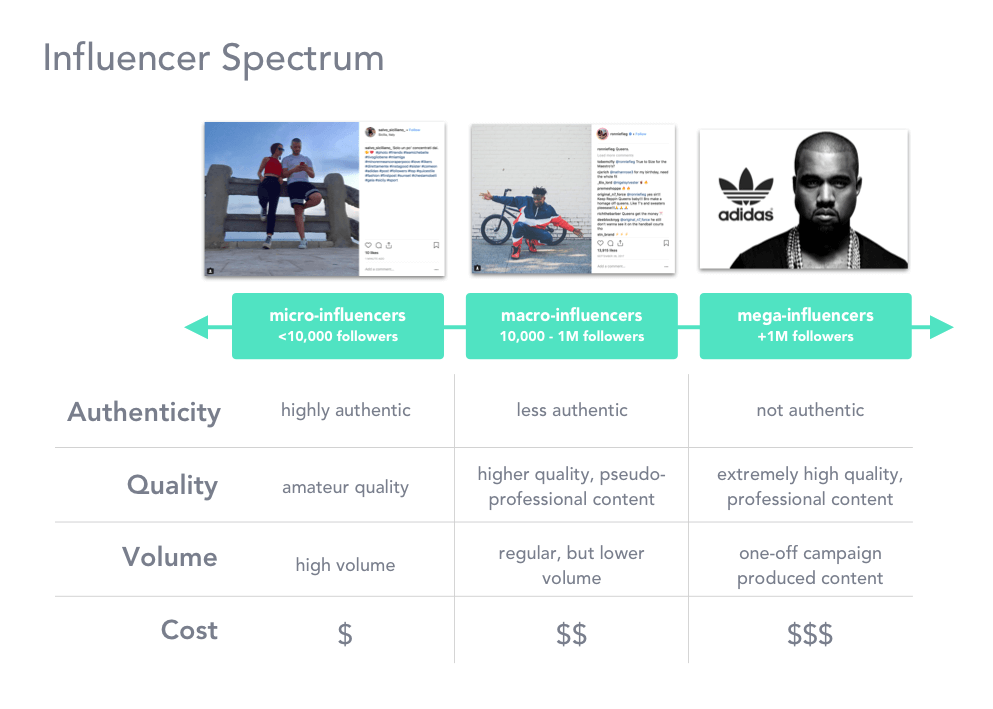 Popular influencer platforms include Revfluence, Upfluence, and Tapinfluence. However, this guide is all about UGC Platforms, so we won't go into deeper detail about influencer platforms.
But, if you're choosing between using an influencer platform or a UGC platform for your campaign, make sure to consider which part of the spectrum you aim to target that will advance your marketing goals the most.
You should choose a UGC platform if:
Your brand already has a supportive audience
Your audience is already sharing content
Your audience isn't already sharing content but could be called on to share content in the scope of a campaign
Engagement is as important as reach
On the other hand, you might choose an influencer platform if:
Your brand needs to build an audience from scratch
Your audience does not or will not share content
Reach is more important than engagement
Now that we've got the difference between a UGC and Influencer platform out of the way, let's take a look at how to choose the right UGC Platform.
What to consider in a UGC Platform
Before you choose a UGC platform, there are a number of aspects you should consider:
We'll go over each of these in greater detail and give you questions to ask yourself as you evaluate different platforms:
1. Features
Oftentimes, a platform will sell itself as everything to everyone. However, they each have a core set of industries where their strengths lie. Different platforms will have different and unique features that lend themselves more to certain use cases. UGC Platform features generally fall into the following 4 categories:
Aggregation – Aggregation is all about what kind of content a UGC platform pulls in. Almost all platforms support Twitter, Facebook, and Instagram, but some also include niche sources such as Slack (great for employee-generated content) or review sites like TripAdvisor (perfect for travel and hospitality content).
Display – Display is all about whether the platform can take UGC and display it through various channels. For example, web (social hubs and campaign microsites), screens (retail activations, digital signage), events (social walls, social Q&A), email, print, and broadcast (UGC on Live TV).
Publishing – Publishing is all about having features that allow you to post content back onto social networks. This is a less common feature set, but it includes some nice-to-haves such as having an "inbox" that lets you message users who have contributed UGC or having scheduling features that allow you to repost UGC on your own account.
Analytics – Most platforms include some analytics capabilities to help you understand the impact the platform is having on your marketing. Some even go so far as to focus their UGC product entirely on the analytics side.
In addition to feature categories, platforms also distinguish themselves in certain industries. The features they choose to spend more time developing influence the kind of customers that tend to succeed with their platform.
The easiest way to see what industries a platform focuses on is to take a look at their client lists and look for trends among the featured logos. TINT supports e-commerce, fashion brands, broadcast television, sports, travel, agencies, hospitality, higher education, and events.
Here are some questions to ask to ensure you are landing in the right place:
What kinds of customers and industries succeed the most with your platform?
If you had to give a score from 0-10, how would you rate your platform in the following categories: aggregation, display, publishing, analytics?
What use cases for the platform are the most relevant for my business goals?
Who are the competitors to this platform? How does your platform differentiate?
2. Ease-of-Use
How easy a platform is to use can make or break the success of its implementation. For example, consider what might happen if your team isn't willing or able to learn how to use the platform.
Getting a demo or a free trial and taking the time to try out the platform is important to assess its usability and its suitability for your needs.
Here are some questions to ask about the UGC platform's ease-of-use:
Does the product have a free trial? (usually, only easy-to-use products will include a free trial. Others will offer a demo that is overseen by the SaaS provider)
Will my team need an onboarding/training session, or will they be able to learn it on their own and get started right away?
Do you need to know how to code to use the platform?
3. Customizability
A customizable User Generated Content platform helps you align your efforts with the brand standards of your organization.
Some platforms offer API integration so that you can completely customize the look and feel, but you might need a developer in order to explore this fully. Some platforms do not allow you to customize important parts of their platform on your own.
Here are some questions to ask about customizability:
Can you show me some examples that highlight the customizability of the platform?
What parts of the platform can I customize on my own and what do I need to reach out to your team for?
4. Integrations
Integrating your User Generated Content platform into the rest of your marketing stack helps scale the value that the platform provides by making it part of your overall marketing workflow.
First, you need to understand your own marketing stack. For example, what CRM are you using? Are you using a digital asset manager? How are you collecting and analyzing marketing metrics?
Then, be ready to discuss whether there are any valuable integrations for your marketing stack that are already built-out in the platform.
Here are some questions to ask about integrations:
What integrations does your platform support that will help me save time and money?
5. Reliability / Support
The last thing you want to do is to commit to an annual contract only to find out that their support team is on the other side of the world in a different time zone. When you have questions, you need to have them answered—fast—so it's important to find out what levels of support are offered and be confident in the reliability of the platform in general.
Questions to ask about support:
How many years has the platform been around?
Where is your company headquartered?
During what hours can I expect to reach the support team?
Do you offer different support plans?
And don't forget to check the status page for the platform to see how reliable they are: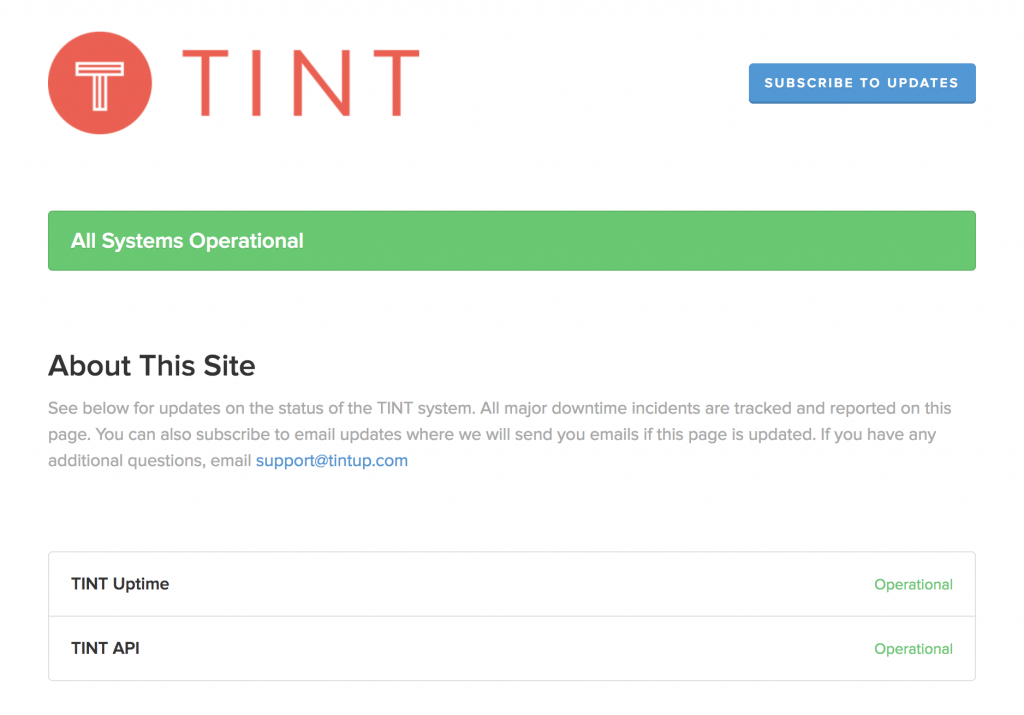 6. Security
Security ties in with reliability and support, but it deserves a separate mention because it is such an important topic. If you are an organization that is of any meaningful size, it's important to know how secure the User Generated Content platform is before you dive in.
Worst case scenario: You are using the platform to display UGC and attackers gain control of your web or screen displays. Or, attackers gain control over your social accounts' tokens.
Questions to ask about security:
Do you have formal security policies in place?
Does your engineering team run independent penetration testing?
Has there ever been a hack or data breach within your platform? If so, what happened?
Does the platform adhere to secure file upload best practices?
Trust-Driven Marketing
Among UGC platforms available today, there is one among top contenders that stands out in delivering trust: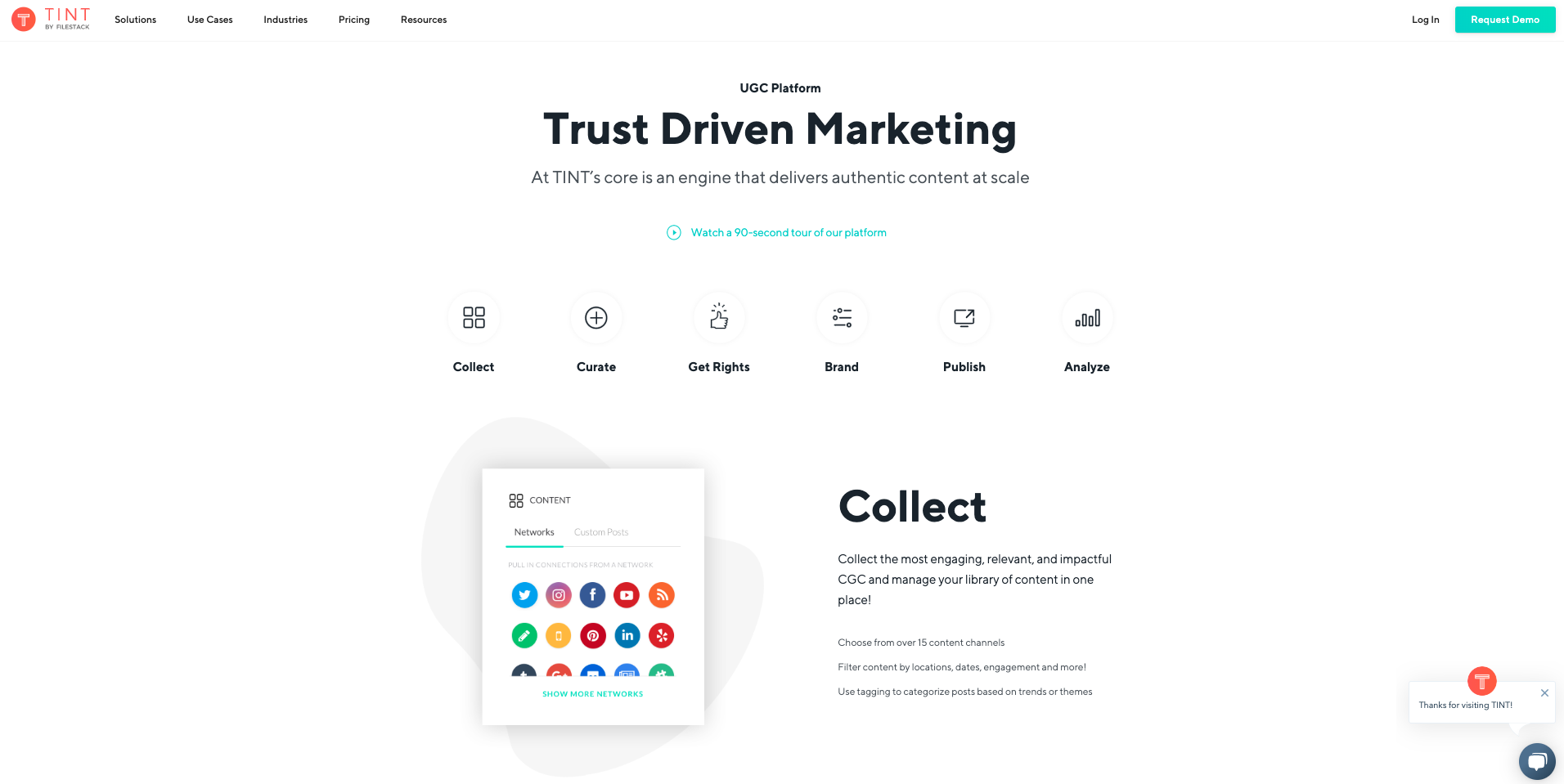 TINT supports events, e-commerce, agencies, hospitality, travel, entertainment, sports, higher education, and non-profits, and fully-featured events and signage products on top of being the enterprise UGC platform.
Due to the fast pace of change in digital marketing, it's all the more important to identify trusted partners to help you execute your innovative campaign ideas leveraging the power of UGC and trust-driven experiences. Request a demo and leverage authentic user-generated content across all your marketing channels to deliver trust, at scale.