Two weekends ago, the three founders of our startup: Nik, Ryo and I, took a weekend retreat to the woods. The founder's retreat was sparked by the massive growth our company has experienced — from 3 to 37 people in less than three years, a brand new 10,000 sq ft office space, and one big question: what kind of company do we want to build?
Getting together with just the three of us made us remember the old days when Ryo and Nik, our technical co-founders would hack things together late at night, while I kept them company and growth hacked the business side of TINT. As much as we love how big our company has become, we missed those early-startup days building the company with just the three of us.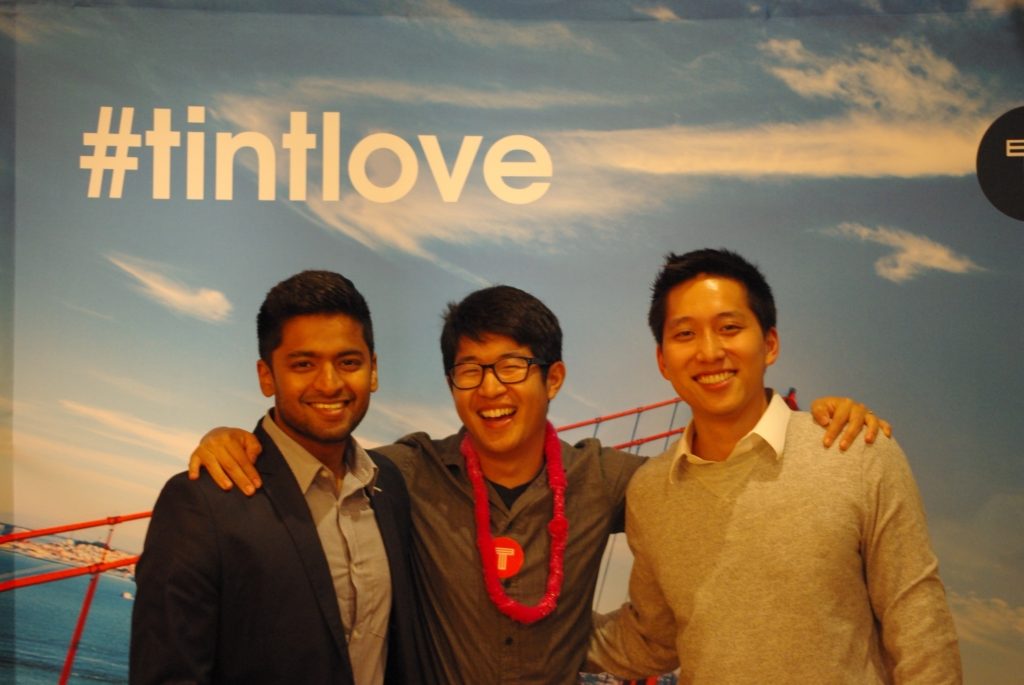 So during our retreat, we decided to do something lightweight and powerful for our product, building the feature, the landing page, and the deck of use-cases with just the three of us in 2 days. It was fun remembering how we used to hack things up late at night, and I am proud to say that just one week later we've released the feature to our customers. Let me tell you what we built and why.
We decided to integrate Slack, the popular office communication app, as a channel in our product. This means that in addition to social channels, like Instagram and Facebook, TINT users will now be able to collect content shared from any public channel in their Slack, and display it on the company's About Page, screensavers, or even public screens around the office.
We wanted to help organizations increase employee advocacy and engagement in a social and simple way.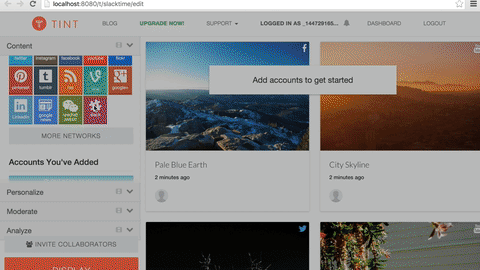 Slack as a Social Channel

Slack is not your typical "social network." Unlike Twitter or Instagram, most conversations in slack are private. And companies or organizations have closed networks — you can only contact other colleagues within your organization through your slack account.
In addition to private messaging, slack has "channels" that any number of employees in an organization can view and participate in. A typical channel might be devoted to one topic, like #winning or #customer-requests or #announcements.
But the basic premise of TINT works just as well for a private social channel as a public one: that when you display content created by people who love your brand (be it employees or fans), they will feel compelled to create and share more content on your brand's behalf. And that can be yield huge ROI for your organization…
The Value of Getting Your Employees Sharing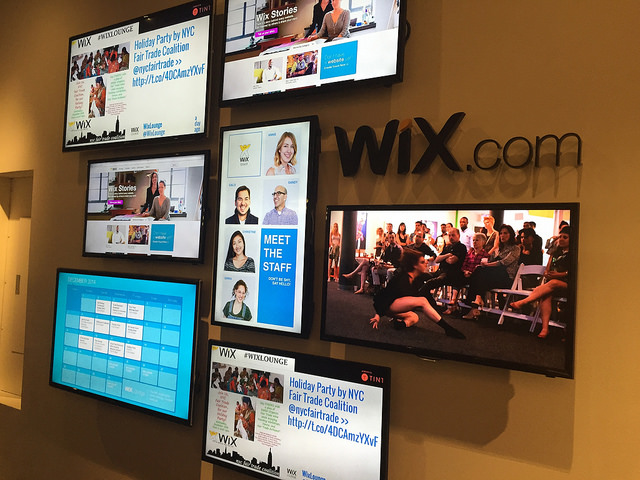 Our typical customers use TINT because getting your audience to share more on social channels has many advantages. One of the big ones is that every time someone shares content so they can see it on a big screen or your website, that content is also sent out on their social networks, to their followers. They become your marketing force.
For slack, the effect is the same: employees sharing more. But the motive is a bit different.
Rather than "User Generated Content" (UGC), we call this "Employee Generated Content" or EGC. Increasing the amount of EGC is a powerful move for any business. According to the National Business Research Institute, a 12% increase in brand advocacy generates a 2x increase in revenue growth.
"In today's environment where there is an alarming lack of trust in all institutions, employees are increasingly the key prism for brand credibility and trust. Engaging them can provide companies the best way to humanize and unify their enterprise voice — a strategic imperative in today's environment."
–Micho Spring Chair, Global Corporate Practice Weber Shandwick
Couple these two stats, and you can see the power of encouraging employees to be brand advocates. At TINT we spend huge amounts of energy investing in our culture, because we see the value in keeping our employees engaged.
By displaying our #fun Slack channel (full of team photos) on screens in our offices and our #winning Slack channel (full of accomplishment announcements) on our laptop screen savers, we are uniting the strength of our brand and external successes with the culture we've built in our office.
Reasons to Collect Employee Generated Content
There are two big reasons that collecting Employee Generated Content can impact your bottom line:
1. Employee Advocacy
2. Employee Engagement
Both of these can supplement other efforts, like providing great photos and fodder for recruitment materials, or displaying wins submitted by employees across the office — maybe even connecting offices in different locations. At TINT, we use our screens to display content from our #self-improvement program.
According to the Edelman Trust Barometer, employees are trusted more than celebrities and CEOs, having about the same clout as a journalist. Employees are the biggest marketing assets and best advocates your organization has, yet they're often untapped. By curating and displaying their Slack messaging content onto public screens, you empower them to be the voice and content creators for your brand. This results in increase of employee engagement and employee awareness of all the amazing moments your team has.
Where will organizations display their Slack Content?
From recruitment to company-wide campaigns, celebrating wins or just getting employees to discuss what they like and what they want to improve upon, motivating employees to post requires one critical step: having a place to display that content.
Brands that use us for social engagement often display content on their websites, screens in stores, digital billboards, or jumbotrons at events. These are all great options for Employee Generated Content as well, but bringing EGC into your office offers a few more options.
In Office TV Screens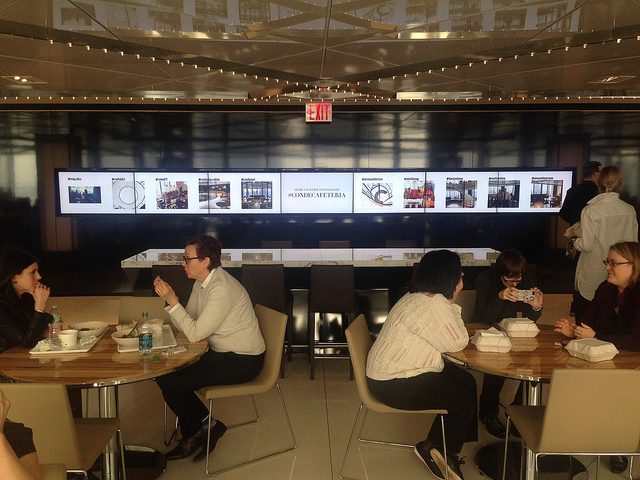 It's easy to connect TINT to TV screens around your office with our Chromecast integration. We've seen some amazing office displays, from giant screens showcasing EGC in the Conde Nast cafeteria, to funky displays at Wix HQ.
Company Computer Screensavers
Rather than a slideshow of nature pictures or nothing at all, computer monitors can be turned into EGC displays in their downtime. Using Screensaver Ninja & TINT, curated content from a slack #winning or #fun channel (for example) can become everyone's desktop screensaver and help motivate everyone as soon as they start their day at work.
#winning
Ultimately, integrating Slack will just make it easier to do awesome initiatives with Employee Generated Content. Curious about all the ways current TINT customers are already using employee content to move their company forward? Check out this post with real examples of how EGC is being used for recruitment, creating support for new company initiatives, highlighting employee knowledge, and improving internal communications.
Learn more about how Slack works with TINT and give it a try.