Although hashtags were created as a way to organize the massive amount of content working its way through Twitter, they've since evolved into something much more. Successful hashtag campaigns have become a way for people and brands to create conversations, interact with friends and fans, and promote their products to massive amounts of new users.
There are two main ways brands can take advantage of hashtags for their marketing efforts: creating their own hashtags and taking advantage of trending hashtags. Each has its own benefits, shortfalls, and fantastic examples that we'll explore.
Brands Creating Their Own Successful Hashtag Campaigns
Creating a new hashtag is difficult but, if it catches on, the brand behind it benefits from the lion's share of credit and awareness.
Another main reason you'd want to create your own hashtag is so you can guide the conversation, and in so doing, control the kind of content fans submit using your hashtag. For example, if you look up Purina's campaign #PetsAtWork you'll see just that: people posting pictures of their pets in their offices.
However, it's not as easy as inserting a hashtag before any old phrase and reaping the rewards. These days there are so many horror stories out there of brands who have had the hashtags that they've created used against them to smear their brand. Try to avoid a social media explosion by creating a tag completely free of ambiguity, which allows you to effectively steer the conversation in a direction favorable for your brand.
1. #PutACanOnIt—Red Bull
This year Red Bull came away with the prestigious "Best Use of A Hashtag" Shorty Award with its #PutACanOnIt campaign. Though the hashtag was created by Red Bull, it was inspired by a photo the company found on Twitter wherein the photographer is seen holding a Red Bull can above a Mini Cooper to make it look as though it was a trademarked Red Bull car.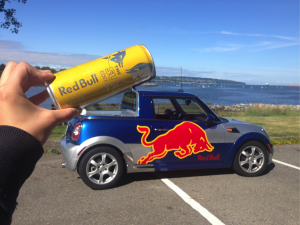 The trend exploded as people around the world began creating their own images with Red Bull cans placed in unique positions.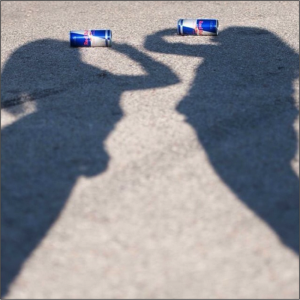 2. #ShareaCoke—Coca Cola
Coca-Cola has had some seriously amazing marketing initiatives over the years. One of the best examples is the unique way the brand rigged its vending machines to interact with customers.

But one of the campaigns you probably didn't miss was the Share a Coke initiative. Coke has been producing bottles and cans of their product labels that say, "Share a Coke With…". Each can has a different name or title, such as "Share a Coke with Mom" or "Share a Coke with Michael."
Coca-Cola was able to successfully turn this into a hashtag campaign by encouraging drinkers to Tweet their own stories with the hashtag #ShareACoke. This campaign hasn't just garnered hundreds of thousands of Tweets, but it has also given Coke the opportunity to create new sub-campaigns. For example, submitting a bottle or can with the name "Ryan" on it could win you a chance to #ShareACoke with Ryan Seacrest.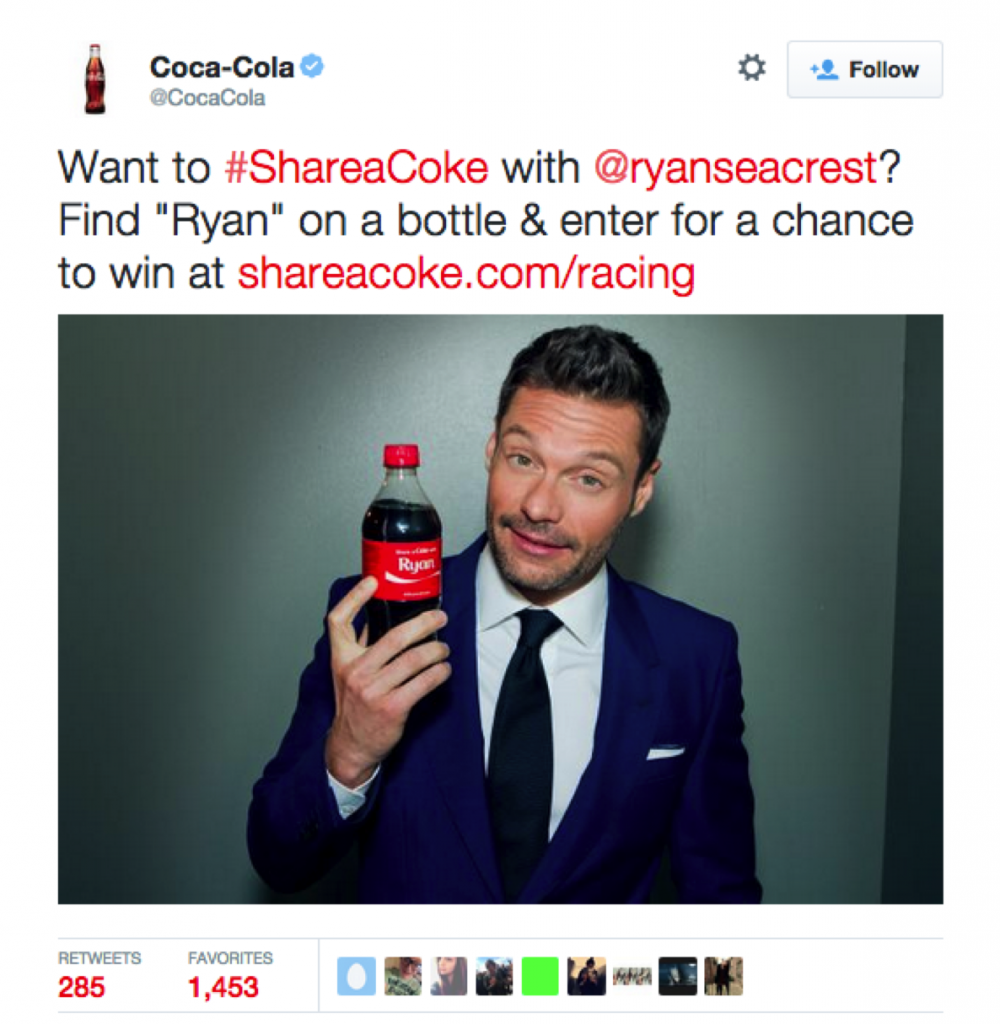 We'll likely see quite a bit more of the #ShareaCoke campaign over the next couple of years, as Coca-Cola continues production of the unique bottles and cans.
3. #TweetFromTheSeat—Charmin
Not every company has a glamorous product to market. In fact, some companies may be selling something so mundane that they find it hard to find content to create. A prime example of this is the toilet paper manufacturer Charmin. The tissue company broke out of its 'boring' niche with the campaign #TweetFromTheSeat, which had people use that hashtag when they, well, you know…
Though some of the more bashful fans may not have found it entertaining, Charmin's #TweetFromTheSeat campaign found wild success on Twitter, and the company has been steadily increasing its Twitter following since. However, the squeamish should read at their own risk—some of the posts get a little strange.
4. #OreoHorrorStories—Oreo
Oreo, a company notorious for its fantastic social media presence, really outdid itself when it created one of the most fun Halloween hashtags of all time. The cookie company used Vine to create quick Oreo-themed parodies of popular horror films
Oreo, in Association with Milk, Presents: The Spilling. #OreoHorrorStories Now playing at https://t.co/O2zWHh5IgI #Halloween

— Oreo Cookie (@Oreo) October 29, 2013
This was an amazing example of using something topical to create a relevant campaign, and Oreo saw tons of engagement on its posts.
Brands Creating Successful Hashtag Campaigns
Using a well-known hashtag—or attempting to hijack a trending hashtag—is a dangerous move, but one that can really pay off if it works out for you. The key for riding the success of a trending hashtag is to make sure that it isn't a controversial trend, and that it's relevant to your brand.
Unfortunately, sometimes brands miscalculate the proper time to use a different trend. For example, pizza company DiGiorno decided to use the then-trending hashtag "WhyIStayed" in a Tweet to promote its product. What Digiorno probably didn't realize was that this hashtag pertained to domestic abuse, and the company faced a social uproar for using it.
5. #WantAnR8—Audi
Audi's #WantAnR8 campaign is still looked at as one of the single most successful Twitter campaigns in history. It all started when the car company saw that somebody had sent out a Tweet with the hashtag #WantAnR8 to explain why they wanted an Audi R8. Audi quickly created a contest that bolstered the use of this hashtag. All users had to do was create and post a Tweet using that hashtag and they were entered for a chance to win an R8 for a day.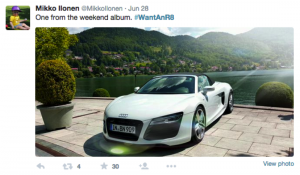 For a while, this was the most engaged hashtag of all time, and Twitter called it the most successful campaign ever at the Cannes Lions 2012.
6. #NationalFriedChickenDay—KFC
Sometimes a trending hashtag just works out perfectly for a brand. One such time was when #NationalFriedChickenDay started trending and Kentucky Fried Chicken took complete advantage of it.

This is such an amazing opportunity because KFC isn't just getting its name in front of a ton of people, it's getting it in front of a ton of qualified, hungry customers.
7. #CollegeIn5Words—Denny's Diner
A lot of times you'll see phrases like this trending on Twitter, asking users to summarize a certain activity or event in a few words. Denny's Diner, a company already very well known for its funny Twitter presence, took advantage of one such trend all about explaining #collegein5words.

This is a perfect example of taking a trend and making it relevant for your brand. It lead to a great amount of engagement for Denny's.
Tools to Create Successful Hashtag Campaigns
Hashtags can lead to fantastic engagement on social media, but they can also require quite a bit of effort to maintain. Here are a few tools that can help you effectively manage your hashtag campaigns.
Use TINT to Aggregate Your Engaging Hashtag Campaigns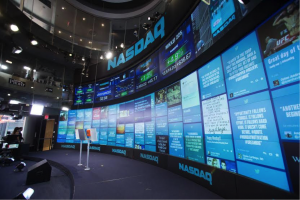 TINT lets you connect and display any social media feeds and hashtags. Easily create a new display that shows off your individual hashtag campaigns to use at events, in stores or even just at the office.
Use Sprout Social to Find Great Hashtags to Use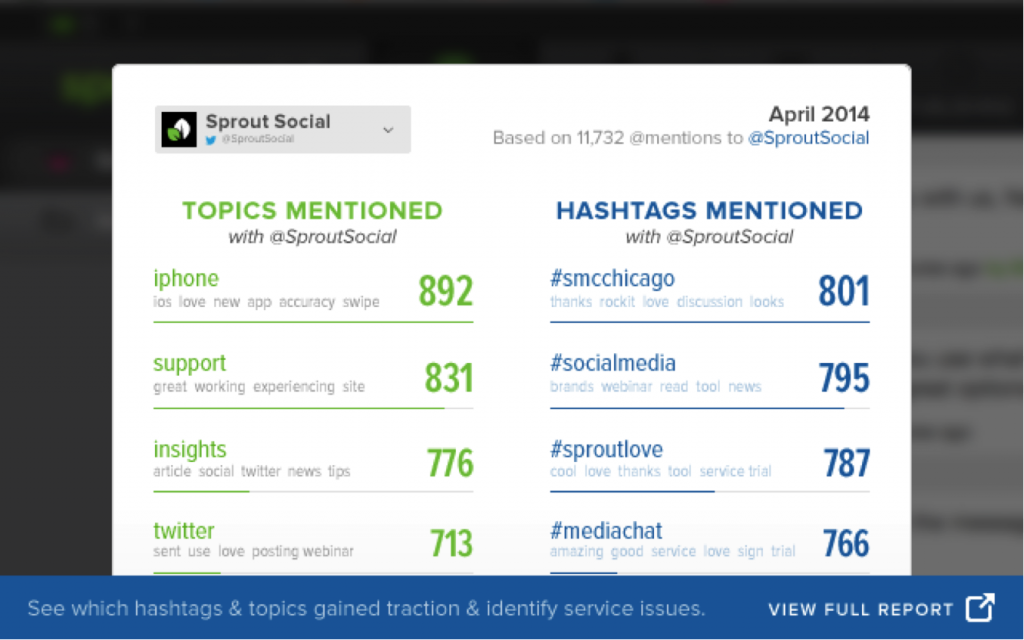 When you're thinking of hashtags that you could use to engage with your audience, it's also beneficial to look toward your audience. Find the keywords and hashtags that are already associated with your brand, and bolster the positive ones. With something like Sprout Social's Trends report, it's easy to find out exactly which terms are being associated with your brand most often.
Conclusion
Though hashtags have been somewhat stigmatized in popular culture, they really do play a crucial role on social media when used correctly. Hashtags give users the incentive to categorize their own social posts, making it easier for other users to find content relevant to what they're interested in. Hashtags are also an easy way to distribute popular news to groups of social users who may not have been actively searching for it, which is why hashtags are here to stay.
Also, if you have any hashtag campaigns you want to launch and need help boosting engagement, feel free to reach out to our content experts or start a free 14-day trial!