Authenticity has a high price these days.
Look:
As the marketplace is getting more crowded, modern customers are spoiled with the amount of branded information they receive daily from all sides, so they don't trust companies who keep a focus on their products, not their customers.
To make your customers want to buy your products, you need to make them trust your brand first. If you want to stand out from the crowd, authenticity isn't an option these days.
It is harsh but true: 84% of millennials don't trust advertising messages; 78% of customers believe brands are not open and honest; 42% of users claim to distrust brands.

The bottom line? Customers crave for authenticity. According to a study by the Boston Consulting Group, customers identified authenticity as one of the top qualities that would attract them to a brand.
Thus, boosting brand authenticity is a must, and here is the list of ways how to do it on Instagram, one of the fast-growing social media platforms:
1. Think About Your Customers First
No matter what your business sells, you need to put your customers first to boost brand authenticity (and grow revenue).
If you pay attention to your customers and their needs, they will return the favor twice.
When it comes to Instagram, it's not just about sharing and seeing photos, it's about building visual social interactions with other users.
What does it mean? People are obsessed with receiving approval from others via the Internet.
If you publish content on your IG account, that's great. And if you think about your customers, that's even better!

To stay authentic, you need to like and comment on your potential customers' posts and encourage their content creation as they have put effort into it. Another proven way is to remember their names:
Holding real one-on-one conversations is a great way to build authenticity, so you need to keep your customers in mind while running Instagram accounts for your business promotion.
The takeaway: Instagrammers crave for genuine likes and comments, so be interested in their content (not promoting your product), and they will never forget you.
2. Leverage User-generated Content
Truth to be told: customers don't like professional photos that seem too good to be true. The survey by Ipsos OTX has revealed that 69% of respondents believe media people lie as they want to sell products, brands, and ideas more effectively. In plain English, people don't trust overly polished images.
But:

Don't try to make your marketing look like something that isn't marketing.
In fact, 70% of the time, they can tell the difference between consumer-created content and brand-created content. Thus, trying to trick your customers isn't a way out.
The solution? Rely on user-generated content!
Instagram users upload more than 80 million photos daily. Instagrammers enjoy producing content, so user-generated content marketing is on the rise without a doubt.
Brands like Starbucks and GoPro publish UGC, and it gives great results. For example, Starbucks often post user-generated content with an author's tag, and it keeps the audience engaged as Instagrammers want to be featured on top accounts to increase their popularity.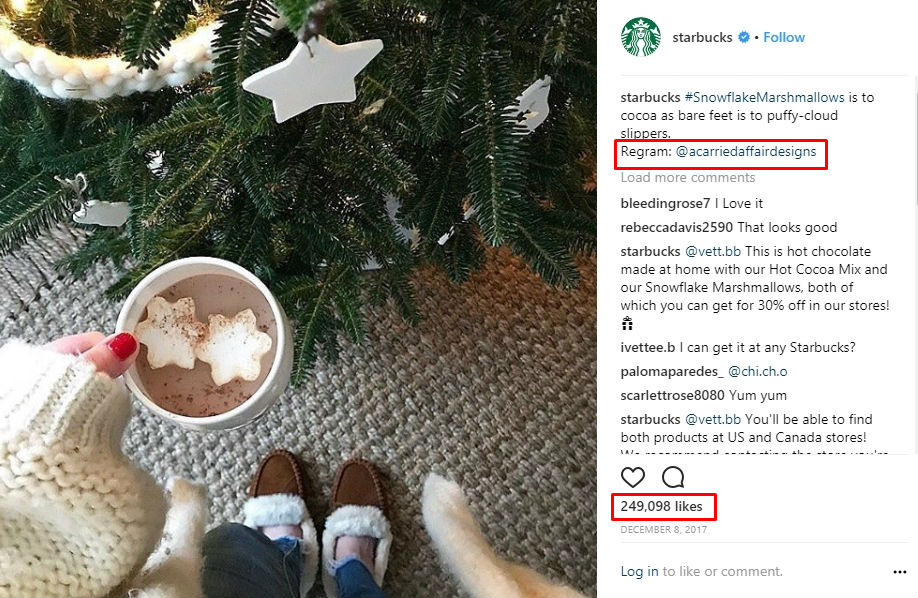 Regramming posts with Starbucks-related hashtags, the company has achieved amazing results as their campaign allows nurturing customer relationships and, therefore, build trust.
Any proof needed?

The Day of Giving at Purdue University is an annual event that generates an organic buzz, so it has become a perfect time for boosting engagement. By implementing a TINT feed onto a dedicated page on their site, Purdue University raised $28 million in 24 hours with the power of UGC.
While big companies don't have to ask their customers to produce UGC, it can be a problem for small businesses to leverage user-generated content. Thus, they need to seek out ways to encourage UGC.
UGC doesn't require much money and effort, and it is 35% more memorable and 50% more trusted than traditional branded content, so it's worth giving a try.
The takeaway: track your brand mentions to find UGC and share it on your profile to create a sense of authenticity.
3. Create the Sense of Urgency with Live Stream
Ephemeral content is not a marketing buzzword. It's a trend that allows marketers to hook and keep their audiences interested. More and more brands post content that disappears within 24 hours to provide followers with interesting and urgent content without spamming them on the main feed.
Yes, going live has become important.
Why going live is crucial? As a part of the ephemeral content, it creates a sense of urgency, and followers are more likely to join your stream in order not to miss something important.
As Salesforce has revealed, live streaming improves 'brand favorability' in viewers, so it must become an important part of your marketing plan. When companies go live, they showcase company transparency and, therefore, build trust.
Examples?
One of the fastest growing indie athletic apparel brands in America, Beyond Yoga, nailed Instagram marketing. Keeping up with current trends, the company makes the most out of popular updates, and it leads to great results.
Online shoppers are afraid of buying items that won't suit them, so sellers should do their best to avoid deterring people. Beyond Yoga knows it, so they opt for showing off their products with Instagram Live Stream, and it helps customers understand what they can expect after buying their products.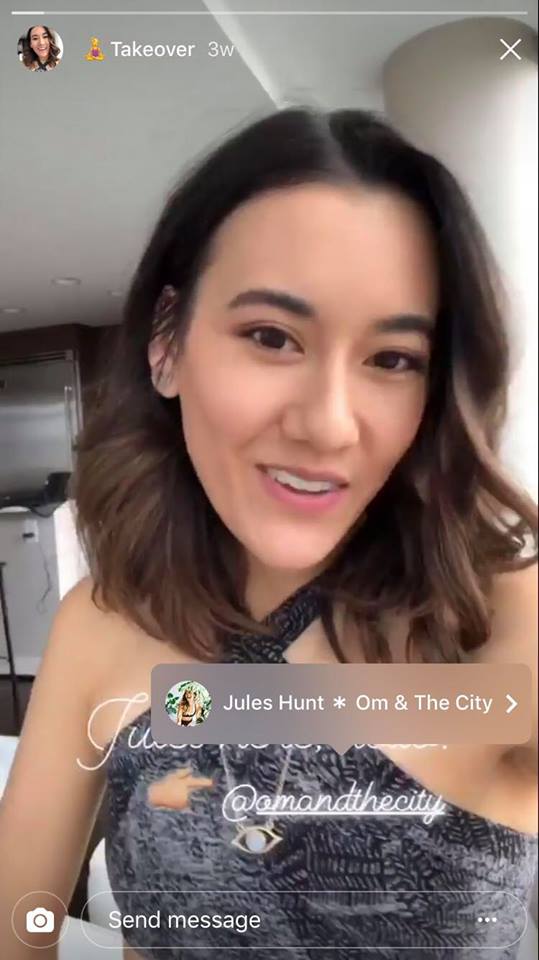 Live streaming requires time and effort as you need to produce high-quality content in real time. Customers understand it, so the payoff is huge as live videos allow you to give your customers another unique reason to follow you and maintain genuine relationships with your followers.
The takeaway: No matter what you want to live stream, whether doing your product review or sharing behind-the-scenes episodes, going live is a proven way to raise the potential of FOMO (fear of missing out) to grab your followers' attention.
4. Handle Negative Feedback
Running a business account on Instagram, it's nearly impossible to avoid getting negative feedback even if you have the best product ever. You just can't suit everyone's needs and expectations.
Nowadays customers flocking to the platforms where they can complain about your product or service and get a response. Leaving a feedback on social media is easy as customers can reach you wherever they are.
Yes, your customers want to be heard. Instagram has become an important part of customer service, and selling your products isn't enough to boost authenticity.
Still, wonder why should you care about complaints on Instagram?

It's about your reputation.
When your customer posts something about your brand on social media, be sure the whole social media audience can see it. And what is more, news of bad customer services reaches more than twice as many ears as praise for a good service experience.
Building the customer trust and loyalty is hard, but regaining is even harder. In fact, it takes 12 positive experiences to make up for one unresolved negative experience, according to Glance.
Moreover, dealing with negative feedback is a way to hold already-existed customers. The same survey revealed that 70% of unhappy customers whose issues were resolved in their favor said they would return to purchase from that company again.
So, how to handle the negative feedback the right way?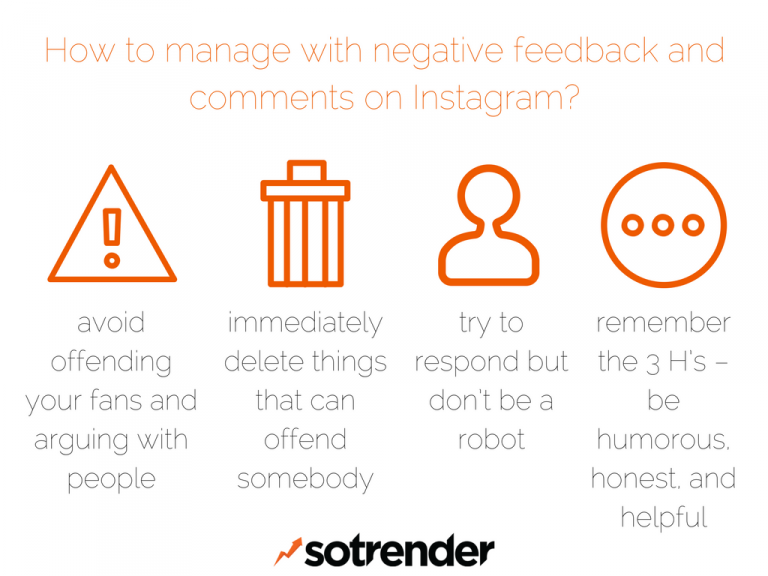 Obviously, you put much effort into creating and promoting your product, but maintaining great relationships with your customers is a must if you want to attract new loyal customers and keep already-existed ones.
Listen to your customers and their thoughts and boost brand authenticity.
The takeaway: Negative comments show that you're a true, honest brand. Don't hasten to delete negative comments – show your potential clients that you care about them and try to solve the problem quickly.
5. Stay Active Online
Social media marketing has changed the way companies and customers communicate. Your followers crave for a two-way conversation.
It doesn't require much time or effort for a consumer to contact a company through social media. Modern customers can ask a question once the idea strikes them – in the morning, while working, on the way home, or in the middle of the night. And they expect you to react quickly.
Yes, people value their time.
As specified in the LivePerson report, 71% of visitors expect to access help within five minutes when making a purchase online, while 31% expect this help to be immediate.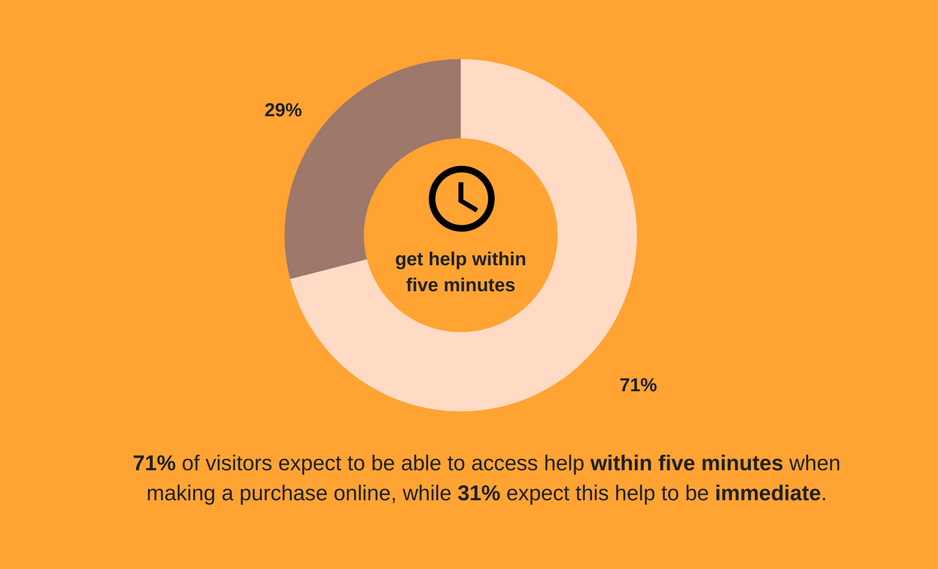 Most companies claim they take care of their customers, and when they don't reply to their requests fast, they fail. As Andrew Sykes, CEO of Habits at Work, says: "Great companies are ones where 'what they say' and 'what they do' is a perfect match."
If you have decided to run a business account on Instagram, get ready for being available 24/7. The faster you reply, the better. Otherwise, it decreases the level of brand authenticity and leads to negative results.
The takeaway: turn push notifications on in order not to miss important comments, requests and direct messages.
6. Collaborate with Influencers
Traditional advertising doesn't work anymore. For customers, most ads are deceptive, intrusive, and disruptive. People prefer to rely on opinion leaders when it comes to making purchase decisions.
Some statistics to back it up:
88%

of consumers say they trust online reviews as much as personal recommendations

71%

of consumers feel more comfortable making the purchase decision after researching user-generated reviews

49%

of consumers state they rely on recommendations from influencers when making purchasing decisions
Opinion leaders aka influencers have already established their authority in a niche and can influence their followers. Instagrammers love, follow, trust them and, therefore, listen to their suggestions.
Thus, influencer marketing has become a goldmine for marketers to promote their brand without investing in advertising.
But:

Many marketers believe it costs big bucks to collaborate with influencers.
If you believe reaching out to influencers takes a lot of time and effort, you should understand the difference between micro- and mega-influencers first.
For a variety of reasons, collaborating with micro-influencers gives better results without spending much budget. As you enter an already-established communication, you can reach a potential niche-focused audience and deliver the genuine message about your product fast.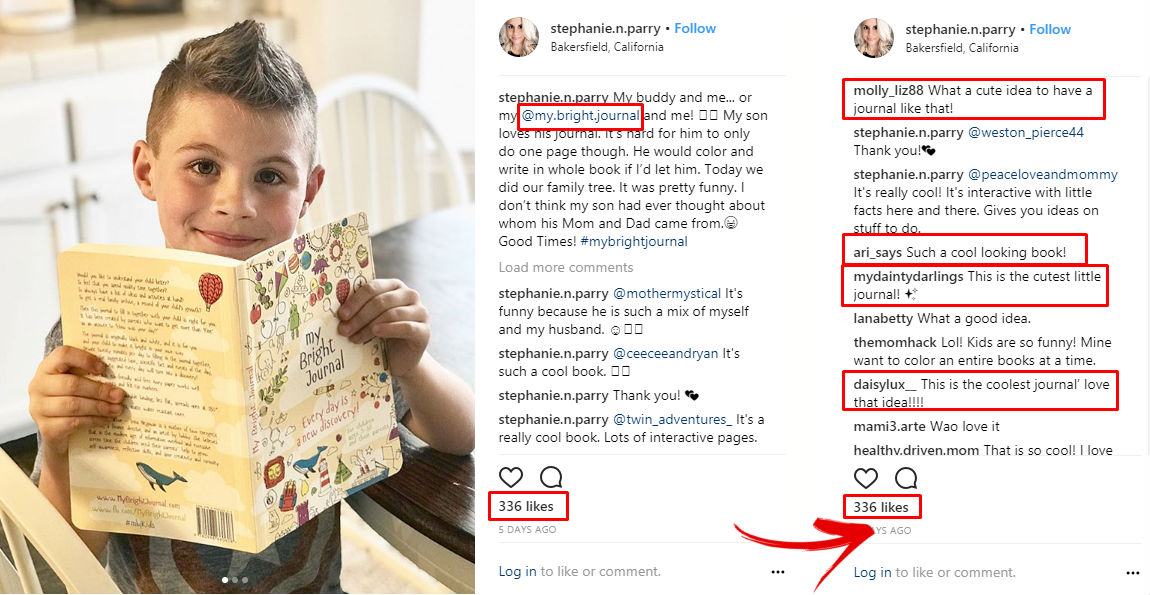 Source
Influencer marketing has boomed over the past years, and it's not a problem for any business to find a perfect opinion leader to collaborate. Moreover, it gives an opportunity to stay genuine while promoting your product.
The takeaway: collaborate with micro-influencers to save your time and budget.
7. Send Branded Freebies
Who doesn't love contests and giveaways?
It's in human's nature to want something for free. If you have ever come across a contest on Instagram, you may notice how much engagement it causes.
Instagrammers want to be rewarded for their likes and comments, so they love contests. And marketers know that running giveaways is a way to gain trust. Moreover, you don't have to invest much if you send branded freebies as prizes.
Obviously, giving out your product samples is cost-effective. However, sending branded freebies has another benefit as it leads to converting followers into customers.
Look:
73% of consumers are more likely to buy a product after trying it.
Giving something for free is a proven way to gain customers' trust, but organizing branded giveaways helps to increase customer retention.
Let's take a look at Passion Planner, a company that helps people achieve goals. Being active on social media platforms, they actively promote the product on Instagram, and organizing easy-to-enter giveaways is one of their strategies.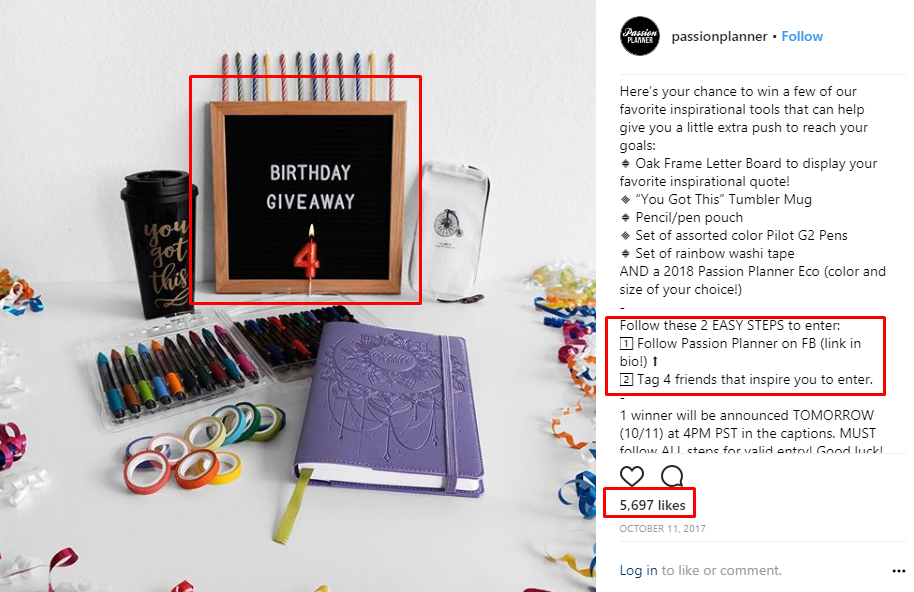 When running a giveaway, remember it should be genuine to build trust and boost authenticity. Thus, picking your friend as a winner isn't an option. If you struggle with calculating results, you can rely on professionals to identify the winner.
For example, you can turn to MC2 (Programming) to order a custom script to select the winner as it's easy and fast. After all, delegation helps to escape the stress without sacrificing your authenticity.
The takeaway: running giveaways is a perfect way to increase your following, attract new potential customers, and build brand loyalty.
In Few Words
Prioritizing brand authenticity matters.
Artificial ads bombard customers from all sides, trying to sell products even if they aren't good enough. People are fed up with lies, and being honest with your customers is a proven way to keep them and attract new ones.
More and more brands set foot in Instagram marketing, so knowing ways how to boost brand authenticity is important to stand out from the crowd.