WordCamp San Antonio was preparing for its fourth conference when COVID-19 struck. The organizers swiftly made a decision to convert the event to a virtual activation. Their team had two weeks to turn a two-day conference into the world's first all-virtual WordCamp. The event previously peaked at 350 attendees representing the local and regional WordPress communities. But this year's virtual conference had over 1,300 participants representing dozens of countries.
TINT had the pleasure of being both a sponsor and presenting a talk at WordCamp San Antonio. Here's 9 Lessons we learned from WordCamp San Antonio.
Are you ready to make history?

Susan Smylie, WordCamp San Antonio Lead Organizer
Unfamiliar with the WordCamp format? Learn more here.
1. People are seeking quality, relevant content about things other than COVID-19
The sentiment can be summed up in a tweet from WordCamp San Antonio keynote Jocelyn Mozak.
I don't think I've felt this good in a while.

Speaking and attending @WordCampSATX, all be it virtual vs in person, is the closest I've felt to "normal" in a while

Thank you ❤️#WordCamp #WordPress #WCSATX

— Jocelyn Mozak 🔜 #RCS20 🎤 | Coach & Agency Owner (@JocelynMozak) March 29, 2020
People are looking for a sense of normalcy. Many of the webinars and streaming sessions currently in distribution are focused on conducting business in light of COVID-19. WordCamp San Antonio, while still having sessions about the virus, was more focused on continuing business as usual. There was no doom and gloom about the state of the world. WordCamp kept to its mission of sharing the best ideas and content for WordPress users, developers, and marketers.
This was the content that people around the world needed. A quick check of attendees sees an expected showing of people from San Antonio, Austin, and other parts of Texas. But zooming out, there were attendees from dozens of countries joining the streams. This is incredibly powerful when you consider that the time difference meant some of these people were joining late at night or early in the morning to be part of this virtual event community.

Mozak points out in her keynote that the organizers have turned this event from WordCamp San Antonio into WordCamp World.
2. It is possible to flip an in-person event into a virtual one, even on a short timeframe.
Friday the 13th is a day known for bad luck. WordCamp San Antonio organizers learned of their venue cancellation on that fated day. They quickly made the decision to flip from an in-person event to a virtual one. This was going to be a tight turnaround, just 15 days before the event was slated to begin.
With the event mapped out, schedule programmed, and volunteers ready, it was all about shifting the conference to a digital venue. But venue selection is one of the most important, and often time-consuming, elements of special event planning. There was not a singular platform that would allow for WordCamp San Antonio to directly translate their event.
We've written previously about strategies to help events go digital.
"Part of what got us here is ignorance, and not really understanding what it would take to put it on," said Susan Smylie, owner of The Box Web Design and lead organizer of WordCamp San Antonio 2020. When faced with overwhelming adversity, her team said: "Yes, we could do that".
WordCamp San Antonio elected to build their event venue from a variety of services. The core streaming for keynotes and breakout sessions was Crowdcast, a streaming conference tool. Exhibitors were listed on the website and linked to their own Zoom rooms that served as "booths" where attendees could interact with these sponsors. There were also Zoom-powered "hallways" that speakers would drop-into after their session to chat directly with attendees.
A sample "Booth" :
#WCSATX Don't forget to say hi and snap a screenshot selfie with our @Godaddy Pro team for a chance to win a $200 Amazon gift card ! #Makersoftheweb pic.twitter.com/SHYq8jxGG4

— Tayler (@itstaylermariee) March 28, 2020
3. A solid team will make or break your event.
"It wasn't technical skills that made this possible. It was soft skills, it was communication… it was force of will. It represents the best of what WordCamp is about," said Susan Smylie, lead organizer.
It is the team that makes it happen. Communication is often the most important factor of any successful event planning endeavor. This is particularly important when the entire team is separated by distance or involuntary sequestration. Teams should have a variety of ways to connect. WordCamp San Antonio used a combination of Slack, email, and Zoom calls to keep on track.
Each team member worked to translate their skillset into the virtual event. It is the force of will and commitment to execute that makes events happen, not necessarily the technical capacity. It should be noted that all WordCamps have a volunteer organizing committee that typically has their own day-job in addition to their event responsibilities. This makes the feat of a successful virtual WordCamp San Antonio even more impressive.
We've written about creating the perfect special events social media team to support in-person and virtual events.
4. Have A Livestreaming Expert on Call (or Really Understand the Technology)
Broadcasting a single content stream can be difficult, let alone multiple streams with dozens of speakers over the course of two days. Add on speakers presenting from a variety of locations around the country and you have a Rubik's Cube of complexity.
This sort of effort requires a technical advisor who is familiar with streaming, technology, and multicasting. Luckily, WordCamp San Antonio had a standing partnership with Pulitzer finalist Charlotte-Anne Lucas, executive director of nonprofit online news organization NowCastSA.
Lucas, known to her friends as "C-A", coached organizers and speakers alike through specifics of internet connections, the necessity of hardwired internet, and possible latency issues that could occur. She also consulted on backdrops, room-setups, and other best practices to ensure that the speaker has the best opportunity to succeed.
Pro-Tip: C-A recommends Fisherman's Friend Lozenges to keep your voice clear. They'll stop you from getting an itch that requires a stream-disrupting throat clearing.
No Local Streaming Expert?
Sourcing a local expert can be difficult depending on your location. Castr, a streaming service, has a primer for organizers to familiarize themselves with live streams and bandwidth. Their recommendations echo C-A's.
Castr's Tips for A Better Live Stream
Switch to a Hard Line: WiFi routers generally can't move data as quickly and effectively as a hardwired internet connection.
Reduce Network Congestion: If you share your home, or router, with multiple people, consider how much data they're using. Ask your housemates to stop streaming or set hard limits on data usage while you're planning to broadcast.
Get Better Equipment: It may be time to upgrade modems, routers, and cables to ensure maximum bandwidth.
Castr also mentions that some degree of latency is allowable. Latency is defined as the time that elapses between a request for information and its arrival. Few broadcasting systems have a true real-time experience. Video games and 2-way conference calls can have up to 5 seconds of latency. Even cable television has >5 seconds of latency.
The only time that low latency is needed is when there is a strong need for a two-way information exchange. This could be during questions and answer portions of the stream or when multiple panelists are speaking.
During WordCamp, moderators and speakers alike would point out the ask a question feature in the platform. This tool allowed even the most delayed attendee to ask questions that the speaker was able to answer in "real-time".
Pro-tip: Plant or Seed questions ahead of time. This gives the speaker something to do instead of waiting for questions from attendees. This is particularly necessary when organizers know that there will be a significant amount of delay or lag in the stream.
5. Document Everything.
Every aspect of events, particularly recurring ones like WordCamp San Antonio, should be documented. This is even more important if you have a rotating team of organizers from year to year. It is difficult to start from scratch, but previous year documentation gives any event a jump start.
Since this was the first all-virtual WordCamp, most of the documentation had to be developed from scratch. Using collaboration tools like Google Drive and Google Documents, organizers were able to create numerous guides to support the activation.
Necessary Documents for an Online Event
Lists

List of Speakers with names, email addresses, phone numbers, and biographies.
List of Moderators with names, email addresses, and phone numbers.
List of Sponsors and Exhibitors with names, email addresses, and phone numbers.
List of Volunteers with names, email addresses, and phone numbers.

Schedules

Event Program
Program of Event including session changeovers.
Volunteer Schedules
Content and Social Schedule

Guides (Standard Operating Procedures)

Guide for Speakers
Guide for Moderators
Guide for Exhibitors and Sponsors
Guide for Attendees – How to have a great first WordCamp.

Technical documentation

Streaming Software
Recording Software
Distribution Software
Quick Troubleshooting Guide
6. This format is still new.
It should be noted that many people have never attended an online event. Most individuals' exposure to live-streaming has been meetings on tools like Zoom or WebEx. Even for experienced users, many speakers and presenters are still becoming comfortable with the format. It can be difficult for some speakers to acclimate when they're used to "playing to the room".
Keynote speaker Jocelyn Mozak joked about it being her first time wearing pajama bottoms for a main stage presentation. "We only have to look professional from [the waist] up," she said.
Attendees were also amused and excited to share that they were engaging in one of the largest WordCamps in history while wearing loungewear. The opening poll for WordCamp San Antonio asked attendees to self-identify their attire for the conference. The vast majority took great pleasure in proclaiming, both in poll and chat, that they were attending in varying states of undress.
Given this brave new world of virtual events, you'll need to forgive unfamiliarity with the format. They may not realize that there is a lag between the speaker saying something and the chatbox catching up. They may struggle to upvote similar questions instead of asking variations of the same question.
That said, it also means that attendees will forgive the occasional technical error. They know that this format is quickly evolving, so don't hesitate to let them know about a technical issue and ask for patience. We're all learning about virtual events together and this is still part of the grace period where culture will permit imperfection.
7. The best-laid plans of mice and men often go awry.
When Scottish poet Robert Burns wrote, "the best-laid plans of mice and men often go awry", he likely wasn't talking about WordPress. But even now, hundreds of years later, those words could have never been more true.
Have a disaster plan. Some of the issues at WordCamp San Antonio included a speaker dropping out due to possible COVID-19 infection, a group panel working in practice but not on the live stream and a presenter dropping out mid-session due to connectivity issues.
Things like this will happen.
For the TINT-hosted presentation called "Your Customers are all content creators", we had difficulty joining the green room queue for speakers. When we didn't arrive at our scheduled time, the moderator (shout out to Cris) calmly called our designated contact on his cell phone. When the problem was identified, Cris escalated it to a designated troubleshooter. This second-tier of support was able to resolve the problem in moments. The attendees never knew that there was a slight struggle behind the scenes.
Protip: Plan for the worst and make sure your teams are empowered to make quick decisions to keep the show moving forward.
8. Accessibility still matters.
When planning physical events, there are laws and practices that help ensure that everyone can access a venue. Many organizations and conferences even have accessibility enhancement programs to ensure that regardless of ability, any attendee can have the full experience.
During WordCamp San Antonio, there was simultaneous captioning of every single session. Attendees were blown away to learn that it wasn't a piece of software but an actual team of devoted staff from White Coat Captioning typing furiously from their homes.
Always consider how someone with a disability will engage with your virtual event. When sourcing software, be sure to ask about compliance with the Web Content Accessibility Guidelines. Their quick reference guide is a great place to start learning about digital accessibility standards.
9. Events are still social gatherings. Give people opportunities to connect.
Beyond the zoom rooms and hallways, attendees were connecting over social. TINT, as a proud sponsor, offered our TINTmix Intermission package to WordCamp San Antonio. The TINTmix cycled through live social content and a series of slides. The slides included a welcome, a graphic of SAPuu (the WordCamp San Antonio Mascot), a sponsor recognition slide, and a call-to-action for people to share content under the #WCSATX.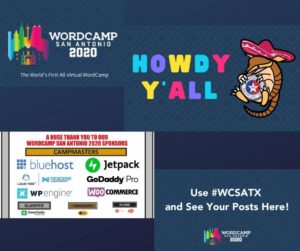 The TINTmix played after each session. Attendees and sponsors were excited to see their content populate live in all the separate rooms. It also kept people on the page since the rooms never "went dark" between sessions.
Using TINT's content filtering setting, spam, profanity, and duplicate content like retweets never made it to the screen. The virtual social wall was pure, new engagement.
Organizers also appreciated the analytics provided every day. TINT Analytics was able to identify reach, impressions, outspoken contributors, and influencers who were participating in the conversation under the WordCamp San Antonio 2020 hashtag.
TINT was a proud in-kind sponsor of WordCamp 2020. Learn how TINT can drive engagement and increase social participation at your next virtual event. Chat with one of our virtual event specialists today.