Attempting to transition an event from in-person to digital can seem like a herculean effort. But with modern technology, it has become easier than ever to create online events. Event planning, whether in-person or digital, requires the same processes and mettle. Luckily, event planners are notoriously resilient folk and will take the new paradigm in stride. We've collected our best practices and research to create the TINT Special Events Guide to Going Digital.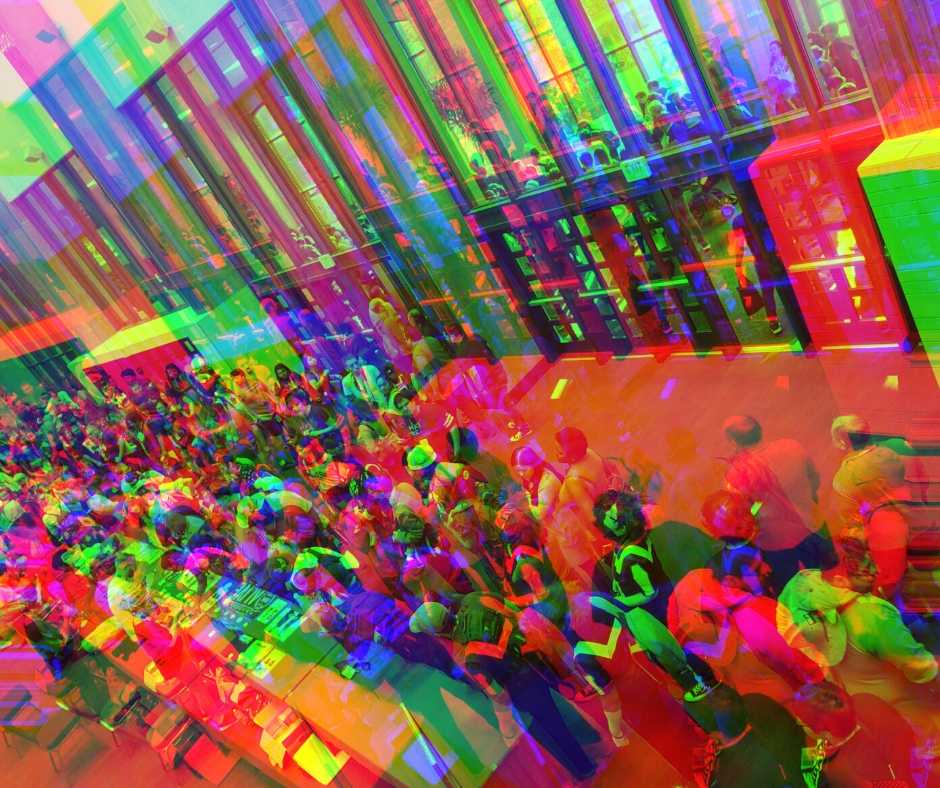 Why Event Marketing? Now?
Since 2017, event marketing opportunities have grown exponentially. Bizzabo, an event management software suite, estimates that 3.2 million global professional events are slated to take place during 2020. They cite Forrester Research's findings that, on average, 24% of B2B marketing budgets are earmarked for event activations. Given that large organizations are generally more insulated from a recession and global disruptions (HBR), this is an apparent opportunity to continue to provide events to these companies. 
On the consumer side, an Eventbrite study of 10,000 events found that the "casual" event-goer spends $81 per person, per event, twice a week. These events included everything from film to live music to cultural festivals. 
Total Average Spend: $81
$34 Tickets / Admission
$36 Food and Beverage
$11 Transportation
The U.S. Bureau of Labor Statistics 2018 Study of Average Income and Expenditures shows that, on average, Americans allocate $3,200 a year for entertainment. That spending trend has a positive rate of growth of almost 1% year over year.
Event Planning Framework
For our basic event planning framework, we turn back to our friends at Bizzabo for inspiration. They recommend these topics be completely covered before spending any additional resources on a planned activation. Many event organizers will cover these steps mentally or intuitively due to their years of experience. But, if it is your first time creating a digital-only event, we recommend committing this to paper to ensure that all the steps are completed. 
Digital Event Planning Framework:
Event Objective
Event Metrics
Event Budget
Event Marketing Plan
1. Event Objective
The difference between an event and a gathering is a goal. You should have a specific primary goal for your event. We're fans of the SMART goal outline. All additional planning efforts build on this, making goal planning a great place to start. 
SMART Goals
Specific – Revenue, Attendance, Engagement, Survey Results, or other specific criteria.
Measurable – Your specific goal should be quantifiable, not just qualitative. 
Achievable – A goal within reach, but you should also have a stretch goal.
Relevant – Tied in to staff or departmental performance metrics. Revenue and Lead Generation are common relevant goals. 
Timely – A deadline for completion.
Sample SMART Goal for Digital Events
We want our first digital event to have 12 paid attendees by August 4th. 
SMART
Specific – 12 Attendees (Attendance Goal)
Measurable – 12 Attendees (Measurable Attendance) 
Achievable – It is plausible that this event can have 12 paid attendees. 
Relevant – Paid Attendees, leading to both an attendance and a departmental revenue goal.
Timely – By August 4 (Established Deadline). 
2. Event Metrics
After establishing the objective, the next step is creating additional metrics or measurables to track. These performance metrics, or key performance indicators (KPIs), will act as a pulse check on your event. Marketo recommends 6 KPIs.
Recommended KPIs:
Sales Revenue – Tickets or Sponsorships sales vs. expenses. (If revenue is a goal.)
Cost Per Lead – How much does it cost to get someone to buy a ticket or sponsorship?
Site Traffic – Are people visiting your site to learn about the event?
Conversion Rate – Are the people visiting your site buying tickets? 
Organic Search – Can people find your event through search engines?
Social Media Reach – Can people find your event through social media?
When is revenue not a goal?
Sometimes direct revenue is not a goal. Organizations may host events to establish thought leadership authority, generate leads, or increase community goodwill. Your "revenue" KPI should reflect something measurable that ties directly to your event objective. 
3. Event Budget and Logistics
Event planners may feel a sense of relief when they realize that digital-only events remove many of the headaches of a "normal" activation. There are no longer venues with peculiar rules and exclusive (expensive) vendors. There are fewer, if any, print materials to order. Drayage is not necessary. Travel costs are nonexistent. 
But there are other costs to consider. Here's a basic list of digital-only event costs that you'll encounter and specific logistical considerations for each. 
Digital-Only Event Costs
Digital "Venue," including Streaming and Facilitation Software
Graphic Design (Decor)
Staffing
Programming
Marketing
Swag and Merchandise
Music Rights
Venue
After creating goals and metrics, the Venue is typically the next step for an event organizer. This step remains the same, even in digital spaces. You'll need to "build" your venue from a variety of tools. Consider what an organizer would look at in a physical location; Is the venue accessible? Is the venue the right size for this group? Is the venue easy to find and navigate?  You should ask the same questions of your digital event software. 
Registration
The foyer or lobby is where your attendee's check-in. Consider questions or materials you would normally have at check-in.
Questions to ask:
How do attendees purchase and gain access to the event?
How do attendees see the schedule and program of events?
How do speakers and special guests gain access to the event?
How are guidelines and engagement rules distributed?

Can they ask questions during a session? 
Should they only submit questions via the platform?
Will mics be automatically muted, or should attendees do this?
Exhibitor and Sponsors
Special events will always have sponsors and exhibitors. Think about creative ways to have attendees engage with these folks between sessions. The International Festival and Events Association (IFEA) has a phenomenal "Virtual Trade Show" that allows attendees to engage with vendors at their convenience. 
As events move into digital-only activations, event organizers will need to show value to people who pay to exhibit or sponsor an event. This is a great time to brush up on your analytics, tracking, and UTM codes. 
Sessions
There are a variety of event platforms that support a digital-only event format. Streaming services like Vimeo, Zoom, and Hangouts are sensible first options for simple digital events. Gaming, Tech, and younger audiences may also have familiarity with Twitch, Mixer, and Discord. Free or impromptu streaming can happen on social sites like Facebook and Twitter. There's a cornucopia of digital event platforms like CrowdCast and Push. Every day, new players in the space like hopin seek to move from digital-only to a digital-first event experience.
In short, there are lots of options out there. We'd love to hear what worked for you.
Attendee Interaction (Hallways)
A major draw of conferences is the ability to connect with like-minded people. Digital Event Organizers should seek to create opportunities for people to network. This could be using "hallways", a series of Zoom rooms available for people to drop into and chat in. This could also be accomplished by creating well-designed Facebook Groups. Some mobile apps, like Whova, have native audience engagement and discussion tools. Some events may even find themselves returning to the forums and bulletin board systems of yesteryear. 
Do I need venue or special event insurance for an online event? 
There are few, if any, vendors that offer specific event insurance for digital-only events. The space is new enough that insurance brokers may need to do some research before offering coverage. There are some riders that can be purchased if you're concerned about specific interruptions like acts of terrorism, civil unrest, or inclimate weather. There are also cyber-insurance products that protect against digital interruptions like hackers or cyberwarfare activities. Cancellation insurance is generally prohibitively expensive and you'll likely need to find a very specialized vendor to find coverage. (Thank you to Kaliff Insurance for assistance on this section.)
Graphic Design (Decor)
Rather than working with a decorator to customize the space, you'll need to work with a graphic designer (or team of designers) to customize assets for your digital event. You should have a specific production calendar in place to ensure that all your visual assets are delivered when needed. This will also help the designer/s to allocate their time. 
Necessary Digital Assets
Website Assets
Mobile App or Software Assets
Social Media Assets
Paid Ads Assets
Advertorial or Blog Content
Slides or Slide Templates
Staffing
In-person events are built on their staff, and digital events are no different. 
Tasks:
Showrunner: This person is the keeper of the keys and owner of the timetable. The showrunner is the ringleader keeping the circus going. They should have multiple ways to contact all staff, contractors, vendors, and speakers. They should also have a fully-developed run of show prepared. Showrunners live and die by their spreadsheets. This is not a role for the faint of heart.

IT Support / Helpdesk: In addition to directing attendees to documentation, your helpdesk should be ready to troubleshoot problems with the streaming software. You'll want to staff this area based on the technical capabilities of your core audience. This role is particularly important if your event is held during the evening or on a weekend when product customer support is sometimes not available.
Speaker Wrangling: The speaker wranglers will check-in speakers, do technical tests to ensure that their hardware is compatible with the streaming software, and make sure they're in their session on time. Speaker wranglers should also have backup plans in case things break. This could be dial-in lines for speakers to use in case of a microphone failure. This could also be a copy of the speaker slides in case their screenshare is disrupted. Wranglers should be able to think on their feet and not panic in the face of problems.
Moderators: Moderators wrangle the crowds. They will take questions, provide spot assistance with technical issues, and generally monitor the rooms. They should be quick with the mute button on open calls and judicious in their use of kicks or bans of disruptive attendees. They should also provide feedback to the speaker or speaker wrangler if there are any technical issues, such as sound quality, on the audience side.
Social Media: Social Media never stops. Assume that most attendees will have a social platform (or three) open in their other tabs. Think about how you can drive activity on social during the event. Make sure you have a clear hashtag and a team that is monitoring social for feedback. 

TINT natively integrates with digital events and drives social engagement. Learn more about how TINT can support your digital event with one of our event specialist.
Graphic Design On-The-Fly: There will always be a last-minute graphic design need. It could be a speaker cancellation. Or maybe a speaker made a particularly masterful statement that you want to share on social channels? The on-the-fly person should be equipped with basic assets and templates to quickly spin up content for distribution. This is where a user-friendly web-based tool like Canva is invaluable.
Programming
There are many speakers out there. Some are great for in-person trainings or keynotes, but sometimes their enthusiasm doesn't translate into digital. Online events can be rough for presenters who gauge the room based on audience feedback. You should seek to find speakers and presenters who can bring a degree of energy and enthusiasm even from their home office. Don't be afraid to ask for a speaker reel or "audition" them during an exploratory call.
You should also have your speakers and moderators use the "venue" software to maximum benefit. Take live polls and get immediate feedback. Answer questions as they come, not just during Q&A at the end. If your software doesn't do it, there are tools like Liveslides that lets you embed live attendee polling directly into your Powerpoint or Keynote presentation. 
Marketing
Marketing is often one of the most expensive categories in an event budget. Eventbrite found that event organizers spend 43% of their budget on marketing. 9 out of 10 of those organizers felt their budget was insufficient for their needs. Just because an event is online-only doesn't mean that organizers can skip out on committing to a robust marketing budget. 
We'll touch on marketing specifics further in this blog. 
Swag and Merchandise
Switching to digital does not mean the death of swag. We've written about great event swag being meaningful and useful. This is an opportunity to design one or two meaningful pieces for your attendees. Distribution can be its own challenge, but there are many companies that will package, ship, and customize notes to speakers and attendees on your behalf. 
This is also a chance for event organizers to upsell. Short runs of shirts or other merchandise can do amazing things at these events. Some organizers are even using print on demand services to only create enough items to fulfill orders. 
Music Rights
It may be tempting to connect a Spotify playlist or Apple Music radio station to act as your "hold music" but even digital events have a responsibility to acquire licensing for any "public performance" of copyrighted music. We haven't seen any significant enforcement action by license-holders in the space but it is just a matter of time before they do. 
Before you get a nasty-gram from BMI or ASCAP, make sure you're on the right side of licensing. 
4. Event Marketing Plan
To round out our special events guide to going digital, we look back to Bizzabo for a special event marketing framework. They recommend 10 elements for creating a great event marketing plan that we've reworked specifically for digital-only events. We elaborate further on bolded elements. 
Elements of a Great Online-Only Event Marketing Plan
Website
Content Marketing
Email Nurture Campaign
Cohort-specific Messaging
Decision-maker Event Messaging
Advocacy and Affiliate Marketing
Show, don't tell
Co-Marketing with Sponsors or Exhibitors
Targeted Social
Measure, Analyze, Repeat
Website
The website should be extremely clear that an event is digital-only. You want to set expectations among stakeholders that the event takes place online. Otherwise, your website can still fit the standard template for a special event. 
Preempt questions by also sharing if any specialty software is required. Attendees and speaker alike have preferences for streaming technology and this could guide decisions. 
Content Marketing
The rule for special event content marketing is that you're always building towards the event. Bizzabo recommends "episodic" content. This sort of serialized marketing piece works well because it sequentially leads towards conversion. It also makes it easy to drop in announcements like speaker, sponsors, or media mentions without interrupting the flow. 
Email Nurture Campaign
Email nurture drips or sequences is about slowly pushing customers down a sales funnel. They require a variety of content and shouldn't be solely sales-focused. Hubspot suggests "Pick Your Own Adventure" email nurtures that put customers in the driver's seat. Digital events are a great place to experiment with this nurture format and replicate at future events. 
Show, don't tell
It can be difficult to "show" a digital event. There are several possible ways to obtain or create this content. One is to create a user generated content campaign where attendees and/or speakers take selfies during an event. These photos can be used for future events to show that people are engaged, even if attending from home. (This assumes you've obtained the rights to the content.)
Testimonials, reviews, or even pre-testimonials are options as well. Don't solely rely on brand-generated content, let the constituents of the event guide the conversation.
—–
We expect to see the events industry diversity offerings and create more digital-only events. Best practices from in-person events are still relevant and there will always be a place for these sorts of activations. 
We'd love to hear your experiences, successes, and challenges of hosting digital-only events. As always, Team TINT is here to help along the way. Talk with one of our specialists.