Finding the best and worst ads of the year is always exciting, but this year was unique. Marketers felt and experienced 2020 in a different way than others.
As we all navigated personal challenges, we also navigated those of our customers and fans—making sure to stay sensitive, voice our opinions, and hit KPIs. Putting together this list of best and worst ads of 2020, we have to give a slow clap of recognition for every marketer who at least tried.
Here are the best and worst ads that we saw in 2020, alongside why each ad worked or didn't work. Take these as lessons as you plan your next campaigns—making sure to know your audience by featuring the voices of users and customers and mastering social listening.
The Best Ads of 2020:
OceanSpray
It's impossible to start without the viral OceanSpray TikTok, which we think was the top viral ad moment of 2020. With over 26 million views on Nathan Apodaca's TikTok and 36 million streams in 2-weeks of Fleetwood Mac's Dream—this ad went far. But here's the thing: it wasn't an ad at all, it was PURE UGC! As Nathan Apodaca listened to Fleetwood Mac longboarding to work, he captured * a moment*. That moment was understood worldwide where his TikTok was repurposed across every other social platform and recreated by creators.
Why did this ad work?
This non-ad didn't focus on the features of the product. Nathan's unsponsored TikTok video didn't require him to talk about the percentage of juice in OceanSpray's Cranberry juice or what the sugar content was. This was all about a real person sharing a real experience: having a quiet, relaxing moment to enjoy your juice in. When interviewed by Yahoo! about the impact of this video, CEO of OceanSpray Tom Hayes said, "We have about 15 billion media impressions now. We can't say that we have seen an immediate impact as the shipments are going into retailers. Retailers say there is an additional draw off the shelf, particularly with cran-raspberry. We have been impacted with strong sales with consumers coming back to products that they love in comforting times. We have seen overall great sales, and I expect to see cran-rasberry sales to pick up next quarter. We are looking forward to that."
Spotify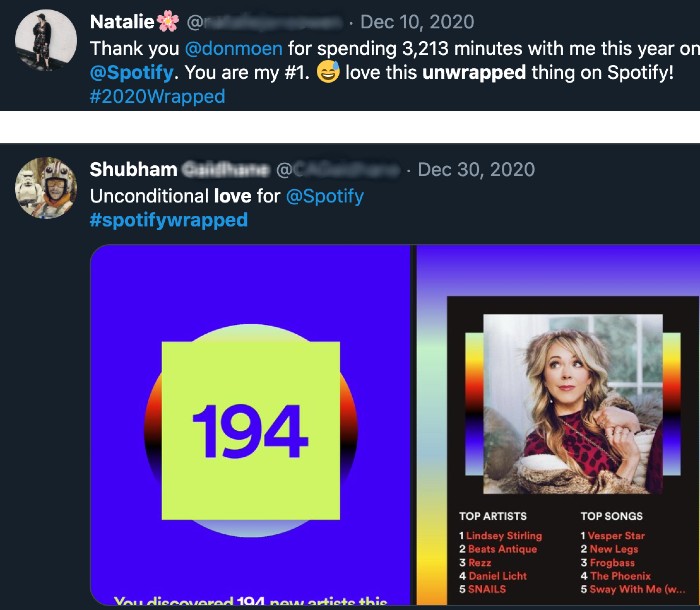 Spotify hit UGC gold with its annual Spotify Wrapped feature. At the end of each year, the music app shows users data based on what they streamed throughout the year. Spotify shows your favorite song, artist, genre, podcast, and more in sharable videos that can be shared directly to social platforms. Like the OceanSpray example, this isn't a company generated ad because Spotify doesn't force its users to share their Spotify Wrapped. Yet, the amount of user-generated content that results is in the millions.
Why did this ad work?
As social media use continues to increase, having a company hand users cool content to share with their friends and families is an easy win. Spotify users see their favorite artists, songs, podcasts, etc., and share that content on Instagram, in tweets, and more. Spotify leverages people's desire to share this information by making it as shareable as possible—all users need to do is take a screenshot or click the share button to post *the specific part* of their Spotify Wrapped they want to share online. It also reinforces habits and use of the Spotify platform, which is great for long term user retention.
Jeep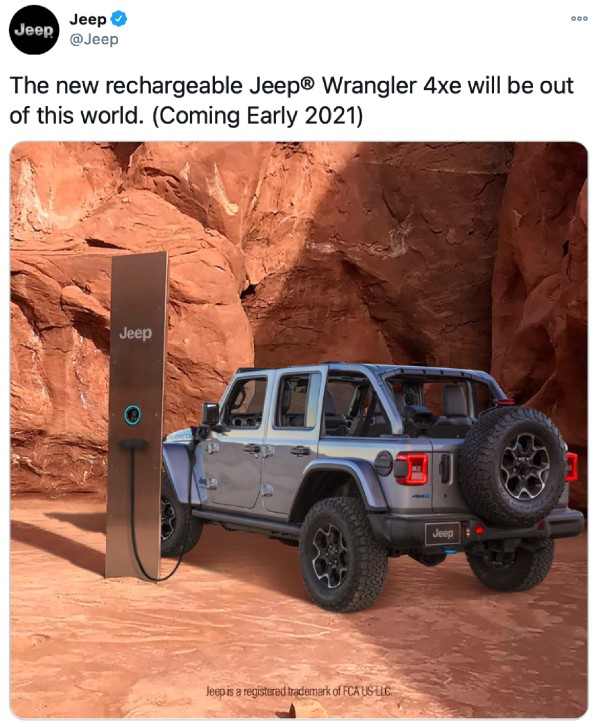 In a perfect example of staying in tune with social listening, Jeep Wrangler couldn't have been more on the money. As mysterious monoliths popped up in random locations around the world (still an unsolved mystery), Jeep saw an opportunity. They ideated a campaign that explained why the monoliths were there—to share Jeep's new Wrangler 4xe Hybrid. Adweek reports the campaign was the best performing content for Jeep in the past year, with 102,000 reactions and 15,000 shares.
Why did this ad work?
Jeep's monolith ads worked so well because they were based on social listening—one of the most important parts of marketing brands need to focus on in the upcoming year. Customers and fans are always talking online, and Jeep tuned in to the conversations. In this case, it was a mysterious monolith that left everyone with one question, "Why is it there?". Jeep answered that question in a creative, memorable way that promoted their new hybrid Wrangler and showcased they weren't just a corporate brand working behind screens—they were part of the zeitgeist.
Airbnb – Ring the Bell
In December 2020, Airbnb followed through with plans and launched their IPO. To celebrate, they created a brilliant video that features hosts (real people) ringing their home doorbells to simulate the ringing of the Nasdaq opening bell.
Why did this ad work?
Travel is down and even stopped around the globe and there is still a tough road ahead, but Airbnb couldn't be more on the money. Their showcasing of real content from hosts around the world connects with the spirit of the company, continuing the authentic story of how they started over thirteen years ago with just one apartment in San Francisco, and highlighting how they've grown. Oh, and they also managed to exceed investor expectations when the stock's valuation more than doubled at the opening bell.
eToro
Have you thought about creating GIFs for your brand? As a marketing channel, gifs aren't always at the top of a marketers list—perhaps until you learn about what eToro did with them. Brad Michelson, U.S. Senior Marketing Manager of social investment network eToro, uploaded a Bitcoin gif to Giphy.com with the eToro branding on it. In less than one year, his gif has 65 million views. Michelson was interviewed by Marketing Brew about his strategy, "There are very specific intentions connected to using gifs as a communication tool, which makes it an ideal channel to build a strategy around," said Michelson.
Why did this ad work?
As consumers continue to consume and share content, brands can help. Fifty-percent of consumers wish that brands would tell them what type of content to create and share, and gifs are a great option. By adding brand or product gifs, companies make it easier to be discovered and build brand recognition through authentic content.
The Worst Ads of 2020:
GAP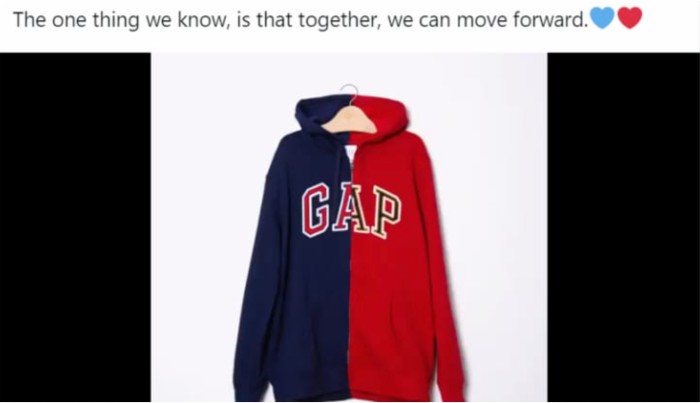 In a hopeful spirit of bringing Americans together during the 2020 Presidential Election, GAP designed a sweater with a red side and a blue side that showed a love for both democrats and republicans. Unfortunately for GAP, their hope of unity wasn't the end result. After receiving major backlash, GAP deleted their tweet promoting the sweater and issued a public apology.
Why didn't this ad work?
For the same reason Jeep's monolith ad worked so well, GAP's ad failed. When it came to reading the room and listening, GAP fell short. In a tumultuous election, their customer base wasn't focused on unity and coming together: they were focused on making sure their presidential choice got a seat in the Oval Office. While this ad sounds great on paper, social listening is crucial to understand what's actually happening for customers and fans. Using TINT, leading brands find and organize UGC to use in their marketing channels and ensure they're part of the conversation.
Tropicana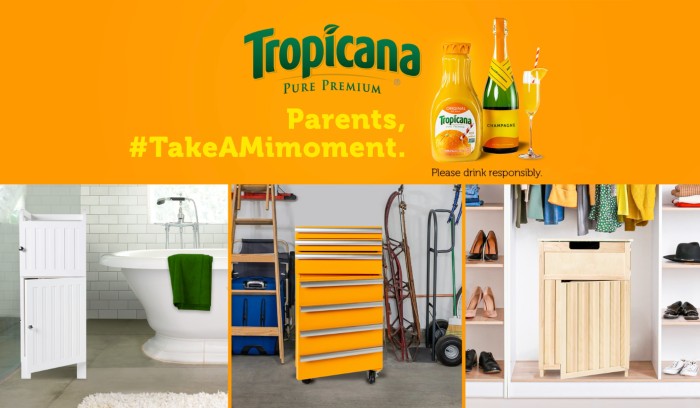 Tropicana released their #TakeaMimoment campaign thinking it was a fun, playful spin on their usual advertising. But not all hashtag campaigns are successful. #TakeaMimoment shared a video showing parents hiding champagne and orange juice in mini-fridges around their homes to be able to take a "mimoment" during overwhelming moments at home. Tropicana issued a public apology after parents showed their disappointment in the brand for telling them to turn to alcohol during hard times.
Why didn't this ad work?
As one of the most identifiable brands in a grocery store, Tropicana may have gone off topic. Customers didn't want Tropicana to tell them that alcohol was a great alternative to stressful moments, even though liquor brands can get away with the same messaging. This ad didn't work because of the customer relationship with Tropicana. While a smaller, edgier brand would have been able to pull off the same ad campaign, Tropicana couldn't. Knowing how their customers view them and what those customers expect from them is crucial in Tropicana's next "edgier" campaign ideas. This ad's response told Tropicana their customers expect them to be responsible and accountable—which means Tropicana won't be the Oatly of the orange juice aisle.
Quibi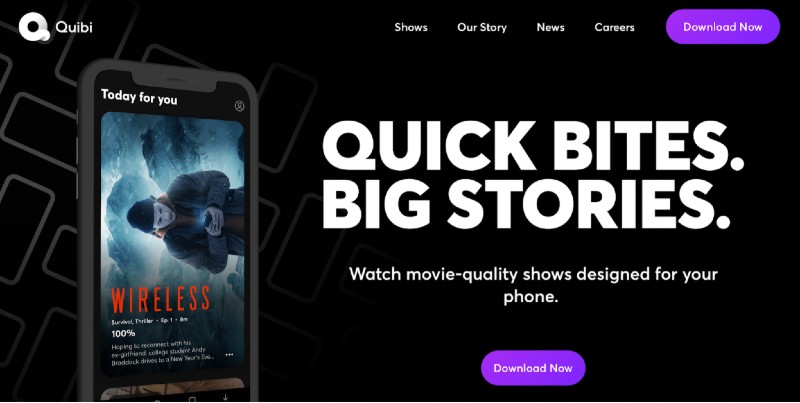 Remember Quibi? When it comes to this short lived platform, there's not one defining ad that ultimately led to their swift demise. But we do know that they had a lot of budget to blow on the way down.  Between all of their ads and campaigns something went incredibly wrong. While Quibi planned to create short-form videos that could be watched on the go (something YouTube users were showing to be a viable consumer-market), they never took flight. With celebrities all over the platform and huge names working behind-the-scenes, Quibi tried to be everything for everybody and failed to take off.
Why didn't their ads work?
Quibi came into a highly competitive streaming market with high aspirations and a massive budget, but they couldn't spend their way to relevancy. In fairness, it was not a good time to launch just as travel and commuting ground to a halt. One big area that they failed was in trying to be the short-form streaming app for everybody when YouTube already existed. Quibi asked users to change their habit from watching short-form videos on YouTube to watching videos on their platform. They may have found more success by highlighting the stories and experiences of early adopters, but weren't around long enough for us to ever find out.
KFC

While KFC's "Finger Licking Good" slogan took a tough hit in the year of a pandemic, we do have a great rebuttal coming soon. When KFC ads aired as the world became more aware of a new virus strain called COVID-19—their slogan took on a new meaning. Nobody was interested in licking their fingers after eating as they tried to figure out just how dangerous this new virus was. KFC had to pull their slogan from all advertisements but came back with a note-worthy rebuttal.
Why didn't this ad work?
Ads are only as good as their environment. Just like Apple's 1984 ad wouldn't have worked as well in 1985—KFC's long-lived slogan couldn't handle the environment of 2020. Ads are not 'set it and forget it' strategies and they'll never be able to work like that. As consumers request brands stand up for what they believe in and show they're listening to what's going on in the world, ads will need to be more fine-tuned to consumer sentiment in the future. As for KFC's infamous slogan, only time will tell if and how they bring that back in the future.
Squarespace
Squarespace took a shot at a Super Bowl ad this year and we have a ton of respect for them trying. Their ad featured Winona Ryder making a Squarespace website for Winona Minnesota. As she sits on the side of a snowy road, a police officer approaches her and asks what she's doing. She responds that she's building a website with pictures, the officer tells her he likes pictures and then walks away. Without ever showing the website, or even a full glimpse at the computer screen, the viewer never learns anything more about Squarespace or why to visit the website, WelcomeToWinona.com.
Why didn't this ad work?
While this ad had the hopes of getting viewers to be interested in the Squarespace platform, it fell short. It may feel authentic, an actress named Winona talking about Winona, Minnesota. But trying to force influencer marketing ultimately meant that the celebrity endorsement didn't connect, didn't push the narrative to be more compelling and at the end of the day, people were not compelled to visit WelcomeToWinona.com. Winona answering real questions about Winona on a Squarespace website, sharing real Winona stories, would have been much more impactful.
We're here to help you plan and execute effective ad campaigns with the power of UGC. Schedule a demo here.