One of our favorite articles to write is about our top ranked social media marketing campaigns. We've already ranked the best social media marketing campaigns in 2016 and 2017.
For 2018, we're doing it a little differently and ranked our favorite marketing campaigns overall. Bookmark this page for inspiration for your next marketing campaign!
Suave Reveals TV Tricks in Hair Commercials
Suave claims "74% of millennial women think hair shown in ads is unachievable" and proceeds to expose these tricks in a Youtube video, such as using green screen tactics and voluminous hair extension. The video switches gears to show Suave providing their line of hair care to models so they can style their own hair and clips of the models' positive reactions are recorded.
Suave used the models' reactions as a type of testimonial to show an authentic perspective of their products. People are more likely to trust these types of testimonials over those same claims made by the brand.
This video generated over 435,000 views in under 2 months, with comments like "Do it again, @Suave! I love a little dose of reality amidst all of the glitter!" and "Suave, buy it today!".
[banner_link_cta text="Try the Best UGC Platform" link="https://www.tintup.com/"]
#MeToo Movement
While the #MeToo Movement started in October 2017, it is still one of the most successful and continually trending hashtags, gathering over 12 million Facebook posts, comments, and reactions in just days following the the first post, including high profile celebrities like Lady Gaga, Gwyneth Paltrow, Jennifer Lawrence and Cara Delevingne, to name a few. The hashtag then immediately picked up on Twitter, Instagram, and Youtube.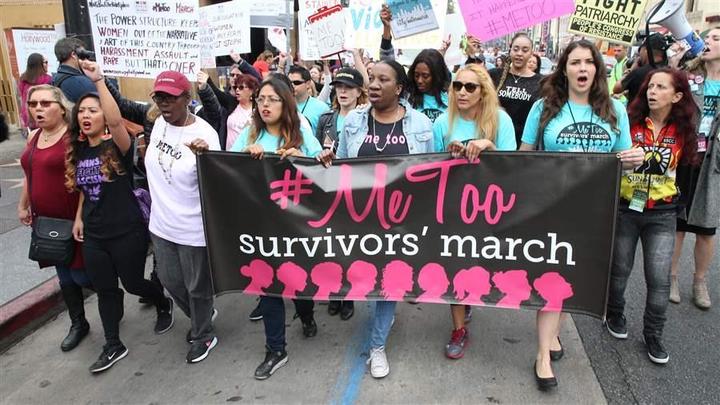 The #MeToo Movement is a hashtag on social media that demonstrates the harm and prevalence of sexual assault and harassment. The movement quickly gained traction and spreaded from social media to several in person marches, charity events, and conferences.
Purdue's #PurdueDayofGiving
We've talked about Purdue's successful Day of Giving last year, where they raised a whopping $28.2 million using social media. That was their all-time record, until this year. Purdue raised nearly $10 million more than last year, totalling to $37 million!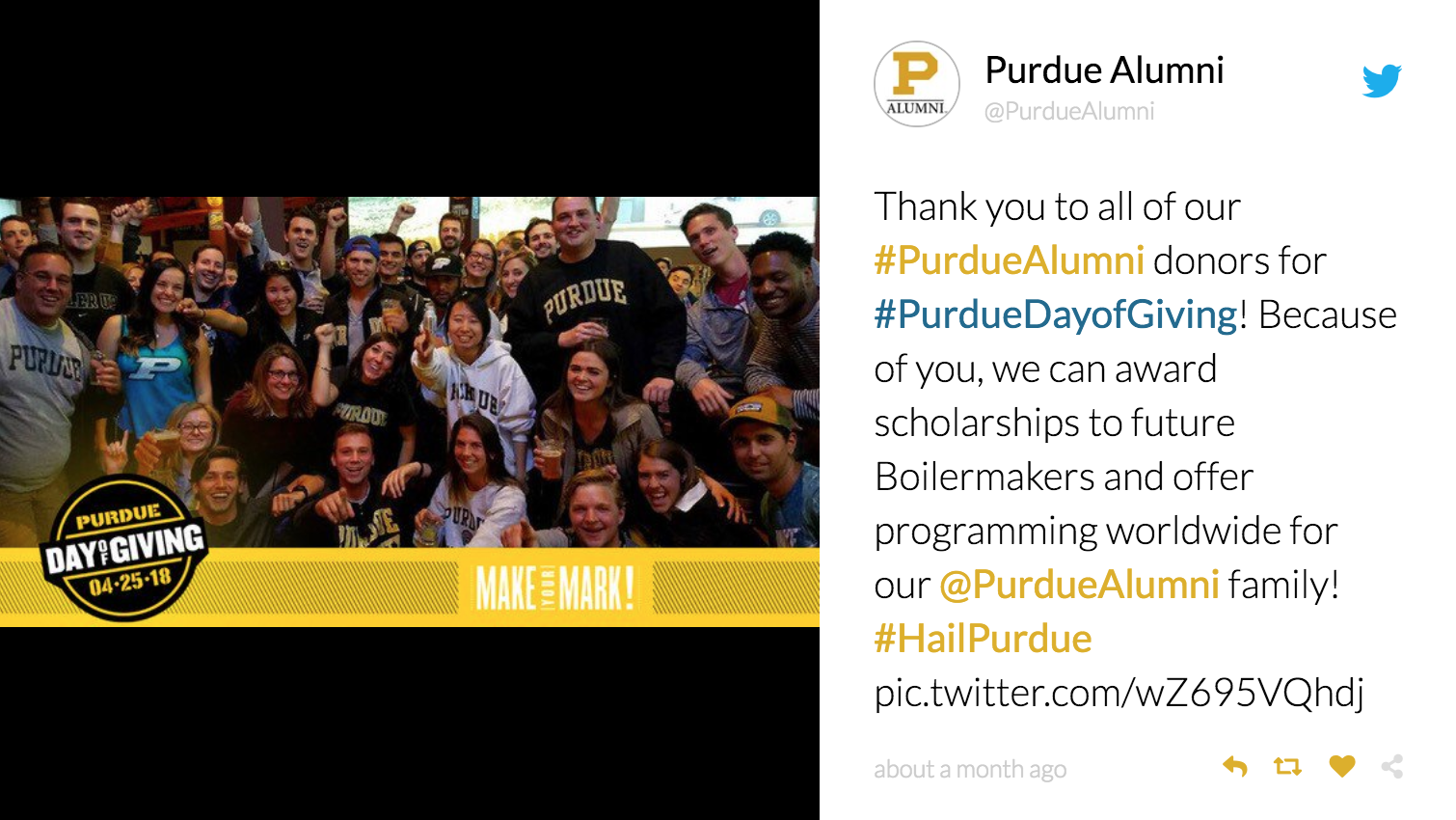 Purdue's Day of Giving is a 24-hour online and in-person donation drive. The aim is to raise money that will then be reinvested into the school's initiatives, programs, and activities.  Students and faculty alike use social media to promote the Day of Giving to create buzz around the campaign because the more buzz, the more donations. The social posts are redisplayed on a TINT social feed on Purdue's website. Anyone who uses the hashtag #PurdueDayofGiving will populate their feed, which also auto-updates in real time.
[banner_link_cta text="Try the Best UGC Platform" link="https://www.tintup.com/"]
Always #LikeaGirl
Like the #MeToo hashtag, the #LikeaGirl hashtag is not brand new, but is still regularly generating thousands of posts from fans. The "Like a Girl" campaign was first introduced in a commercial asking people to run and fight "like a girl", who then reenacted these actions unstably. When young girls were brought out, they ran and fought with all their might.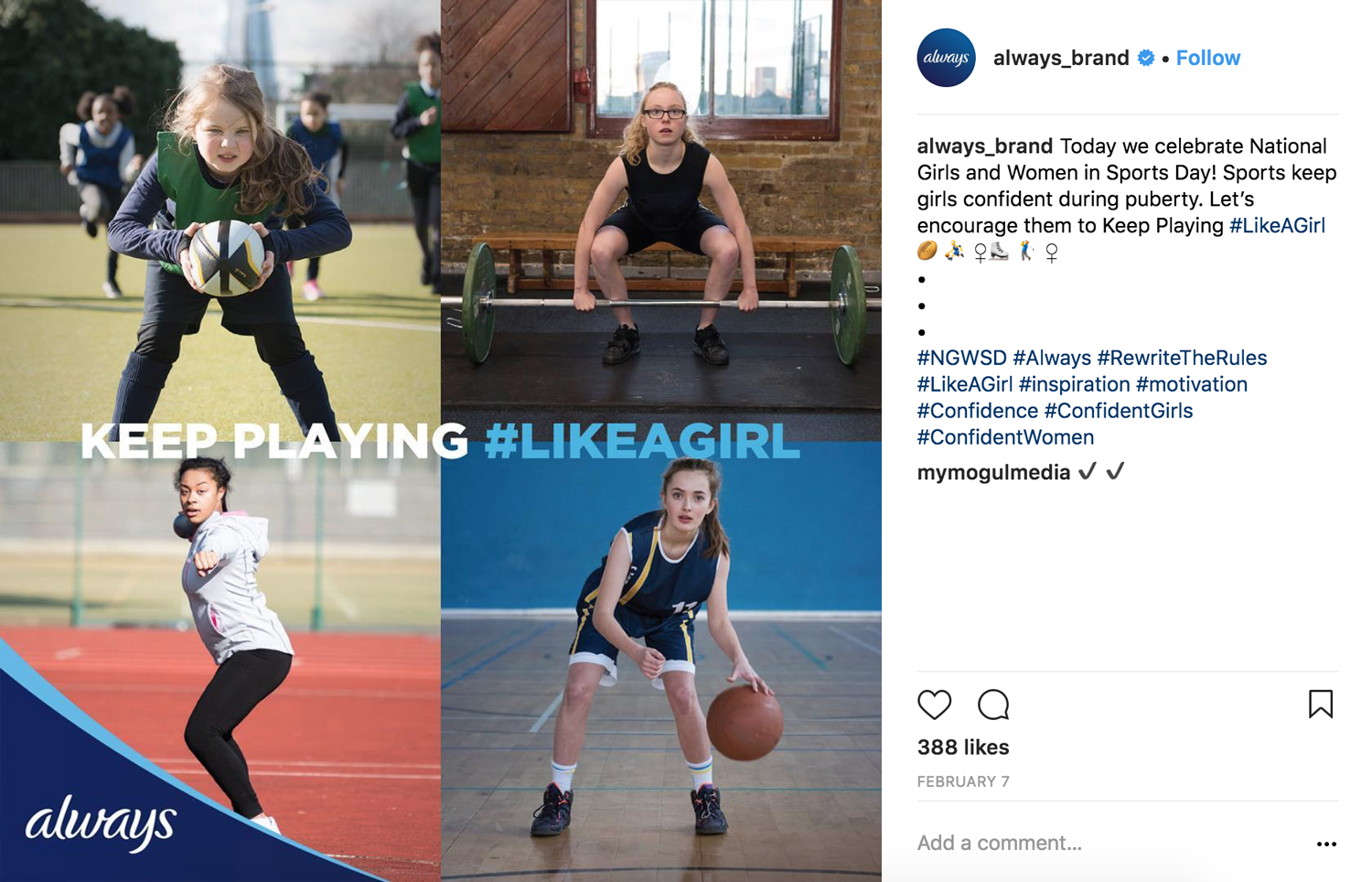 As we grow to be exposed to gender stereotypes, the implication of doing things "like a girl" is doing things weaker. This spoke to millions of women who chimed in and posted their own photos with the hashtag "LikeaGirl".
When a brand releases a campaign that can connect with people on a deeper, emotional level, people want to be a part of it. To connect with people, it is critical to create a one-on-one interaction with them, by creating an opportunity to join the conversation with a hashtag, reposting images, and replying to comments. Being associated with a powerful and inspirational message that is shared millions of times leaves not only a lasting impression on the Internet, but a lasting impression on everyone who sees it and everyone who is involved in it.