2016 was a pivotal year for social media marketing.
What with the surge of messaging apps, new algorithm changes to Twitter and Instagram, and the influx of live video services, there was a lot to keep up with.
Despite the seemingly never-ending wave of social media challenges for marketers, brands are still managing to stay ahead of the game (in fact, 78% of companies have a dedicated social media team).
Let's take a look at some of the best social media campaigns of 2016.
#MarchMadness – Reese's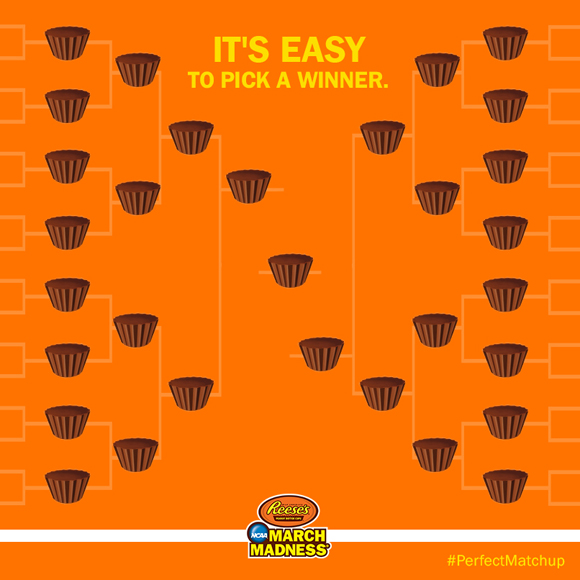 Reese's partnered with the NCAA to become the official sponsor of #MarchMadness for the 4th year in a row. Content strategy is clearly a strength for Reese's.
They curated incredible pieces with beautiful visuals that celebrated both March Madness and Reese's. Moreover, the copywriting for these posts was right on the money. Bravo Reese's!
Throughout the campaign, Reese's shared seasonal recipes, fun memes, and a slew of short videos to engage their audience – and it worked. They managed to up engagement by 416% from the 2015 NCAA tournament. And, if that wasn't enough, their #MarchMood hashtag generated 73% of the total engagement on Facebook and Twitter.
Make it work for you: Take advantage of trending hashtags or events. This is one of the easiest ways brands can join conversations and break the ice with social media users, and it also leads to better brand engagement.
Start by using a tool like Hashtagify.me to figure out what hashtags are trending in your niche and then come up with unique ways you can join in the conversation like Denny's did with the #collegein5words hashtag.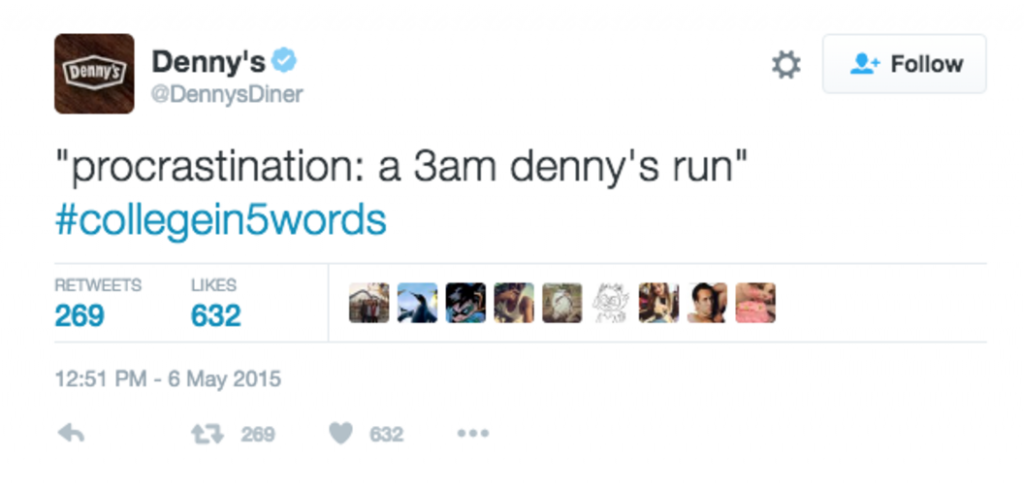 Here are five ways you can take advantage of trending hashtags.
#BALLOTBRIEFCASE ON SNAPCHAT – PwC
Why would a B2B company invest in a social media campaign on Snapchat?
And how did it manage to win the Shorty Award for best use of social media in B2B marketing?
PwC usually doesn't come to mind when thinking of the best in social marketing, but their #BallotBriefcase campaign is an interesting case. The financial firm wanted to raise awareness of their 82-year involvement in the Academy Award's ceremony and reposition the brand to appeal to a younger talent demographic.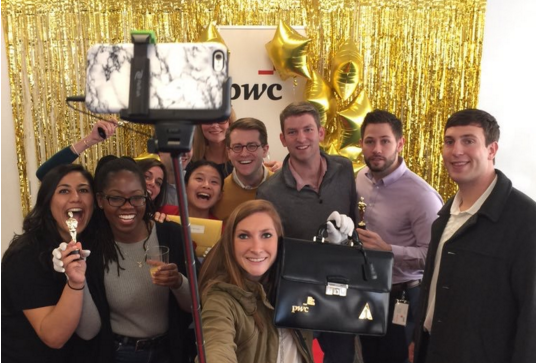 The campaign story revolved around the journey of the Oscar ballot briefcase as it raced around the country, arriving in time for the live awards ceremony.
Celebrities like Neil Patrick Harris joined the briefcase journey, which helped generate buzz and interest around the Snapchat campaign. The Ballot Briefcase campaign increased PwC's social impressions by a whopping 136x on Twitter and led to strong gains on Instagram and Snapchat.
Make it work for you: Just because you're a B2B company, doesn't mean you can't utilize "mainstream" social media channels. Tell stories through social media and get your audience and high-profile people involved.
The key here is to think outside the box. At the time only 5% of B2B marketers were using it. PwC didn't write it off because of this, though. They challenged the norm and considered how they could engage their audience with a different medium.
Here are some great ways you can use Snapchat as a B2B company.
#ShareYourEars – Make-A-Wish Foundation & Disney

A social media campaign with heart!
The Make-A-Wish Foundation and Disney partnered together to invite their audience to share images of Mickey Mouse Ears on Twitter and Instagram with the hashtag #ShareYourEars.
Each social media post unlocked a $5 donation to the Make-A-Wish Foundation from Walt Disney Parks and Resorts, which was capped at $1 million.
The campaign used TINT to display their social media entries on their websites to drive audience engagement and boost campaign awareness.
The end result? The #ShareYourEars campaign became a trending topic on Facebook, and Disney Parks doubled their original pledge, donating $2 million to Make-A-Wish®.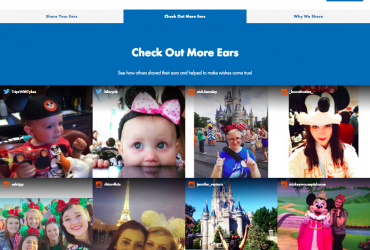 Make it work for you: Increase engagement on your website by displaying user generated content (UGC). Encourage your audience to send in pictures of themselves doing something specific and post them up on your site.
Not only does incorporating UGC like this on your website increase brand engagement by 28%, but it also encourages more purchases.
Use a tool like TINT to pull in hashtagged social comments from your audience and display them on a designated page on your site. Here are some more ways you can incorporate UGC into your non-profit marketing.
#LowesFixInSix – Lowes
#LowesFixInSix is an ongoing social media campaign that shares clever home improvement tips in six seconds via the now-redundant Vine app.
The campaign uses stop-motion and clay-like animation to demonstrate each tip to provide an engaging and fun way to learn DIY tricks.
BBDO, the ad agency behind the campaign, contracted Meagan Cignol, a photographer and Vine user who had two entries at the Tribeca Film Festival which proved to be a huge success. The vines generated more than 15 million impressions and have thousands and thousands of shares on social media – all for the tiny cost of $5,000.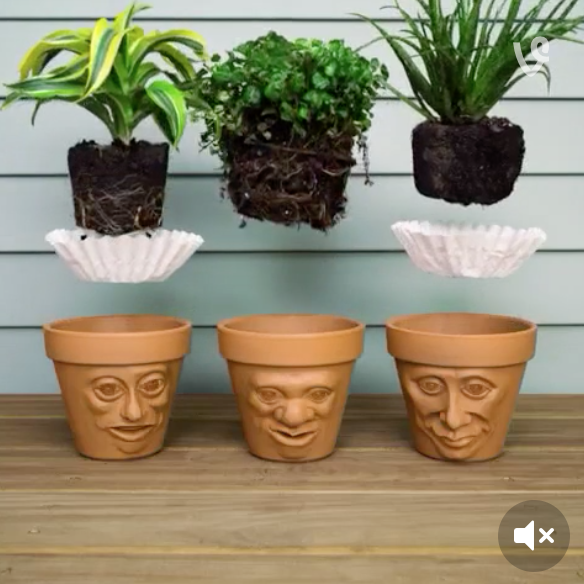 Make it work for you: With Vine now dead, it's time to turn to other platforms for all your short video needs. Instagram is great for sharing similar 6 second clips, while quick videos are doing amazingly well on Facebook for brands like Tasty.
Think of a unique way to present your message and make it visual (we remember 80% of what we see but only 20% of what we read). Get creative and remember that consumers have short attention spans these days, so keep it snappy!
Want to start sharing short videos with your people? Here's how you can do just that.
#EarthhourUK – WWF
WWF, formerly known as The World Wildlife Fund, teamed up with TINT and Exterion Media to launch an ambitious social-out-of-home (SOOH) activation in the London Underground as part of its Earth Hour 2016 campaign.
WWF displayed all its social media content (tagged #EarthHourUK) across LCD screens in the London Underground, encouraging passengers to declare their support for and engage in conversation around Earth Hour.
It resulted in being the biggest Earth Hour ever, with people from 178 different countries taking part.
.@WWF_uk partnered with us & @ExterionMediaUK to launch a #SOOH campaign for #EarthHourUK in the London Underground pic.twitter.com/363Wa44GEK

— TINT (@tint) April 19, 2016
Make it work for you: This is a great example of a unique non-profit campaign taking advantage of UGC on all marketing and digital channels. Rather than waiting for people to come check out the hashtag, they are reaching people where they hang out.
Collaborate with your audience and pull in social commentary to build into a bigger campaign and share it in public, whether that's at an event, on the subway, or on billboards around town.
#EsuranceSweepstakes – Esurance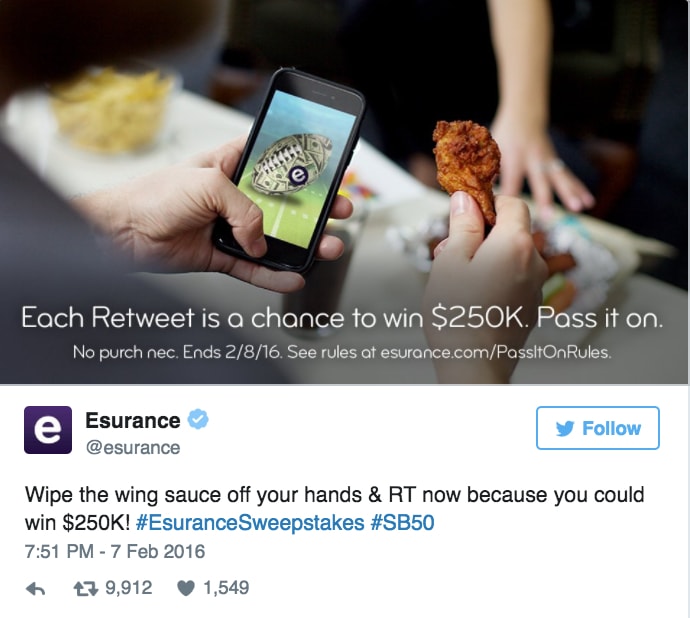 Even though everyone was talking about Beyoncé's halftime performance at last year's Super Bowl, Esurance was able to steal some of the spotlight. The social intelligence platform Sysomos analyzed the data and showed that Esurance was one of the most talked about brands on social media during Super Bowl Sunday.
But interestingly enough, Esurance didn't run an official Super Bowl ad during primetime. Instead, they ran pregame and postgame ads paired with a compelling social media campaign.
She won $50K & now you have the chance to win 5x that! RT for your chance to score $250K! #EsuranceSweepstakes #SB50https://t.co/dUbkYFgjVk

— Esurance (@esurance) February 9, 2016
The campaign revolved around giving away $1 million to 17 lucky winners who retweeted Esurance's social media posts. They also informed the winners via FaceTime call, and then posted the videos of their reactions to winning the giveaway. What a great example of real-time marketing!
As a result, Esurance reaped the most mentions on Twitter during the Super Bowl and its designated hashtag, #esurancesweepstakes had almost 2 million mentions.
Make it work for you: Contests increase brand engagement, with 52% of consumers staying connected to a brand after the contest has ended.
"Ultimately, competitions can be a quick, low-cost incentive to encourage your customers to do some of your marketing for you," says Rob Toledo of Distilled.
Here's how you can run a seriously successful contest to grow your brand.
12,000 Mini Miracles – West Jet
Although this campaign occurred a few weeks shy of 2016, it's one we couldn't skip. 12,000 Mini Miracles was a campaign by WestJet that won the 2016 Shorty Award for best use of social media.
The goal of the campaign was to motivate 12,000 WestJet employees around the world to perform and submit videos (via social media channels) of 12,000 mini miracles (or random acts of kindness) over a 24-hour time period on December 9th.
The campaign was mentioned in 400 media outlets in 214 countries with over 2 billion media impressions – a campaign miracle indeed!
Make it work for you: Get your employees onboard as brand ambassadors! 41% of consumers believe that the employees of a business are the most credible source of information, ranking higher than founders and CEOs.
Get your employees involved by:
Promoting self discovery amongst your team and encouraging personal branding

Make brand awareness a priority amongst your employees

Connect your employees personal goals with corporate ones
Basically, weaving your employees into your brand strategy can help build trust and raise awareness of your brand.
#ShotOnIphone – Apple
This campaign saw Apple commission a selection amateur and pro photographers to take low-light snaps on their iPhones to show just how much the brand had improved the camera feature.
The photographers took candid shots all over the world, from Johannesburg to Java and everywhere in between.
As a result, the shots were shown in more than 25 countries around the world and proved to naysayers just how great the new iPhone camera is. Photos were also tagged with the #shotoniphone hashtag on social media – the platform that Apple had used to find many of the participating photographers.
Anyone can join in the #ShotOnIphone campaign by simply tagging their photos on Instagram, but only a select few were chosen to have their snaps up on billboards around the world.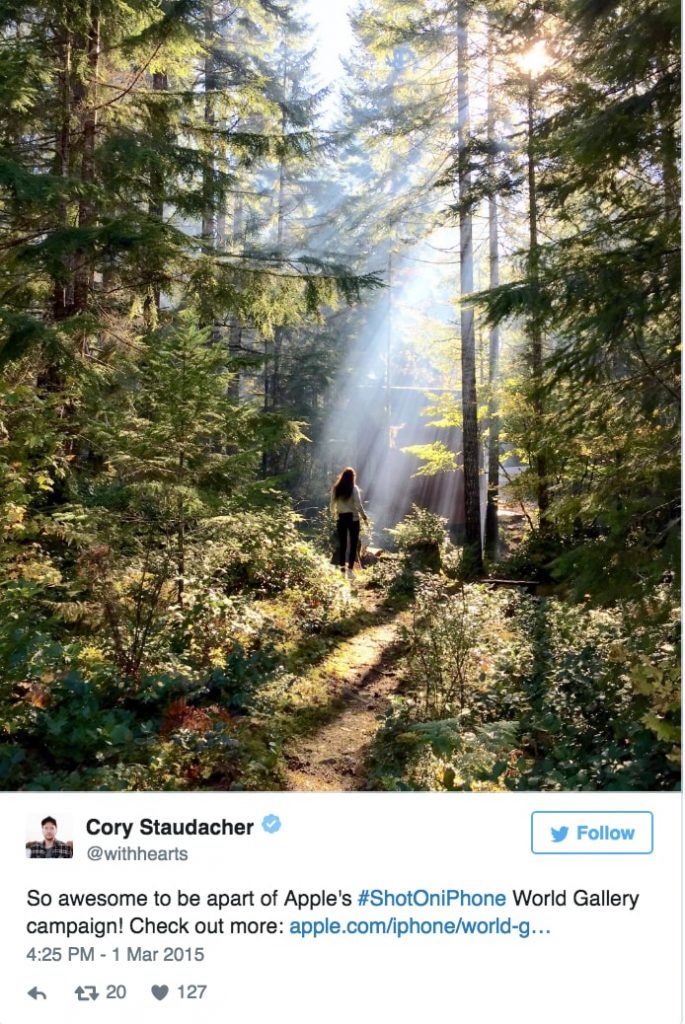 Make it work for you: Encourage your audience to send in pictures under a specific hashtag on Instagram. According to research, 50% of consumers want brands to tell them what content to create, but only a measly 16% actually do that.
Once your audience start sending in their pictures, you can curate a selection of them on your site or your own social media channels – or, alternatively, take it bigger like Apple did and display them in the public eye.
Here's how you can increase audience engagement with UGC.
#CaughtOnNestCam – Nest Cam
How do you even begin to market a security camera on social media?
Nest Cam got it just right with their #CaughtOnNestCam campaign. Throughout the year, they encouraged users to send in clips from their 24/7 live streaming cameras, which the brand than wrapped up in a "best of" video – a great way to show what the product is capable of in a fun way (and who doesn't like watching live fails and wins?).
The results saw the end-of-year video reach 1.2 million views on YouTube and 3.1 million views across Facebook. Across social media, it garnered 1,200 shares and reached more than 4.5 million people.
Make it work for you: People trust UGC more than traditional marketing. Fact. So, instead of creating a polished campaign with your marketing team, get your audience to produce an authentic campaign for you.
Start by getting them to share footage, photos, and messages about their experience with your product and then compile these into a larger piece of content to share on social media. Not only do you not need to spend thousands on creating a campaign, but your marketing will be more believable.
Airbnb's National Park Backyards
Airbnb served up a dose of relaxation to busy people with their National Park backyards campaign. By using promoted Facebook posts, they targeted people who needed a break from the endless noise of social media and presented them with serene views of places like Yellowstone and Acadia. Basically, they let nature do the talking – and it worked!
After just two weeks of the campaign launching on Facebook Live, the campaign had reached more than 2.5 million impressions. Over on social media, the continued shares meant 260,000 people were considering a stay with Airbnb in one of the national parks featured in the campaign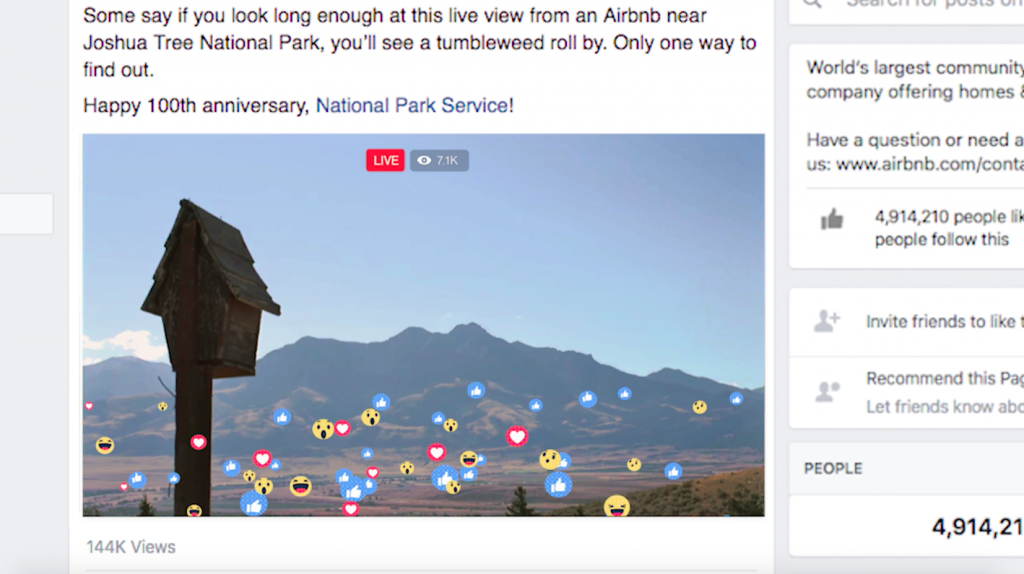 Make it work for you: Don't be afraid to disrupt your audience's newsfeed! Serve up something unique and in a format that's new (like Facebook Live) to take their attention away from the usual updates.
Live video increases brand engagement and authenticity, so a feature like Facebook Live is the perfect method to implement.
There are numerous ways you can use Facebook Live to connect with your audience. You might want to:
Show a behind the scenes video of your business

Broadcast live events

Host interviews with influencers in your niche or members of your team
Here's a great guide to getting started with Facebook Live in your business.
---
What were some of your favorite social media campaigns in 2016? Drop us a line below and share your thoughts!
Also, if you have any social media campaigns in the works and need some help, reach out and we'd love to strategize with you!