COVID-19 isn't the only reason that commerce has moved in the direction of online shopping. While the pandemic increased the necessity of online stores, to say online shopping wasn't already on the rise would be an oversight.
In 2018, Shopify saw $1.5 billion in sales during the Thanksgiving shopping period from Black Friday to Cyber Monday. One year later, they broke that record with $2.9 billion in worldwide sales in 2019 during Black Friday and Cyber Monday. In 2020, COVID-19 became a global issue, and online sales gained even more momentum.
Shopify's revenue doubled from $362 million Q1 in 2020 to $714.3 million Q2—and that was without the help of any deal-saving holidays. As Black Friday and Cyber Monday approach, only bold brands would be willing to bypass their online presence in the hope of incredible in-person shopping experience. The consumers have spoken, and they're asking to buy their products online.
Let's be clear though, this online commerce trend isn't just for online stores. Online commerce is for mom-and-pop brick-and-mortar stores as much as it is for superstores like Wal-Mart. While the purchase might be made online, the brick-and-mortar stores can act as fulfillment centers. While Salesforce predicts that up to 30% of retail sales will be made through digital channels, they also predict that there will be a 90% increase in digital sales for businesses offering in-person pickup compared to past holiday seasons.
An online experience is becoming an integral part of the buying experience. Its convenience is obvious, but what isn't is the ability for online stores to move the buyer closer to conversion using customer feedback. Unlike an in-person shopping experience where product reviews are non-existent, product reviews online can come by the tens of thousands.
Sixty-four percent of consumers strongly consider online reviews and actively seek them out before making a final purchasing decision. Through an online store, brands can place those online reviews directly on their product pages.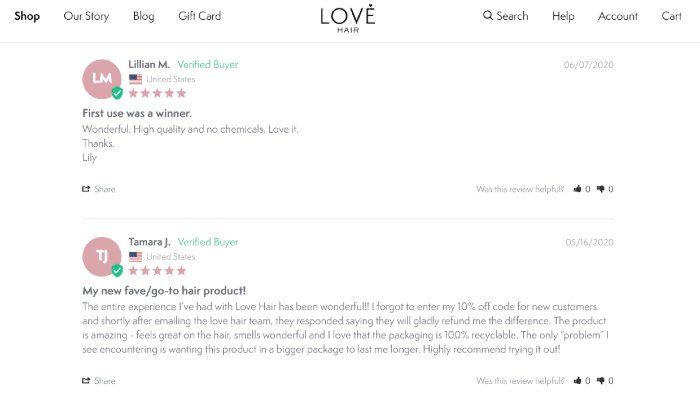 These product reviews are just one type of user-generated content available for brands to use in their Black Friday and Cyber Monday online strategy. User-generated content (UGC) is a photo, video, review, testimonial, or comment created by a customer about a specific product.
Each review left on the Love Hair website is user-generated content, and it has a lot of impact. Millennial consumers believe that user-generated content is 35% more memorable than other media and 84% of Generation Z is more likely to trust a company if it uses actual customers in its advertising.
Generally, user-generated content is created by customers at the 3 most exciting stages of the buying journey:
Right after purchasing the product or service
When they receive the product or service
After they get the benefit of the product or service
In Love Hair's case, their UGC customer testimonials come during the last exciting stage of the buying journey, when a happy customer gets the benefit of using the product or service (organic hair care products).
Customers organically create UGC when they share a photo of their purchase, take a video of themselves unboxing their new products, leave a testimonial on the website, or leave a comment on a social platform. In addition, by using micro-influencers and nano-influencers, brands can tap into a highly engaged niche audience who have more leverage with their audience than someone with a larger audience.
Using both organic customer feedback and influencer marketing, brands can create high-converting campaigns for their Black Friday ecommerce strategies, with a sustainable, remote content creation strategy. Let's take a look at different marketing strategies to succeed on Black Friday this year.
Black Friday eCommerce Strategies
We're going to outline several strategies you can use in your Black Friday sales this year, but before we hop in we want to put a quick disclaimer. You don't need to rush your team into getting all of this done by November. Focus on the strategies that will move the needle the most for you this holiday season.
#1: Start Early
Thanks to Amazon Prime Day, the holiday season started earlier this year than ever before. While holiday shopping has been known to increase tremendously due to Black Friday and Cyber Monday, 2020's October Prime Day meant the holidays were on consumers' minds much earlier.
Start creating holiday-specific content for your products, showcasing who it is the perfect present for or how someone can add it to their wishlist.
With user-generated content, you can find customers talking about how they got your product for a loved one in the past. If you're having trouble collecting and organizing your UGC to find such specific content, it's important to get the right platform for manual tagging and automated AI tagging to manage UGC about your products from all websites and social platforms.
#2: UGC Customer and Community Content
Seventy percent of consumers trust online peer reviews and recommendations more than professional content and copy, which means customer and community content is one of the top Black Friday eCommerce tips.
For example, Hello Klean uses influencer UGC from The Sunday Times in their Facebook ad copy and has minimal copy to support it. The rest of their copy explains what Hello Klean is (a shower filter) and shows their tagline, "Don't just shower, get KLEAN." The rest of the focus of the ad is on what the product looks like and what customers have to say about it.
If you want to motivate customers to create user-generated content, the most important thing to do is ask. Fifty-percent of consumers wish brands would tell them what type of content to create and share. Send customers a follow-up email after receiving their product asking them to tag you in their Instagram stories with a review, include a pamphlet in your product box asking customers to take a photo of themselves using your product and tag you, or create a campaign that gives customers a chance to win a prize if they tag you with your product.
#3: Optimize your website
Two of the most essential Black Friday best practices are your website speed and how well your website works on mobile. According to Search Engine Journal, your website should load in 3 seconds or less—on both desktop and mobile. Slow website load times cause higher bounce rates and lower conversions. If somebody is excited to learn more about your product after seeing an ad for it and find themselves waiting for your website to load—the excitement starts to wear off.
The ideal website keeps the momentum going by continuing to keep them excited with minuscule wait time (if any). You can test your website's loading on Page Insights by Google. To keep the buying excitement going, you also need your website to work on the device somebody saw your ad on. For example, if you have a great Facebook ad—you can assume that your customer avatar is going to see that ad on their mobile device (unless you've directly set that ad to only display on Desktop).
Your website needs to be responsive so it looks good on any device (mobile, desktop, tablet, etc.) Mobile retail revenue is predicted to hit $339.03 billion in 2020. A responsive website will keep images, copy, buttons, and other page elements exactly where they should be. A non-responsive website will create a bad mobile experience where you'll lose hot leads frustrated with your website interface.
#4: Run social media contests
One of the best ways to get the word out about your products is to ask your customers to do it for you, in return for a prize. Running contests on social media increases brand awareness by turning your customers into brand ambassadors who don't require ad dollars to distribute the word about your brand. Instead, these customers happily share your brand with their friends, family, and audience in return for the chance to win a prize.
Here are a few ways to run a social media contest:
Create sweepstakes that generate awareness and grow your database by having website visitors enter their email and/or phone number
Launch a countdown that generates excitement and urgency for upcoming launches and announcements and encourage customer avatars to create community content around the launch
Create a custom poll to drive interaction by asking customers about their favorite brand, product, photo, etc.
Host a collaboration with an influencer (or influencers) and give them their own page on your website, collecting high-quality and high-resolution UGC of your products
Use a contest to incentivize your audience to submit their UGC and display examples from your community as inspiration
Social media contests are a creative game that starts with your customer avatar. Depending on your audience, there will be contests that are the best option for you. For example, GoPro has asked its customers to submit their best photos for years to win free gear. This works perfectly for their audience of camera savvy, adventurous creatives. A fashion brand can use a launch countdown to get their audience excited for a new collection, asking them to share what pieces they want on their Instagram story and tag the brand.
Grab more ideas for social media contests here
#5: Create comparison guides
Comparison guides will help customers compare your product to the competitions. By hosting this comparison guide on your website, you'll be able to grab organic traffic looking to compare the two products and retarget these customers with paid ads or incentivize them to sign up for your email list with a discount offer.
For example, SkinCarisma creates comparison guides for similar skincare products. While the comparison guide is SkinCarisma's product, your brand could compare specific competitors to your brand. You can run these comparison guides as blog posts and paid ads that showcase why your brand is the better gift or product.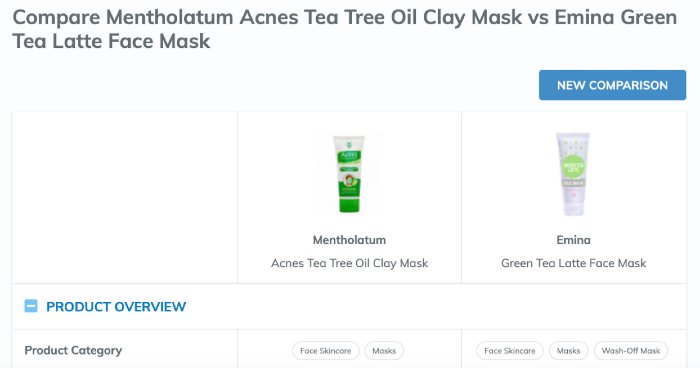 Your comparison guide needs to compare the parts of the product that your customer has the most questions about. For example, they'll want to know how your pricing compares to the competitions, ingredients (for skincare or food products), reviews, and more. Comparison guides are a great place to put UGC since anyone looking at the comparison guide is a hot lead. Show them happy customers leaving reviews on your products or creating other forms of UGC about it so they can see that people with similar pain points have found success using your product.
#6: Update content to reflect the season
As Black Friday and Cyber Monday approach, as well as the December holidays—updating your content to reflect this season is going to show your customers that you've got special deals for them during this time of the year. Your content shouldn't bypass the holidays and continue as it was before the holiday season.
Social media content, website content, and email content should all talk about the use of your products as gifts or make it easy for somebody who wants the product gifted to themselves to send out a link requesting for that gift.
The key is to show your customers exactly who these products could be gifted to or how to get it gifted for themselves in the most seamless way possible. You can send out an email talking about how your product is the best gift for new dads, how it's the perfect fit for a busy mom, etc.
#7: Create shoppable UGC homepages and landing pages and social proof on product pages
Using user-generated content on your product pages can increase website conversions by twenty-nine percent. It can also lower cart abandonment. Your homepage and landing pages might be following the social norm of high-quality product photos created by your team, but this isn't what consumers are asking for.
They're asking for real-time content of happy customers using your products. Find high-quality UGC online using a platform like TINT, which helps you find the best UGC, get the legal rights to it, organize it, repurpose it, and distribute it across the social platforms of your choosing. Make that content shoppable by linking out to product pages directly from the UGC content.
On your product pages, you can add UGC reviews and testimonials, as well as more UGC photos and videos (as you want). On-site consumer reviews can increase conversions by seventy-four percent, so adding this UGC can have a huge impact on your revenue.
The foundation of these Black Friday strategies for online retailers comes down to promotion, which we'll go over in the next section.
How Can You Sell More on Black Friday?
Selling more on Black Friday and Cyber Monday is rooted in promotion. There are a lot of ways available for you to promote your brand this season. We've put together a few for you to steal if they seem like a good fit for your brand.
#1: Black Friday Cyber Monday Emails
It might seem obvious to you that Black Friday and Cyber Monday apply to your products, but your customers aren't so involved in your business. Your marketing strategy needs to remind your subscribers of what's coming this holiday season for your products. Let them know ahead of time that they can expect discounts and to make sure to keep up with your emails as you'll be announcing when those discounts are live.
#2: Be active on social media sharing promotions and highlights deals
Your social media profiles were created to help you sell more products, and this is a great time to put that social media marketing strategy to use. Use a curated social strategy that promotes your deals and discounts this holiday season. If you're having trouble keeping up with your social media content or putting together a converting strategy, consider hiring a Social Commerce Specialist to help you get set up with product tags and checkout.
#3: Create curated gift guides
Just like you, your customers want help figuring out what to get their friends and family. By putting together gift guides for them, you can help them be the hero of their gift-giving story. Highlight your products in these gift guides created for your customer avatar. For example, you can create a Gift Guide for Dad's Over 50 or Gift Guide For Women Who Love Sailing.
#4: Upsell and sell more with Shop The Look features
Use every opportunity to increase the average order value for each visitor. A "Shop The Look" feature on your website can show how customers are using several of your products at the same time. For example, an eCommerce fashion boutique can show how another user paired their leather pants with their sunglasses. By shopping the look, website visitors can add the sunglasses to their cart as well. Cha-ching! A BBQ grill brand can upsell their website visitors by showing happy customers grilling and using their collection of grill tools.
#5: Personalize content
Once you know a website visitor is interested in a specific product, you can use personalized landing pages and homepages to keep showing them that content specifically. Using cookies, you'll be able to create landing pages with copy specifically for the product they were interested in (and showed you by visiting that product's website page or clicking that product's ad). You can also use this in your email marketing strategy, to engage users with the specific products they are interested in.
With Black Friday eCommerce strategy for retailers, the marketing doesn't stop there. Once you've gained new customers, you know it's time to put them into a loyalty campaign that keeps them buying past the holiday shopping season. This is when your social eCommerce strategy is going to keep them in your virtual world, continuing to collect UGC from customers as they create it and promoting new products and deals in the future.
We're here to help with your eCommerce strategy. Request a demo to see how we can help you with high converting campaigns and increased sales.