How do you get millennials to patronize the arts? Our generation loves art, but we also love streaming movies on our laptops and paying off our stifling college loans. (Ok, we don't love paying off our loans, but we've gotta do it). How then, do fine arts institutions with an aging subscriber base make themselves relevant? How do they get young and busy art lovers through their doors?
This is a puzzle that has bothered opera houses, Shakespeare theaters, art galleries, and professional dance troupes. Solve it, and these institutions stay alive – flourish even. Fail to solve it and things start to look grim.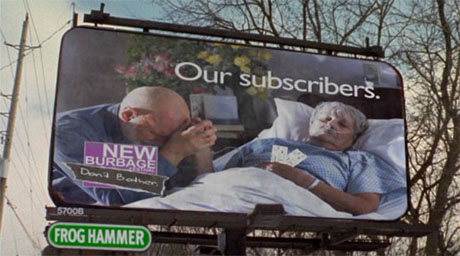 Last night, the San Francisco ballet found their millennial audience. The event – Sensorium at the Ballet was an awesome mix of jaw dropping dance performances, interactive exhibits in the lobbies, a raging after-party in the basement of the opera house, and a social media strategy that allowed them to trend nationally on twitter for a few minutes.
Let's take a look at what allowed their event to be so successful:

1. Make it an Evening
Art galleries were some of the first institutions to hit upon this solution: special "night at the museum" events, where a fun, often-boozy atmosphere attracts our generation like flies to honey. We love museums! We love booze! We love feeling sophisticated among all this art!
The Sensorium took this to a whole new level by hiring a DJ and throwing a dance party in the basement of the opera house at the end of the evening. "You've seen us dance, now how would you like to dance?" their host, James Buckhouse, asked the audience. As we trickled down from the balcony to the basement, a friend wryly commented that the age groups were filtering out as well – the older members of the crowd headed to the lobby, while the younger faces found their way to the basement and the bass.
Olivia Ramsay, Social Media Producer for the SF Ballet explained, "Our goal for Sensorium was to appeal to a new crowd that might not normally consider the ballet to be an option for a fun night out in San Francisco."
Making an evening out of it takes advantage of our generation's FOMO. In a less cynical view, making a big evening out of it simply gives us a reason to put it on our calendars. We're busy – why should this Tuesday be different from all other Tuesdays? Because it's a special night, and everyone will be there. Adding a social component also allows visitors who might feel uncomfortable at such a "high brow" event relax a little bit. And bring their friends along too.
2. Social Media Strategy: #HopeCadenza
After the second dance, right before the intermission, a lone cellist played on stage. "I know we told you to put your phones away," Buckhouse announced to the crowd. "But its time to take your phones back out."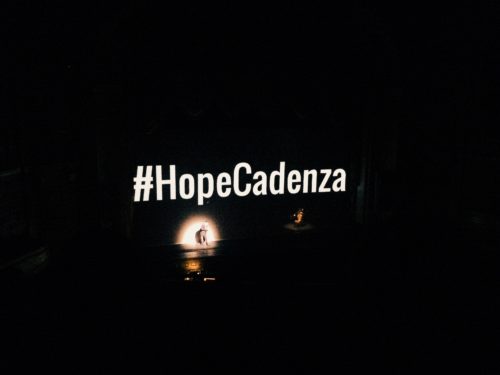 The crowd gasped and murmured at the novelty of it. Projected on an enormous, transparent screen, was #HopeCadenza – the name of the interactive social media section of the program. As the audience quickly switched to sharing their favorite parts of the performance or funny little jokes ("Lots of man thigh @SFBallet #HopeCadenza"), moderators selected tweets for display on stage.
"I hope San Francisco keeps its culture and arts alive. #hopecadenza" got an enormous cheer.
The SF Ballet truly made social media a part of their performance – it was even in the program. And it paid off: #HopeCadenza was briefly trending nationally on Twitter. In the hours during and immediately after the event they received 1,620 posts, generating 2.74 million impressions (the total number of times users could have seen the campaign).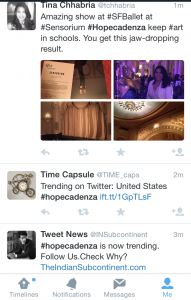 "While we were interested in introducing San Francisco's startup and tech community to a unique evening at the ballet, Sensorium also allowed us to consider new ways to engage our fans to push beyond what we've ever done in the past," said Ramsay.
3. The Art Still Matters
About half of Team TINT went to Sensorium together – for fun, and to see our product at work, as it pulled in the posts to be projected on stage. We couldn't have hoped for a more amazing experience – hearing people gasp at the sight of their tweets or applaud tweets they agreed with was extremely cool.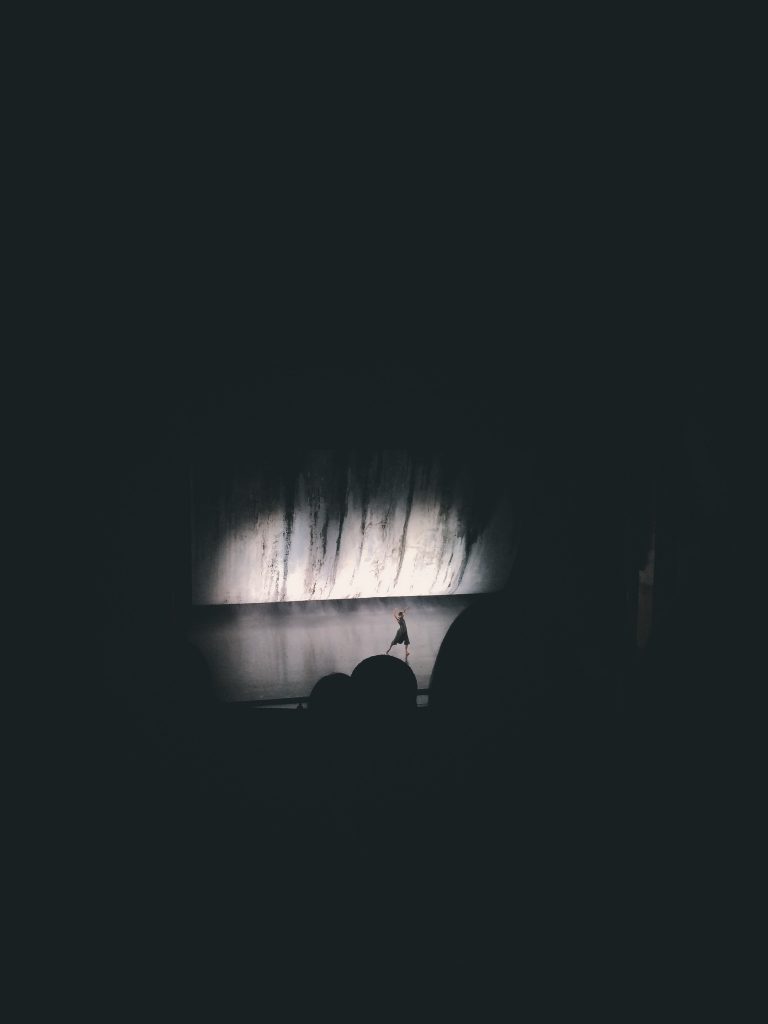 But at the end of the night we were all talking about the dancing – which pieces we liked, which dancers blew us away. In planning the Sensorium, the SF Ballet picked pieces that would appeal to a younger, dominantly techie audience, but didn't dumb it down. The art was still bold, highly technical, astounding. Ramsay noticed too – "Sensorium proved that there is a great deal of interest in how the arts can appeal to this new and very enthusiastic crowd."
There is a lesson here for other fine arts institutions looking to connect with a young audience – get creative to get them in your doors, to get them to talk about you on social media. But ultimately, the art will be the reason they stay.
And for those that do stay, the SF ballet is ready: fans between the age of 21-39 can sign up for something called The List where they get $25 ticket offers and invites to exclusive events. Because we still need to pay off those college loans…