How Hospitality & Tourism Brands Can Get the Easiest (and Most Effective) Content Ever
Reading Time:
5
minutes —
Marketing
All posts
>
Marketing
>
How Hospitality & Tourism Brands Can Get the Easiest (and Most Effective) Content Ever
If your bathing suit and Rick Steves travel guide aren't already packed, then April is the perfect time to start scheming up your perfect summer vacation. While consumers everywhere are scouring travel sites and wanderlusting over The New York Times "36 Hours" series, many businesses within the  hospitality and tourism industries are gearing up for their busiest season of the year.
With so many hotels, restaurants, and destinations vying for the attention of 2017 summer travelers, it's time to really turn up the heat when it comes to your spring marketing campaigns. With something as personal as travel, the key to a successful strategy is showing prospective clients how people like them have had the time of their lives toasting champagne flutes at your restaurant,  learning to surf with your company, or enjoying room service at your hotel. You need user-generated content, and the good news is, you can get it quickly.
Here are a few ideas for how brands within the hospitality and tourism industries can leverage this strategy just before their peak season.
Inspire Prospective Customers With Current Customers' Experience
If there's one Instagram account to follow when you have a serious hankering to jetset, it's Airbnb's. In the past decade since its inception, the home sharing company has become a household name known for quirky, unique spaces and a community dedicated to wanderlust. Of the brand's Instagram posts, 77 percent of content is user-generated and 80 percent of their Instagram engagement is driven by user-generated content.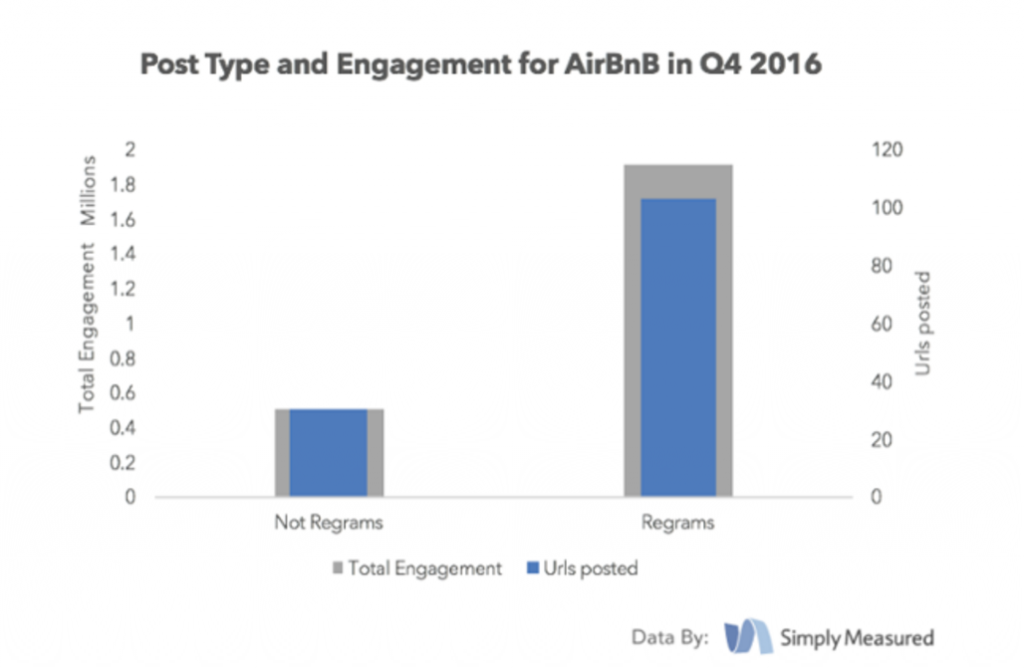 Since it's hard to imagine Airbnb's social media team getting to the hundreds of thousands of current listings on the site, there's no better way to inspire people to use the platform than by posting the experiences current customers have already shared. Their second most engaging post of 2016 was a regram from a guest (and it sure makes us want to go to Cornwall!):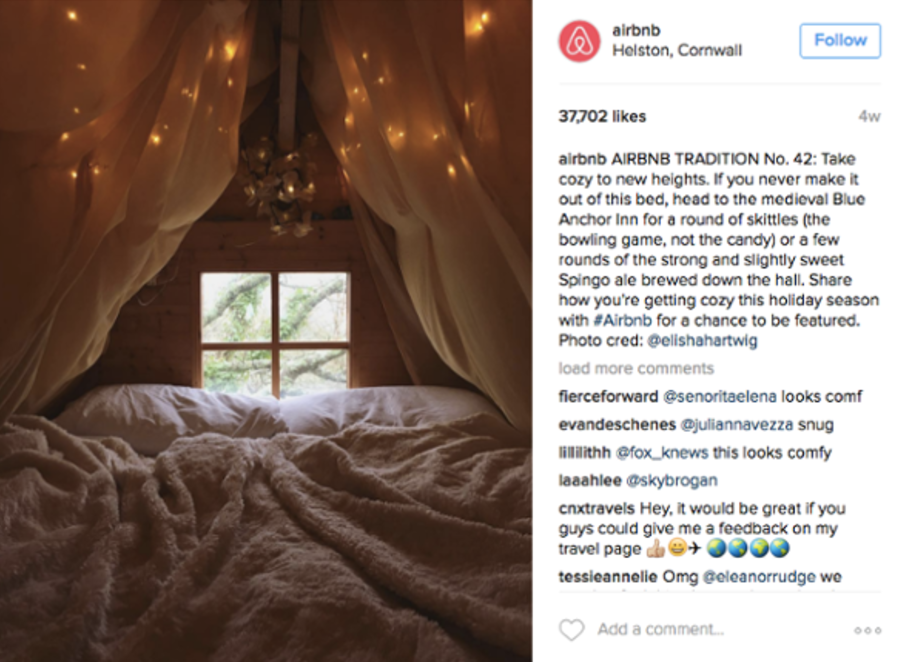 The brilliance of tourism industry marketing is that the content of a vacation, activity, or festive meal out is often something people already want to share with their networks. Airbnb isn't raffling anything off or paying people to post—but hey, if you 'woke up like that' in the post above, wouldn't you want to share?
South African Tourism took Airbnb's approach and simply created a hashtag, #MeetSouthAfrica. For the campaign, they encouraged visitors to post and generated more than 10,000 tweets from people sharing or connecting with others over the content. Now that's a pretty effortless approach to getting in front of new audiences.
Odds are, if you work in tourism or hospitality, people are posting about you. In fact, 72 percent of people post photos on a social network while on vacation. Collect the best of what's already out there, or create a fresh, new hashtag—or contest—to start the buzz anew for this upcoming season.
Host A Social Media Contest
Give away one trip to generate tens of thousands of social media posts about your company? Travelocity thought it was worth it and we do, too! The trip planning website ran "the most successful marketing campaign in their history" by asking people to post about their dream vacation with the hashtag #IWannaGo. The prize? Their dream vacation, granted. Over 26,000 posts were created, and 95 percent of visitors scrolled down on the page to load more content. By giving away just one dream vacation, in return, Travelocity got 23 million impressions across social media sites. We'd call that a win, win.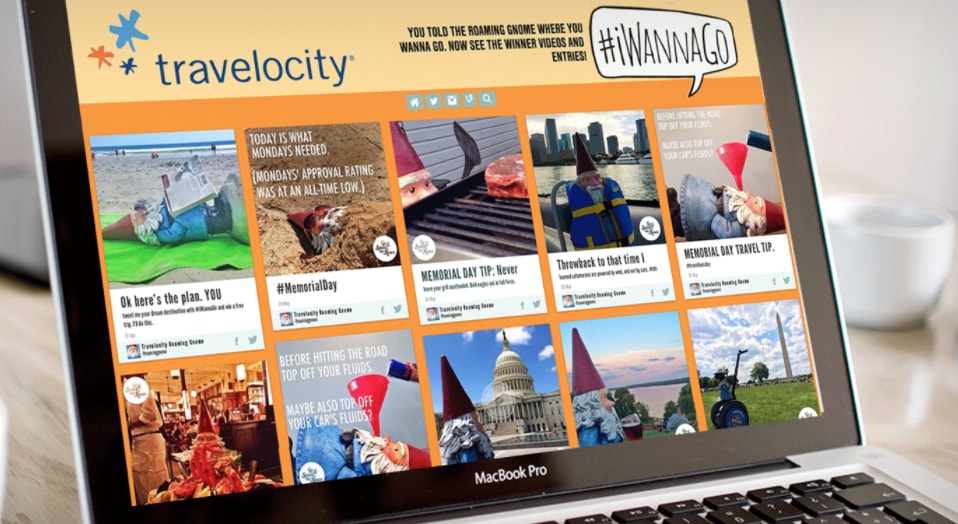 A way to rope even more people into viewing your content? Create a contest based on votes: it's not enough to just create a video or post a picture, a participant needs to get their whole network involved in order to have a fair shot at winning.
For example, to build hype for Virgin's expansion to Chicago, the airline hosted a contest to win a ticket on the inaugural flight from California to Chicago. Hopeful consumers were tasked with uploading a video or photo with the theme, "putting the smackdown on ordinary." Those who produced the photos or videos that received the top 10 highest number of votes received tickets on the first flight. Adding a voting component encourages social sharing, further increasing your brand's reach.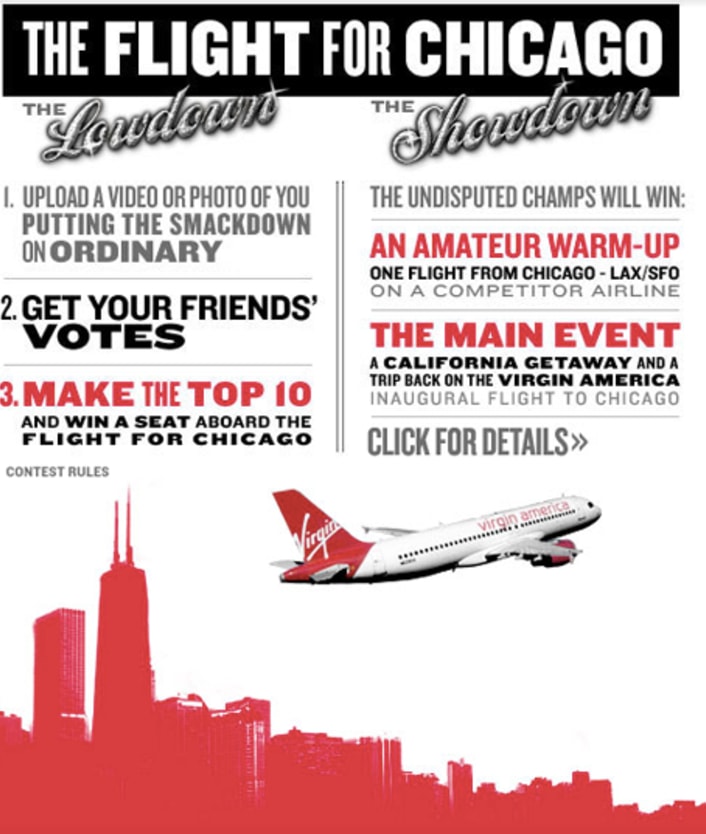 View Reviews as a Conversation Starter
Customer reviews can be both a blessing and a curse when it comes to user-generated content. They're also mainstream for the tourism and hospitality industries. From Yelp to Airbnb to TripAdvisor and beyond—people want to hear reviews from others who have actually experienced what your brand is offering. Since 84 percent of Millennials report that user-generated content has at least some influence on what they buy, it pays to have good reviews. That being said, it doesn't pay to pay for good reviews.
Many sites like Yelp include algorithms to search for "fake" reviews. One sign of a fake review? One hundred five star reviews in the same day. This indicates that a company asked for reviews, which Yelp advises against. So, if you can't buy reviews, what can you do (other than run a great business that people want to write about)?
Respond. Thank people for positive reviews and (non-defensively) response to negative reviews, too—like in the TripAdvisor example below. Often, people just want to be heard, and validating a negative experience with an apology or offer to give them a better experience can go a long way.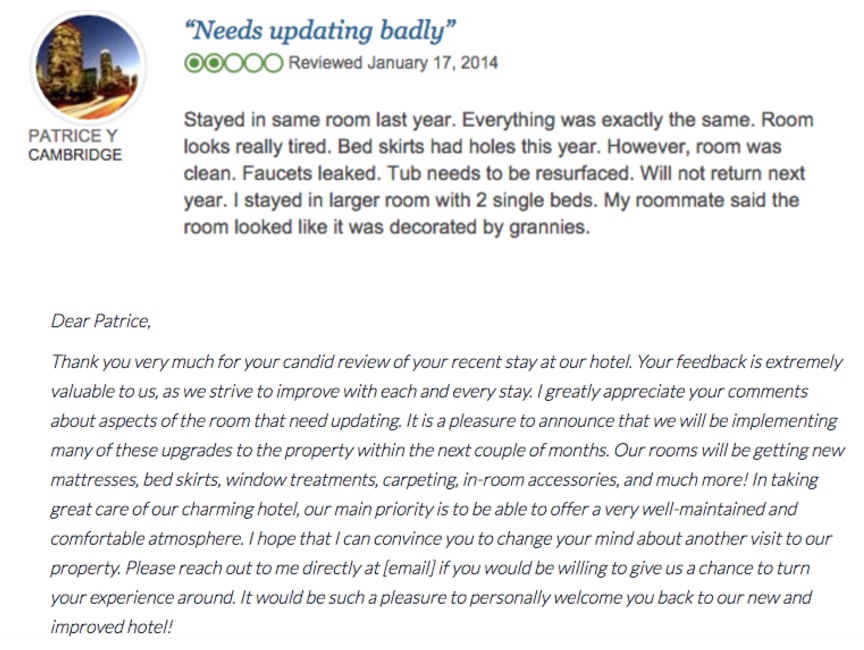 This type of user-generated content is a way for you to start a conversation with customers about what's working and what needs improvement—the good, the bad, and the ugly are all valuable insight into running a better business and fostering loyalty among your customers.
Make it Your Best Season Yet
The sun's out earlier, flipflops are coming out of the closet, and people are getting the itch to start planning their best summer ever. Now's the time to insert your brand into the conversation leveraging user-generated content. People are already talking about you, and you already have brand evangelists. Your job is as simple as finding them and sharing their positive experience with the rest of the world. Sharing UGC, hosting contests, and responding to customer feedback are all ways for your brand to join the conversation and get even more people excited about your brand.