The Basics on Creating Appealing Visual Content 
Visual Content is a large part of life, and it's about to become even larger especially with the announcement of Facebook's name change to 'Meta', to encompass their larger mission to make all of the content consumed in our lives a reality. Virtual reality that is. With content (no matter how you interpret it) visuals help us attract and engage new and existing users to our brands, platforms, and products. 
According to HubSpot, "Content brings in 3X as many leads as traditional marketing and costs 62% less" now combine this type of content with visual assets, and you have 65% more people likely to remember the information. 
So, how exactly can we create content (we aren't talking about boring infographics either) that is visually appealing and can form a relationship with the intended audience? 
Engaging Visual Content needs Creative Structure
When creating visual content, you should always take the basic principles of graphic design into consideration to craft visually appealing and effective content. According to Canva's, 25 graphic design tips for non-designers and beginners, they say that "the application of graphic design is vast and versatile".  Making a big difference for even the smallest of details.
Here are some basics to remember when creating visual assets that appeal to your users across traditional channels and social media platforms 
Brand Consistency 
Your visual content marketing strategy should directly reflect your overall brand. Having brand consistency ensures that you are always delivering messages aligned with your core brand values and tone. This can be simple things like using your branded logo or keeping the same color palette throughout your visual elements. 
With consistency, it can lead to higher visibility and recognition when consumers start to think of your brand as soon as they have a need.
Loews Hotels solved this challenge in a fun and engaging way by incorporating lots of Guest-Generated content. Loews even ran award-winning campaigns like #TravelForReal resulting in thousands of pieces of engaging content that their marketing team repurposes in magazines, advertising, on social, online, and on booking pages. 
The use of User-generated content in Loews Hotels' marketing campaign led to…
62% increase in social engagement

85% increase time spent on booking pages on website

4X increase in revenue from brand-site bookings
Loews reveals that it's marketing success isn't just due to their ability to scale content, but to use content that celebrates their guests and creates an emotional attachment to the brand. This not only makes for organic and engaging marketing assets, but shows other guests that they also have a chance to be celebrated, and that Loews cares about them.
Picking your Typeface
It's important to know that when selecting your typeface or font, it needs to stay consistent with your brand to boost content marketing efforts. The human brain processes visuals with calculation, so it's important to always use simple, easy to read text if you already don't have a branded text. 
Whitespace is everything for Image Optimization 
A graphic that is overfilled with clutter can make it hard to follow for your audience to get the overall 'picture'. This can decrease your overall internet traffic as search engines are now using visual content as another form of SEO to determine if your images are "visual search" worthy for visitors on social media and websites.  
According to Search Engine Journal, it's recommended to do the following to make sure your image is high-quality, and that will improve your chances of getting on the image search results pages for Google and Instagram. 
Use a descriptive image file name.

Add alt text – this is a relevant "factor" and is also for usability.

Add captions.

Supply image description (recommended for Images Galleries).

Create images XML Sitemaps (required).

The content surrounding the images must be consistent with the image itself and not overcrowded. 
With all this said, incorporating UGC into your Search Engine Optimization (SEO) strategy is a sure fire way to win it all in terms of gaining domain authority. As your content is shown as useful (low bounce and high engagement) your content will naturally rank higher. This higher ranking content is more likely to be linked or referenced by other content. 
Unlocking Originality: UGC is the Key
User-Generated Content (UGC) is a pillar for enhancing many steps of your buyer's journey.
When a consumer first learns about a product or service

When a consumer compares the product or service to others

When a customer orders their product or service

When a customer receives their product or service

When a customer gets the benefit/result of their product

When a customer engages and shares their experience with the product or service
In fact, consumers want real content and can often decipher this from stock photo-type material. For your visual marketing strategy, UGC is more important than ever, as viewers look for others just like them who have bought or used services they are looking into. 
Picking your Graphic Design Platform
Whether you are a professional-level user or just getting started, Canva is great for creating quick mockups and social graphics. But, did you know that even with Canva's many free, customizable templates you don't have to sacrifice your creative edge? 
For effective visual storytelling, simply use the TINT integration on Canva. Here you can upload your UGC straight to the Canva Editor to start incorporating trusted, authentic visuals into your designs to humanize and strengthen user attention.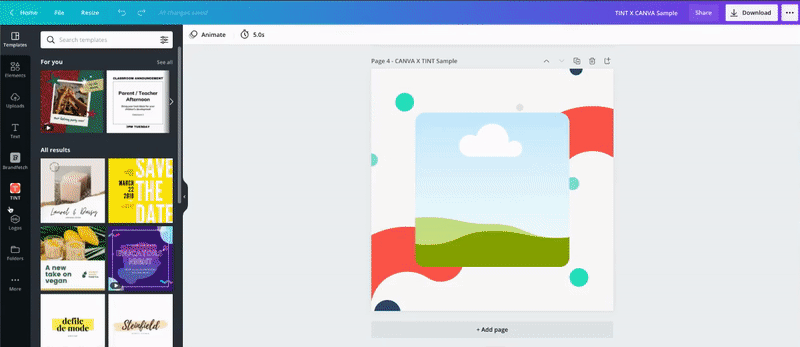 With social networks like Twitter, LinkedIn, Facebook, and Instagram we can make the connection that no matter the type of visual content (video content, ebooks, memes, gifs, etc) it can be just as important on these media channels as traditional mediums like white papers, landing pages, and blog posts. But, one thing's for sure is that incorporating User-Generated Content within your curated graphics can be the key to ultimate optimization to maximize reach, engagement, and clicks. 
Start creating engaging visual content with UGC, talk to a visual content expert now.