User-generated content has become a must-have for any brand that is trying to raise both awareness and loyalty. UGC drives conversions, shows authenticity, and increases engagement. A lesser-known benefit of adding UGC to your marketing mix is improving your search engine optimization (SEO) efforts. UGC adds keywords, improves search visibility, and more. We've partnered with digital agency Innov8 Place to share five ways to improve SEO with UGC (and one way it can detract.) 
This blog was co-written by Brenda Courtney, SEO Content Specialist at Innov8 Place.
How Does UGC Help SEO? 
Gain long-tail keywords and keyphrases from customer reviews.
UGC Supports Voice Search Optimization.
UGC is a Tool for Content Sourcing
UGC Can Boost Your Search Visibility and Domain Authority
UGC supercharges Social Media's effect on SEO
Watch Out for Poison UGC!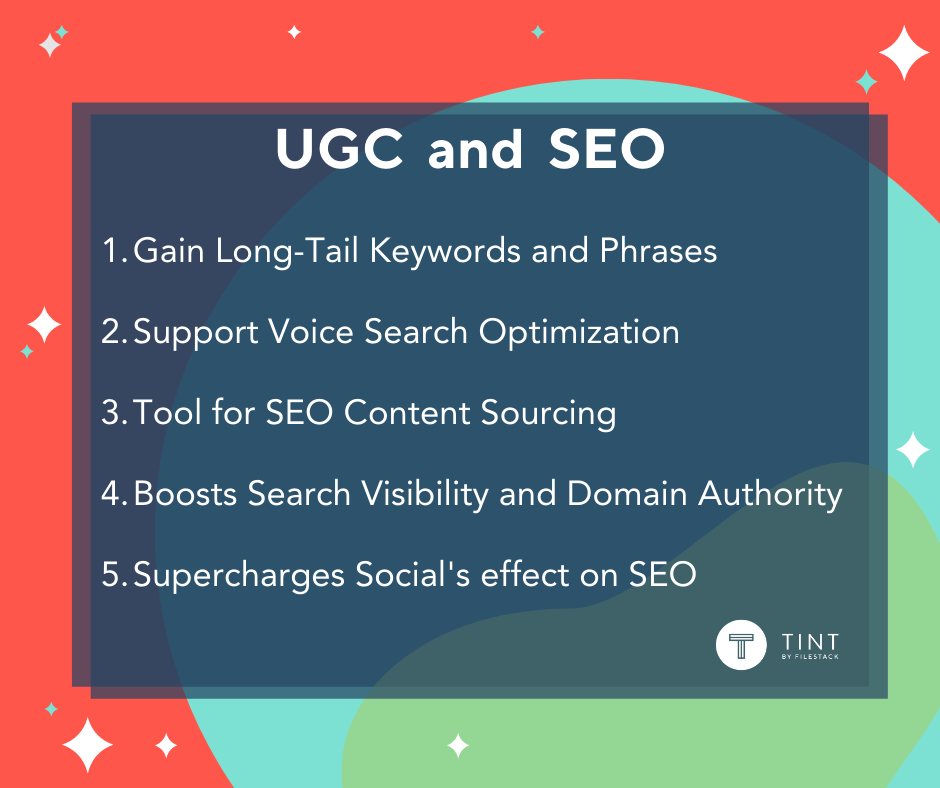 1. Gain Long-tail keywords and keyphrases from customer reviews
Reviews, customer testimonials, and client quotes have been a staple of UGC since the inception of the marketing website. They provide affirmation that your audience is making a good choice backed by the authority of other users and previous customers.  A 2017 study done by Search Engine Journal found that 67% of customers are influenced by reviews. Influence Central found that 43% of people check reviews before making any online purchase. Digital marketers have (unintentionally?) also been driving SEO with the incorporation of review-type UGC into their websites. 
Online reviews have the unique ability to supercharger long-tail keywords. According to SEO tool ahrefs, long-tail keywords are "low-volume, highly-focused search queries". These types of keywords can seem counterintuitive to standard SEO practices that focus on high volume, "popular" queries. But long-tail keywords, targeted through UGC, drive action. Low search volume has high value. People searching for these terms often have specific purchase intent or specialized use-cases. The granularity of these terms is often too specific to justify running elaborate pay per click marketing efforts against them. But adding UGC that incorporates these keywords allows pages to rank for them in search without requiring customized keyword-focused landing pages or costly paid search campaigns. 
2. UGC supports Voice Search Optimization
With the continued growth of voice search, companies are striving to become the featured snippet to capture voice search results. In an Adobe study, 48% of polled consumer use, or have used, voice search. Of those, 85% used it on their smartphones and 39% used smart speakers. Those numbers continue to trend upwards. 
As mentioned, UGC is a goldmine for long-tail keywords. Review-type UGC features natural language that mirrors the way that people would search for content by voice. People speak differently than they type, and search intent matches that. Becoming Human, an Artificial Intelligence Magazine, says that both Google and Bing (and the voice assistants that draw from them) seek the "closest-to-perfect" search result that matches conversational questions.
Having a variety of reviews that represent the verticals or personas that a company markets against is key to capturing the more obscure and specific searchers. Marketers can spend eons attempting to map out all the inbound pathways that someone could search for their product or service. UGC is a great starting place. 
3. A Tool For Content Sourcing
There is no argument that content is king. HubSpot found that content marketing produces up to a 13x positive ROI compared to other similar types of marketing. To achieve this, HubSpot recommends between 3 and 5 pieces of content each week to maximize efforts for organic traffic and brand awareness. Generating content on time, at that scale, can be difficult. UGC helps you tap into the wonderful content creators that are within your audience.
Branded content marketing, although great in small doses, is becoming overused and audiences finding it less sincere. Let's face it, the number of brands using trending memes to bring awareness to themselves is starting to become white noise. To truly create dynamic content there needs to be a balance between branded voice and authentic user narratives. Use UGC to help create this. Share a variety of UGC to appeal to the various "tribes" within your customer community. 
One-quarter of search results (25%) for the world's biggest brands are links to user generated content.  Websites that featured user content saw a 20% increase in return visitors. Additionally, these websites recorded a whopping 90% increase in time spent on-site. 
Need more convincing? Check out 46 Mind-Blowing Stats about User Generated Content. 
4. UGC Can Boost Your Search Visibility and Domain Authority
In early SEO and Search Engine Marketing (SEM), it was all about keywords and building backlinks. With these being the only two components of SEO it wasn't long before these tactics lead to spammy links and keyword stuffing. Over time, search algorithms have become much more sophisticated and have started to focus on finding trustworthy sites that fit a user's search intent. 
UGC is a great way to get new content onto your site. That new content will be indexed and crawled by search engines. As your content is shown as useful -low bounce and high engagement- your content will naturally rank higher. This higher ranking content is more likely to linked or referenced by other content. 
Domain Authority (DA) is a search engine ranking score developed by Moz that predicts how well a website will rank on search engine result pages (SERPs). It is a comparative tool that lets you score content and website strength against other websites, such as competitors. As content is implemented, consider how it will affect DA. Organic "page-one" SERP results are more valuable than the best-crafted paid search ad. 
5. Social Media affects SEO
The effects of Social Media on SEO can be a contentious one. It 2014, it was announced that the Google search algorithm was not affected by the engagement and activity of social platforms. It seemed to make sense at the time. Social Media, with its massive proliferation and exponentially growing number of pages, would hold too much sway over search results. Popularity would overshadow usefulness and accuracy. Google still maintains that social signals do not have any significant effect on SEO. 
In 2018 and 2019, Hootsuite and Neil Patel (respectively) tested the SEO results of content on social. Both of their research found that Google was correct in saying that social signals did not affect SEO and SERP ranking. But, that is not the complete story. 
Hootsuite found that there is an indirect relationship between social media and SEO. "Content that performs well on social will likely earn more backlinks, which helps boost search rank." Particularly in the short-term, social engagement drove positive trends in backlinks, referencing domains, and overall ranking. It also expedited the distribution and general awareness of the content, increasing visitor traffic. 
Combine this knowledge with the fact that UGC converts more effectively, increases engagement, and drives action. You have a recipe for SEO success that can be quickly integrated into your current social marketing strategy. 
Neil Patel adds that you shouldn't exclude Bing, which is generally more amenable to social traffic. Approximately 30% of search traffic in the US (2018) was served through Bing. That 10% global search market share could be just the customers you're looking for. 
Watch Out for Poison UGC
As much as using UGC can improve your SEO, it can also do some damage if you are not monitoring it. This is especially critical when you open up comments, testimonials, and reviews on your site. One poor review or testimonial that goes unnoticed and unanswered can have a negative impact not only on your brand but also your search results. You can actually start to rank for negative terms and if you have savvy competitors they will be looking for that in their opposition research.
You should also keep an eye out for spam. Spam posting and low-quality content can quickly hurt even the most SEO rich site. Spam filled comments will hurt rankings and start to transform your site into something that search algorithms perceive as insecure and lacking authority. . It's important to put in place both a spam filter and to self manage what content gets posted. 
—-
There has never been a better time to incorporate user generated content into your marketing. It not only supports your specific calls to action but also has a holistic effect that can improve the overall authority and search optimization of your website.
—
Innov8 Place is a premier digital studio specializing in web design, search optimization, and custom database construction. From API integration to eCommerce enablement, Innov8 builds websites for businesses of all sizes using only US-based developers. They offer a variety of technical and SEO maintenance plans to keep your site up and ranking. Learn more about Innov8.Place. 
TINT helps the world's top brands with UGC discovery, activation, and implementation. Learn how UGC can invigorate your marketing and support your search engine optimization strategies, talk with one of our UGC specialists today.