In the last few years, Instagram has become one of the fastest-growing social media platforms with the most engaged user base.
As specified in one report, Instagram now has over 1 billion monthly active users, 500 million people access it daily, and 64 % of this audience are aged between 18 and 34 years. Moreover, people spend a considerable amount of time on the platform, so it's not just a platform for sharing photos and videos anymore.
It has become a marketplace where customers can discover and buy new products: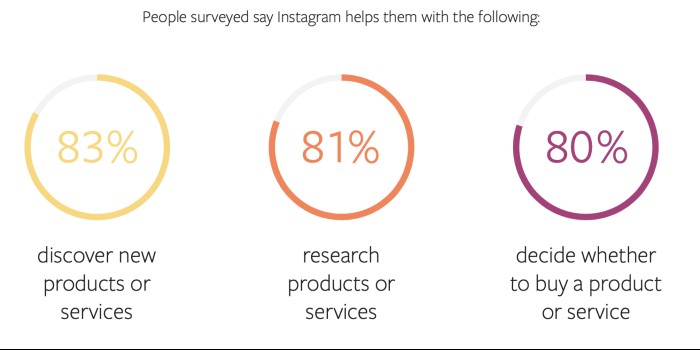 As a visual app, Instagram is the perfect place to show off products and it's easy for people to discover products on the platform. The popularity of Instagram shopping is growing and brands set up estores for a chance to reach their target audience and turn engaged followers into paying customers.
But here's the deal:
The Instagram community counts over 25 million businesses, so it can be difficult for people to choose where to buy from. As a result, consumers rely on UGC such as photos and reviews since 92% of consumers trust recommendations from other people, even if it's people they don't know.
Why? It's psychologically proven that people copy the actions of others in an attempt to undertake behavior in a particular situation. When it comes to making purchase decisions, potential customers also crave social proof and if you provide your followers with it, you can promote your store with ease.
Still, not convinced?
Why Use Social Proof for Promoting Your eStore on Instagram
Social proof is a powerful concept that serves as a demonstration that other people have made the same choice in a product. If people choose a particular product or store, other potential customers assume this store is a good choice for them, too.
Providing your Instagram followers with social proof helps to:
Increase brand trust and loyalty: When people leave positive customer reviews or create user-generated content, it's more likely they are satisfied with the quality of your products. As a result, potential customers trust your brands and consider it as a better option.
Show products in actions: User-generated content is the most popular form of social proof. When people take photos or videos of your product, not only do they look more realistic and trustworthy than branded content, but they also help to show your products in action.
Beat your competitors: With a great number of products on the market, people are more likely to buy from companies they trust. When you use social proof for promoting your eStore on Instagram, you give your visitors and followers a solid reason to trust you and therefore you stay ahead of your competitors.
So if you want to stand out from the crowd and sell on Instagram, it's important to provide followers with social proof. Let's find out how to do it the right way.
Here are 6 ways to tap into the power of social commerce for your eStore.
#1. Feature User-Generated Content on Your Feed
Social proof comes in different forms and user-generated content builds the foundation of trust for your brand. For eStore owners, using UGC also gives an opportunity to showcase their products from different angles and therefore ease the worried minds of potential customers.
In the last few years, the popularity of fan-made content has grown rapidly thanks to brands like GoPro, Starbucks, and Buffer that have utilized the power of user-generated content.
Today, businesses of all sizes and niches feature user-generated content (UGC). Not only do people trust brands that feature user-generated content, but they also draw inspiration from these photos and videos that encourage other customers to tell your brand stories.
If your customers produce UGC for you, that's great! If you feature this content on your feed, chances are that you can increase brand trust and boost sales. One of the easiest ways to feature user-generated content on your feed without violating users' copyright is to repost on Instagram.
Levi's often uses UGC on its Instagram feed: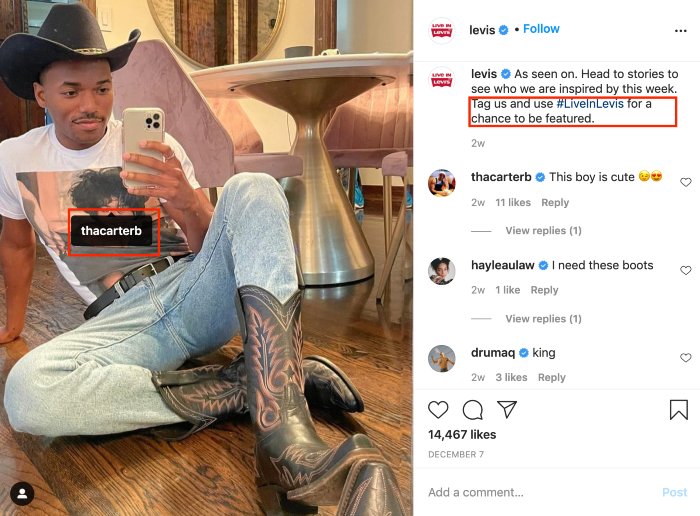 Not only does Levi's post UGC, but the company also has a brand hashtag for collecting fan-made content and it writes about it in the caption. TINT makes it easy to aggregate and leverage user-generated content.
#2. Repurpose Customer Feedback into Customer Testimonials
People pay close attention to customer experiences. Before making a purchase, 87% of people read online reviews to see whether your product can meet their needs and wants. If your customers share their feedback with you, they want to inform other consumers about their experiences, so it's a good idea to repurpose customer feedback into customer testimonials.
When you share customer testimonials on Instagram, not only do you help other customers make the right purchase decision, but you also improve customer experience. In fact, a good customer experience leads to positive word-of-mouth as people are 5x more likely to recommend your company to their friends and family. As a result, you attract more visitors to your eStore on Instagram. Win-win!
Here's a great example of using customer testimonials on Instagram from Clek: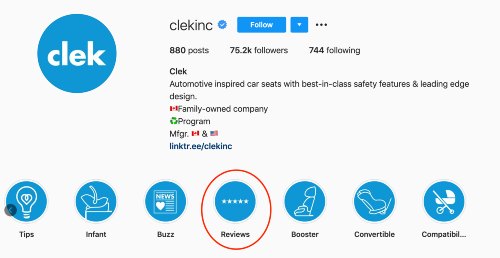 The company has a separate Instagram Story Highlight album 'Reviews' where all customer testimonials are gathered. Once a follower or a visitors taps on it, the person can see a great number of customer reviews from satisfied customers, just like in the example below: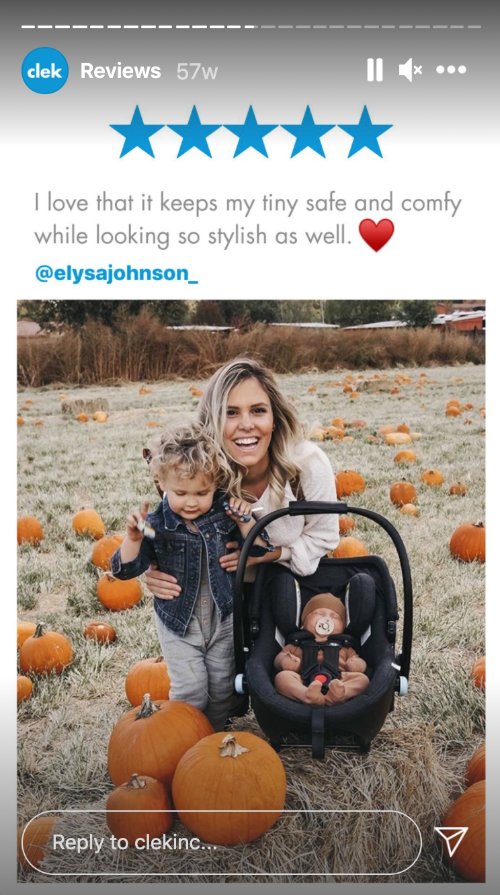 Obviously, many companies wonder how to encourage their customers to leave feedback. The solution is quite simple: ask them! Run contests and campaigns, use different marketing channels like social media, email marketing, and your website.
#3. Turn Customers into Brand Ambassadors
The best way to encourage people to buy from you is to know their preferences. For example, it's important to tell your brand story through the voice of fans. When you turn your satisfied customers into brand ambassadors, they are helping to promote your store.
The easiest way to do it is to feature UGC on your feed: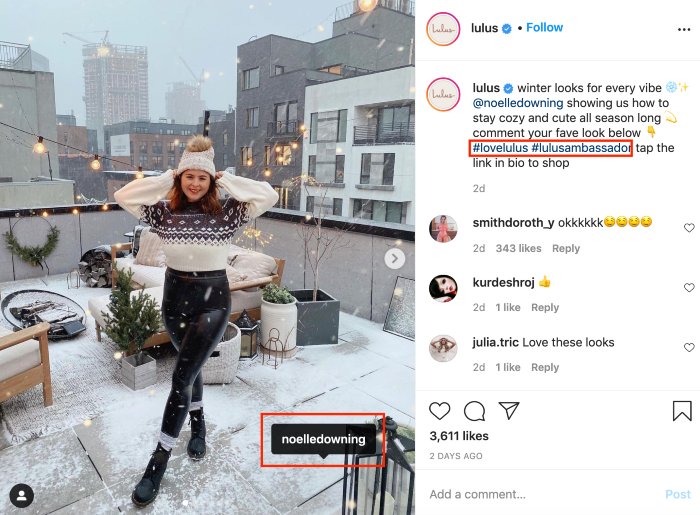 When you share your customers' photos, it creates a sense of belonging and people are happy to tell your brand stories for a chance to get featured on your feed. Lulus has a brand hashtag for UGC and writes about it in the bio section so that other people can jump on the bandwagon and become brand ambassadors.
But if you're looking for a proven way to turn your customers into brand ambassadors, it's a great idea to set up a brand ambassador program so that both existing customers and new ones can get rewards for choosing your eStore. This approach increases brand loyalty and trust as well as motivates customers to spread the word about your company.
#4. Invite Your Customers to Become Models for Your Campaign
Online shopping is growing in popularity and social commerce going mainstream, but e-shoppers still face problems. For example, they can't try out products before buying, so consumers are not sure whether selected items can fit them or not. As a result, people pay close attention to visual content to analyze the quality of products. In other words, your product catalog matters a lot.
All eStores take product photos or invite models for look books to feature them on Instagram. But if you want to show off your products and provide potential customers with social proof, invite your customers to become models of your campaign. Plus, it's a great way to provide a better social shopping experience.
Most people feel valued when brands reach out to them with offers, so they are more likely to accept your suggestion to become a model of your campaign. For example, Converse invites its customers to create product photos and share their stories. Then, the company creates a series of posts dedicated to their customers. Check out the following example: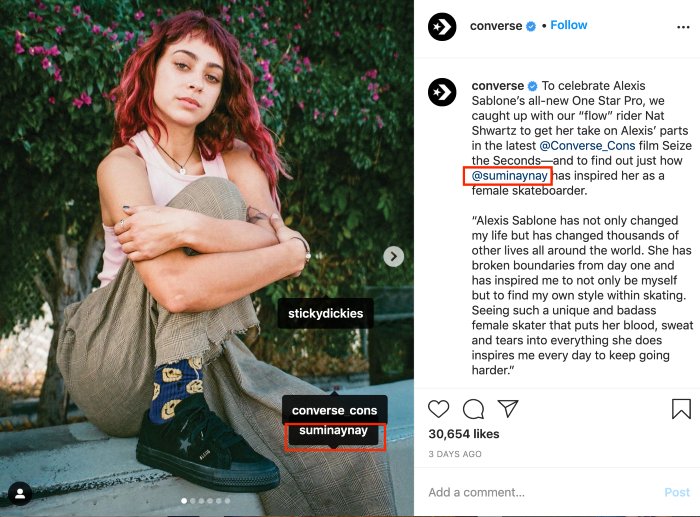 Want to know the best part? People share photos on their profiles, so they are more likely to repost these images to their feed and therefore let more people know about your eStore.
#5. Team Up with Niche Influencers
Influencer marketing is an effective marketing strategy for businesses of all sizes and niches. Modern customers follow opinion leaders on social media and they show interest in their recommendations. As a result, brands can promote their products when they collaborate with the right niche influencers with the same target audience.
Let's take a look at Zappos, for example. The company constantly teams up with micro influencers who can do a product review and write about their experiences in Instagram posts. Here's a post from Malikah Kelly (15.6k followers):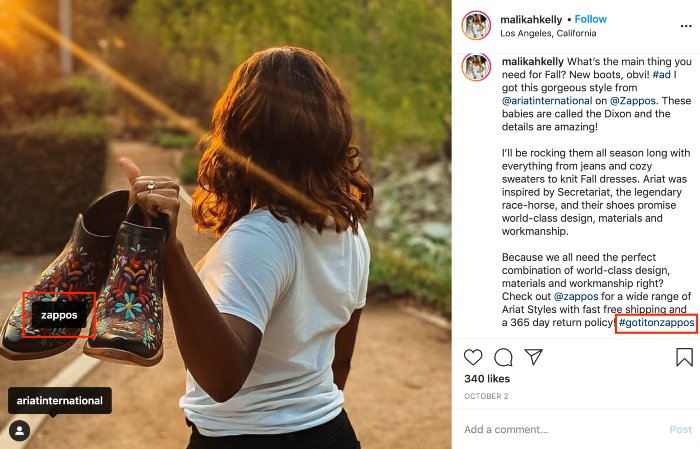 Today, people trust nano- and micro-influencers to be more trustworthy than the mega influencers charging thousands to millions per post. There's no need to have a big social media following to have an influence on consumer behavior. For brands, this means you can team up with your community of true fans to reach a wider audience and provide customers with social proof.
Hell bent on hiring an influencer? Big Instagram influencers get offers from many brands, so your messages can get lost in their inbox. To stand out from the crowd, use email. Email finder tools like SignalHire can help.
#6. Run Branded Content Ad Campaigns
With over 2 million monthly advertisers, it's no secret that paid ads help to cut through the noise and reach your target audience fast. More and more brands create and run Instagram advertising campaigns to draw attention to their online stores.
But here's the deal:
Paid ads bombard customers from all sides, so it takes time and effort to create trustworthy ads. The solution? Ads highlighting real people using your products. This ad type allows you to promote creators' organic branded content posts as feed and stories ads. With branded content ads, not only can you show your products and use social proof in action, but you can also include a clickable Story link with a strong call to action that helps to drive website traffic to your online store.
These types of campaigns can result in a 51% higher return on ad spend, a 47% lower cost per purchase, and a 35% lower cost for reaching 1,000 people in comparison with product-focused ads.
Conclusion
With business-friendly features like product tags and in-app checkout, it's no wonder that Instagram shopping is extremely popular among customers. More and more people discover and buy new products on the platform.
However, the number of eStores and brands selling online is growing too. To make the right purchase decision, people crave social proof as they want to confirm their actions. Give your followers the proof they seek  to increase brand trust, boost sales, and promote your products on Instagram.
We're here to help with eCommerce strategy. Request a demo to see how you can drive higher converting campaigns and increased sales.
_________
Val Razo is a freelance Social Media Marketing consultant with 5+ years of experience helping small and medium-sized businesses. Val sees sales potential with Instagram and recommends that brands experiment on this platform for business growth. Follow her on Twitter to stay tuned for more.