Let's say you're shopping for a new watch, and are walking from display to display. There's a dozen different pamphlets and beautiful posters strewn across the cases, listing all the features of a certain product and telling you why you need to get it. The salesperson taking the watches out of the cases makes a great case for each one as you're trying it on, and it seems like each watch is her new favorite. After fifteen minutes and you're still unsure, your friend comes over, points to the one you just took off, and says "that one."
Who are you most likely to trust? The salesperson and the pamphlets are eloquent and can name every last water-resistant, solar-powered feature of every single last watch in the case. But you know your friend, and you trust them, and you know they're not just trying to get a sale. So you trust them. Anyone who has ever worked in sales has seen this happen time and time again.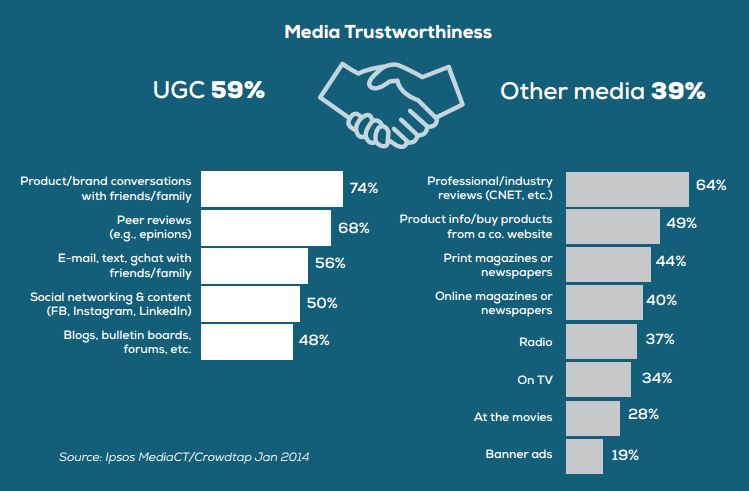 User generated content (UGC) works a lot like this, and multiple studies have shown that many users are heavily influenced by it when making a purchasing decision.
Most brands recognize the importance of implementing UGC on their sites and social media profiles to increase conversions, including sales, but many don't realize that the power of UGC can be implemented in brick-and-mortar retail stores, too, and can be just as effective.
UGC's Influence on Retail Shopping Behavior  
Online shopping is currently outselling in-person, brick-and-mortar sales; not only is it more convenient (I'm looking at you, Amazon Prime), it's easier for users to make a confident decision when they're able to research their prospective purchase with just a few clicks. Well-placed UGC can be used to speed along that process and increase conversions.
UGC is so crucial because Millennials do research online (including a brand's website and across social media) before they make purchases. They rely heavily on UGC to do this research, with 75% of Millennials doing at least some of their pre-purchase research on social media, and find UGC to be 50% more trustworthy than traditional advertisements. This leads Millennials to be 20% more likely to be influenced by UGC than any other type of media.
While research is important to today's modern customer, it's also important to note that Millennials are "real-time customers" that respond to today's needs. This means that you need to capture them as soon as they're in the sales funnel. Placing UGC in-person in your store can be the last push they need at that point in the sales funnel. Technology is being used more and more frequently, and providing an interactive digital experience in-store through one "omnichannel" might just be the direction retail marketing is headed.
5
 Benefits of Using UGC in Your Retail Store
By integrating the online social experience with in-person shopping, you can enable UGC to encourage purchases. While we've already discussed some above, there are 5 distinct benefits that often get overlooked when brands are considering whether or not they should use UGC in their retail stores.
Builds Trust in Your Brand
We've discussed above how customers– particularly Millennials– find UGC more trustworthy than traditional type of advertisements. Aside from conversations that they actually have with trusted friends, UGC is often their most trusted form of media.
Showcasing UGC in store can build trust and rapport in your brand, both immediately and long term.
Considering that many customers are now wary of what they perceive to be commission-hungry salespeople, using UGC to do some of your most aggressive selling will help appeal to in-person customers instead of potentially driving them away. Not only does this boost the likelihood that you'll sell to the customer right then and there, this can also help build long-term trust and loyalty between the customer and your brand, boosting client retention rates in the process.
Unique Engagement Opportunities
When we did our research and talked to industry experts about the future of marketing, one thing was clear: a large number of leaders in the field believe that a highly personalized and fully integrated social experience is coming around the corner, with an "omnichannel" that allows brands to meet all your needs quickly and efficiently. Interactive ads are going to be huge, and in some ways, they are are.
Larger-than-life TINT displays capture this audience and promote engagement.
Part of the reason UGC has taken off so much is that it's interactive, and displaying it in your retail store can capitalize on that. When you walk past an ad at the Westfield World Trade Center Mall and its 19 screen digital network featuring TINT displays, you're encouraged not only to visit certain stores or make purchases, but to interact with the brand on social media. Posts are featured that encourage user engagement, and being able to capture user engagement while they're physically in or near your brick and mortar location is a unique but exciting opportunity. Getting users to share content that's not only featuring your product but your actual store can drive other users to come visit you in-person, too.
This display encourages users to share content with a CTA that promises to share live posts.
The Ability to Showcase EGC
EGC is like UGC, but instead is created by employees. EGC can have the same type of powerful benefits that come from user generated content.
Employee generated content is a great way to show your customers what your business stands for and how (most) employees feel about their work. It can give them a behind-the-scenes look at what's happening with your brand, and all of this can help you build trust with your customers. As an added bonus, it can also make your sales and/or retail staff feel more relatable, encouraging customers to trust your employees as individuals just a little more, too.
EGC can make it easier to build a foster a community not only with your customers, but also within your business.
Featuring EGC within your store can also offer benefits among your employee relationships, and really emphasizes how much you value their opinion. Employee appreciation is key to let them know that they can trust you and that you value them, which can improve their overall work performance and relationships with peers and leaders. All of this will only help your business and your brand.
Enables Customers to Tell Your Brand's Story
User generated content is a lot like word-of-mouth marketing, and with more customers valuing the opinion of peers, they'll be more likely to pay attention. In the example at the beginning of the blog post, the customer (you) didn't even pick up the physical advertisements that were placed on the jewelry counter, and the salesperson wasn't an effective method of persuasion. The customer was immediately receptive, however, to the advice from a peer.
Enabling customers to represent your brand and spread the word will capture users' attention quickly.
With a fully integrated social experience being presented online in your store, placing displays of UGC reviews and social posts next to specific products can be incredibly effective at swaying a customer's decision, especially considering UGC is a major tool consumers use to research purchasing decisions. This enables your customers and fans to tell your story for you, even becoming pseudo-salespeople along the way.
In-person UGC lets your customers do the heavy lifting and creating the content needed to build a community around your brand.
Not only does UGC in retail marketing increase customer receptiveness to your message, it can actively build a community. It's interactive, and seeing the content not only encourages users to purchase, but also to share their own and join your social and online community. This can help create raving fans and brand advocates, which will keep users coming back to you again and again.
Increase Sales Conversion
This is the most obvious benefit to placing UGC on displays throughout your retail store: the whole "more sales" thing.
By placing UGC not only online but in your stores, you have the potential to use an incredibly powerful force to drive more sales and in-person purchases. You can add in extra advertising content that your customers are actually likely to respond to, instead of product pamphlets, posters, or even salespeople that might be ignored entirely. UGC becomes that friend's voice as users see the content as coming from their peers.
Placing relevant UGC next to specific products can drive sales and be incredibly influential.
And here's the best part of all: with tools like TINT, you can actually control the UGC that users are seeing to craft a specific story, highlighting specific products and featuring content that is most persuasive. You can even use UGC to upsell and increase the average cost-per-purchase by featuring higher-priced products. By doing this through UGC, it feels more natural and organic, and customers are likely to be more receptive to it.
Want to learn more about how to use UGC in your retail store? Drop us a line for a free strategy session!