People are feeling stir-crazy. Many consumers, after a year of being stuck at home, are awaiting the green light from public health officials. 2021 will be the year of safe tourism as travel brands try to comply with international standards and customer expectations. Though guidelines vary from state to state, and even city to city, tour operators are expecting a major surge in business as soon as early July.
This spike in travel is much needed for the industry, particularly since experts are projecting that a full return to pre-pandemic tourism levels won't happen until 2023.
Hospitality and travel companies can maximize their budgets by communicating a safe tourism message to their customers. Travelers are focused on ensuring that safety is the number one priority for their flight or hotel stay while COVID-19 precautionary measures are still in place. From social media to websites, brands must showcase the changes a company has made to make sure its customers are in a safe environment while under the increased scrutiny and guidance of local health organizations.
The best examples of these safe return messages aren't written by corporate teams— they come from the customers and employees actually experiencing the changes talked about in safe tourism marketing.
These campaigns are powered by user-generated content that shows happy customers flying safely with Delta and American Airlines or employee-generated content like the President of JetBlue proving that flying is safe for customers by documenting the flights she takes. Delta and American Airlines looked to their customers sharing their experience after flying. JetBlue used their own employees to create a 2-minute video showcasing the changes they've made like health inspection and enforcement of personal protective equipment.
None of this required tens to hundreds of thousands of dollars in production budgets—it only required showcasing real people experiencing these new COVID-19 tourist protection processes. This demystifies the world of travel and opens up a new marketing landscape for everyone from theme parks to tourism councils.
Let's take a look at 6 examples of safe tourism ads for the travel and hospitality business.
Delta Airlines
Delta Airlines used a tweet from a happy customer to showcase what they're doing to keep their planes a safe environment during COVID-19. They turned that tweet into an Instagram post that they shared with their 1 million followers, using it as their safe tourism message. This user-generated content shows Delta flyers what they can expect from their experience of flying with Delta during this time. They can expect to know about the route and weather, and also feel more comfortable knowing that special attention was paid to the cleaning done on the ground and details about how the air filters are circulating the air in the cabin.
View this post on Instagram
This is a great example of using user-generated content—Delta was able to have their customer tell other customers what a comfortable experience it was to fly with Delta. Since 85% of consumers trust online reviews as much as personal recommendations this was a great play on Delta's part. They removed themselves as the messenger and showed how happy their customers were with their service, a review 85% of people trust.
American Airlines
Another example of an airline using user-generated content to make their customers feel more at ease about traveling during this time. American Airlines used UGC from their customer Blake, a photo he took while on the plane, and a quote about his experience to show how he felt about his experience flying American Airlines.
They posted these photos and the quote to their Twitter profile.
"I took this predeparture photo at MIA en route to LAX this July. From the moment I stepped back on board after months on the ground, I thought the crew did a great job with the new safety procedures."
—Blake Whealy, Los Angeles#GetToKnowYourCustomersDay pic.twitter.com/9tDGf9zi5O

— americanair (@AmericanAir) July 16, 2020
Just like Delta, they relied on the trust a user-generated safe return message would have to show their future customers that things are a bit different these days, but in the safest way possible. The reaffirms dedication to safety and assurance of the health conditions of passengers.
JetBlue
JetBlue took a different approach to their return message, using employee-generated content (EGC) to showcase their safe return message. They followed Joanna Geraghty, President and COO of JetBlue, during her flight in a video posted to Instagram. At each step of the process, they explain how changes have been made to make their processes safer for flyers and employees.
View this post on Instagram

Two weeks later, they posted another video highlighting how their employees are making sure that flights are safe for all passengers with new safety precautions. This is a great reminder from JetBlue that one safety message is essential, but continually showing your customers that you're still focused on their health and safety can help your brand image.
Loews Hotels
Loews Hotels is using UGC and EGC to showcase a new idea for travel: #TravelForReal. Using user and employee-generated content from Instagram, the Loews Hotel shows their customers that they don't need big plans to travel…just reading in bed with a cup of coffee counts as travel adventures these days.
They pulled their EGC from their team member Rebecca and are using it on their website to remind customers that just traveling outside of their home for a few days could be the rest and relaxation they were looking for. Their #TravelForReal campaign uses content to show that tourist areas are not just accessible via major airports, but also in your own backyard.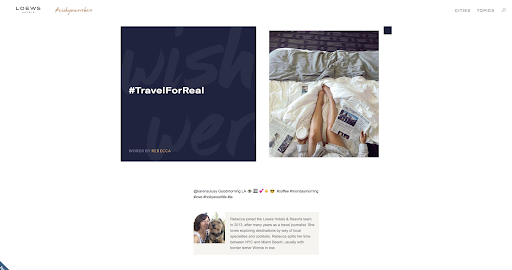 Loews Hotels isn't the only hospitality and travel business rethinking the future of its messaging. While hotels have the same products they had before COVID-19, by changing the messaging around them they can help themselves survive until things pick back up in 2023.
Read more about how Loews Hotels uses TINT to solve their content scaling challenge. 
MGM Resorts in Las Vegas
MGM Resorts in Las Vegas has created Viva Las Office. These packages are designed specifically for people to work from their suite and have earlier check-in times and later check-out times to accommodate a 9 am-5 pm workday. Their offer for a few nights' stay in Las Vegas is $101.80/night and $375 in food and beverage credits.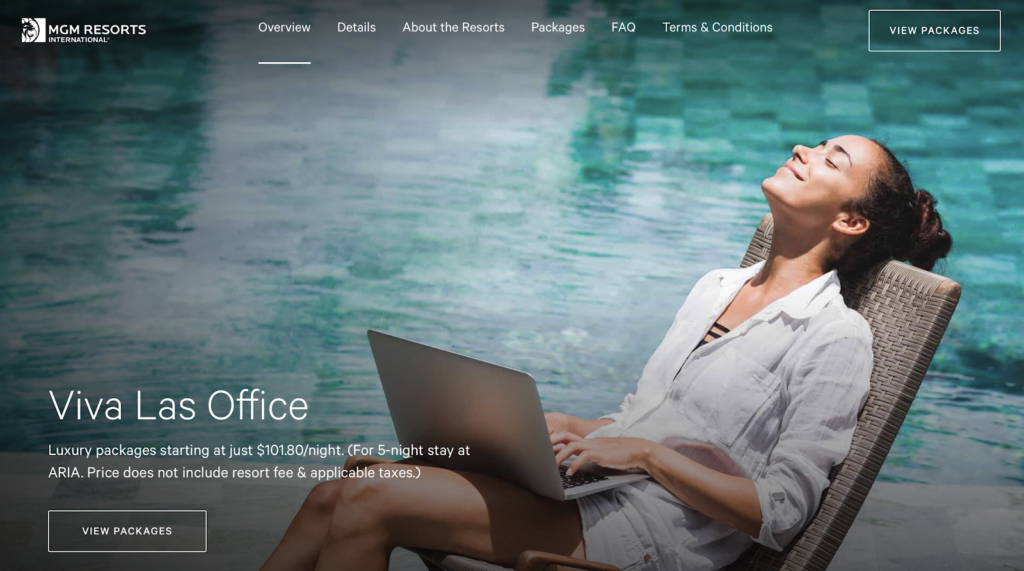 If MGM decides to use UGC in their future promotional activities, they can easily grab it from happy Viva Las Office guests, and any number of visitors, who shared photos and videos from their time working at MGM.
Disney World
Disney launched a #TomorrowBeginsToday campaign that encourages would-be guests to plan a trip Walt Disney World properties.
In the spot, Disney highlights UGC-style short form video showing guests having fun while staying safe. Social distancing regulations have changed the way some attractions are experienced, but guests still want all the perks and amenities that they remember from the pre-epidemic period.
New Tourism Landscapes
If consumers see a brand act poorly when it comes to COVID-19 safety protocol, they'll be hesitant to get on that company's airplane or sleep in their hotel rooms for the night. Safety protocols, with their extensive series of measures, can be intimidating. Guests want reassurance that thermal cameras and disinfection standards are not going to detract from their experience. These experiences require trust between customer and brand, making safe return messages an essential and crucial part of reopening.
Inspired to launch your safe tourism campaign? Our content experts help the world's top brands incorporate authenticity into their marketing using user-generated content. Schedule time to learn more about TINT and the power of UGC.