When it comes to user-generated content, many brands still aren't aware that the users retain the copyrights to the content that they post. But here's a spoiler for you: they do. In fact, if you don't explicitly ask permission from a consumer to repurpose their content, you're setting your brand up for disaster. We covered the importance of UGC rights management in a previous post for TINT that you should definitely take a look at if the term "UGC user rights" isn't ringing any bells.
But here's some news for the marketers who have a notion of copyrights and UGC. You know you should get explicit permissions if you want to actually download an image to use for your website, social media and digital campaigns. But when using the images editorially in blog posts or announcements, you may be doing something that you think is OK but that a major legal case may prove otherwise: embedding the image on your site with the social platform's embed code. We'll tell you why this may be a problem shortly, but first let's look at the technical side.
Overview of the Embed Code
For those who are not familiar, most of the social media platforms give you the ability to embed a user's post into your website with embed code. Rather than simply pasting in the content, this code snippet dynamically pulls the post in from the social platform. Just as the YouTube embed code allows you to embed a video on your site without hosting the video itself, social embed codes allow you to pull in a user's post without having to physically download the asset.
To understand how this works in practice, let's look at Instagram. Open the social platform in a desktop web browser (an odd experience with this mobile-first app) and click the three dots at the top of a photo.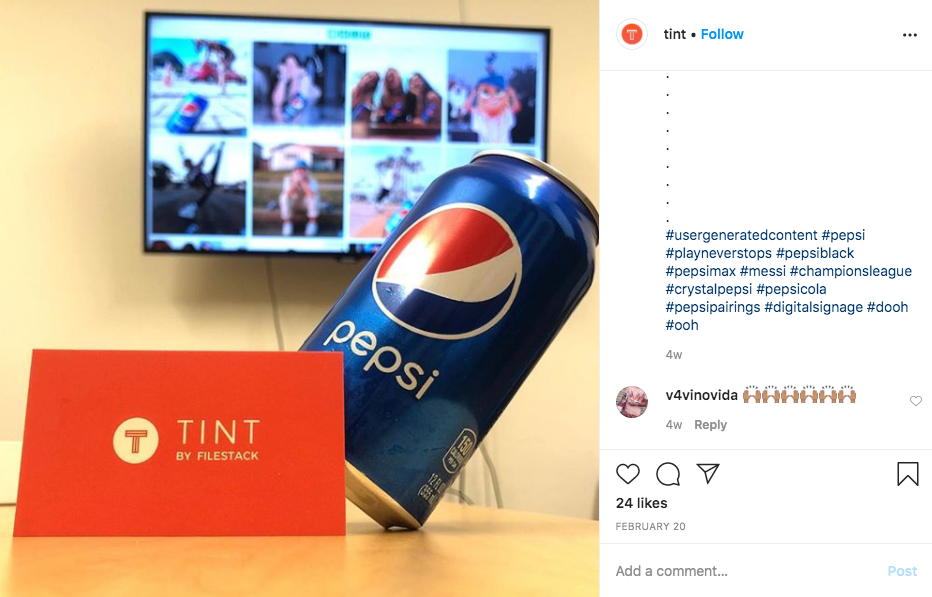 From there, click the Embed option to open up a window where you can copy the code.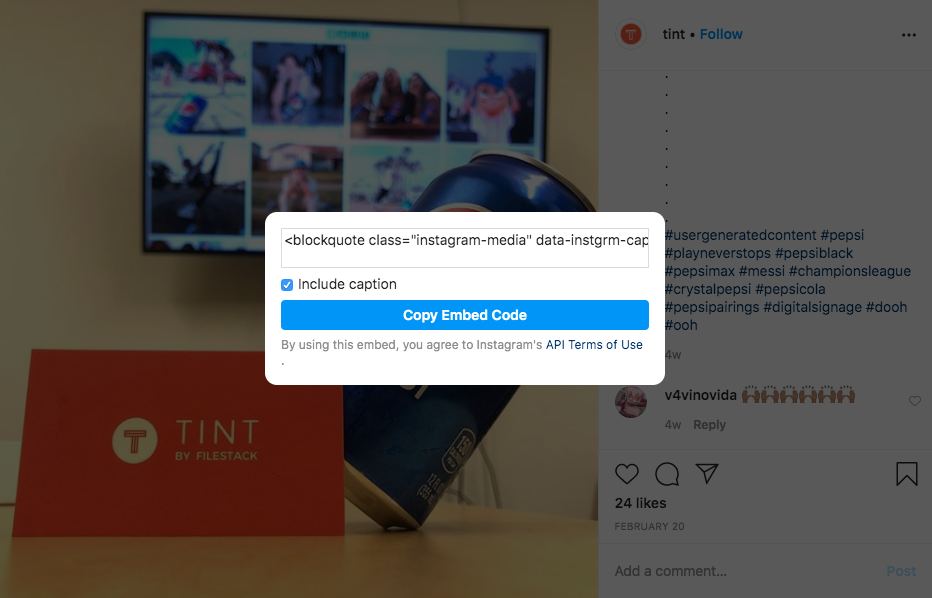 You can then choose whether to include the caption of the Instagram post or to display only the picture. Often it makes sense to not include the caption, as hashtag-happy influencers can make the text on their posts longer than the image itself. But I digress. Clicking the Copy Embed Code button will save the code to your clipboard for you to paste into your website.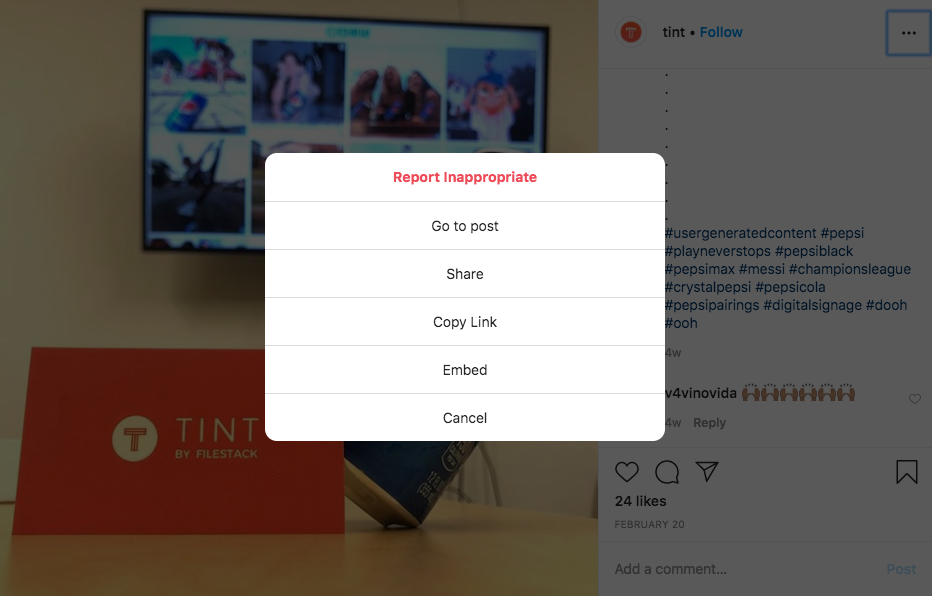 WordPress and other content management systems (CMS) have made embedding even easier—users can simply paste the Instagram URL in their editor and the CMS will "automagically" embed the image. The process is similar on all the other social networking sites, and ultimately the post will appear on your website like below:
 

 

View this post on Instagram

 
Proceed with Caution on Embedding UGC
Clearly, having the ability to embed a user's social media post into your website is a tremendous opportunity for digital marketers, and the assumption is that this UGC can be repurposed without explicit permission from the user. After all, why would social media platforms give us the tools to embed a social media post if that wasn't the right way to do it?
Turns out that you may need to check that assumption at the door, in light of a high-profile case that was recently settled out of court.
It was the summer of 2016, and the hottest NBA free agent on the market was forward Kevin Durant. With a silky-smooth shot and the ball-handling abilities of a guard, the 6-foot-10-inch player was on the radar of every general manager who was a contender.
On the spur of the moment, photographer Justin Goldman took a picture of Durant walking alongside Boston Celtics GM Danny Ainge and Patriots superstar QB Tom Brady in New York and posted it to social media. This was major news because clearly the city of Boston was rolling out the red carpet to get Durant to sign with the Celtics. Media outlets ran with the news, and to complement their online stories (without having to pay a licensing fee), they embedded Goldman's photo in their stories.
Not taking kindly to the media violating his copyright, Goldman filed suit against industry heavyweights, including Time, Inc., Boston Globe Media Partners and Vox Media. These organizations claimed that since they weren't hosting the image on their server (because it had been embedded from a social network), they should not be held liable for copyright infringement. However, a federal district court judge tossed that argument out and let the case proceed. Goldman ultimately settled with the defendants in 2019.
Approach UGC the Right Way
Clearly user rights matter and extend to protections against unauthorized use of social media posts. Instead of putting your brand at risk of a high-profile legal case, you should always approach UGC with a "secure permission first" doctrine. This is where TINT can come in.
We've built a user rights management tool into the TINT platform, making it easy to surface relevant UGC with our content aggregator, request permission to repurpose it and create documentation of the user's acceptance. And if that isn't enough, the tool has built-in copyright detection capabilities to help ensure that the user actually has the rights to the photograph you're requesting. If you're looking for a partner to help you approach UGC the right way, please reach out and schedule a TINT demo today.