What are the rules for reposting content on Instagram? That's a common question asked by marketers of all stripes and experiences. Copyright can be a scary and often confusing topic, particularly on quickly evolving platforms like Instagram. Now you can reshare with confidence using these best practices in your Instagram marketing strategy.
Instagram has become one of the top destinations for visual content marketing. Marketers are using social commerce strategy to use the platform to increase brand awareness, drive product discoverability, and provide seamless eCommerce experiences using functions like Instagram Checkout. 
But, between preparation, taking photos and videos, editing, writing captions, and scheduling—Instagram can take up a dangerous amount of time. Before your team knows it, they've spent the entire day trying to get Instagram posts together and the rest of your marketing strategy has fallen to the wayside.
You can't simply copy content to your clipboard. But with a little effort, you can turn the Instagram app into a marketing content creation engine. There are tons of amazing, original content waiting out there. And this can be a great relief to marketers everywhere.
After surveying leading brands, we found the biggest problem brands are facing in 2021 is output. They can't keep up with the demand on their marketing team because their team is too small, their budget isn't big enough, and their calendars are filled to the brim. Add changing algorithms and user behavior and getting engagement on Instagram isn't getting easier.
This is where user-generated content reposts come into your marketing strategy. Reposting user-generated content to Instagram doesn't require a huge team, budget, or take days of your team's time.
Reposting is the answer marketing leaders are looking for—and the statistics prove it.
What Does It Mean to Repost on Instagram?
When a brand posts a customer's testimonial photo to their Instagram account, they've reposted that photo. Reposting on Instagram is just repurposing a piece of content (photo or video) from one account to another. The photo or video continues to live on the original account, but it's also featured on the brand's feed.
As brands see the increased conversion rate user-generated content is bringing, it's becoming more and more popular. Kayla Itsines, personal trainer and co-founder of the Sweat App (with over one million monthly users), has been repurposing user-generated content to her Instagram feed for years. 
She built her 12.7 million person Instagram audience by sharing workouts, recipes, and her client's success stories like this one:
View this post on Instagram
With 70% of consumers considering UGC reviews or ratings before making a purchasing decision and at least 41% reading four to seven UGC reviews to gain important insights on a product—these reposts can serve as more than just convenience.
Using user-generated content on Instagram feeds into the current buying journey. Consumers want more than fancy product shoots. They want to know that products are real and they work as advertised. In a noisy advertising world, where every scroll shows them a few new products, consumers are smarter than ever.
By reposting content, brands can establish trust with consumers and relieve their team of time-consuming content creation.
Examples of Reposted Instagram Content
Reposting on Instagram can look like Kayla Itsines, where she reposts a photo from a Sweat App user, writes an introduction, and then uses the rest of the caption to quote her customer's testimonial. 
It can also be story content. 
Visualize Value
Visualize Value reposts a tag from a user who reposted Visualize Value's post to their Instagram story. In a bit of inception, we see a repost of a repost. This type of content plays right into user-generated content's main attribute: establishing trust with your audience. By showing that other people are engaging with Visualize Value's content, they can show social proof while avoiding the extended time required to create their own story content.
View this post on Instagram
Drunk Elephant
Drunk Elephant reposts content from their customers just like Kayla Itsines. Using the hashtag #barewithus, they're able to find the content they've been tagged in and repurpose it to their Instagram feed. 
Sixty-four percent of consumers will not only strongly consider online reviews, but they will also actively seek them out before making a final purchasing decision. Using UGC, Drunk Elephant can turn their Instagram feed into a raving online review for their products.
View this post on Instagram
Amazon
Reposting on Instagram isn't just for small or medium-sized businesses. Amazon's last three Instagram posts are reposted user-generated content (including a Reels!). Each post has a tag with the original creator's handle and a quick caption from Amazon.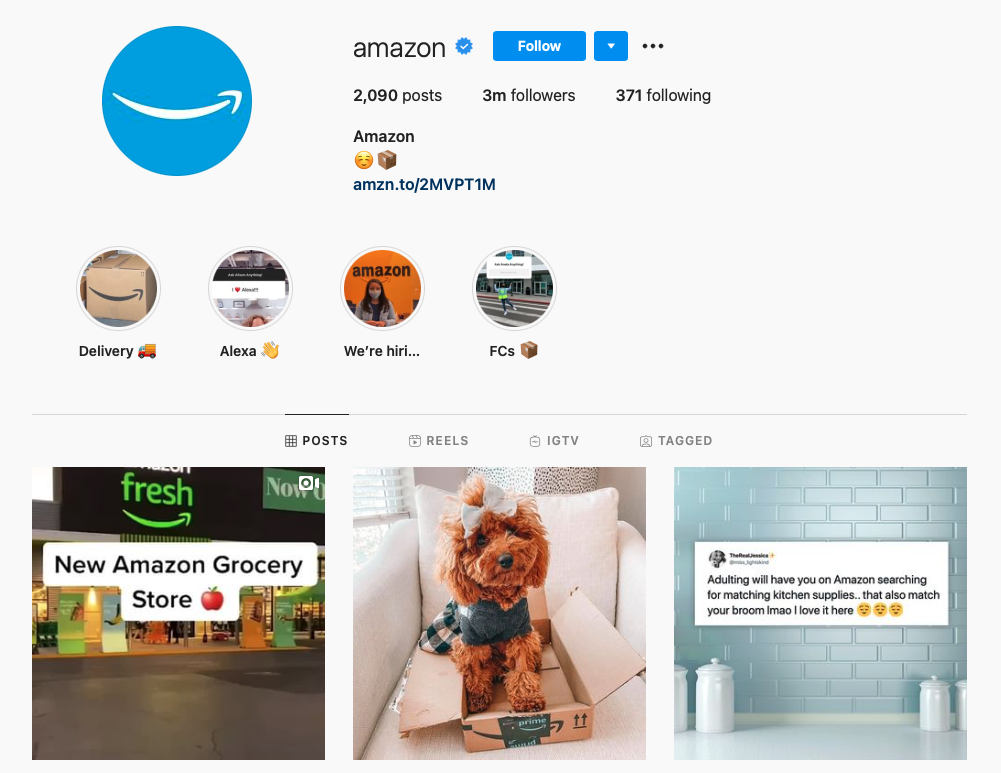 How To Get Your Audience and Customers To Create Content You Can Repost
You don't have to be Amazon to get enough Instagram content that you can consistently repost to your feed. You just need a strategy.
Fifty percent of consumers wish that brands would tell them what type of content to create and share.
Remember when taking a video of your new mattress unfolding was popular? That wasn't an accident. Brands like Casper realized they could capitalize on the cool moment that came from unboxing a queen size mattress from a medium-sized box. They had influencers share their unboxings, and soon non-influencers were also sharing their experience (with no promise of making money from the brand).
Casper showed their customers what content they wanted them to create. Their customers listened. And now, there are hundreds of videos online of people unboxing Casper mattresses and other similar products.
To get your audience and customers to create content you can repost:
#1: Use Incentives
Create sweepstakes or social contests with prizes. You can give away free products, discounts, and anything that your audience would be willing to take a photo or video for. Use TINT to find all of this user-generated content and organize it for future promotional use.
#2: Create a brand hashtag
There's a lot of talk around if hashtags are dead or not. Using them in spammy ways died long ago, but consumers are happy to use hashtags when it makes them the hero of the story. You can use hashtags to get your audience excited about creating content. For example, the hashtag #Igottheshot (referring to the COVID-19 vaccine) has been used over 24,000 times on Instagram. 
#3: Ask them regularly
Social media is a two-way street. Your audience wants you to interact with them, too. Take time on your stories and in your feed posts to ask your audience to be part of your community and the conversation. For example, an eCommerce clothing brand can ask its audience to share their favorite looks with its clothing. 
How To Decide What To Repost
We love user-generated content, but we're happy to admit that it's not all worthy of being reposted. Generally, you want to repost the content that fits your brand guidelines. Reposted content should check off the same criteria that your branded content does.
This doesn't mean that your audience needs to take professional photoshoot quality photos to be reposted on your account. It means the content you share on your account makes sense. For example, Traeger Grills does a great job of integrating reposted UGC into their Instagram feed. 
It's hard to tell what's branded content and which is user-generated content from a quick glance.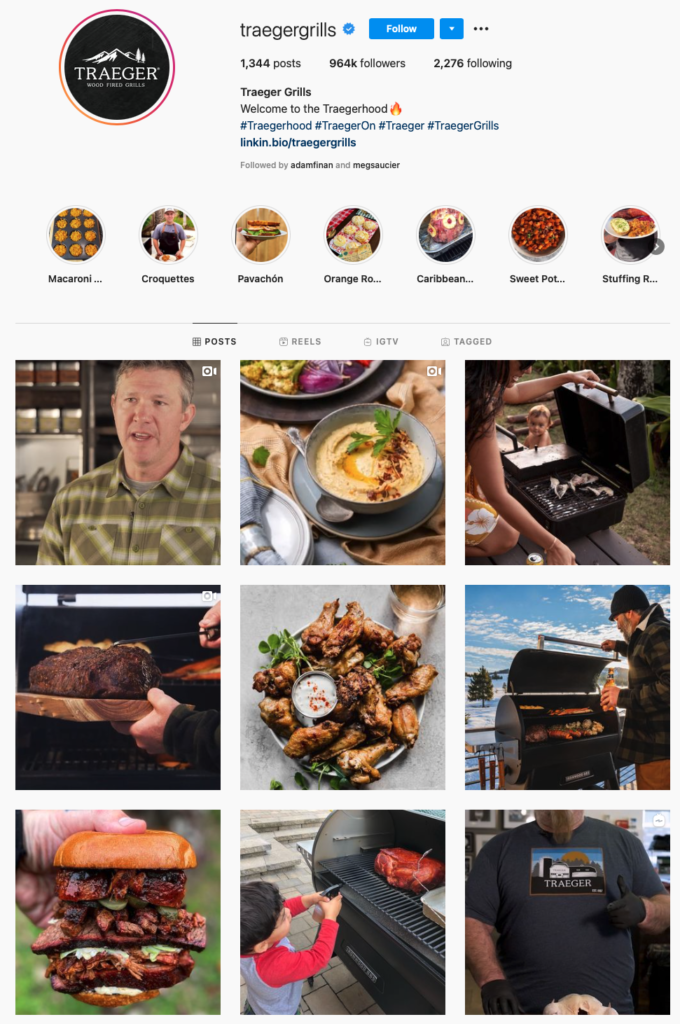 Your brand guidelines and what's right to post will have to be a conversation with your social media team. We can help you with the logistics of reposting on Instagram, like if you're legally allowed to repost content.
Is My Brand Legally Allowed To Repost Content?
You can repost user-generated content as long as you ask permission first. TINT has a UGC Rights Manager that automates this process. Using the UGC Rights Manager, you can create a link that sends a direct message to someone who posted about your brand. As soon as the link gets sent, TINT keeps track of its status to let you know what content is pending approval and which is ready for you to repost. 
As soon as you have permission to use that content, TINT puts it inside the UGC Studio and organizes it according to your tags. This helps you separate content for different products and easily find content to repost in the future. You can also customize and edit the content and send it to other marketing platforms like Hootsuite, AEM, Hubspot, and more.
This is the fastest way to get rights to user-generated content and be able to automate organizing it as well. The other option is to ask users one-by-one if you can repurpose their content and keep track of who says yes in a spreadsheet.
How To Repost Content To Instagram
Now that you can sleep easy at night knowing you're allowed to repost content, here's how to repost it. Please note there may be minor interface differences between Android and iOS, but the process remains the same. 
Here's how to repost Instagram feed content:
Get permission to repost the content from the original poster. You need explicit permission from the Instagram user.

Download the photo or video

#Upload to your Instagram feed

 Tag the Instagram profile of the original creator of the content in your caption and in the photo. Photo credit is important!
Here's how to repost an Instagram story:
If you were tagged in an Instagram story, you'll see the mention at the top of your Activity tab. Click on the mention and then "Share To Story".
If you weren't tagged in an Instagram story, you'll have to screen record or otherwise screenshot the Instagram story to be able to repost that content in the future.
Here's how to repost Instagram feed content to your story:
Find the feed post that you want to share to your story

Click on the paper plane button to the right of the like and comment buttons on the post

 Click "Add post to your story"

 Edit your story background, choose if you want the caption of the post to show or not, add text, GIFS, music, etc.

Share to your story
This is the basic way of reposting on Instagram, but using platforms can make this process much easier and give you more options.
For example, you can use a platform, like Hubspot, to schedule your posts to go live on Instagram and Twitter. For each post, you can create longer Instagram captions and shorter tweets. When you're posting the same content across platforms, it's key to make sure you're creating native content for that platform and keeping up a consistent posting schedule.
In this case, don't ask your Twitter users to go to your Instagram account to read your caption. Write a caption for Twitter, as well as a caption for Instagram to make sure your audience will engage with your content. 
If you, or your team, are struggling to keep up with content creation—you're not alone. TINT's 2021 survey of leading brands found that 72.2% of all marketers report having more responsibilities now than ever before. You're looking for new and creative opportunities to save time.
Reposting on Instagram is the right strategy. It's not just because it helps your team buy back time or relieves them of days of content creation. It's because consumers are asking to see customers in your content. They're waiting for you to establish trust so they can feel comfortable buying from your brand.
With user-generated content, you can establish that trust better than any branded content will ever be able to.
Repurpose your Instagram posts and user-generated content legally and safely throughout your marketing channels with TINT. Turn your customers into content creators. Chat with one of our Rights Management specialists and learn how TINT helps brands legally obtain amazing content at scale.