It's no secret that banner and billboard ads just aren't cutting it in the marketing world anymore. When it comes to advertising that works – you know, the kind that actually sells products – these kinds of traditional techniques are proving to be less and less effective.
Today, Return on Investment (ROI) isn't about how many people walk past a certain poster or the circulation of a national magazine that your ad is in. It's about how much bang you're getting for your buck in ways that are, first and foremost, measurable.
That doesn't necessarily mean how much money you make (I'll dig into that more in a minute). It all depends on your ultimate aim with the ad – to build brand awareness with shares? To drive people to a certain blog post or video?
And, with word of mouth still a valuable marketing tool (even in the digital landscape), people are way more likely to listen to a previous customer or someone who hasn't carefully crafted a sales message with one main aim.
Brian Solis highlights three important aspects of businesses today.
So, in a time where the goalposts are shifting for advertising, how can you convert all the continuously emerging avenues and platforms into cash streams?
The answer lies with User Generated Content (UGC).
What is User Generated Content?
Firstly, let's take a quick look at what UGC is. Essentially, it's content created by customers or brand fans – not something created by a marketing team.
Even in the online age, word-of-mouth marketing hasn't changed much. People still share their experiences with each other – good and bad – they just do it in the public eye thanks to social platforms that are accessible all over the world.
At its core, UGC refers to things like:
Social media posts and reviews from customers
Comments sections on blog posts
Pictures and videos shared by customers
Trek used UGC pulled in from social channels to create a narrative around their annual convention.
UGC is perfect for spreading the word about your business or product, because consumers are more likely to trust the words of another consumer than someone they know is being paid to promote said business or product.
What Exactly Does Monetization Mean Today?
Earlier, I said that monetization doesn't necessarily relate to money, despite the origins of the word. Let's talk about this for a second.
Today, with so many different business models and so many different platforms to spread the word on, monetization can take on many different forms. This means you might have to rearrange your immediate thinking when it comes to what monetization means to you.
Look at it this way: everyone has performance goals which are based on a series of metrics, but not everyone bases their success on the same metrics.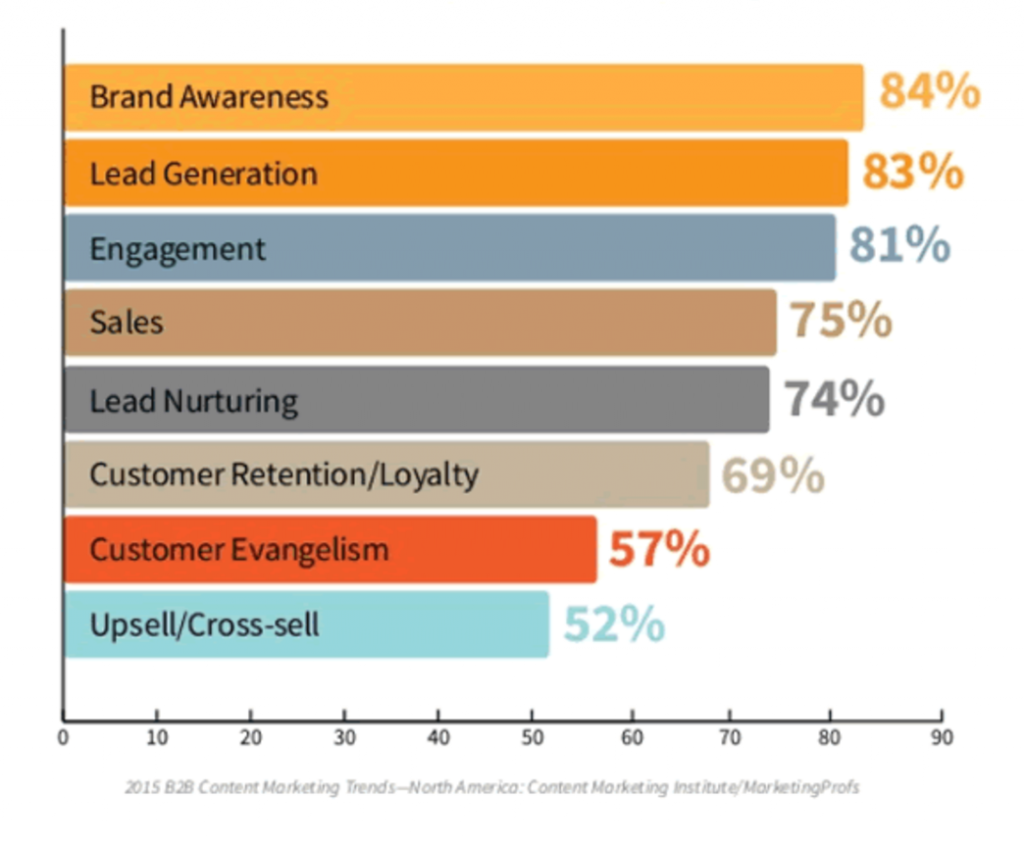 The different content marketing goals for marketing managers in 2015, according to the Content Marketing Institute.  
For example, you might have a marketing manager whose main goal is to grow their email list, while a social media manager might be tasked with increasing their Twitter followers. When you look at it like this, not everything is defined by immediate dollars and cents.
Sure, the increased number of Twitter followers might lead to increased revenue with a strategy in place, but first and foremost the goal is to get more people on board.
And UGC plays into this because it's based on conversions, rather than hard and fast dollars.
So, when it comes to monetizing your UGC campaigns, you have to think about what you value and what's important to your business – more followers and fans? Increased awareness? Trust and a loyal community?
All of these things can eventually lead to monetization, and they are all possible with the help of a well-executed UGC campaign.
How? Let's look at some examples.
3 Major Ways Brands Can Monetize UGC
There are hundreds of ways you can use UGC and make it work for you, but you need to set up your brand and site for UGC success. Which means:
Setting your brand up to "gather"
It's one thing to decide to monetize UGC, but how can you execute that idea?
To launch a campaign that's driven by fans and users, you're going to need… fans and users. Without that 'fuel', your campaign is a no-go.
What you need to do here is focus on the bigger picture. Have a plan of what you want your campaign to look like and how you're going to get people to a) create UGC and b) submit it to you.
So now you've laid down the foundations for your UGC, let's dig into some of the ways you can start to monetize it and boost conversions.
1.Push hard with Call-to-Actions (CTAs)
Your audience aren't mind readers.
It seems so obvious, but in order to encourage your people to send in UGC and engage with your campaign, you simply need to ask, and the easiest way to do that is to use CTAs.
Walgreens used the popular Throwback Thursday hashtag to encourage their audience to share UGC (it also helped that they offered a monetary prize as an incentive).
Here are a few hypothetical examples:
An outdoor clothing company looking to increase awareness of their brand might put a CTA on their social channels asking fans to share images of they use their products in

real

situations.
A cupcake shop for dogs that wants to increase awareness might add a CTA at the end of their blog posts asking readers to share their pooches' favorite flavor on social media.
A travel agency might put a CTA in their email updates asking fans to take a picture with a stranger while they're traveling and share it on social media using a specific hashtag.
Having a CTA not only kicks your audience into action, but it also means you'll be able to gather a collection of UGC that revolve around the same topic, which helps when you're creating extra content like videos, email blasts, and blog posts around that theme.
2. Use UGC to increase sales
64% of shoppers search for other customer reviews on products before they buy. They want to know how a product or service fairs in real life, not just how the perfectly polished images and copy of a marketing campaign say it fairs.
With so many brands out there removed from the genuine reactions of their buyers, there's space for you to bridge this gap and tap into this finding.
How? For starters, you can remove expensive, photoshopped photos and replace them with real-life images from fans, and you can integrate customer reviews onto your site on your sales page to give potential buyers that extra push they need.
You might have seen this on travel websites, where they integrate TripAdvisor reviews to show real-life stories and opinions.
The hardest thing marketers face today is that consumers don't trust brands anymore. In order to push past this, you need to return the trust back to the people, which is exactly what UGC does.
2. Integrate UGC into your overall digital presence
Just because you have social media profiles for your brand doesn't mean your brand has a social presence.
A lot of companies think they can simply open up an Instagram account or a Twitter account or a Facebook page and the fans will come a-running. This is absolutely not the case.
In fact, audiences crave a reason to share, to show off, and to give attention, and if you don't give them one? They won't know that you want them to create UGC and share their experiences with you.
Throwing up a post every now and again isn't enough to keep your audience's attention alive. So use your social platforms as more than just a place to push a daily post, and instead integrate UGC throughout your entire digital presence – whether it's on your main website, on your product catalog to show past customer's experiences, or on your blog.
GoPro is a prime example of a brand that integrates UGC into their website. There's even a button for consumers to click to submit their own.
When you create such an overt digital presence around your brand, fans and followers will want to be a part of that. This collaborative approach creates a place that's interactive and engaging – two of the most important aspects of a successful business.
The Best Part About UGC Campaigns and ROI?
It's cost-effective and saves time.
We all know that creating awesome, shareable content takes time and is expensive. With UGC, you're essentially outsourcing your content development to the people who matter the most – your customers.
"With the right tools in place, UGC can lower content costs dramatically—expanding the number of content creators in your organization, while only sacrificing a few hours of productivity" reports research conducting service Gartner. "Beautiful and creative marketing experience without the big budget."
It's important to know the legalities behind using UGC, though, as it's essentially content created by someone else. There are still copyright laws in place that you need to be mindful of, especially with content gathered via social media.
When you use UGC, remember that the creator (your customer) retains the rights to their content. By hashtagging it or sharing it with you, they are simply waiving their right to withhold it and keep it private. You can read more about that here.
Moving towards UGC doesn't mean a massive overhaul in your marketing department.
Brands come in all shapes and sizes, and regardless of what you sell, there is a way to generate a community around your business with UGC.
Laying the foundations of a successful UGC campaign is all about engaging your audience and encouraging them to get involved with your product and services. Once you've got this covered, you can start using the content you've gathered to boost awareness of your brand, start hitting some of those performance goals you've set yourself, and monetize your content.
Want to learn more about how to get started with User Generated Content? Drop us a line for a free strategy session!